Pittsburgh Post-Gazette - August 9, 1980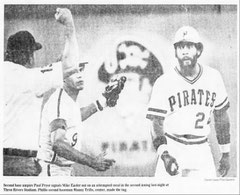 Pirates edge Phillies for fourth straight win
By Charley Feeney, Post-Gazette Sports Writer
It was not the best type Philadelphia-Pittsburgh baseball. It was exciting and that's what pleased the 30,354 fans last night at Three Rivers Stadium. They saw the Pirates jolt the Phillies, 6-5, on a sacrifice fly by pinch-hitter Lee Lacy in the eighth inning.
They saw pinch-runner Matt Alexander trot backwards across the plate for the tie-breaking run.
Showboating?
"It's my way of expressing myself," said Alexander who has scored five game-winning runs this season. "I'm not trying to show up anybody. Pete Rose spikes the ball and nobody thinks it's showboating. Willie Montanez hot dogs it, and people accept it. It's my way of expressing myself and pretty soon people will accept it just like they do Rose spiking the ball after he gets the third out of an inning."
The Pirates almost lost the game on the base paths. Four runners were trapped off bases.
Willie Stargell wasn't one of them. Stargell did his thing. He clubbed a two-run homer off Dick Ruthven in the fourth inning to put the Bucs on top.
The Pirates held leads of 3-0 and 5-2, but the Phillies kept coming at them. Garry Maddox and Manny Trillo hit consecutive pitches thrown by Rick Rhoden over the left-field wall in the seventh inning.
In the sixth, Rhoden's defense sabotaged him, allowing the Phillies to score two runs. Mike Easier played redeemer with himself and the Bucs. His misjudgment of Bob Boone's leadoff liner in the sixth set up a two-run inning. Easier redeemed himself with a leadoff double in the eighth off Tug McGraw to set the stage for the winning rally.
Bill Madlock, whose throwing error in the sixth dug Rhoden in deeper trouble, was given an intentional walk, and Ed Ott advanced the runner with a bunt, setting up an intentional walk to Phil Garner.
A year ago, left-handed hitters John Milner and Ott hit grand-slam homers off McGraw. Milner was available to pinch hit for Kent Tekulve, but Tanner selected Lacy, a right-handed hitter.
"I wanted Lacy's speed up there," Tanner said.
Lacy didn't need his legs. He got good wood on McGraw's pitch and the ball sailed into Maddox's glove in center. Alexander could have crawled the last 10 feet. Instead, he danced backwards.
The Pirates, winning their fourth in a row, moved to within one game of Eastern Division-leading Montreal.
Their perils on the bases were forgotten in victory.
"I'd rather have them aggressive than stopping at every base," Tanner said.
Rhoden, who came out with a no-decision, said he was pleased with his control.
"I'm not an overpowering pitcher," he said. "I got to get the ball over consistently. I didn't do that on some of my starts."
"It was Rhoden's best performace of the year," Tanner said. "He had good breaking stuff until it went flat in the seventh inning."
Tekulve was called to protect a 5-4 edge and this time the thin man didn't do his job.
He walked Lonnie Smith leading off the eighth, and Rose, on the hit-and-run, singled through the vacated shortstop spot. Phil Garner made a fine play to turn Bake McBride's smash into a double play as Smith scored the knotter.
Tekulve gave up a single to Mike Schmidt before he recorded the third out. He became the winner when the Bucs broke the tie in the eighth and Enrique Romo gained his eighth save.
A cheap win for Teke. He deserves one occasionally.
The crowd watched Ruthven and Rhoden throw zeroes for 3½ innings. It didn't resemble a typical Phillies-Pirates game. No action.
In the Buc fourth, there was thunder, bat thunder. Dave Parker singled before Stargell unloaded over the right-field wall.
Easler and Madlock rapped back-to-back doubles for a 3-0 lead. Madlock was trapped after taking a wide turn around second base on his double.
With two out, Garner singled and Bob Boone picked him off first base.
Rhoden opened the fifth with a double and was nabbed off second on Omar Moreno's grounder to Larry Bowa.
The Phillies, on errors by Easler and Madlock, had two across in the sixth and they missed a third when Moreno threw out Rose trying to score on McBride's single.
Relievers Kevin Saucier and Dickie Noles were tagged for two runs in the sixth. Saucier walked two and gave up a RBI single to Ott. Noles, after picking Ott off first base, gave up an RBI single to Rhoden, who always has been a good-hitting pitcher.
Rhoden is beginning to pitch like he did a few years ago when he won 16 games for the Dodgers. He underwent shoulder surgery 14 months ago and his 2-2 record doesn't indicate his potential to help the staff in the last eight weeks of the season.
NOTES – Ruthven joined Tom Seaver and Phil Niekro as Stargell's leading gophper-ball pitchers. Stargell has hit eight homers off all three of them. Stargell's homer last night was career No. 472... Parker played right field at Three Rivers for the first time since he walked off the field on July 20 after he was almost hit in the head by a transistor battery thrown from the right field stands.
Pirates edge Phillies for fourth straight win
By David Fink, Post-Gazette Executive Sports Editor
Bob Boone slumped on his chair in the Philadelphia locker room after the Phils had absorbed a 6-5 loss at the hands of the Pirates at Three Rivers Stadium last night.
His mood was clearly reflected by the dour expression on his face. His words dripped with sarcasm. His eyes kept dropping to the floor in a manner that suggested straight answers were not forthcoming.
The source of Boone's distress was twofold, no doubt. First, there was a loss that was tough to bear because the Phils had rallied from a 5-2 deficit to forge a 5-5 tie in the eighth inning. Then there was the memory of Pirate pinch-runner Matt Alexander crossing home plate backwards as he scored the winning run in the Bucs' half of the eighth.
"I've never seen Alexander do that before," the Phillies' catcher said. "I don't know if anybody else has ever done it because it's not the kind of thing I file in my memory bank."
Boone was asked if there was a place in baseball for antics such as Alexander's, and he replied with the firmest of no comments. Pressed again on the subject, he lowered his head one more time and replied: "I don't want to say anything about it. No comment."
Philadelphia Manager Dallas Green reacted to Alexander's style in a slightly different manner, though he, too, was visibly perturbed by the scene.
"Mr. Alexander," Green said, "has to be part of the team and I guess that is why he does it. I wonder what the reactions would be if things were the other way around."
Green started to say something else, but then pursed his lips tightly together and begged for more questions.
Tug McGraw, the losing pitcher, did not see Alexander's backwards run, nor was he aware that Boone had said something to the Pirate pinch-runner after he crossed the plate. Boone was not about to say what he told Alexander, so McGraw remained in the dark. In much the same way, the screwballing lefthander is in the dark on how to pitch to Mike Easler, whose leadoff double led to the winning run, and why he has seldom enjoyed success in Pittsburgh.
"Easler's hitting .350, so I'm not alone. No one seems to know how to pitch to him because not too many people are getting him out.
"But every time I come to this town, something unusual happens to me. I've had more disappointments here than in any other town in the league. "