Introduction

The 1980 edition of the Phillies may not have been the best team, talent-wise, in Phillies history. Both the 1976 and 1977 Phils won more games. The Phillies also won pennants in 1915, 1950, 1983, and 1993. In fact, it took a near miracle (and a six-game winning streak at the end of the year) for the Phillies to even win the division crown over the powerhouse Expos in 1980. Then the Phillies looked at baseball's version of the Grim Reaper against Houston, coming back in the 8th inning of games 4 and 5, winning both in extra innings to go to the World Series. And against the Royals, the Phillies just would not be denied, winning the FIRST World Championship in Phillies history in six games. Yes, other Phillies teams may have had more talent. Other Phillies teams may have won more games. But the 1980 Phillies won, with grit and determination, what no other Phillies team could achieve until 2008: The right to call themselves WORLD CHAMPIONS.
Most Recent Update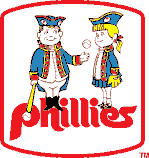 January 2023 Update:  Happy New Year!  The end of the year saw the completion of the 1980 articles from the Wilmington Morning News.  Another publication's story of the 1980 champions is now in the site library!  I also began a side task – a run though of the World Series from the Chicago Tribune.  Illness, the holidays and work combined to prevent finishing that before the close of the year.
2022 Video Yearbook:   The Phillies have released "Bedlam At The Bank: The 2022 Phillies Video Yearbook."  You can listen to Kyle Schwarber narrate the story of one of the most fun seasons in Phillies history.  It is available on the Phillies' channel on YouTube.
Free Agent Signings:   The Phils have not rested on the laurels of winning the National League Pennant, but have been active in free agency.  All fans already know that the team signed Trea Turner, shortstop most recently playing for the Los Angeles Dodgers, who will add yet another bat to an already potent lineup.  The Phils also signed starting pitcher Taijuan Walker, who played for the Mets in 2022, and reliever Matt Strahm, most recently a member of the Red Sox.
Still On the Lookout For:
 Pictures from the 1980 season.  Looking for digital copies of pictures that can be posted on the site.

 Articles from the Philadelphia Bulletin.  Richie Ashburn used to do a weekly article in that newspaper.  Online, scanned, clipped… most importantly free!
Future Updates:    The first order of business for the New Year will be to complete the mini-run in the Chicago Tribune.  Then I will begin adding articles from the other main Wilmington newspaper, the News Journal.