Introduction

The 1980 edition of the Phillies may not have been the best team, talent-wise, in Phillies history. Both the 1976 and 1977 Phils won more games. The Phillies also won pennants in 1915, 1950, 1983, and 1993. In fact, it took a near miracle (and a six-game winning streak at the end of the year) for the Phillies to even win the division crown over the powerhouse Expos in 1980. Then the Phillies looked at baseball's version of the Grim Reaper against Houston, coming back in the 8th inning of games 4 and 5, winning both in extra innings to go to the World Series. And against the Royals, the Phillies just would not be denied, winning the FIRST World Championship in Phillies history in six games. Yes, other Phillies teams may have had more talent. Other Phillies teams may have won more games. But the 1980 Phillies won, with grit and determination, what no other Phillies team could achieve until 2008: The right to call themselves WORLD CHAMPIONS.
Most Recent Update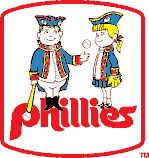 October 2021 Update:  Somehow, production kicked into high gear this month.  A full two months of the Camden Courier post were loaded into the site library, bringing it through the end of June, 1980.  Articles form opposing teams were also included when available, and pictures have been added to the boxscore pictures from these newspapers.
RIP Ruly Carpenter:  The former owner of the Phillies, Ruly Carpenter, passed away on September 13 at the age of 81.  Becoming team president in 1972, Carpenter was the financial force behind the team that would eventually win the World Series in 1980.  After selling the team in 1981, Carpenter remained active in supporting the University of Delaware and continued to follow the fortunes of his team. 
RIP 2021 Phillies:  The up-again, down-again Phillies of 2021 will once more fall short of reaching the players.  Despite the stellar pitching of Zach Wheeler and Ranger Suarez, and the MVP-caliber season from Bryce Harper, the Phils were too inconsistent in both hitting and pitching to reach the playoffs.  Fans will once more spend their winter wondering about "what if," and praying that the team makes the moves necessarily to finally reach the playoffs for the first time in more than a decade.
Still On the Lookout For:
Pictures from the 1980 season.  Looking for digital copies of pictures that can be posted on the site.

Articles from the Philadelphia Bulletin.  Richie Ashburn used to do a weekly article in that newspaper.  Online, scanned, clipped… most importantly free!
Future Updates:   Despite this extra productive month, my overall goal remains to keep a month-to-month pace in the Camden Courier-Post, aiming to complete July 1980 this month.  As I am able, I'll also be looking to add more articles from opponent newspapers to give a more rounded picture of the 1980 season.