Introduction

The 1980 edition of the Phillies may not have been the best team, talent-wise, in Phillies history. Both the 1976 and 1977 Phils won more games. The Phillies also won pennants in 1915, 1950, 1983, and 1993. In fact, it took a near miracle (and a six-game winning streak at the end of the year) for the Phillies to even win the division crown over the powerhouse Expos in 1980. Then the Phillies looked at baseball's version of the Grim Reaper against Houston, coming back in the 8th inning of games 4 and 5, winning both in extra innings to go to the World Series. And against the Royals, the Phillies just would not be denied, winning the FIRST World Championship in Phillies history in six games. Yes, other Phillies teams may have had more talent. Other Phillies teams may have won more games. But the 1980 Phillies won, with grit and determination, what no other Phillies team could achieve until 2008: The right to call themselves WORLD CHAMPIONS.
Most Recent Update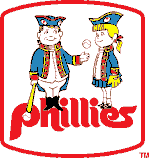 February 2020 Update:  The momentum continues… for now!  I have completed the Philadelphia Inquirer articles through September of 1980.  The pennant race tightens to the Phillies and Expos going into the final week of the season.  I must admit that it is a lot of fun strolling down memory lane.  It's almost like I'm nine years old again!  In addition, I found and linked a YouTube video from September 28, 1980, which was an ABC national broadcast of the Phillies and Expos from Veterans Stadium.  Unfortunately a loss, it is still neat to see the Phils in what seemed to be such an important game with Keith Jackson and Don Drysdale announcing.
Getting Ready for Spring Training: I must admit to being a bit more wary this year than I was last year.  The Phils seemed to close the purse strings after the Zach Wheeler signing, and there seems to be some glaring holes in both the lineup and the pitching staff.  It will still be good to see some baseball coming in the next few months!
Still On the Lookout For:
Pictures from the 1980 season.  Looking for digital copies of pictures that can be posted on the site.

Articles from the Philadelphia Bulletin.  Richie Ashburn used to do a weekly article in that newspaper.  Online, scanned, clipped… most importantly free!
Future Updates:   If I can keep up my present pace, I should be able to complete the season in the Inquirer either in February or March.  Since the playoff newspapers have more articles, it may be difficult to keep up the current pace, but I shall try to persevere!