Introduction

The 1980 edition of the Phillies may not have been the best team, talent-wise, in Phillies history. Both the 1976 and 1977 Phils won more games. The Phillies also won pennants in 1915, 1950, 1983, and 1993. In fact, it took a near miracle (and a six-game winning streak at the end of the year) for the Phillies to even win the division crown over the powerhouse Expos in 1980. Then the Phillies looked at baseball's version of the Grim Reaper against Houston, coming back in the 8th inning of games 4 and 5, winning both in extra innings to go to the World Series. And against the Royals, the Phillies just would not be denied, winning the FIRST World Championship in Phillies history in six games. Yes, other Phillies teams may have had more talent. Other Phillies teams may have won more games. But the 1980 Phillies won, with grit and determination, what no other Phillies team could achieve until 2008: The right to call themselves WORLD CHAMPIONS.
Most Recent Update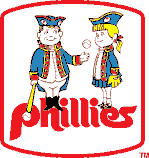 September 2022 Update:  Hey, the engine revved a bit this month.  Once I got going, it was full speed ahead, finishing spring training, as well as the April and May articles in the Wilmington Morning News.
Wildcard Fever!   The Phils find themselves in the thick of the wildcard race as we head into September.  Currently, they find themselves in the second wildcard position, ahead of both the San Diego Padres and Milwaukee Brewers, the closest competitors.  Could we possibly finally see another Red October?  We'll be keeping our fingers crossed.
Harper Returns:   The Phillies were heartened to see the return of star outfielder / designated hitter Bryce Harper to the lineup.  Though they obviously misses Harper's potent bat, the team rallied to keep pace in the pennant race during his absence.  The re-addition of the reigning NL MVP can only strengthen the team as they fight for a slot in the playoffs.
Still On the Lookout For:
 Pictures from the 1980 season.  Looking for digital copies of pictures that can be posted on the site.

 Articles from the Philadelphia Bulletin.  Richie Ashburn used to do a weekly article in that newspaper.  Online, scanned, clipped… most importantly free!
Future Updates:    I can't promise to keep the pace I had this month, but I hope to keep at least a month—to-month pace going forward. I'm getting into the heart of the season in the Wilmington Daily News, and it's almost like reliving the season!