Introduction

The 1980 edition of the Phillies may not have been the best team, talent-wise, in Phillies history. Both the 1976 and 1977 Phils won more games. The Phillies also won pennants in 1915, 1950, 1983, and 1993. In fact, it took a near miracle (and a six-game winning streak at the end of the year) for the Phillies to even win the division crown over the powerhouse Expos in 1980. Then the Phillies looked at baseball's version of the Grim Reaper against Houston, coming back in the 8th inning of games 4 and 5, winning both in extra innings to go to the World Series. And against the Royals, the Phillies just would not be denied, winning the FIRST World Championship in Phillies history in six games. Yes, other Phillies teams may have had more talent. Other Phillies teams may have won more games. But the 1980 Phillies won, with grit and determination, what no other Phillies team could achieve until 2008: The right to call themselves WORLD CHAMPIONS.
Most Recent Update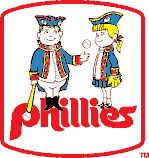 January 2022 Update:  Happy New Year!  I was able to complete the regular season articles (through October 6, 1980) in the Camden Courier-Post, as well as the rival newspapers for those games.  I'm looking forward to reliving the playoffs once more in the eyes of local sportswriters!
Lockout:  In yet another episode of the rich fighting with the wealthy, MLB has instituted a lockout of the Players' Association in December.  I guess we'll just have to see how long this dog-and-pony show lasts this time.  Baseball cannot afford to have this latest labor dispute affect the 2022 season.
Denied Again:  For some unknown reason, former Phils' great Dick Allen was once more denied his deserved place in Cooperstown, falling one vote short in the Golden Era committee.  Allen, who died in 2020, won Rookie of the Year in 1964 with the Phillies, and MVP in 1972 with the White Sox.  Appearing in seven all-star games, Allen finished with a .292 career average, to go with his 351 home runs and 1,119 RBI.
Still On the Lookout For:
Pictures from the 1980 season.  Looking for digital copies of pictures that can be posted on the site.

Articles from the Philadelphia Bulletin.  Richie Ashburn used to do a weekly article in that newspaper.  Online, scanned, clipped… most importantly free!
Future Updates:   Now that I am into the playoffs with the Courier-Post, things will slow down quite a bit just due to the increased number of articles that are in each day's edition during the postseason.  I am hoping to finish the Courier-Post articles during the NLCS in January, and the World Series in February.  I will also keep my eyes open for rival articles during the playoffs as well.