Memories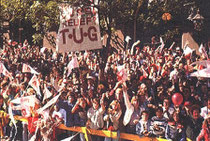 I was a 9-year-old boy when the Phillies won the World Series in 1980. I can remember sitting up late (on a school night!) to watch the games with my grandmother. I stayed with my grandmother those nights because my mother would NEVER have let me stay up that late. I can remember many things about that season: Mike Schmidt's home run to clinch the division against Montreal, Pete Rose bowling over Bruce Bochy to win game 4 of the NLCS, Tug McGraw leaping in the air after striking out Willie Wilson to win it all.
This is an area where I would like to have your input. What is YOUR favorite memory? Do you have an origional story or poem to share? Please e-mail me your memory/story/poem, and I will place it here.
Featured Memories
A Thousand Deaths
by winning
The best year of my life. I died a thousand deaths each time the Phils lost in the playoffs. The worst thing about the 70's was that my parents had been through all of that with the '64 team. I think that they just gave up all hope after that. They used to make fun of my loyalty and tried to brace me for what they said would be an annual eventuality. My mom went so far as bet against me by taking the Dodgers in '78. Little did she know that when they beat the Phils that I would place all blame on her. Twelve year olds with unhealthy fixations don't see the world too clearly. In fact, when the Phils fell out of the race in '79 I spent a lot of September hoping (and I mean REALLY praying) for the Pirates plane to go down.
So, as you could guess, every turn of the screw in '80 was just torture. I tried to listen to my parent's advise to not get too excited after a big win and to accept big losses as simply the fate of a preordained loser. But I just couldn't. I was too far gone. So when Bake hit that shot in August against the Expos, I yelled,"That's it! We're on top for good!". Then, when that game was followed by the losing streak, I didn't crack a smile for days.
Throughout September and October I could sense my parent's carefully constructed defense mechanisms being unbolted after huge wins against the NL East only to be thrown back up in the LCS. I truly believe those stories about all the heart attacks in Philly being attributed to those five games. My dad had to listen by himself on the radio, I stood on the sofa during rallies and my grandmother gave the 'evil eye' to the Astros on the T.V. Only my grandfather watched with any sense of perspective, but that was because he was an A's fan whose heart was surgically removed by the Mack's.
When Tug finally put an end to The Series, he also put an ending to a very special chapter of my life. It was a five year crescendo that has been unmatched since. Sure, there have been many more "important" things happen in my life that I will be eternally grateful for. I even stopped caring about baseball in high school and college, but that summer will forever be my topper. If in my old age I get stricken with memory loss, I will probably forget many, many things before I forget Ron Reed's cartwheel, or Pete Rose's bouncing the ball on the turf, or Chris Wheeler yelping in the background of the press box, or... God, there are so many.
41-Year Fan
by AlphonseDattolo
I have been a Phillies fan for 41 years.  I have suffered through many bad seasons but 1980 still exists as the greatest memory of my life! What I recall is the late September series with hte Cubs where the Phillies swept all four games to tie the Expos in the standings.  One game had the Phils trailing in the 9th inning we tied it up and won it in the 15th on a Garry Maddox hit! I knew then that we were destined.  Also, game five of the playoffs with Houston still stands as the  greatest game I have seen.  When Garry Maddox caught the ball hit by Enos Cabell I cannot describe my feeling!  
I suffered through 1964 when we had a 6.5 lead with 12 games to go and we lost the pennant on the last day of the season.  I suffered through the 23 game losing streak in 1961 and one big hurt was when the great Richie Ashburn passed away on September 9, 1997.  With God's help we shall go all the way in 2001 and dedicate the world championship to Richie Ashburn!!!!!!!
I Was 20
by kpascarello
I have been a PHILLIES fan ever since I saw Frank Lucchesi sit on 2nd base at Busch Stadium after a disputed home run call. That was in 70' or 71 I think. I remember seeing Bowa, Schmidt ,Luzinski and Boone come up and thinking maybe someday we could actually play in october. Then we won some division titles and I got real greedy and wanted to win it all. We lost to the Reds, then the Dodgers(he was OUT!!!) if you have to ask who you shouldn't be here.Then we lost out to the Pirates and that damn song. We finally got rid of Ozark and brought in big Dallas to right the ship. But of course it wasn't easy somehow I always thought it would be.My funniest memory of winning the World Series was opening day in 81' we had good seats, we left early (from Bellmawr, a fifteen minute ride), and we ran out of gas on the Walt Whitman bridge thanks Dexter.83 was fun 93 was a lot of fun because i was living in the south and everybody said we didn't have a prayer,well they were wrong, but 1980 was the best for obvious reasons. GO 01' PHILLIES.