Camden Courier-Post - July 1, 1980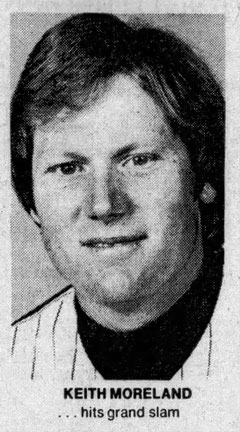 Slam by Moreland steers Phils to win
By Rusty Pray of the Courier-Post
MONTREAL – There's no better way to gain ground on the guy ahead of you than to beat him in a head-to-head matchup.
So it was that the Phillies inched closer to Montreal in the National League East Division standings last night, outlasting the Expos, 7-5, before 36,347 Olympic Stadium fans and a nationwide television audience.
The route the Phillies took to draw within two games of the Expos was like a trip through downtown Belfast. All sorts of hazards and perils awaited them. But in the end, a seven-run fourth proved just enough to get Dickie Noles and a couple of overworked relievers safely through the night.
"IT'S AMAZING," said Manager Dallas Green with a smile, "what a few runs will do. If we could've stretched those out for a week, we would've won four ballgames. Of course, we would've lost this one...."
But runs are rarely retroactive in baseball. The Phillies' offense just now seems to be awakening from a slumber that produced all of five runs in nine games prior to Sunday's watershed 5-2 win over the Mets. Included in that run-parched stretch were seven straight one-run decisions, five of them losses.
It's true the Phils could've used some of last night's surplus last week, but they put the runs to good use anyway. The fourth inning represented the Phillies' biggest offensive explosion since June 13, when they got seven in one inning off poor Randy Jones and other Padre pitchers.
THIS TIME the victim was Montreal's Bill Gullickson, who allowed only five hits in 7⅓ innings when he last faced the Phillies a week ago.
The young righthander had cruised through the first three innings, allowing only the first of three walks to Greg Luzinski, who continued to struggle at the plate. But Manny Trillo met Gullickson in the fourth with a single, igniting the fuse on an inning that would include two home runs, a triple and a double.
Bake McBride, who was rested after flying deep to center in the fifth, sent Trillo to third with a double that landed with radar accuracy inches from the right field foul line. Luzinski followed with another walk, loading the bases.
HAD GULLICKSON been pitching against the Phils as recently as three days ago, he might have escaped the inning with his shutout intact. And, after he got Garry Maddox out on a fly ball too shallow to score Trillo, it seemed the clock had, indeed, been turned back.
Enter Keith Moreland, who started his third straight game at catcher while Bob Boone ponders his .223 average. Moreland picked on a high, inside fastball and ripped it into the left field seats for his first major league grand slam and second home run of the season. Suddenly, the scoring drought was over.
"I was just looking to make contact," said Moreland. "I knew I hit it good enough to get a sacrifice fly, but I really didn't think it was a grand slam until I rounded third and saw all the guys standing at home plate."
IT'S AMAZING what a few runs will do. Perhaps inspired by Moreland's blast, Ramon Aviles followed with a single to center. Then John Vukovich slapped a ball to right just out of the reach of a diving Andre Dawson. It fell in for an RBI triple, a career-first tor Vukovich, who has spent portions of nine seasons in the majors.
Noles graciously struck out, but Pete Rose decided to get into the act with a two-run home run, his first of the season. Expo Manager Dick Williams finally took pity on Gullickson, replacing him with Stan Bahnsen, the first in a parade of Expo relievers who ominously shut down the Phils the rest of the way.
Meanwhile, Noles was making it interesting. He had pitched out of jams in the first and second, sailed through the third, then allowed a run in the fourth when Warren Cromartie tripled and scored on Larry Parish's ground ball to the right side.
MONTREAL LEFT runners on second and third in the fifth, but back-to-back doubles by Parish and Rowland Office and two walks were enough to convince Green that Noles had had enough.
Keven Saucier's was the first weary arm to come in from the Phils' bullpen. The lefthander faced Rodney Scott with two out and the bases loaded, working a 3-2 count before yielding a two-run single that made it 7-4.
Ron Reed was next. He got through the seventh without incident, but allowed Montreal's final run in the eighth when Office tripled and scored on pinchhitter Jerry White's single. Reed, however, got the first two out in the ninth and survived Aviles' second error of the game to put the win away.
PHIL UPS – Green said last night he will decide today whether to activate righthander Nino Espinosa, on the disabled list with a sore right shoulder since the season began.
Bob Boone learning game's unforgiving role
By Rusty Pray of the Courier-Post
MONTREAL – Baseball can be an unforgiving sport, leaving little margin for personal error. Desire matters only when it is matched with production.
Such is the plight of Phillies catcher Bob Boone. No one questions the man's ability, his desire or his willingness to work on his game. But this season those things don't seem to mean much. Boone, an All-Star, is hitting .223, nearly 50 points below his career average.
And Bob Boone has been benched, a sad situation for a proud man who refuses to use off-season knee surgery or the' distraction of being the National League's Player Representative during the strike-threatened days of April and May as excuses.
Keith Moreland has caught the last three games for the Phillies, beginning with the second game of Saturday night's doubleheader loss to the Mets. He hadn't hit much either, going two-for-nine before last night's game against the Montreal Expos.
"If I can't play Keith when Boonie's hitting like hell, I don't know when I can play Keith," said Manager Dallas Green after the Phils' 7-5 victory. "And Boonie's not hitting at all right now.
"I've been patient with him. He knows that. He's a competitor. He wants to play. I sat one of baseball's better catchers down, in my opinion."
Moreland, of course, is far from Boone's equal as a catcher. The youngster has a long way to go defensively and in calling games. But he is a major league hitter, a point he underscored last night by hitting his-first career grand slam, a shot that was the centerpiece of a seven-run fourth inning.
"I haven't swung the bat that well," said Moreland. "It's not a case of sitting. I won't use that as an excuse. I've been overanxious at the plate, swinging at a lot of pitches out of the strike zone and a lot of first pitches. Now, I've adjusted to my role and I'm just trying to see the ball and hit it."
Moreland had appeared in only 16 games, mostly as a pinchhitter, prior to last weekend. Green wanted to use him more often, but he also wanted to give Boone every opportunity to work out of his slump. Green waited... Moreland waited... And Boone failed to produce.
"I'm in a reserve role and I've come to realize that," said Moreland. "I knew if I made the club, I'd be used as a reserve, but I hadn't adjusted my body or my mind to it. I was just overanxious. The last two weeks, I've been seeing the ball, not jumping at it.
"I think it was just a case of me trying to do too much too soon. I don't expect to play every day or even once a week."
It is difficult not to empathize with Boone's situation. He has been catching – and hitting – this season on one leg. Indeed, Green perhaps did not rest Boone often enough early in the season, when the catcher could have used some time off to work on his stroke.
It would be foolhardy to think Moreland will now assume the role of offensive savior. In fact, it wasn't too long ago that Moreland's name was openly associated with a possible trade.
"I heard all the trade rumors, and I didn't want to leave Philadelphia, but it was out of my hands," Moreland said. "I don't consider myself a power hitter. Even if I played every day, I'm not going to hit 35 home runs."
The benching of Bob Boone has given Moreland an opportunity to hit and some valuable time behind the plate. It has also given Boone a much-needed rest.
And perhaps it will revitalize Boone's bat. In an unforgiving sport, that may be Boone's only salvation.
Schmidt named on All-Star team
NEW YORK – Third baseman Mike Schmidt was the only member of the Phillies to make the National League All-Star starting lineup, announced today by Major League Baseball Commissioner Bowie Kuhn.
Schmidt, who leads the NL in homers, won his second selection at third base, outdistancing Los Angeles' Ron Cey, 2,693,037 to 2,320.959.
The primary color in the lineup will be "Dodger Blue."
SECOND BASEMAN Davey Lopes, the leading vote-getter in the majors, headed the Dodger contingent which includes first baseman Steve Garvey, shortstop Bill Russell and outfielder Reggie Smith.
Joining Schmidt and the four Dodgers on the NL squad for the July 8 game at Los Angeles are catcher Johnny Bench of the Cincinnati Reds; and outfielders Dave Parker of the Pittsburgh Pirates and Dave Kingman of the Chicago Cubs.
"Obviously, we have some outstanding players on this team and the fans have shown it by the way they have backed their club," said Dodgers Manager Tom Lasorda.
And did they ever back their club. Twelve players in the senior circuit received over two million votes and seven were Dodgers.
THE AMERICAN League team was announced yesterday. It was headed by California first baseman Rod Carew and included Milwaukee second baseman Paul Molitor; Kansas City third baseman George Brett and New York shortstop Bucky Dent and outfielder Reggie Jackson. Boston Red Sox outfielders Fred Lynn and Jim Rice and catcher Carlton Fisk complete the team.
Lopes, the Dodgers captain, drew 3,862,403 votes to end the three-year reign of Carew as the leading vote-getter for the All-Star Game. Lopes had over two million more votes than Pittsburgh's Phil Garner, his nearest rival at second base.
"I'll be there," said Lopes, who earlier this season felt he wasn't performing up to All-Star caliber. "I'm gratified that many people put the time into voting. It's nice to know you're that popular."
Garvey had the toughest battle although the voting wasn't that close. He had to beat out last year's co-MVP's Willie Stargell of the Pirates and Keith-Hernandez of the St. Louis Cardinals – currently leading the National League in batting this season.
GARVEY COLLECTED 3,009,005 votes – the only other NL player besides Lopes to poll 3 million. Stargell finished with 1,872,434 while Hernandez would up with 1,517,081.
Smith, the NL's second leading batter this season, finished second among the outfielders with 2,283,416. The 35-year-old switch-hitter was a member of six previous All-Star teams. This was his first starting assignment.
Parker topped the outfielders with 2,896,643 votes while Kingman just nipped Dusty Baker of the Dodgers, 2,133,252 to 2,108,727 for the final spot in the outfield.
Russell, whose error last week prevented teammate Jerry Reuss from pitching a perfect game, edged Cincinnati's Dave Conception for the shortstop spot, 2,123,488 to 1,838,779. St. Louis' Garry Templeton, No.3 in the league in batting, was third with 1,658,984.
BENCH, the only player to poll over a million votes in each year of balloting, came from behind to win the starting spot at catcher for the 10th time in the last 11 years. The veteran receiver finished with 2,179,169 votes, edging Steve Yeager of Los Angeles, who got 2,119,196.
The National League has dominated the All-Star Game lately, winning the last eight in a row and 16 of the last 17.
And this year, the NL will be facing an injury-plagued American League team.
Three of the players who won starting berths – Molitor, Brett and Rice – are currently on the disabled list. Dent, who edged Milwaukee's Robin Yount (2,086,177 to 1,642,330) in taking the shortstop position, was removed from the disabled list yesterday.
"IT'S FRUSTRATING," , said Molitor, who is sidelined with a pulled muscle in his rib cage. "It's something I've looked forward to for three seasons."
Molitor collected 2,454,941 votes to 1,600,750 for runnerup Bobby Grich of California.
Brett, who has an injured ankle, outpolled New York's Graig Nettles 3,335,095 to 1,789,519 in winning the job at third. Rice, out with a broken wrist, was third in the outfield voting with 2,142,549, trailing Jackson (2,829,119) and Lynn (2,648,788).
If the injured players are unable to play, the league office will name replacements with no requirement that the second-place finisher be named.
CAREW, named to the starting team for the 11th consecutive time, was the top AL vote-getter with 3,674,247. He led runnerup Cecil Cooper of Milwaukee by more than two million votes in the final accounting of the computer card vote sponsored by Giliette.
"It's a tribute to me," said Carew. "I guess you have to say people are responding to me. It's an honor for any player to play in the All-Star Game no matter how many times you go."
The closest battle in the AL came for the catching position where Fisk, 2,642,846, edged Kansas City's Darrell Porter, 2,215,885.
The pitchers and the remaining members of the 28-man squads will be named by Managers Chuck Tanner of the National League and Earl Weaver of the American League later this week.