Camden Courier-Post - July 11, 1980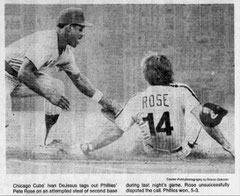 Phils start 2nd half with win
By Rusty Pray of the Courier-Post
PHILADELPHIA – After spending the All-Star break under conditions that were, uh, less than relaxing, Dallas Green thought it might be beneficial to review some of baseball's finer points with his players. So the manager of the Phillies called a team meeting prior to last night's game against the Chicago Cubs.
"The thing I dwelled on," Green would say later, "was getting back to playing the type of baseball we're capable of playing – thinking type baseball."
The version of thinking-man's baseball the Phils presented to 33,130 Veterans Stadium fans in a 5-3 victory certainly gave food for thought. Not because of any inspiration that might have been provided by Green's gathering, but because the charitable Cubs brought new meaning to the word execution.
INDEED, the Cubs all but self-destructed, playing as if someone slipped a mickey into their pre-game spread. They made three errors – two of them costly – and twice left the tying run on second. In a game in which Chicago led by scores of 2-0 and 3-1, it could be said the Cubs never threatened. ' Lenny Randle played a particularly gruesome game at third base, kicking one ground ball, waving at another and cutting off a throw that had a chance of nailing a runner at the plate.
The Phils had nothing noteworthy going against reliever Dick Tidrow when catcher Bob Boone dribbled a ball to the right of the mound with two out in the eighth. Tidrow did not exactly react with a cat's reflexes and, without a real chance at getting Boone, made a hurried throw that sailed into right field.
Boone happily continued on to second, scoring the Phils' final run when pinchhitter Greg Gross bounced a single up the middle. Centerfielder Jerry Martin played the ball well, making a strong throw toward the plate. But no one will ever know if Martin's throw would have been in time to get Boone because Randle cut it off. Randle did catch Gross in a rundown, but not before Boone checked in with an indispensible insurance run.
"I THOUGHT it was going to be close, but Gross made a good play going to second and drawing the throw," said Boone.
"It would've been very close," Green agreed. "G.G. made the right play, and that's the kind of play we want to see happen.
"It was a good, fun game to get back into action with. We did some things we talked about the last couple of days. We played better team baseball, had a better idea of what we wanted to do offensively."
Boone and Randle figured prominently into a fourth-inning Phillies "rally" that produced three runs on one hit and gave the Phils a lead they would never relinquish.
THAT SINGLE, a shot that whisked past a startled Randle, belonged to Boone, who has not had a great deal of success this season hitting with men on base. This time, though, Boone connected with the bases loaded, scoring two runs to tie the game. Randle helped present Boone with the RBI opportunity by sandwiching an error on a Manny Trillo grounder between walks to Garry Maddox and Larry Bowa.
Pete Rose, who singled in Lonnie Smith with the Phils' first run in the third, took care of the rest, stroking a sinking line drive to right-center that Martin caught on the run, Bowa tagging and scoring to make it 4-3.
"I've been working a lot on mechanics," said Boone, who carried a .223 average into what would end a three-hit game. "I felt good in St. Louis and, during the All-Star break, I had time to relax, gather my thoughts and block things from my mind.
"Nothing spectacular happened in the meeting. We just talked baseball; things like moving runners, picking up signs, what we can do as a team to win this thing. That's what we're all here for. A lot of things have been going on lately that aren't positive. The meeting got us thinking baseball."
PHIL UPS – Smith replaced Greg Luzinski in left field because he had fluid drained from a sore right knee Tuesday morning... Green said he is not sure when the Bull will be back... "He's still limping, still not able to function for us," Green said... Cubs placed slugger Dave Kingman on 15-day disabled list yesterday with a sore shoulder and recalled catcher Mike O'Berry... Reliever Warren Brusstar rejoined the Phillies after a 20-day stay with Peninsula and threw well on the sidelines... If Brusstar's recovery continues, the Phils may have to make a move... Mike Schmidt, who did not play in the All-Star game because of a pulled hamstring muscle, was in the starting lineup for only the third time in the last 12 games... Bob Walk opposes Lynn McGlothen tonight... Phils open a three-game series tomorrow with Pirates, who yesterday put Willie Stargell on the disabled list.
'Hypocrisy Series' leaves Phils bit cool
By Ray W. Kelly of the Courier-Post
PHILADELPHIA – Hot on the trail of the most sensational drug story since Babe Ruth was caught mainlining chilli dogs and snorting soda pop, representatives of the allegedly responsible newspapers covering the Phillies made their way last evening into the team's locker-room.
They did not know what to expect from the players. But an "unnamed source" from an "unnamed public relations department" admitted that two (or was it four?) of his assistants were probing rumors that some Phils to be named later were not happy with headlines and stories that subscribed to the old western theory of, "Lets give 'em a fair trial, then hang 'em."
Of course, it's ridiculous to think that somewhere, sometime, someplace an overweight jock with the blahs and a doubleheader staring him in the face hasn't popped one of the billions of pills that greedy companies and under-regulated doctors pour onto the American scene each year.
What has transpired here in the past few days, however, is the World Series of Hypocrisy, a perfect example of how – in a nation where the president's righthand man supposedly uses cocaine... where banks in Miami are literally bursting with the gold of pot... where one New England doctor accounts for two percent of all quaalude presciptions and Las Vegas features "pit stops" for uppers – there is always some fool who thinks he can make a name for himself by scandalizing a star.
There is a law against a doctor writing certain prescriptions without examining a patient. There is a law against a pharmacist altering the amount of pills in that prescription. Those are the possible crimes that investigators were supposed to ask the players to help solve, if possible. But, somewhere along the line, people who should know better forgot that no doctors nor pharmacists play for the Phillies.
That's why it was hard to believe that Manager Dallas Green was smiling when a vanguard of writers jammed into his office last night after eyeballing a clubhouse that featured quick-change artist Pete Rose, Silent Steve Carlton, a grim-faced Larry Bowa and the possibility of some conversation with Lonnie Smith, Bake McBride and Ron Reed.
"I don't envy any of you in your work,"said Green. "I know news isn't the same as sports (pages), but unfortunately it's still in the paper. The difference is hard to sell out there (in the lockerroom)."
No, he didn't think the trouble had brought the team together, because he didn't think they'd been apart. Okay, maybe the media was "backing off." No sense dwelling on the whole thing.
Outside, McBride studied his can of beer. His face was grim and he refused to look up when a writer approached.
"How you doing, Bake?"
Silence. He was faking anger. He's always doing that bad-dude bit. Only people who know him know better.
"Not talking, eh? Listen. Just tell me. Do you do mustard?"
McBride laughed and said, "Right now, I'm heavy into sleeping. But, if you write it, I'll deny it."
Other players began to appear, some from the sanctuary of the players' lounge, others from the shower.
"All these guys can't be from newspapers," grumbled George Vukovich, a less-than-humble rookie who wasn't taking his cue from a surprising number of congenial teammates.
A group of writers surrounded Mike Schmidt, one of them hoping out loud that he would understand that they hadn't taken aim at his good name.
"I do (understand)," he said. "Some of these other guys might not, however."
Then, draped in a towel and carrying a small bag, the third baseman headed toward the door, saying, "See you tomorrow."
For a moment, it looked like he was going to leave the stadium dressed like a Roman. Was he that upset? No, be remained just inside and talked with his agent, Dave Landfield.
Bob Boone, batting hero of the 5-3 victory, grinned as he began his mass interview by saying, "First off, I don't take Quaaludes to relax."
Bowa, the shortstop that I once allegedly struck in the hand with my face, passed through the room, understandably unable to shake off the anger and frustration this latest unpleasantness had dumped in his lap.
"It's a shame," said Schmidt. "But, it'll blow over. Everything in life is temporary."
Drug probe doctor 'super guy,' ex-coach says
By George Clark and Karen Curran of the Courier-Post
Ray Ripplemeyer, former pitching coach of the Philadelphia Phillies, says he knows the physician believed to be the target of a drug investigation involving several Philadelphia ballplayers, but says he isn't aware that any of the players used the doctor as a personal physician after they left the minor leagues.
The investigation has centered around Dr. Patrick Mazza of Reading, Pa., Phillies players Greg Luzinski, Pete Rose, Larry Bowa and Mike Schmidt, and four unidentified members of the club's minor-league franchise, the Reading Phillies.
Since news of the investigation broke Tuesday, Bowa and Schmidt have been cleared. The investigation of the others continues.
Ripplemeyer, interviewed by telephone at his Valmeyer, Ill., home Wednesday, said he made two trips a year to Reading when he was a minor league pitching coach. He said he used to play golf with Mazza.
Ripplemeyer, who was pitching coach for the Philadelphia minor league teams in 1968 and 1969 and the Phillies' pitching coach from 1969 to 1978, described the doctor as "a super guy."
"He liked baseball and he used to drive to Philadelphia with his boy to see the Phillies games," he said.
Rippelmeyer said that the doctor used to have team members, their wives and children to his house for team parties. He also said he was never personally treated by the doctor.
"All of the (Reading) Phillies knew him," he said. "When you're a stranger in town, your best friend is the team doctor. Most of the guys (who left to go to the majors) got their own doctors or used the (major league) team doctor."
He said there is always a lot of locker-room kidding about drug use and alcohol around the league but that he never personally knew anyone who took drugs.
"Our policy (on the Phillies) was as long as a player could come out on the field and do his job and didn't embarrass us off the field, we stayed out of his personal life," he said.
Ripplemeyer said the team doctor and the trainer talked with the players often about the effects of amphetamines and that the team policy was that they were not to be used.
Meanwhile, a source in the Pennsylvania Drug Enforcement Bureau disclosed yesterday that his office still is looking into several prescriptions for amphetamines, which reportedly bore the names of Luzinkski, Rose and Rose's estranged wife, Karolyn.
The matter is expected to be resolved by the end of the month, he said, and if any action is to be taken, the matter will go to a state grand jury.
The source noted, however, that whatever happened involving Mazza and the ballplayers in question may have been legal.
Mazza, the only Reading physician associated with the Double-A farm club, volunteered to open his files to the state, if asked, to prove his innocence