Camden Courier-Post - July 12, 1980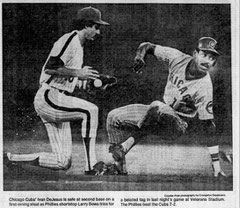 Phillies beat Cubs, 7-2, tie for lead
By Rusty Pray of the Courier-Post
PHILADELPHIA – Sometime somewhere in the storied past of baseball, a left fielder has had a worse game than the one played by the Chicago Cubs' Jesus Figueroa last night.
The 23-year-old rookie butchered three catchable balls, costing the Cubs three runs and helping the Phillies to a 7-2 victory that put them in a tie with Montreal for first place in the National League East Division standings. It is the first time since May 28 that the Phils have held such a lofty position in the standings.
A season-high crowd of 58,151 (50,209 paid) fireworks aficionados watched in bemusement as the Phillies rallied around Figueroa's ineptitude to win, for the eighth time in the last 11 games and make righthander Bob Walk a 5-0 pitcher.
The only reason Figueroa had to spend the evening chasing runaway balls in the outer reaches of the Veterans Stadium outfield was because Dave Kingman, himself a suspect glove, was on the disabled list.
Despite Figueroa's fielding faux pas, the Phils managed to keep their heads, using some alert baserunning and a daring two-out squeeze bunt by Larry Bowa to take an early 2-0 lead off righthander Lynn McGlothen, who shut out the Phils the last time he pitched against them June 8.
Pete Rose twice picked on poor Figueroa, sending a sinking line drive that befuddled the left fielder and went for a double that scored catcher Bob Boone with the game's first run in the second. In the seventh, with the Phils nursing a 3-2 lead and Lonnie Smith on third by way of a single, a stolen base and a throwing error by catcher Mike O'Berry, Rose popped a ball to shallow left that Figueroa managed to avoid for the second of three Rose doubles and a 4-2 Phillies lead.
Just as important as that run was one manufactured in the fourth by the foot speed of Bowa and centerfielder Garry Maddox, who singled with one out and went all the way to third when Manny Trillo bounced a hit-and-run pitch to the left side of the mound. McGlothen threw Trillo out at first for the inning's second out, but Bowa beat out a perfectly-placed bunt to make it 2-0.
"We talked to Bowa about using that play," said Manager Dallas Green, "especially with Garry, or Lonnie Smith, or somebody fast on third. It utilizes two guys' speed – Bowa and Maddox. It's a good play."
Figueroa figured in the second of Mike Schmidt's two triples during a three-run seventh that broke the game open. Schmidt had opened the sixth by tripling over the head of right fielder Mike Vail and scoring to make it 3-2 on a line drive to center by Maddox.
The shock of Rose's double had hardly worn off when Schmidt hit a line drive to left. Figueroa went for the shoestring catch. He should have known better. The ball bounced well in front of him and rolled to the wall, producing another run and setting the stage for an RBI single by Maddox.
Walk's first stroll through the Chicago lineup was a study in stutter stepping. Walk opened the game with a firm backward pace, allowing leadoff man Ivan DeJesus a single to center and a rapid theft of second base. Walk recovered his faculties and stuck out Randle, then walked Buckner before fanning Vail and Jerry Martin in succession.
The hit-walk-strikeout pattern continued in the second before DeJesus gave the fielders something to do with a line drive to Trillo. Still, the Phils' infield could have passed for a LeRoy Neiman painting until, with one out in the fifth, Walk got his first ground ball, a bouncer by Randle that Schmidt turned into a double play.
The Cubs actually tied this game, 2-2, in the sixth on two hits, a walk, and a series of fielder's choice ground balls. It was then that Green first suspected Walk might be tiring. An inning later, Green's suspicion was confirmed when DeJesus, who went 4-for-5, bounced a one-out single off Walk's thigh.
"I could've taken him out then," said Green. "And I was going to, but he wanted to finish the game. I talked to Boone on the way to the mound and he said, 'Every now and then, he (Walk) pops one good one and every now and then he's got nothing."
Walk made Dillard his sixth and final strikeout, but balked Randle to second. Green then ordered his pitcher to intentionally walk Buckner, an unorthodox move considering Buckner represented the go-ahead run. Walk went 2-2 on the next hitter, Vail, before Green decided he had seen enough and called Ron Reed in from the bullpen.
Reed responded by inducing Vail into a routine fly ball to right with his second pitch. The rest of Reed's evening was made considerably easier by Figueroa's comedic efforts in left.
PHIL UPS – Attendance for two-game series with Cubs was 83,339, a major-league high this season... Schmidt joins McBride, St. Louis' Garry Templeton and Cincinnati's Ray Knight as only NL players to get two triples in one game this season... Rose, in turn, joined Templeton, Montreal's Andre Dawson and Trillo as only players to get three doubles in a game... Steve Carlton (14-4) opposes Jim Bibby (11-1) tonight in opener of three game series against Pirates.
Phillies quizzed on drugs
By Rusty Pray and Tom Barlas of the Courier-Post
PHILADELPHIA – Officials of the Philadelphia Drug Law Enforcement Agency have talked to some Phillies players and their wives in connection with an ongoing criminal investigation of persons not employed by the club, according to a statement issued yesterday by Phillies owner Ruly Carpenter.
"Each individual interviewed cooperated fully and was assured that he or she was not suspected of any criminal involvement," the statement read in part.
The statement was issued during a hastily called press conference prior to last night's game between the Phillies and the Chicago Cubs in Veterans Stadium.
Team publicist Larry Shenk said he "strongly requested" that Carpenter be present at the press conference, "but he is not allowed to be here." Asked why Carpenter was not permitted to be present, Shenk replied: "I can't answer that. There's a lot I don't know."
The statement said state officials asked that details of the interviews not be revealed, including the identities of the persons interviewed. "I trust this request will be honored by the media," the statement said. "Any further comments will have to come from the Commonwealth."
According to published reports, the state has been investigating a Reading, Pa., physician, Dr. Patrick Mazza, 56, in connection with the dispensing of amphetamines without a state-required medical examination.
The investigation originally focused on Phillies Greg Luzinski, Pete Rose, Larry Bowa and Mike Schmidt, and four unnamed members of the Reading Phillies, Philadelphia's Eastern League farm team.
Sources said several players and some of their wives received amphetamine pills illegally from Mazza. In some cases, the pills were reportedly hand-delivered to the players by an unnamed "runner."
On Wednesday, Berks County District Attorney George Yatron cleared Bowa and Schmidt of any wrongdoing, saying "the information we have on those two individuals shows no connection at all, even innocently.
"That is not to say that the others (Rose and Luzinski) were not connected in an innocent way," said Yatron, who would prosecute any crimes uncovered by the narcotics squad.
It is still unclear if the recipients could be charged with a crime, and no charges have been filed in connection with the investigation.
Yatron said the investigation is continuing and likely to continue through the end of the month.
Mazza has volunteered to open his records to the state, if asked, to prove his innocence.
A copyright story in the Reading Times quoted an identified pharmacist as saying a "runner" filled approximately seven prescriptions for Phillies pitchers Steve Carlton, Larry Christensen and Randy Lerch, and Bowa's wife Sheena over a two-year period, the last about 10 months ago.
All the prescriptions were for the amphetamine Desoxyn and were signed by Mazza, the pharmacist said.
Mazza denied prescribing amphetamines for Phillies players and their wives.
"I don't recall that. I totally deny that," Mazza told the newspaper.