Camden Courier-Post - July 13, 1980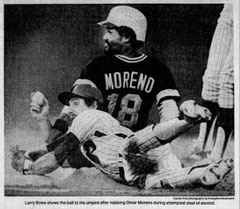 Phillies beat shift to turn back Pirates
By Rusty Pray of the Courier-Post
PHILADELPHIA – As gambles go, it ranked right up there with pending the Lone Ranger and Tonto to Tehran to free the hostages.
But Pittsburgh Manager Chuck Tanner has been known to roll the dice once or twice, and his options with runners on second and third in the bottom of the ninth of a tie ball-game were limited.
So Tanner called his right fielder, Dave Parker, in to play second base, put three fielders on the left side of the infield and told ace reliever Kent Tekulve to pitch the hitter inside.
"Tekulve throws ground balls, so I brought an extra infielder in," Tanner said moments after the hitter, Bob Boone, grounded a single between short and third to give the Phillies a 5-4 victory last night. Tekulve did his job. He made him hit it on the ground. It just found a hole. We got what we wanted, but it didn't go where we wanted.
Indeed, Boone's game-winner probably found the only hole on the left side, splitting a gap the width of the Phillie Phanatic's tail to give the Phils a victory after two relievers failed to protect a 4-3 lead for Steve Carlton in the top of the ninth.
"It (the Pirates' alignment) didn't bother me," said Boone. "It just told me they weren't going to give me anything out over the plate. If you hit it at 'em, you hit it at 'em. But I knew he (Tekulve) would come with a sinker inside, so I just concentrated on getting a hittable ball and hitting it hard.
"There's a lot of luck involved. The key really was to hit the ball hard. If they walk me, it doesn't hurt them. It wasn't a move. It was just one of those things. You hit the ball in the right place and it doesn't matter if they have 10 guys out there."
Pete Rose, whose two-run double off reliever Grant Jackson had given the Phils their 4-3 advantage an inning earlier, admired Tanner's tactic.
"I have to give Chuck a lot of credit for trying something like that," said Rose. "He knew the cards were stacked against him and he gambled. It didn't work, but tomorrow it might work. You have to take your hat off to a guy who's willing to try that. It was pretty interesting to see."
Phillies Manager Dallas Green, not particularly pleased with the ninth-inning work of Dickie Noles and Kevin Saucier – who got credit for the win – did not share Rose's enthusiasm for the maneuver.
"It doesn't work," Green said. "Gene Mauch used to try it all the time. It doesn't work because the infielders are never where the ball is hit.
"I can't second-guess Chuck. He's got one of the best relievers in baseball out there, a guy who can thread a needle, so I can see where he'd think it would work. It's just not my kind of play."
Garry Maddox began the decisive rally with a single to. left. Manny Trillo, who had singled in the Phils' second run in the fourth off starter Jim Bibby, kept it going with a ground single to the left side after fouling off a bunt attempt and swinging and missing on a fake, bunt.
Larry Bowa then successfully sacrificed despite a Pirate rotation play designed to get the lead runner at third. Bowa's bunt brought Boone to the plate and Parker in from right field.
Tanner could have walked Boone and had Tekulve, a righthander, pitch to lefthander Greg Gross, who had delivered a pinch single with one out to start things in the eighth. Instead, Tanner surprised 53,254 Veterans Stadium onlookers with his shift.
The game might have ended as Carlton's 15th win of the season had Noles not opened the ninth by drilling Lee Lacy with a pitch. And, when Phil Garner followed with a single to center, Green brought Saucier in to pitch to pinch-hitter John Milner.
Milner was sent to the plate to bunt. But Saucier walked Milner to load the bases after he had fouled off two bunt attempts. The tying run crossed the plate on a double-play ball by pinch-hitter Manny Sanguillen, and Saucier fanned Omar Moreno to avoid further damage.
"I sure hoped we had qualified pitchers to throw a shutout inning," Green groused. "But we didn't, so we had to grind out a win."
The grinding out of this win before the largest crowd to see a National League game this season began when Mike Schmidt opened the second with his 22nd home run of the season. It was Schmidt's first homer since June 24 and the 12th that either put the Phils in the lead or tied a game.
Carlton breezed through the first three innings, getting four of his five strikeouts, before RBI singles by Parker and Garner gave the Bucs a 2- 1 lead in the fourth. Trillo's single with Bake McBride on second tied it, but the Pirates went in front again, 3- 2, on a single by Bill Robinson and a double by Lacy.
That's the way it stayed until the eighth, when Rose blooped a ball that bounced away from Parker in right for two bases and two runs.
PHIL UPS – Gross is hitting .407 since June 17... Lonnie Smith, starting his third straight game in left field, went 2-for-4, making him 27-for-69 in games in which be has started... Phils are 13-4 with Smith in starting lineup.
Phillies to get clean bill of health they deserve
By Ray W. Kelly of the Courier-Post
PHILADELPHIA – Within 48 hours, the Phillies are expected to be given a clean bill of health by state narcotics investigators. Not that they ever needed it.
Perhaps the most bungled and irresponsible drug probe in modern sports history will come to a well-deserved conclusion when enforcement officials issue a statement through the local baseball team thanking the players and their wives for cooperating with the information-leaking-sieve of an agency.
The public exoneration will surely be of little consolation to the athletes, seven of whom went to Veterans Stadium on Friday to volunteer any information they might have concerning the possible violation of drug laws by area doctors and pharmacists.
That, of course, is what this entire three-ring circus was supposed to be all about – the people dispensing diet pills in a haphazard manner.
Somebody in authority probably might have explained that to third baseman Mike Schmidt and shortstop Larry Bowa. Except, the much-maligned players weren't even among the group of athletes that was asked to appear.
Embarrassed and burned by the public relations hot potato that they dropped into their own laps, officials wanted to dispense with the matter quickly. Not only was each day's headline outrage (NARCS: "WE'RE AFTER PHILS") making them appear even more irresponsible than some newspaper people, but the potential for legal action seemed to be mounting.
More than a few lawyers have been completing files on the episode and will be deciding in the weeks ahead whether to pursue legal action against eitheror state officials and newspapers. The players aren't the only ones who have been forced to live with this nightmare.
A good guess is that, in the end, lawsuits will prove to be an unprofitable venture, both in terms of settlement and public relations. It's just not going to be worth the time and aggravation.
The entire mess could have been given the deep-six on Friday night. Unfortunately, earlier in the day, the super-sleuths got a taste of what it's like to be a sports-writer in Philly. They went to the Vet anticipating an interview with a certain athlete and came away with untouched notepads and unused ballpoints.
The jock, ever his own man, talks when and where he's good and ready. It would be nice to say he didn't show up for Friday's interview because he wanted to show investigators that he didn't appreciate seeing his (or his teammates) butt kicked about in such an unprofessional manner.
But. the truth is that his advisors, suspecting that the talks might just be an extension of the witch hunt, asked him to wait until his legal advisor (who was recuperating from a recent illness) returned to the area.
Phillies owner Ruly Carpenter had hoped to air all the newly-cleaned linen before the players left town tomorrow night, so they wouldn't miss the small satisfaction of seeing their reputations buffed and polished.
That's why Ruly went to bed Friday night hoping that player could be con-vinced to put his faith in the organization's legal counsel, which was on the scene when the other seven athletes chatted with the narcs. Talks with the player were classified as purely routine. Once he appears, the "official statement" will follow.
One could hardly blame the Phils for being protective of their players' rights, although in a prepared statement later that evening, Carpenter said, "Each individual interviewed cooperated fully and was assured that he or she was not suspected of any criminal involvement."
That, of course, does little to erase the unhappiness and embarrassment caused by a situation that can best be described as, "If you throw enough garbage against a wall, some of it is bound to stick."
Ironically, when it finally comes time to put up or shut up, the only sound expected is that of a declaration – The Phillies are innocent.
Somehow, it doesn't seem enough.
Greg out, Brusstar in
By Rusty Pray of the Courier-Post
PHILADELPHIA – The Phillies yesterday placed left fielder Greg Luzinski on the 15-day disabled list and activated reliever Warren Brusstar.
Luzinski last played July 6 in St. Louis, when he complained of a sore right knee. Fluid was drained from the knee Tuesday. Team physician Dr. Phillip Marone has diagnosed the ailment as traumatic synovitis, an inflammation that causes fluid to appear in the joint. Luzinski was hitting .245 with 15 home runs and 42 RBIs, but was in the midst of a 5-for-50 slump. The placing of Luzinski on the disabled list was backdated to July 8.
Brusstar, who made 104 relief appearances in 1977 and 1978, was used only 13 times last year because of a strained right shoulder.
The righthander began last season on the disabled list and was activated June 28. But, on July 25, he was optioned to Reading, the Phils Double-A farm club, where he pitched two innings in one game.
After a spring training of first progress, then frustration, Brusstar began this season on the disabled list. He was optioned to Peninsula in the Class A Carolina League under the new basic agreement in which a player may be sent to the minor leagues for 20 days without losing pension qualifying time (Nino Espinosa went to Spartanburg under the same conditions).
With Peninsula, Brusstar was 1-1 in seven games with a 4.50 earned run average in 13͔⅔ innings.