Camden Courier-Post - July 2, 1980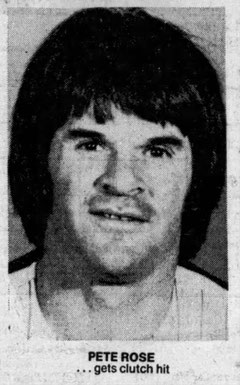 Phillies only a game off lead
By Rusty Pray of the Courier-Post
MONTREAL – For the first five innings, the Phillies sprayed hits with an uncommon regularity around Olympic Stadium.
They had 11 of them before the first out was recorded in the fifth and, by the time that inning had ended, were outhitting the Montreal Expos, 12-3. That should have been more than enough to provide some working space for lefthander Randy Lerch. But no. All those hits produced were two runs, just enough to keep even with the Expos.
"It looked," Manager Dallas Green would later say, 'like it was going to be one of those struggle nights where we get a lot of hits and not many runs."
AS THINGS turned out, it was well worth the struggle. The Phils remained deadlocked with Montreal until the 11th, when they scored twice and hung on for a crucial 5-4 victory last night.
The win moved the Phils to within a game of the Expos in the National League East Division standings and gave them the opportunity to leave here tonight with a sweep and tied for the lead.
Pete Rose and Bob Boone delivered the key hits in the 11th, but it was an error by Montreal third baseman Larry Parrish that gave the Phils their third straight win.
The 11th began with Keith Moreland, who started at catcher and homered for the second consecutive night in the eighth, slapping a single to right off reliever Woody Fryman.
GREG GROSS, who started in right in place of Bake McBride, was sent to the plate with orders to bunt, moving Lonnie Smith, pinch running for Moreland, into scoring position. Gross failed, eventually forcing Smith at second and seemingly killing a fine scoring opportunity.
"Gross didn't get the job done on the bunt," said Green. "Fortunately we were able to keep the rally alive."
The man who resuscitated the rally was Boone, who has watched Moreland catch the last four games, was hitting only .223 and was six-for-his-previous-44 when he pinchhit for Lerch, ripping a single to left.
That gave Rose a chance to single for the fourth time, scoring Gross, who challenged the arm of leftfielder Ron LeFlore. LeFlore had thrown out Rose at the plate in the fifth and robbed Greg Luzinski of extra bases with a leaping catch at the wall in the ninth,
BUT LeFLORE'S throw was well off the plate, forcing catcher Gary Carter to go down the first base line. When Boone saw LeFlore's errant throw, he headed for third and Carter fired to Parrish, who let the ball get through him for an error, Boone scoring what proved to be the deciding run.
Lerrin LaGrow, another in a long line of weary Philly relievers, could protect only half of the 5-3 lead in the home 11th, relinquishing a lead-off homer to Warren Cromartie. LaGrow got the next two hitters out, but walked Chris Speier before retiring pinchhitter Tommy Hutton to end the game.
"We couldn't get anything going early," said Rose. "And in the 11th, I was the last hope. I was it. I hit that time the same as I always do. I just happened to hit it in the hole.
"I was just trying to hit the ball out in front, drive it somewhere. There's a lot of holes out there. You just hope you don't hit it at somebody."
ROSE MANAGED to miss everybody by LeFlore, much to the relief of Green, who watched Lerch put together 10 strong innings. Green displayed more than the usual confidence in his 2-10 lefthander, allowing Lerch to hit in the ninth inning of a 3-3 game.
"I thought I was out of the game," said Lerch, now 3-10 and gaining some much-needed confidence. "I looked in the dugout when I was on the on-deck circle and said, 'What's going on?' He (Green) said 'You're hitting.'
"I thought he'd get a hitter in there, but I'm glad he didn't."
The Phils were fortunate enough to have Mike Schmidt return to the lineup. But it might have been too soon to bring the slugger back, since he restrained the hamstring muscle that kept him out of four games. Nevertheless, Schmidt, who yesterday was named to the All-Star team for the fifth time, managed to drive in a run with two singles.
PHIL UPS – Phillies yesterday reactivated righthander Nino Espinosa, who has not pitched since last September and began the season on the disabled list... Espinosa probably will pitch Friday in St. Louis, taking the place of Dickie Noles in the rotation... At the same time, the club placed lefthander Tug McGraw on the 21-day disabled list, backdating it to June 26... McGraw developed some tendinitis in his left arm after experimenting with a sidearm delivery... Luzinski has gone hitless in his last 14 at-bats Steve Carlton and Steve Rogers, who are 4-4 in 12 previous matchups, face each other tonight in the series finale.
Lerch and Phillies don't follow script
By Rusty Pray of the Courier-Post
MONTREAL – From the beginning, it had all the trappings of a typical Randy Lerch game. You know, a lot of deep counts, flurries of hits sandwiched between occasional outs, less support than Teddy Kennedy gives Jimmy Carter…
Lerch is the resident luckless pitcher of what remains of the Phillies' staff. He could be called a mirror image of Steve Carlton because, just as it seems there is no way Carlton can lose, so it seems there is no way Lerch would win.
So when Lerch's first two pitches to Andre Dawson in the first inning of last night's game against the Expos in Olympic Stadium were balls, it was all but preordained that Dawson would hit Lerch's next pitch out of the ballpark. Dawson did, springing the Expos to a 1-0 lead.
And, when the first 10 Phillies' hits - failed to produce a run off Scott Sanderson, who beat Lerch, 1-0, last week, it seemed only a matter of time before the sky would fall.
This time, however, neither Lerch nor the Phillies followed the script. The lefthander pitched well – sometimes brilliantly – and the Phillies won a critical game from Montreal, 5-4, in 11 innings to move to within one game of the Expos.
"Herm Starrette (the Phils' pitching coach) has been telling me all year, 'Randy, don't worry about your record. You're going to win a big game for us,'" Lerch said after winning for the first since June 7.
Lerch's 10-inning performance was crucial for reasons not reflected in the won-lost column.
Perhaps its highest value was to Lerch, himself. Lerch went into the game with a 2-10 record that was only marginally deceiving. He had endured a confidence-shattering period of exile in the bullpen. Indeed, had another healthy arm been available, Lerch might now be in Oklahoma City, his pitching was so poor.
"This is a big boost for me and the team," Lerch allowed. "The key has been finally forgetting about being 2-10 and just going out there and throwing. You can't just say that you're better than your record, you have to think it.
"Everybody in the world knows I'm not (as bad as) 3-10. Well, maybe not everybody... But the fans know it; they're still booing me like hell."
The truth is, Lerch is somewhere between 3-10 and, maybe, 6-7. In three of his last four starts, lie has been effective, going 10 innings against the Dodgers in Los Angeles, losing to the Giants and dropping last week's 1-0 decision to Sanderson.
"I don't believe he's a – what? – 2-10 pitcher," said Keith Moreland, who caught for the fourth straight game and homered for the second time in two nights. "His last six, seven starts. Randy has pitched his game, kept ahead of the hitters. You look and you'll find that games he's gotten in trouble are the games where he falls behind hitters."
Another reason Lerch's performance represents something more than a casual night's work was the ragged condition of the bullpen. Manager Dallas Green had to have Lerch go deep into the game because there were no usable arms in the bullpen.
Tug McGraw became the latest pitching casualty yesterday, going on the disabled list with tendinitis of his left arm. Ron Reed barely survived the final three innings of Monday's game. Kevin Saucier also had been used Monday. Indeed, the only person who possibly could've given the Phillies more than two innings last night was Nino Espinosa, who had just been activated. And Espinosa has not pitched since last Sepember.
Had the circumstances been different, Lerch probably would've been pulled when he ran into trouble in the seventh, or for a pinchhitter in the ninth, moves Manager Dallas Green insists he would not have made.
"He just had complete control of the game, in my opinion," said Green. "I don't take pitchers out in that situation unless I think they're losing some stuff. He hadn't lost anything."
Nevertheless, Lerch had two on and two out in the seventh with Ron LeFlore at the plate. It turned out to be Lerch's finest moment, because he caught LeFlore looking at a mean slider for a called third strike.
"That," said Moreland, "was probably ' his best breaking ball of the night. He wasn't lazy on it and LeFlore was completely fooled."
So were a lot of other people who thought for sure it was going to be another typical Randy Lerch game.