Camden Courier-Post - July 3, 1980
Struggling Carlton loses 4th
By Rusty Pray of the Courier-Post
MONTREAL – It was, by far, Steve Carlton's worst performance of what has been an extraordinary year.
The Phillies lefthander looked like anything but a 13-3 pitcher and leading Cy Young Award candidate in a 6-1 loss to the Montreal Expos that left the Phils two games behind the leaders of the National League's East Division.
Carlton struggled like the mere mortal he apparently is, walking one more (six) then he struck out and all but handing the Expos their first three runs.
BY THE time Manager Dallas Green finally got around to pulling Carlton in the eighth – the first time Green has taken Carlton off the mound since May 1 – Carlton had labored through 141 pitches.
"I think Steve struggled all night," said Green. "I made him struggle like hell in that last inning. It wasn't a good concentration game for him. Still, up to that last inning he's pitching a good ballgame. It was a case of him running out of gas and me milking him for all he was worth.
"That's a dangerous situation, at best."
CARLTON TOOK a three-hitter with . him into the eighth, having staked Montreal to its lead by allowing the opposing pitcher, Steve Rogers, an RBI single and wild pitching home two other runs.
But Carlton, who had been something less than vintage, soured badly in the inning. He gave up a leadoff single to Andre Dawson, an RBI double to Gary Carter, a bunt single to Warren Cromartie and a sacrifice fly to Larry Parrish. Bob Pate became Carlton's sixth walk and, when No. 8 hitter Chris Speier singled in the game's final run, Green had no choice but to bring in Dan Larson, who gamely prevented further humiliation.
"He's a human being," Green said of Carlton. "Even though he didn't have his slider, didn't have his best concentration or game, we should have been tied or ahead before we got too deep in the game.
"I'M NOT real pleased with the way we played the game tonight. If Rogers had just beaten us, I would have felt a lot better. But we contributed to the win."
The Phils began making deposits on Rogers' 10th win of the year (only Carlton has more victories) in the first, when they twice loaded the bases, but came away with only one run.
That pattern continued in the second, when Ramon Aviles opened with a double and never moved off second; in the fourth when Carlton hit into an inning-ending double play; in the fifth when Mike Schmidt and Greg Luzinski had shots at driving Pete Rose home from second, and in the eighth. Especially the eighth.
"WE DIDN'T hit, but when you look at the scoreboard, we had more hits than they did (nine-seven)," said Green. "Our hits didn't come at the right time. That's been our faltering for the last 10 days, two weeks."
It was still a 3-1 game when Manny Trillo opened the eighth with a sharp single to right Schmidt fanned and Luzinski was robbed of a hit by Ron LeFlore in left, but Garry Maddox hit a ground ball just deep enough to prevent Speier from forcing Trillo at second.
What happened next was nothing short of amazing. Greg Gross lined a single to left and LeFlore charged the ball quickly. Third base coach Lee Elia saw it and threw up a stop sign for Trillo. But Maddox, apparently assuming Elia would challenge LeFlore's arm – something the Phillies have done in the past – rounded second too far and catcher Gary Carter relayed LeFlore's throw to second baseman Rodney Scott, catching Maddox and ending the inning.
"EVEN THOUGH there were two outs, LeFlore charged the ball super and made a helluva throw," said Green. "The ball was hit firmly and right at him. Garry knows he made a goof and I'm sure he doesn't feel good about it.
"He made it. There's nothing I can do about it, nothing he can do about it He'll just have to wait until tomorrow and get a couple hits."
Tomorrow has now arrived and the Phillies are in St. Louis for a five-game series. The All-Star break follows that. And, obviously, the Phils will have to make better use of their hits if they hope to stay close before the second half of the season begins.
PHIL UPS – Shortstop Larry Bowa, out since June 26 with a pulled hamstring muscle, will probably be in the lineup tonight...Trillo has an eight-game hitting streak... Carlton passed Ferguson Jenkins for eighth place on the all-time strikeout list... There is a rumor circulating that Carlton will not attend the All-Star Game, a rumor the Phillies deny... Dick Ruthven and Bob Walk oppose Bob Forsch and Jim Otten in tonight's twi-night doubleheader... Nino Espinosa is to make his first mound appearance since last September tomorrow against John Urrea.
Phillies sweating out 'return' of the Bull
By Rusty Pray of the Courier-Post
MONTREAL – It is the first inning, but already the Phillies have Steve Rogers, Montreal's ace, on the ropes. Pete Rose has opened with a single to left field. Manny Trillo has followed with a neatly-placed bunt single down the third base line. And Mike Schmidt has walked, cornering Rogers with Greg Luzinski the next hitter.
If the Phillies made their living in the ring instead of on the diamond, they would be Jimmy Young. They not only let the gasping Rogers escape the first, they allowed him to survive nine and take a 6-1 decision from them.
Luzinski took the first step backward by looking at a called third strike on a 2-2 pitch; Garry Maddox, who would figure prominently in a three-hit, no-run eighth, bounced Rogers' next pitch to shortstop, scoring one runner while forcing another. Greg Gross walked to load the bases for the second time, but Bob Boone flied routinely to right. The inning's totals: two hits, two walks, the bases full twice... and one run.
"We had a chance to put it away in the first," said Manager Dallas Green after watching his premier pitcher, Steve Carlton, lose his second straight. "We outhit them, did everything but outscore them. We had our chances to win, or at least make it more interesting than it was."
Luzinski's strikeout, his first of two in the game, continued a slump that has reached serious proportions. After going 0-for-4 last night, the Bull is now hitless – with 10 strikeouts – in his last 17 plate appearances, and two-for-his-last-41.
In fairness, Luzinski has hit some balls hard. He was robbed twice by fine defensive plays in the Montreal outfield on Tuesday, and last night left fielder Ron LeFlore made a shoestring catch of a sinking line drive by Luzinski with one out and one on in the eighth. But it doesn't take a great baseball mind to figure out that, no matter how the outs are recorded, the entire lineup suffers when its cleanup hitter is going bad.
"I know if I'm going good we're going to win," said Luzinski, who has been working – perhaps too hard – to find the solution to the slump. It has happened in the past. It's not a case that one guy can do it all...
But so much of the Phillies' offense depends upon Luzinski and Schmidt. When they are hitting well, it makes it easier for everyone else in the lineup to hit, because pitchers aire forced to throw strikes. Even if only one of them is slumping, pitchers can attack the lineup with more freedom.
"It's just one of those things," the Bull continued. "I had a couple of good swings tonight. Like what happened in the first. I had a good swing at a fastball, but I fouled it back. Then it's 2-2 and he (Rogers) makes a great pitch.
"It's the kind of pitch, if you're going good, you foul back or hit to right."
The frustrating part is, Luzinski feels he has found the difficulty. He has worked it out by taking extra batting practice and now, he says, it's just a matter of translating the knowledge into reaction during a game.
"I've been pulling my hands back, lengthening my swing," be said. "My swing's got to be short and simple. "I'm close. I've had some good outs...
"The thing with me is, I've got to swing my way out of it. It has happened to me before. There's over a half a season to go yet. I'm not going to panic."
And, it seems, neither is Green, who has shown admirable patience with his struggling slugger. Luzinski has been in the lineup, in his accustomed No. 4 position, during the last seven games, a span in which he has gone 2-for-23.
So perhaps on another day, in another city, Luzinski will step to the plate with the bases loaded and rip a shot to the gap. Or fight off a good pitch to get something more hittable.
Until then, all he and the Phillies can do is wait.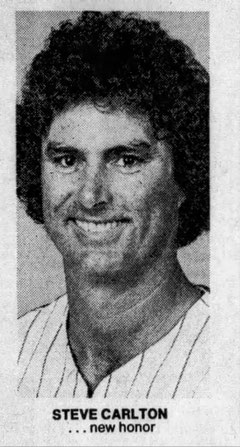 Carlton tops All-Star staff
NEW YORK – The Phillies' Steve Carlton, baseball's winningest pitcher with a 13-4 record, heads the eight-man National League staff for Tuesday's All-Star game in Los Angeles.
Joining Carlton on the NL team named by National League President Chub Feeney and Pittsburgh Manager Chuck Tanner are Jim Bibby of Pittsburgh, San Francisco's Vida Blue, Jerry Reuss of Los Angeles, J.R. Richard of Houston, Bob Welch of Los, Angeles, Pittsburgh's Kent Tekulve and Chicago's Bruce Sutter.
Tanner, however, learned last night that he would not have the services of Blue. The Giants placed Blue on the disabled list yesterday because of a nagging back problem.
BLUE WAS more disappointed about missing the regular-season games than the All Star game.
"It's very disappointing," Blue said. "I've never been on the disabled list before, and it bothers me at this point because we're starting to play some good baseball."
It was not immediately known when the league would pick Blue's replacement, and Tanner said he was not allowed to discuss the matter until the NL made an announcement.
Carlton, who started last year's game in Seattle for the National Leaguers and also was the NL starting pitcher in the 1969 game at Washington, has a 2.19 earned run average and was NL pitcher of the month for May. He leads the league in strikeouts (146) and innings pitched (147⅔).
FOUR NL pitchers – Bibby, Blue, Reuss and Richard – have won nine games apiece.
Bibby, 9-1 with a 3.00 ERA, leads the league in winning percentage. Blue, 9-5, won seven straight over one stretch and is the only man to start the All Star Game for both leagues, opening for the AL in 1971 the only AL victory in the last 17 years and for the NL in 1978.
Reuss, 9-2 with a league-leading 1.74 ERA, pitched the season's only no-hitter last week and was chosen NL pitcher of the month for June. He was the starting pitcher for the NL in the 1975 game in Milwaukee and pitched three shutout innings. Richard, 9-4 and 1.90, had a string of 31 consecutive scoreless innings earlier this season.
SUTTER, WINNING pitcher in the last two All Star games, is 3-4 with a 3.06 ERA and leads the majors with 18 saves. Tekulve, bulwark of the Pirate bullpen, is 5-4 with nine saves and a 3.23 ERA and Welch is 8-3 with a 2.35 ERA.
The American League named its eight-man pitching staff earlier yesterday, selecting New York Yankee teammates Tommy John and Rich Gossage, Rick Honeycutt of Seattle, Dave Stieb of Toronto, Boston's Tom Burgmeier, Ed Farmer of Chicago, Steve Stone of Baltimore and Larry Gura of Kansas City.
Baseball exhibit scheduled at Vet
PHILADELPHIA – An exhibit from baseball's Hall of Fame will be visiting Veterans Stadium during the Phillies' next home stand, Thursday, July 10 through Monday, July 14.
The exhibit will be set up in a tent outside the Phillies' advance ticket windows located near the corner of Broad & Pattison avenue here and will be open between noon and 8 p.m. each day. There will be a small admission fee.
Some of the artifacts in the exhibit include Babe Ruth's locker used in Yankee Stadium, one of his bats, his shirt and pants; 12 World Championship rings; a Stan Musial bat; a Ted Williams bat; a scorecard from Bob Feller's 1940 opening day no-hitter and a collection of uniform shirts from Honus Wagner, Ty Cobb, Joe DiMaggio, Warren Spahn, Sandy Koufax and Willie Mays.