Camden Courier-Post - July 9, 1980
Griffey awakens NL's sleeping giant
By Hal Bodley, Gannett News Service
LOS ANGELES – The sleeping giant just sat there, yawning at every pitch.
Three up and three down. Three up and three down. Three up and three down.
Two up and two down, then...
Heck, for the National League last night, it looked like a Sominex commercial.
KEN GRIFFEY had been sitting on the padded bench yawning just like all the other National Leaguers. When he was sent to left field to replace Dave Kingman to start the fourth inning, Griffey began to get the cobwebs out of his thinking.
So, in the bottom of the fourth inning, with a record Dodger Stadium audience of 56,088 having its own problems at staying awake, Ken Griffey woke up the whole mob with one swing of his bat.
The Cincinnati outfielder sent a Tommy John 1-2 fastball screaming to the pavilion in right-center and the American League was on the run.
THE NATIONAL League went on to win the 51st All-Star game 4-2 and Ken Griffey, who woke up the sleeping giant, was named the game's most valuable player.
"With this talent we have, I knew sooner or later we'd come to life," said Griffey in his soft-spoken voice. "We have a lot of pride. The National League is always supposed to win these games, so I figured it was about time to get things going."
"Griffey's home run obviously woke them up," said Baltimore's feisty Earl Weaver, the American League skipper. "That turned the whole thing around in some respects."
WEAVER LEFT John in in the sixth inning and the former Dodger left-hander gave up two more runs and was to take the loss.
"Even after he gave up the home run, I thought Tommy was still throwing well," said Weaver. "That's why I sent him back out there in the sixth."
"I used to always have good success against John when he was in the National League," said Griffey, who is hitting .314 with seven homers and 43 runs batted in for the Reds so far this season. "The moment I hit the ball, I knew it was gone. Even though I'm a left-hander, I have gotten some good swings at John."
DESPITE THOSE credentials, Griffey finished 14th among 16 outfielders in the fans' voting. As a comparison, Pittsburgh's Dave Parker received 2,896,643 votes to Griffey's 836,491.
"But he was on my team no matter what," said the Pirates' Chuck Tanner, National League manager. "I've seen Ken Griffey win so many games with just one swing of the bat and tonight I think he really brought us to life. I'm not saying we would not have won had he not homered, but there's nothing like a home run to get you going after the first 14 batters have gone down in order."
For Griffey, the All-Star game was his third. He was on his way to one of his finest seasons last year when he was forced to have knee surgery in August. He did not play again last season, ending with a .316 average.
THEN, DURING the off-season, he was involved in a contract hassle with the Reds' front office. During spring training it appeared certain he would be traded, but just when it looked like there was no way to settle the impasse, the Reds signed him to a multi-year contract.
"There was a time when I didn't think I would be with Cincinnati this year," said Griffey, who had just one single in his only other All-Star at-bat before this year. "Once we came to terms, it was a load off my back. It would have been difficult to start the season not knowing how long I would be there."
The 30-year-old Griffey, who comes from Stan Musial's home town of Donora, Pa., has a ,385 batting average in the National League playoffs and his .310 career batting average placed him fifth among all major league hitters in the previous decade.
I GUESS I'm a genius," said Tan-ner in the crowded clubhouse. "It has to be a stroke of genius to insert a player in the game at just the right time."
Reds' teammate Ray Knight, who was in the middle of the National League's two-run rally off John in the sixth, said Griffey's fourth-inning heroics are typical.
"He deserved to be MVP," said Knight. "I've seen him do things like this time and time again for the Reds. We knew we had too many good players to not be hitting. It was only a matter of time for us. When Griffey hit the home run, it seemed to pick us up on the bench. I was just proud to be here and proud that Griffey got that home run. It turned us on."
GRIFFEY IS the third member of the Reds to be named MVP and only the third non-starter to get the award. Joe Morgan (1972) and George Foster (1976) are the other Reds.
"Funny thing," said Griffey. "George Foster called me before the game. He's a former MVP, you know, and he wished me luck. I kept thinking about that. Winning it is a wonderful feeling right now, I wasn't sure I would get MVP. Sure, I thought about it, but the big thing was I wanted to get out of the game with the win."
Griffey says in his mind the victory was typically National League.
"WELL, TONIGHT we just played a solid game and took advantage of their mistakes. We have a great team and lots of depth. I figured John would come inside with a fastball, and that's just what he did."
Griffey was slowly putting his equipment in a bag when somebody asked him what he was going to do.
"Well, I'm going to celebrate a little, then get some sleep."
Sleep? That's what the National League did for half the game last-night.
"YEAH, BUT we woke up," said Griffey.
"That's right," some guy said. "And you were the alarm clock!"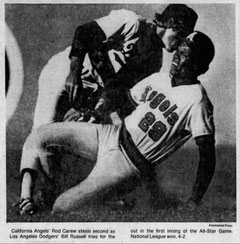 A.L. Stars refuse to concede National is stronger league
LOS ANGELES (AP) - It was business as usual at Dodger Stadium last night, the National League won another All-Star game. But American Leaguers weren't about to concede inferiority.
And second baseman Willie Randolph, whose error on a ball hit by Dave Winfield in the sixth inning enabled the tie-breaking run to score, took exception with the official scorer.
"I don't think they're a superior league," said AL first baseman Rod Carew, who had two hits, a walk and stole a base in a losing cause. "They've gotten the big hit at the right time.
"I HEAR a lot of things people are saying, that we're not aggressive enough. Thate a bunch of baloney."
The setback was the ninth in a row for the AL and its 17th loss in the last 18 All-Star games. Once ahead 12-4 in the series that began in 1933, the AL now trails 32-18-1.
Randolph also had two hits for the losers, but it was a rough evening for the New York Yankees second baseman. He was charged with two errors, including the big one in the sixth inning, and was picked off first base by pitcher Bob Welch after a leadoff single in the third.
THREE STRAIGHT singles by the NL had tied the game in the sixth and Winfield was the hitter with one out. He sliced an outside pitch to the left of Randolph, who tried to shorthop the potential double play ball but couldn't come up with it as the go-ahead run came home.
"I don't see how they could give me an error on that play," Randolph said. "The ball was hit to my left, it had a funny knuckleball spin. I'd go for it the same way if it happened again.
"If the scorer thought it was an error, that's what he saw. I was just happy to be here."
ON THE pickoff play, Randolph said: "Nobody told me he had a good move. I didn't feel him (NL first baseman Steve Garvey) touch me but Welch gave me a good move. I'm not going to worry about who's on the mound. Getting picked off is all a part of being a good baserunner."
AL starting pitcher Steve Stone of Baltimore, who retired the nine batters he faced on only 24 pitches, said he was disappointed his team lost, but not too disappointed.
"I certainly hoped that we would win, but when you face nine batters in three innings you have to be pleased about the outcome," said Stone, a veteran who turns 33 next Monday. "I don't think you could call what happened NL supremacy. They've done better in this game but the AL East is the strongest division in baseball.
"ONE GAME a year certainly doesn't make supremacy and the World Series has shown that. We're a pretty strong league."
Stone, 78-79 lifetime with a 4.06 earned run average before this season but 12-3 with a 3.20 ERA in 1980, dispatched the NL with ease over the first three innings.
"A lot of the guys were looking for the curve ball," said Stone, a veteran performer, of both leagues. "I threw mostly fast balls. Also I was throwing in the twilight. When you're a .500 career pitcher, basically all you can ask for is a game like this."
LOSING PITCHER Tommy John, who retired the first five batters he faced before Most Valuable Player Ken Griffey got the NL going with a long homer to right center to cut the AL lead to 2-1 with two outs in the fifth, praised the Cincinnati outfielder.
"It wasn't a bad pitch, but he's a good hitter," said John, "It could have been inside just a tad more, but if it had been he might have hit it further.
"I thought I was throwing harder than I normally throw… it straightens my ball out," said John, another veteran of both leagues who relies on his sinkerball. "In a game like this you get pumped up and ready to pitch. Throwing harder made me throw risers."
FRED LYNN, who accounted for his team's only two runs with a homer into the right field seats in the top of the fifth inning off Welch, said ne nit a fastball.
"He'd thrown me about nine in a row," said the Boston outfielder. "I hadn't hit in about five days because of a pulled hamstring and I'm sure they were aware of that, It was low and in, that's the kind of pitch I can handle. He struck me out on a pitch around my eyes the time before."
Lynn also disputed the suggestion of NL supremacy.
"IT'S REALLY hard to say," said Lynn. "It's just one game and you certainly can't judge leagues by just one game. They had good players, we had good players. They were just a little better tonight."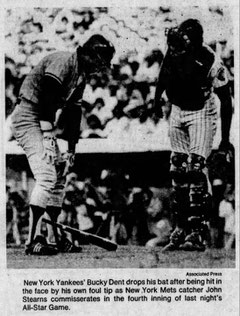 Orioles' Stone probably the brightest Star
LOS ANGELES (AP) – Those who note triumphs in losing causes will remember the performance of Steve Stone in baseball's 51st All-Star contest.
For Stone, Baltimore's 32-year-old recycled righty, merely being a starting All-Star pitcher was no minor triumph. But what he did in the opening three innings last night set a standard that the rest of the game, a rather routine match, couldn't live up to.
On a scant 24 pitches, Stone went through a fiercesome National League lineup that you wouldn't wish on Carl Hubbell: Reggie Smith, Dave Parker, Steve Garvey, Dave Kingman, Johnny Bench.
The meat of the lineup averaged .293 and 13 homers. But Stone was immoveable.
Oh, the Nationals went on to win the game, of course, 4-2, their ninth consecutive victory, their 17th of the last 18. And Ken Griffey of Cincinnati was named Most Valuable Player, having started things for the Nationals with a solo home run in the fifth and a single later on.
To the five-man panel of writers and league publicists, Griffey's two-hit, one-RBI performance seemed the game's most valuable.
Perhaps. But Stone, Stone was an All-Star.
Too nervous to make his curve ball work. Stone showed the Nationals' big guns a fastball that fairly danced by them, a fastball that was good for three strikeouts in three innings.
Stone was perfect for those three, the first time an American League pitcher has held the Nationals hitless through three since Denny McLain did it in 1966. Were this not an exhibition requiring the appearance the largest possible portion of each roster, Stone might have ended the Americans' drought.
As it was, he exited after the third with a shout and a gesture of triumph, and left it to his successors to lose.
In the Americans' lockerroom, the compact (5-foot-9, 175-pound) Stone, strikingly articulate and personable, relished his moment.
"I couldn't have asked for a better three innings or for better results," he said. "But then, I was always very tough in All-Star games."
Oh?
"Yes, in 1965, I pitched in the Ohio High School All-Star game and I won that."
That he made it to this game, that he started this game, was remarkable. In 1976, Steve Stone was a middling pitcher with the Chicago Cubs, having already done time as a middling pitcher for the Giants and White Sox. He tore the rotator cuff in his pitching arm that season and it seemed that another of baseball's modest stories had concluded.
The end seemed assured by Stone himself, who refused surgery and even shots for the injury. He wanted the shoulder to heal naturally and to the surprise of all, it did.
By the end of the year, White Sox owner Bill Veeck felt inclined to give Stone another chance. Stone made good and repaid Veeck with another good year in '78 before hitting the free-agent market for the second time in his career.
Stone landed with the Orioles where he has blossomed. He won nine of his last 10 decisions last year, and is 12-3 this season.
At 32, the .500 pitcher with the bad arm has arrived.
Boone in key post
LOS ANGELES – The Major League Baseball Players Association named Sal Bando of the Milwaukee Brewers and Bob Boone of the Phillies as its representatives to a four-man committee, which will study compensation for free-agent players who sign with other teams.
Elliott Maddox of the New York Mets and Scott McGregor of the Baltimore Orioles were named as alternates. Bando and Boone will meet with two general managers, not yet named, to examine the question, which nearly precipitated a players' strike this season.
The players association, meeting on the eve of the 51st All-Star Game, approved both the basic agreement and pension benefit plans negotiated with the owners in May.
"The basic agreement was approved by 96.6 percent and the pension package won 98.6 percent approval," said Marvin Miller, executive director of the players association.
The owners approved the package last month.