Camden Courier-Post - June 1, 1980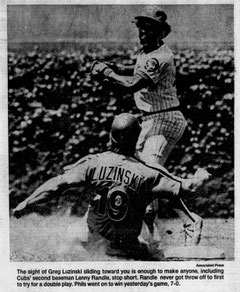 Maddox' defense helps Phillies win
By Rusty Pray of the Courier-Post
CHICAGO – In the glare of Mike Schmidt's two home runs, it may have been difficult for fans to notice the considerable contributions center fielder Garry Maddox made to the Phillies' 7-0 victory yesterday over the Chicago Cubs.
But they were there, nonetheless, for any of the 27,448 in Wrigley Field who cared to see what separates Maddox from other major league outfielders. Included in Maddox' seven putouts were three sensational catches that helped keep the Cubs off the scoreboard against Steve Carlton and reliever Dickie Noles.
"He's probably over there right now feeling kind of bad because he didn't get any hits, didn't help our offense," a besieged Schmidt would say later in the Phillies' clubhouse. "But his defense was probably as important as any home runs I hit or somebody else's RBIs.
"Defensive plays in center field don't show up in boxscores, so the only people who really know about them are the ones who watch the game."
What you won't see in today's box-score is a startling catch Maddox made on Bill Buckner in the first, dashing from left to right-center and snaring the ball at the warning track as he fell to his back to avoid a collision with Lonnie Smith.
"I didn't see Lonnie," Maddox said. "You know someone with (his) speed is somewhere near the ball, but all you can do is go after it as hard as you can."
Neither Smith, who started his first game of the season in place of Bake McBride, who is having some knee trouble, nor Maddox called for the ball. The fact that they didn't collide is a near-miracle. The fact that Maddox caught the ball is, well, something on the order of Divine intervention.
Wrigley Field is not the best park in which to play the outfield. The wind is always tricky, the sky always high, the sun often glaring. Fly balls were fooling outfielders all afternoon and seemed to particularly baffle the Cubs' Dave Kingman, who was making his first appearance after missing nine games with a mysterious shoulder injury.
"Wrigley's a tough park to play in," said Maddox. "You have to watch the wind at all times. There's a high sky, no clouds, and you've got to wear sunglasses.
"The wind wasn't blowing out to left. It was blowing across, and balls hit into the wind were doing tricks."
Maddox' two other catches were not quite as tricky. He merely ran from left-center to catch a blooping fly ball to center by Kingman in the second, and performed a knee-high running snare of a ball hit by Mike Vail, who had a hitting streak stopped at eight games, after Kingman had opened the seventh with a double.
He just played center field as good as it can be played today," said Phillies Manager Dallas Green. "You can't say enough about Garry in center field today."
Well, perhaps that is enough. If Maddox provided defensive splendor, then Schmidt put on an equally-impressive offensive show. Schmidt's first home run came after Pete Rose, batting second in deference to Smith's speed, drove in the game's first run with a single to center in the third.
With the count 0-1, Green decided to play a little hit-and-run, giving Rose the green light. Schmidt got a fastball from Chicago lefthander Willie Hernandez on the outside part of the plate and sent it dutifully to the opposite field.
Schmidt's second, his 16th of the season, came off reliever Bill Caudill to lead off the seventh. It was rope of a line drive that was interrupted in mid-flight by a screen atop the left field wall. The homers gave Schmidt a career-high 12 in May (he hit 11 in May last year), his highest total for the first two months of a season, and put him on a pace that would give him 63 by October. Last year, Schmidt hit his 16th home run in the club's 51st game, putting him 20 games ahead of his 45-homer pace of a season ago.
Carlton, meanwhile, won his ninth game of the year in style, stopping , the Cubs on four hits through seven innings. Noles worked two hitless innings of relief.
PHIL UPS – Smith doubled in the. third and drove in a run with a single in the fourth... Greg Luzinski added an RBI single to the three-run fourth... Rookie Bob Walk was to start today against Dennis Lamp... Matchups for Pirates series, which begins tomorrow, are: Randy Lerch vs. Don Robinson, Dick Ruthven vs. Eddie Solomon, Carlton vs. John Candelaria.
Carlton takes the pressure off other hurlers
By Rusty Pray of the Courier-Post
CHICAGO – Everyone knows what Steve Carlton does not do for the Phillies. He does not run. He does not talk.
His disdain for the discipline of running has caused considerable controversy over the years, mostly because it is expected of pitchers to run between starts. When Carlton decided to pursue his own training program which, of course, ruled out even a leisurely jog, he was defying established baseball policy.
Cartlon talks to the media about as often as he does wind sprints, apparently holding the two in the same regard. He probably hurts himself more than anybody else with his silent stance. Indeed, Carlton could well become a Philadelphia hero on the order of a Bobby Clarke with the proper public relations posture. But, as he told one writer during spring training; "policy is policy," making it clear he was not about to become a candidate for one of the media's "good guy awards."
What Carlton does do for the Phillies is somewhat less well-known. Nevertheless, it has been perhaps the single most important factor in the club's continuing contention in the National League's East Division.
"I'd hate to see where our pitching staff would be without him going out there every fourth day and giving us seven, eight, nine innings," said Phillies Manager Dallas Green. "We always get a good-pitched game. He doesn't mess around. He goes after hitters, and the infielders and outfielders are always on their toes with him out there."
Yesterday, Carlton worked seven innings against the Cubs in Wrigley Field, the quintessential hitters' ballpark. Carlton gave up four hits, walked none and matched his season-high of 11 strikeouts for the fourth time in a breezy 7-0 win. The only reason Green replaced Carlton with Dickie Noles for the eighth and ninth innings was to give the lefthander a rest. Green plans to use Carlton in Pittsburgh on Wednesday.
"He had had three quick innings in a row, then in the seventh he struggled," Green explained. "He was up high and he struggled to get (Jerry) Martin out, and there's no sense making Lefty struggle. You steal a couple innings from him here and there and you'll keep him strong.
"He was pretty overpowering again today. Some of those sliders, you won't see any better – I don't care who's throwing. He's just in an outstanding groove right now. His breaking ball is awesome."
That Carlton should pitch shutout ball for seven innings is not surprising. The truly amazing thing is he has pitched that way all season, start after start.
He raised his record yesterday to 9-2, well ahead of his 27-victory pace of 1972. He lowered his earned run average to a phenomenal 1.83 and his strikeouts now total 91, best in the majors.
"He's just a strong man," said pitching Coach Herm Starrette. "He's the hardest-working pitcher I've ever had. He has got the best slider I have ever seen and I've been in this game 22 years.
"What he has done for us is take the pressure off the other pitchers. We had Nino (Espinosa) on the disabled list... Dick Rothven was coming off elbow surgery... We didn't know about (since disabled) Larry Christenson because he had some elbow problems before... Randy (Lerch) was struggling.
"You know you have to win more than one out of four, but we've had no long losing streaks. That's why you can work a young pitcher in with him. A Bob Walk (who was to start today) sees Lefty go out and stop the Cubs and he has that much more confidence."
What Steve Carlton has given the Phillies, then, is a stopper. No, you can't expect to win a pennant if you can only count on taking one out of every four games. But you can if you win three of five, and Carlton gives the rest of the Phils' tattered staff the luxury of being able to pitch .500 ball.
It is a luxury the Phils would like to have for the rest of the season.