Camden Courier-Post - June 11, 1980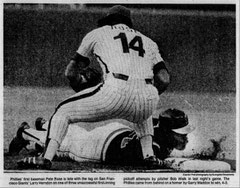 Maddox homer lifts Phillies
By Rusty Pray of the Courier-Post
PHILADELPHIA – The nightcap of the Phillies' early-morning, early-evening doubleheader with the Giants took considerably less time to play than the opener. The two teams can thank the heavens for that small blessing.
Still, there was more than one baggy eye blinking in the respective clubhouses after the Phils had taken San Francisco and lefthander Bob Knepper, 4-3, in a ballgame that took a mere 2:25 to complete and magically ended on the same night it began.
Garry Maddox, for one, felt he needed to dust the cobwebs from his mind yesterday when he got to Veterans Stadium after slogging through Monday's 7½-hour marathon. A steady rain and an indecisive umpiring crew had kept that monstrosity going fitfully until the wee hours of yesterday morning.
"I GOT home about 4:30, and got up about three o'clock, this afternoon," Maddox smiled. "I had plenty of rest, but when I came to the ballpark I still felt kind of tired. I had to talk myself into getting ready.
"It's the same thing when you're not hitting. You get down on yourself mentally and it affects your defense. You got to talk yourself into getting ready."
Apparently, Maddox argued convincingly, because he lifted a Knepper breaking ball over the left-field fence for a two-run home run in the sixth inning that turned a 3-2 deficit into the Phils' first win in their last three games.
THE GIANTS had gotten all three of their runs in the first off rookie Bob Walk, using an RBI single by Jack Clark and a two-run double by Rich Murray to generate the sum of their night's work. Murray, the younger brother of Baltimore's more celebrated Eddie, got his first major league RBIs with the double after singling off Steve Carlton Monday for his first hit in the majors.
Greg Luzinski made it 3-1 by opening the second with his 13th homer – first since May 25 – a rifle shot into the seats above the left-field bullpen. And, Pete Rose produced a second run in the fifth when he scored tarry Bowa with a sacrifice fly to right-center.
That set the stage for Maddox, who picked Knepper's pitch off the dirt and sent it hurtling into the Giants' bullpen with his best four-wood swing. "The guys told me when I came back to the dugout that the pitch was low, very low, and inside," said Maddox.
"THAT SHOWS you how difficult hitting is.  You can get a pitch that a guy hangs, that doesn't break at all, and pop it up.  Then you can get a pitch like I did tonight and hit it out of the ballpark. I can't explain it."
Explanations really aren't necessary. All that need be said is that Maddox' homer came at a particularly opportune time for the Phillies, who've been scuffling for runs lately. Mike Schmidt, who all but carried the club's offense through much of May, is one-for-his-last-13. He might have gone into tonight's game carrying an 0-for-13 had not a ball he hit Monday been changed in the official scoring from an error on third baseman Darrell Evans to a hit. Ironically, the tardy single was Schmidt's 1,000th career hit. 1
 "I haven't been hitting," said Maddox, "and my defense has really been the thing that has warranted my being in the lineup since the beginning of the season."
HIS DEFENSE in center field warrants some mention, since he made a running, backhanded catch at the warning track with a runner on first and none out in the ninth.
This game, in fact, was dotted by brilliant defense.  Bowa's leaping catch of a line drive robbed Murray of a hit to open the seventh. In the sixth, second baseman Manny Trillo ranged far to his left to glove a grounder hit by Evans, then managed to pivot and get a force at second. Trillo's play came only moments after catcher Bob Boone picked Terry Whitfield off second. Add the two double plays turned by Trillo and Bowa, and you get the idea there was more to this game than Maddox' homer.
Still, the Phillies wouldn't mind if their center fielder made talking himself into getting ready to play a daily ritual.
PHIL UPS – Lonnie Smith started in right field for the second straight game... Regular Bake McBride was a late scratch from Monday's game with a "heavy cold"... Phils are now 7-2 against left- handed pitching... Rose, who had struck out only six times in 188 at-bats, has fanned three limes in his last five official plate appearances against Giant pitching... Knepper went into the game with a 1.90 lifetime ERA against the Phils... He was 3-1 against them last year... Knepper has lost his last seven road starts... Randy Lerch goes against Ed Whitson tonight and Dick Ruthven is matched against Randy Jones for the Padres opener Friday.
Phils' ailing pitchers throw well
PHILADELPHIA – The progress of ailing pitchers Nino Espinosa and Warren Brusstar took a dramatic turn for the better yesterday, at a time when the Phillies are considering trading for another pitcher.
Espinosa, who won 14 games before falling prey to tendinitis of the right shoulder last September, has been on the disabled list since spring training. And as recently as last week Manager Dallas Green was not encouraged by the progress Espinosa had been making.
Brusstar has not effectively been part of the Phillies since 1978, missing much of last season with a shoulder ailment.
"I made mention last week that this week we'd have to get off our duffs," Green said last night. "They took it to heart and worked hard all week. Today, both of them threw as well as we've seen them, throw, including spring training.
"Brew has had no pain. Nino has had some stiffness, but no pain. We put them on a daily routine of throwing and they've been throwing hard. It's mainly because I've paid attention to them. Every time they've thrown, I've been there, (trainer Don) Seger's been there and (pitching coach Herm) Starrette's been there. We've pushed them to their tolerance because they've felt no pain."
Phils' bullpen has been coming around of late
By Rusty Pray of the Courier-Post
PHILADELPHIA – With all the trade talk swirling around the Phillies, with all the attention that has gone to the superb pitching of Steve Carlton, little – if any – notice has been taken of the club's bullpen.
The Phillies' bullpen was perhaps the biggest question mark of spring training. No one could anticipate then that injuries to starters Nino Espinosa and Larry Christenson would have General Manager Paul Owens negotiating seriously with other teams for another starter in June.
Indeed, a spring training summation of the Phillies would have labeled them a good hitting club, with capable starting pitching and a suspect bullpen.
But during the last few weeks, Phillie relievers have been quietly getting people out. Last night's 4-3 victory over San Francisco was an excellent example of the kind of work the team has gotten from its relievers lately.
Lefthander Kevin Saucier, who has been known primarily as the guy who touched off a bench-clearing brawl between the Phils and Pirates, entered the game in the sixth with runners on first and second, none out, and the Phillies trailing, 3-2.
Darrell Evans was the hitter and, on Saucier's second pitch, catcher Bob Boone picked Terry Whitfield off second. One out. Evans then hit into a force. Two out. Saucier got the final out himself fanning Milt May. Three away, rally crushed.
"That's all anybody wants to talk about – the fight," said Saucier. "All I want to do is get people out. Right now, everybody's doing his own thing, everybody's contributing in his own way. I'm doing my thing, Ron (Reed) is doing his, Tug (McGraw) is doing his... It's not any one guy down there.
"The biggest thing during spring training was everybody said we had no bullpen. I think that's a bunch of crap."
Saucier got the win when Garry Maddox slammed a two-run home run in the bottom of the sixth. All that remained was for righthander Reed to hurl hitless ball over the final three innings to nail down his third save of the year.
The performances are nothing new. In his last eight appearances, Saucier has allowed just three hits and no runs over 7⅓ innings. Reed has given up three runs In his last 24⅓ Innings, covering 13 appearances. In that time span, Reed has three saves, two wins and lowered his earned run average from 5.73 to 2.57.
Reed is not quite as talkative as Saucier. "I just try to do the best job I can every time I go out there," he growled as reporters gathered around his locker stall. "Go talk to Mr. Maddox, he won the game. Go talk to Mr. Green, he's giving out quotes."
Mr. Green, who also answers to the name Dallas, was offering his bullpen bouquets last night:
"They've done a helluva job the last three, four weeks. Kevin has been super. Ronnie has been doing a great job for us lately.
"Reed is throwing the baseball now. A month ago, he wasn't. I don't know why. He knew it. I knew it. The hitters knew it. I kept asking him why. We had two or three talks. It was like with (Dick) Ruthven (who struggled early). Why? He (Reed) couldn't tell us and we really couldn't tell him."