Camden Courier-Post - June 14, 1980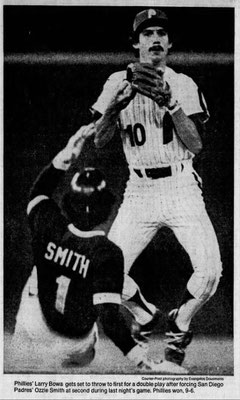 Ruthven is injured as Phils tip Padres
By Rusty Pray of the Courier-Post
PHILADELPHIA – On the whole, the date Friday the 13th has been unusually kind to the Phillies. In terms of wins and losses, they've experienced uncommonly good fortune on everyone's bad-luck day.
Indeed, their 9-6 victory over the San Diego Padres last night before 31,015 finger-crossing fans in Veterans Stadium raised their Friday the 13th record to 7-2 over the last decade, 3-0 against the snakebitten Padres.
But a seemingly small incident occurred during the seventh inning that erased some of the good vibrations the Phils felt after generating a near-record nine-hit, seven-run first inning.
RIGHTHANDER Dick Ruthven injured his pitching shoulder while attempting to field a bunt by the Padres' Tim Flannery. Ruthven, who scuffled for six innings without his best stuff, fell on the shoulder as he tried to bare-hand the ball and throw to first.
While preliminary medical reports indicate nothing serious, the injury is another tear in the delicate fabric holding the Phillies' pitching staff together.
"I know he's hurting," said Manager Dallas Green. "And, it might cost him a start. He caught a spike and landed right on his shoulder. That Astro-Turf doesn't give much."
AND THE injury, if it in fact does cause Ruthven to miss a turn, doesn't give Green many (Options. The trade that has been looming on the Phils' horizon for so long becomes more remote as Monday's 3 a.m. (Eastern time) deadline draws near. Injured righthander Nino Espinosa has agreed, perhaps reluctantly, to try his mending shoulder on Double-A hitters and should join the Phils' Spartanburg club Monday. Similarly, sore-armed Warren Brusstar is being sent to Peninsula, the Phils' Single-A farm club, to pitch.
Espinosa must be recalled after 20 days under a provision that allows injured veterans to be sent to the minors – with their permission. But no one knows whether Espinosa will be sound enough when he returns to give the Phils the starting help they need.
"He agreed to go," said Green. "We just have a few details to work out. The main reason they're both going down is I can't afford to do it (give them work) here, Nino knows he can and has pitched with the type of stuff he's throwing right now. But I explained the roster situation to him and what it'll do if he breaks down."
WHILE THE pitchers were presenting Green problems, the hitters gave him the night off. Lonnie Smith, starting his third straight game in right because Bake McBride has been under the influence of a heavy cold, ripped four hits – two in the first inning – and scored a couple of runs. It was Smith's first four-hit game in the majors and it should put to rest rumors that the Phillies were showcasing him at any team with a pitcher to deal.
"I think," said first baseman Pete Rose, "he can hit. He's a make-things-happen type of guy."
Rose, of course, is of the same mold. He, too, ground out four hits, something he's done more than once over the years. The hits gave Rose a career total of 3,431, putting him in fifth place on the all-time list ahead of Honus Wagner.
IT IS not inconceivable that Rose could threaten Ty Cobb's record of 4,191, should Rose remain healthy and productive.
"The only place that matters to me is first," said Rose. "If I stay healthy and get enough at-bats, the rest will take care of itself."
While every batter in the lineup got at least one hit off four Padre pitchers – including lefthander Randy Jones, who left before getting an out in the first – Mike Schmidt was the only one to join Smith and Rose with more than one. Schmidt sailed a two-run home run over the center field fence off Jones in the watershed first and deposited a well-crafted hit-and-run single into right off reliever Eric Rasmussen in the fourth. The homer was Schmidt's 19th of the season and his sixth off Jones.
THE FIRST inning told the story of this game. Smith, Rose and Schmidt conspired to make it 3-0 before Greg Luzinski and Bob Boone followed with singles to send a shell-shocked Jones to the showers. Reliever John D'Acquisto fared little better, allowing Garry Maddox a two-run single and Larry Bowa an RBI triple before retiring Manny Trillo on a sacrifice fly for the inning's first out.
In all, the Phils sent 12 men to the plate against three pitchers (Rasmussen replaced D'Acquisto) in a 29-minute barrage that did not end until Rasmussen got Schmidt to hit into a force.
The 7-Run Start
PHILADELPHIA – The Phillies last night fell one shy of matching their own major league record when the first seven batters hit safely and scored in a 29-minute first inning against the San Diego Padres.
Randy Jones, John D'Acquisto and Eric Rasmussen were the victims of the big inning. Here's how it went:
Lonnie Smith: Singled to left, then stole second base.
Pete Rose: Singled to right to score Smith.
Mike Schmidt: Hit the first pitch over the center field fence for his 19th home run to make it 3-0.
Greg Luzinski: Singled to right-center.
Bob Boone: Singled to right and took second as Luzinski moved to third.
Garry Maddox: Greeted reliever D'Acquisto with a single to center, scoring Luzinski and Boone.
Larry Bowa: Tripled to right-center, scoring Maddox with the sixth run.
Manny Trllo: Hit a line drive to left-center that was pulled in on the run by Jerry Mumphrey for a sacrifice fly, scoring Bowa.
Dick Ruthven: Struck out.
Lonnie Smith: Singled to center.
Pete Rose: Singled to right, knocking out D'Acquisto.
Mike Schmidt: Grounder forced Rose at second.
Seven runs, nine hits, no Padre errors.
Phillies sign 10 picked in draft
PHILADELPHIA – Ten players drafted by the Phillies in last week's free agent draft have signed contracts, the National League club announced.
Pitcher Jon Reelhorn, a fourth-round pick from Fresno State University, was signed to a contract with Reading in the Eastern League.
Infielder Larry Jeltz, ninth-round, from Kansas State University, was assigned to Spartanburg in the South Atlantic League.
Signed to contracts with Helena in the Pioneer Rookie League were pitcher Yonis Rodriguez, Ozone Park, N.Y.; outfielder Randy Salava, Owasso, Mich.; third baseman Bernardo Howard, Kansas City, Mo.; pitcher Tim Steverson, Umatilla, Fla.; pitcher Dee Decker, San Diego, Calif.; catcher Darren Daulton, Arkansas City, Kansas; outfielder Andre Mallett, Houston, Texas; and pitcher Dale Cooke, Calvin, La.