Camden Courier-Post - June 28, 1980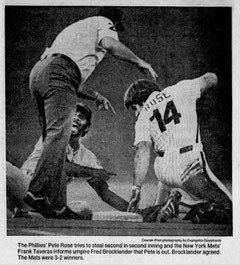 Mets hand Carlton his third setback
By Rusty Pray of the Courier-Post
PHILADELPHIA – What news that came out of Veterans Stadium last night was not that the Phillies lost, 3-2, to the New York Mets before 37,123 muggy fans.
No, it was something much more ominous than that. The defeat came with Steve Carlton pitching, a somewhat startling fact since Carlton had heretofore been the Phillies' invincible man. Carlton walked into the Vet last night with a 13-2 record, an eight-game winning streak and virtually every major league team in his hip pocket. Except, that is, the Mets.
"The Mets, for some reason, historically have handled him pretty well," grumbled Phillies Manager Dallas Green after his club lost for the sixth time in the last eight games. "I don't know what the reason is."
Indeed, the Mets this season have inflicted Carlton with two of his three losses, and are 27-24 against him overall. Carlton's only other loss this season was to the Reds, who happen to be the only other team with a winning record against the lefthander (15-9).
To be sure, Carlton was not his usual dominant self, yielding eight of the Mets' 10 hits during his seven innings of work. But he managed to strike out six, raising his league-leading total to 141 and surpassing Robin Roberts as the club's all-time strikeout king. Carlton now has 1,875 strikeouts in his career as a Phillie, one more than Roberts.
Despite the fact that Carlton had to face his nemesis with less than his best, the game was winnable. The Phillies' offense, in a shabby performance, could muster just five hits off rookie righthander John Pacella, who was rewarded with his first major league victory.
"It was a strange night," said Green. "Offensively, we're not doing the things we're capable of doing. I'm a little worried that we're slipping back to 'don't worry, gang, the old talent will take over again.' We'll have a talk about that soon. The old talent is catching up."
The strange night turned on an odd play, an inside-the-park home run by Lee Mazzilli on Carlton's first pitch of the sixth inning.
The home run, Mazzilli's second of the year and the first allowed by Carlton in 72⅔ innings, broke a scoreless deadlock. It was no shot to the gap. Mazzilli punched a looper to right that Bake McBride attempted to catch on the run. The ball bounced in front of McBride, who skidded to a surprised halt. The ball, unfortunately for Carlton, kept going, rolling all the way to the wall, where second baseman Manny Trillo finally tracked it down.
"I thought I had it," said McBride. "It hit the turf and skidded away. There's nothing you can do about it."
Green agreed with the right-fielder, refusing to second-guess McBride's judgment in not backing off and playing the ball on one hop.
"I thought he might have had a shot at it," said Green. "If I'd been out there, I would have wanted to catch the ball, too. You go on that AstroTurf, run full blast after a ball, and try to stop. It's a tough thing to do.
"I don't protect Bake when he does something I don't think is right, but he was coming like hell. You can't stop and turn around, no matter what you do. The ball was just in a spot that was tough to defense. Garry (Maddox) has got to run 50 miles to back him up. It was one of those freak things as far as I'm concerned."
Freakish or not, the homer set the stage for the Mets to score twice more on an RBI single by Joel Youngblood, who went 3-for-4, and a sacrifice fly to the warning track in dead center by noted slugger Alex Trevino.
The Phils seemed poised for a big inning in the seventh, however, when Maddox opened with a single and Bob Boone followed with a home run outside-the-park. When Pacella hit pinchhitter Greg Gross with a pitch, the Phils had the tying run on and reliever Tom Houseman on the mound.
Del Unser, hitting for Carlton, was the first to face Houseman, a righthander. Unser lifted the ball deep to left-center, where Steve Henderson made a fine running catch for the first out. Gross reached second on Pete Rose's ground ball, but McBride took a called third strike to end the inning.
Mike Schmidt thought he had something going when he opened the eighth with a grounder that shortstop Frank Taveras fielded with one foot in left field. Schmidt was sure he beat Taveras' one-hop throw. Umpire Frank Pulli, however, disagreed.
The final insult came after Maddox opened the ninth by reaching first on a Taveras error. Green decided to play hit-and-run with Boone the batter. Maddox broke for second as Boone chopped a ground ball up the middle, where Taveras – covering on the steal – thankfully converted it into a double-play.
PHIL UPS – Carlton has been scored upon in only four of his last 44 innings... Phils have scored a total of only four runs in their last three games... Dick Ruthven and Dan Larson oppose Mark Bomback and Ray Burris in tonight's twi-night doubleheader... Schmidt aggravated a pulled hamstring muscle while trying to beat Taveras throw in eighth.