Camden Courier-Post - June 30, 1980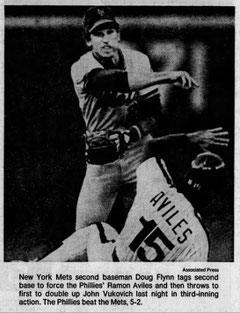 Phils salvage win over Mets
By Rusty Pray of the Courier-Post
PHILADELPHIA – The Phillies had just concluded a 5-2 victory over the New York Mets last night in Veterans Stadium. It was the Phils' first win in five games, third in 11, and hardly what you would call a resounding triumph.
But Manager Dallas Green, apparently, was so pleased with the result that he couldn't resist taking a condescending shot at the Mets, who abetted the Phils' cause with two costly errors.
"Well," he smiled, "we finally played like the Phillies and the Mets played like the Mets."
THE STATEMENT seemed somewhat rash given the circumstances, those lowly Mets taking three of four in the series. And, it did not go over big with New York Manager Joe Torre.
"I wouldn't say they blew us out of the ballpark," Torre seethed. "I'll take three of four anytime I play them. Dallas has a tendency to have his ass overload his mouth once in awhile. I respect any club I play against, but I don't have any appreciation for someone who doesn't respect mine.
"Maybe when he played, every time he pitched he got hit and now he's getting back."
PERHAPS IT was more a case of Green being relieved that his ballclub finally put together a game that featured good pitching, excellent defense and some scattered hitting. With third baseman Mike Schmidt and shortstop Larry Bowa still out of the lineup with pulled hamstring muscles, it was a win the Phillies desperately needed.
The good pitching came from rookie righthander Bob Walk and reliever Lenin LaGrow, who has been a shadowy figure in the bullpen this season. Walk carried a 4-0 lead into the eighth before relinquishing his only walk to pinch-hitter Jose Cardenal, and run-scoring hits to Claudell Washington and Joel Youngblood.
"I thought I threw well until the inning I was taken out," said Walk. "With Cardenal, I had no business throwing him a 3-2 breaking ball with a four-run lead in the eighth. That was ridiculous.
"THAT'S just a cardinal rule of baseball... In the late innings with a big lead, you challenge the hitters. You don't throw them breaking balls and give them a chance to walk."
Whatever indiscretions Walk committed in the eighth could be overlooked because the offense, which had generated just nine runs in five previous games, produced.
Actually, Walk pitched smoothly until, with two out in the seventh, he allowed singles to John Stearns and Steve Henderson. Elliott Maddox followed with a shot down the third base line that John Vukovich, filling in for Schmidt, somehow stopped with a diving backhand.
That play, saving perhaps two runs, all but rescued the Phils from another embarrassing loss, Walk fanning pinch-hitter Ron Hodges with the bases loaded to get out of the inning.
"IT HAPPENED so fast, I didn't have time to react," said Walk. "I turned and saw Vuke dive and catch it. I'm sure if I saw it rolling into the corner I would've felt bad about it."
When LaGrow entered the game with two out in the eighth, it was already 4-2. LaGrow proceeded to throw balls on eight of his first nine pitches, walking Stearns and Henderson to again load the bases.  But he induced Maddox into a ground ball to the reliable Vukovich, who turned it into an inning-ending force.
The offense showed signs that it may be reviving from its 10-day slumber.  Bake McBride and Manny Trillo figured in all of the scoring, combining for three hits, two runs and three RBIs.
IT WAS Trillo who got things started with a one-out single that rolled through Washington's legs in right field for an error, Trillo coasting into third. McBride followed by hitting a ball to the right of first baseman Lee Mazzilli, who gloved the ball, but threw it wide of pitcher Pat Zachry, who was covering on the play, for another error.
Walk opened the sixth with a single, then took third on a – if you'll excuse the expression – "hit-and-walk" single to right by Pete Rose. Trillo and McBride followed with successive RBI singles to right and, two outs later, Trillo checked in when catcher Keith Morleand hustled out a dribbler down the third base line.
Before the inning ended, Garry Maddox and Moreland pulled off a double steal, Maddox lifting third. The play did not lead to a run, but perhaps it was indicative of what Green meant when he said his club had "finally played like the Phillies."
Phils' problems more than physical
By Rusty Pray of the Courier-Post
PHILADELPHIA – You watch the Phillies lose three out of four – including Saturday night's doubleheader – to the New York Mets, and you wonder how it could happen.
How could a club with such superb natural talent as the Phillies allow the Mets, of all teams, three straight one-run decisions? Why is it that a team with seven All-Stars on its roster loses eight of 11 games?
"We've got physical injuries, a couple guys not swinging good and the pitching's thin," diagnosed Dallas Green, who watched his club snap a four-game losing streak with a 5-2 win over New York last night in Veterans Stadium. "Those things will suck a team dry without it knowing it."
Physical problems have made the Phils scuffle. What has happened to the pitching staff is already well documented. Hamstring injuries that sidelined shortstop Larry Bowa and third baseman Mike Schmidt have robbed the team of some of its offensive punch and two of its better gloves.
The first game of Saturday's double-header served as an excellent example of just how injuries have affected the Phillies. In the 11th inning of what would end a 2-1 loss, Manager Dallas Green pinch hit for the left side of his infield, fill-ins Ramon Aviles and John Vukovich. Had the pinch hitters managed to tie the game, Green would have been forced to use outfielder Greg Gross at first, second baseman Manny Trillo at short, catcher Keith Moreland at third and first baseman Pete Rose at second.
But Green knows, as well as anyone who has watched the Phillies over the course of the season, that the problem goes deeper than physical injuries.
"We're hurting physically, but worst of all, we're hurting mentally," Green said prior to last night's game. "I won't let this club feel sorry for itself because feeling sorry creates the kind of baseball we've been playing the last three, four games."
Indeed, the injury excuse can be used for only so long. And the Phillies used it last season. It is Green's opinion that his team begins an eight-game road trip tonight in Montreal as a club of good talent that is not playing within itself.
"The Mets are a fine example of a team staying within itself," Green said. "None of those guys try to hit the ball out of the park. They were losing for a long time. Now they have a club that wants to win, wants to play the game.
"The thing you can't do – the thing players always seem to forget – is that a slump or a down period takes time to take effect. And once it does, you can't just turn it off. That's what our guys don't understand about working hard. They want things to flow easy and it doesn't work that way."
Green seems to be saying his players are not working hard enough, a point they most assuredly would dispute. But few would argue that the Phillies have leaned heavily on their talent in the past. And it won more than a few games for them. But it may be that the Phils, who are not the youngest team in the National League, have reached the point where they can no longer overcome mistakes with sheer talent.
"You lean on talent alone and try to turn it on – and it's not there," said Green. "That's why Pete Rose is so great. He works all the time.
"I'm convinced it's ingrained and convinced they don't understand it. I've been around this ballclub a lot longer than people realize and I've seen our work. That's why I ran a tough spring training.
"We have not executed, we're not good at getting signs and we're breaking down physically – which means we're not working at our game. I've seen tools deteriorate since spring training. All the things they didn't do and got away with (in the past), now they're not getting away with them."
The syndrome of falling back on talent may be an old one with the Phillies, but Green replaced Danny Ozark last August in part to correct that flaw. So far, Green has not been particularly successful.
"The bottom line is, it's my fault I haven't made them work harder," he admitted. "That's what started Danny's downfall. He let them manage... They ran the show."
And, for the last 10 days at least, the Phillies Show has been something less than a hit.