Camden Courier-Post - June 5, 1980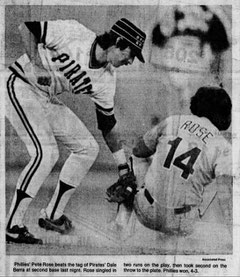 Phils net key win over Bucs
By Rusty Pray of the Courier-Post
PITTSBURGH – It is, perhaps, true that no one win is more important than any other over the course of a 162-game National League baseball schedule. But it's equally true that some victories come in much handier than others.
So maybe the Phils' 4-3 victory over the Pirates last night counted as a little something more than just a number to be added to the debit side of the ledger. And there is no doubt it came at a time when the club was in need.
STEVE CARLTON, who yesterday was named the National League pitcher of the month for May, was given the task of subduing the Pirates in the final game of this three-game set in Three Rivers Stadium. He did it without his best breaking ball, taking on the Bucs with his fastball and his experience.
"Out of all his starts," said shortstop Larry Bowa, who had two hits and scored a run off Pirate starter John Candelaria, "this might have been his worst. I'm not downgrading the Pirates – I think they're the team to beat in the East – but the first four innings his ball was up. Then he readjusted and pitched just unbelievable from the fifth on."
Carlton found himself down, 1-0, in the first when he walked Dave Parker and right fielder Lonnie Smith misplayed Bill Robinson's ensuing drive into a run-scoring double. Carlton trailed again, 2-1, after the second, giving up a double to Lee Lacy and an RBI single to Candelaria. And it was 3-1 in the fourth after Bill Madlock doubled and scored on Steve Nicosia's single to left.
IT SEEMED Carlton was destined to struggle. How long would it take the Pirates to put together more hits and clinch a sweep of the series?
But it was a different Carlton who took the mound in the sixth after the Phils had put together a three-run fifth. Bowa and Manny Trillo opened the inning with consecutive singles, to left, and after Carlton sacrificed them over a base, Smith stepped to the plate.
The youngster, who leads off when he starts because of his speed, fell behind, 1-2, before fouling a ball down the right field line that second baseman Phil Garner just missed catching. Given a reprieve, Smith lined Candelaria's next pitch to right for an RBI single, hesitating only briefly before breaking for second.
ACTUALLY, SMITH was a dead out at second if Robinson had not fumbled Parker's throw. What should have been a baserunning mistake turned to pure genius, however, when Pete Rose followed with a two-run single to center.
Carlton; now with the lead, was suddenly transformed, pitching hitless ball until Parker singled to center with two out in the eighth. Center fielder Garry Maddox fumbled the hit after cutting it off nicely and Parker rumbled into second as the potential tying run.
Robinson was the man presented with the opportunity of driving that run in, but Carlton, who struck out only four, fanned him on a 3-2 slider.
"IT WASNT one of his better days with the breaking ball," said Phillies Manager Dallas Green, "but you're not going to give Bill (Robinson) too many fastballs in that situation."
Said Bob Boone, who caught Carlton's 10th win of the season, "As with all great pitchers in the history of the game, you give him that lead in the late innings and you can just feel that he's going to close it out."
THE PHILS have now have 24 wins – and Carlton has 10. The Phils have now won two of their last seven games – and Carlton has won both.
"Yes," said Green, "that does make me a little nervous. I've told you all along we'll get our act together somehow. I don't have any master plan. I just have faith in the guys we have out there that things will fall into place.
"As long as Steve gives us breathing space every fourth or fifth day, it's like money in the bank."
There remains a worrisome postscript to this game. Left fielder Greg Luzinski may have been bothered by a sore left shoulder. He injured the shoulder when he crashed into the left-field wall while making a running catch during Tuesday's game. The shoulder was numb immediately after the collision and Luzinski spent a restless Tuesday night with it packed in ice.
Mike Schmidt was named the Player of the Month of May in the league after hitting 12 homers and driving in 29 runs during that time. He also scored 26 runs and batted .305.
Boone finds answer to his hitting slump
By Rusty Pray of the Courier-Post
PITTSBURGH – Bob Boone woke up early the other morning still searching for the key that would unlock the secret of his hitting. Hard work in the batting cage, he knew, had always provided the answer in the past. But this year, no amount of work seemed to change the fact he was hitting in the low .200s, nearly 50 points below his career average.
There were, of course, several things that might have affected Boone's hitting. There was the knee operation he underwent last September. And there was the very real distraction of being the National League player representative during the strike-threatened days of April and May.
But Boone rejected the notion that his knee encumbered his hitting, or that the looming strike had a bearing on the way he swung at a pitch.
"It (the strike) made it harder for me to work, to concentrate in batting practice because I had to come out of the cage and talk about it," said Boone. "But I don't believe it's an excuse, because if the mechanics are there, you're going to hit."
When the solution finally came, it came with a sudden clarity. After struggling for two months, Boone in a moment knew what the problem was.
"I hit off the tee Tuesday and found something," he said yesterday, after getting a couple of singles in the Phillies' 4-3 victory over the Pittsburgh Pirates. "It was one little thing and it just clicked in. It is funny. All of a sudden you just know... that's it. You don't even need to take batting practice."
Boone went to the plate four times last night and rapped out a pair of hits to raise his average to .226. He says he is feeling comfortable at the plate for the first time this season.
"I was lunging at the ball," said Boone. "I was carrying my hands toward and there was no pop. I've battled that all my life, since I was a kid, because I've always been a front-foot hitter.
"But I've got to wait, let the ball get to me. When you're going bad there are lots of keys to look for. I had to find what I do to keep my hands back."
The search was not a simple one. Compounding the problem, no doubt, was the fact he had not been throwing well to second base. Opposing teams had been running with impunity and, while most bases are stolen on pitchers, it remained that Boone's throws to second had not been good, mostly bouncing short or sailing wide into the outfield.
"It's always tough when you're struggling," Boone said. "But I've been there before. It's just a matter of working out of it. I spent hours in the cage and nothing was working. I've always had a quick bat, and it gets frustrating when you're doing something wrong and your bat's slow.
"What made it really frustrating for me was that I knew exactly what I did wrong every time I made an out. But knowing what's wrong and correcting what's wrong are two different things."
About the only consolation Boone could take was that he was hitting with runners in scoring position. Despite all the "Oh-for-f ours" he had been accumulating, he still had managed to hit close to .270 with men in scoring position.
That was important, because Manager Dallas Green uses Boone most often as his No. 5 hitter, a power spot that demands run production. And Boone's 18 RBIs on 35 hits prior to last night were, at least, acceptable.
"This game is humbling," said Boone. "But the bad times make the good times that much better, and I guarantee you I'm going to enjoy the good times when they come.
"Hitting's nothing but bard work for me. I've always been that way. Now, it's a matter of maintaining it, of putting four months of the same stroke, together.
"You have to maintain it. You can't get away from it, but I think it's a turning point for me."
And that can come only as good news for the Phillies.
Phils sign draftees
PHILADELPHIA – Top draft choices Henry Powell and Larry Knight signed contracts yesterday with the Phillies, a spokesman for the National League team said.
Powell and Knight, both 18, will report Tuesday to the Phillies' Helena, Mont, farm club in the Pioneer rookie league.
A 5-11 right-hander from Pine Forest High School in Pensacola, Fla., Powell was the Phillies' first selection. He is a catcher.
Knight, a 175-pound, 6-footer, is a right-handed pitcher from Lookout Valley High School in Chattanooga, Tenn.