Camden Courier-Post - June 8, 1980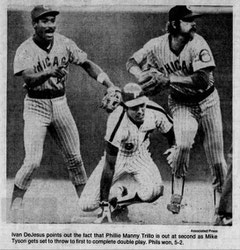 Green shuns book, Phillies trip Cubs
By Rusty Pray of the Courier-Post
PHILADELPHIA – The circumstances seemed to call for a bunt. Larry Bowa and Manny Trillo had opened the Phillies' sixth inning with singles and stood at first and second with pitcher Randy Lerch at the plate.
With the Phils nursing a 3-1 lead and the top of the order waiting to hit, the standard procedure would have been to order Lerch to sacrifice the runners over.
Instead, Manager Dallas Green told Lerch to swing away, and the lefthander responded with an RBI single to right. That might ha ve been enough sleight-of-signal for one night, but Green had another ace up his sleeve last night in what would end as a 5-2 victory over the Chicago Cubs.
As 31,153 Veterans Stadium fans looked on in surprise, Green had Pete Rose, one of the National League's better hitters, bunt. The sacrifice and a subsequent walk to Bake McBride set up Mike Schmidt's RBI single that concluded the Phillies scoring.
"Randy's a good hitter," explained Green. "I felt he was going to get a piece of the ball. I wanted to put some more runs on the board. We had the big guys coming up. Pete did his job. I was going to take him out of the game anyway."
Green, in fact, did remove Rose after the sixth because Rose was playing with a broken little toe of bis right foot. The broken toe came compliments of the Cubs' Mike Krukow, who hit Rose on the right foot with a pitch during Friday night's game.
"With a shoe sling made lor me, it really didn't bother me at all," Rose said. "It might hurt me if I bat right-handed. They (doctors) told me I could play as long as I could tolerate the pain. It's going to be sore for a couple weeks. My toe's already blue, dark blue, nasty blue."
No one asked Rose to remove his shoe to check the hue of his toe. But the bunt was a topic of conversation.
"I got Bake and Schmidt (who went 3-for-4) coming up; I'll sacrifice all day," said Rose. "I'll get my opportunities to knock in runs. No player should ever mind sacrificing, especially when it's going to add on to your lead."
Another Phillie who has been hurting is reliever Dickie Notes, whose right shoulder stiffened after he pitched two inning against the Cubs in Chicago a week ago. He did not pitch again until last night, when he relieved Lerch in the seventh and sawed through the Cub order with one-hit hurling.
Lerch was not particularly happy with being lifted. But the lefthander, who is now 2-7, had given up a home run to Mike Vail and walked two batters before Noles retired Bill Buckner on one pitch to end the inning.
"He (Lerch) pitched very, very well until the inning I took him out," said Green. "I thought he lost a little off his fastball and he was feeling with his breaking ball. I wanted him to pitch out of that jam...
"Randy Lerch has to be part of this staff. I've said that all along. In terms of him being an integral part of the staff, it doesn't matter if (the) June 15 (trade deadline) is coming or not. If I used June 15 as my only criteria, I still wouldn't know if I have a pitcher (in Lerch) or not."
The last time the Phillies faced Rick Reuschel, they raked him for 13 hits and lost to him, 10-7, in a Wrigley Field hit-a-thon. They again knocked the righthander around, buy this time the pitchers made sure to hold the Cubs under double digits.
"We pounded him pretty good over there (in Chicago)," said Green, "he had better stuff tonight."
Still, Reuschel's stuff was not good enough to prevent the Phillies from putting a single run on the scoreboard in the second when Bob Boone opened with a double and eventually scored on a single by Manny Trillo.
And it was Rose who began the chain of events that would lead to a two-run fifth with a one out double to left. McBride followed with a single to right and Mike Vail came up throwing as Rose rounded third. Vail's throw was in time, but slightly off line, which gave Rose the chance to avoid catcher Tim Blackwell's tag by the width of a bunyon.
"It was a close play. It could've gone either way," said Rose. "I thought I was safe, but if he (home umpire Fred Brocklander) called me out I wouldn't have argued.
"(Trainer) Don Seger cut out part of my shoe and built an extension on it to relieve some of the pressure on my toe. I was kidding him and told him I was safe because I tagged the plate with it."
PHIL UPS – Schmidt needs one more hit to reach 1,000 in his carer… Phils are 17-9 and have won 13 of their last 17 in Veterans Stadium... At home, they're hitting close to.300 and averaging more than five runs a game... Oklahoma City, the Phils' Triple-A farm club, signed infielder Billy Smith to a contract yesterday...Smith was released by Baltimore prior to the beginning of the season after Phillies General Manager Paul Owens had tried to make a deal for him... Dick Ruthven opposes Lynn McGlothen in series finale this afternoon... Steve Carlton will face John Montefusco tomorrow night when the club opens a three-game series with the Giants.