Philadelphia Daily News - May 10, 1980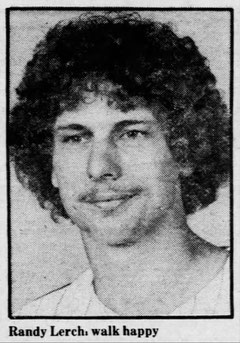 Reds Walk Over Phils
By Bill Conlin
CINCINNATI – Remember when the Reds used to beat you with guys like Joe Morgan and Tony Perez?
Remember when pitching to their batting order was like walking through an alley filled with muggers? Pete Rose and David Concepcion set you up for the big boys. Johnny Bench and George Foster worked you over with blackjacks.
Last night the Phillies were worked over by a lifetime.217 hitter, Sammy Mejias.
Sammy Mejias?
Mejias played center for the Reds last night because George Foster is out of the lineup with a pulled side muscle and John McNamara wanted to get a right-handed bat in his outfield lineup.
SAMMY BUSTED UP a tight ball-game with a bases-loaded triple in the fifth after Randy Lerch issued two of his six walks.
"What killed us was the walk to Dan Driessen," Dallas Green said after the Phillies opened a difficult three-city trip with a 5-2 loss. "Mejias didn't beat us, walking Driessen on four pitches did. And then Randy threw the guy (Mejias) a fastball up and away, that's about the only pitch the guy can hit. Everybody knows that."
Mejias lined it through the gap in right-center and the Phillies were suddenly down, 5-1, a lead which made life easy for rookie lefthander Charlie Leibrandt. The tall, skinny finesse pitcher found himself in hog heaven. And hog heaven in this sense is facing the Phillies for the first time. Leibrandt joined a list of recent pitchers who have beaten the Phillies in their first start against them that is so long it would read like a page from a telephone directory. Mark Bomback is not alone.
Leibrandt gave some credit to secret agent Ray Shore's scouting report on a team he might know more intimately than his own.
"He was very helpful with his report," Leibrandt saidr" We followed it pretty close, but the important thing was to go right at them with good stuff. The first inning I pitched with a lot of respect for Greg Luzinski and Mike Schmidt, two guys who are awesome hitters. I was running too many deep counts, but I settled down after that. The defense played them perfect."
THE REDS STAY in contention despite losing big names like Rose and Morgan because they have stocked their minor-league system with fine young arms, kids like Frank Pastore, Mike LaCoss and Leibrandt. All display pitching knowledge beyond their years.
"Credit a lot of that to our pitching coach. Bill Fischer," Manager John McNamara said. "I've worked with some good ones in my time, but Bill has the best grasp of mechanics I've seen. He's really done a good job with our young pitchers."
Leibrandt praised his pitching coach without prodding. "He worked with me this winter and the mechanics all fell into place for me." he said. "He got me to square my hips to the plate, keep my hands away from my body and get a higher arc with my arm. I think when I've gone around the league once I'll have a little more confidence."
Leibrandt is 3-2 and his ERA is down to 2.11. He hasn't allowed more than three runs in any of his six starts. It is the kind of consistency a manager likes to see in a young pitcher, the kind the Phillies have been waiting for from Lerch.
"His ball was moving so much I finally told Boonie to set a target in the middle of the plate," Dallas Green said. "I really thought he was going to take over when he pitched out of that jam in the fourth."
LERCH DID SOME of his best pitching of the season after Leibrandt led off the fourth with a triple. Randy got Dave Collins on a bouncer to Schmidt, popped up Ken Griffey and got David Concepcion to strike out on a high, riding fastball.
But the lefthander fell apart in the fifth. His record is 0-4 and the Phillies are treading water at.500 once again.
Mejias, a journeyman kept by the Reds for his outstanding outfield ability, played winter ball in the Dominican Republic.
"I did not hit well this winter," he said. "I think I finished under.200."
Sammy brightened. "But I led the league in home runs," he said. How many home runs?
"Three," he said.
"All the parks are big down there and the wind is always blowing in."
PHILUPS: Riverfront Stadium games between the Reds and Phillies are usually Pier Six brawls. They produced some of the finest National League baseball of the 70s. Not this one. "It was the dullest game I've ever watched these teams play here," said Bobby Wine. Nobody argued… Happy tube-watching this afternoon with Steve Carlton vs. Tom Seaver and the Sixers vs. L.A. CBS folks will be praying for one of Carlton's 145 sprints, which means it will probably finish 11-10 and take four hours to play... Garry Maddox returned to the lineup and went 1-for-4. Manny Trillo pinch hit in the ninth and walked with two outs.
3 Winners In Payoff
There were three winners in the Daily News Home Run Payoff in last night's Phillies-Reds game.
In the eighth inning, Bobby Tait and John C. Cook, of Philadelphia, and David Royds, of Featerville, each won four tickets to a Phillies game.
So far the Daily News has paid out $3,835. To enter, send in the coupon that appears on this page.