Allentown Morning Call - May 17, 1980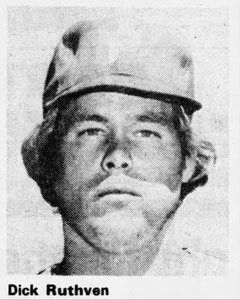 Astros' scoring troubles continue
HOUSTON (AP) – Philadelphia Manager Dallas Green looked at last night's 3-0 shutout of the Houston Astros from several different angles and he liked all of them. 
"Anytime you shut out Houston it's a good performance," Green said. "Any time you beat J.R. Richard, it's a good performance and anytime you beat Houston in the Astrodome it's a good performance." 
The Phillies did all three all as Dick Ruthven, 4-2, went the distance and scatterd five hits to prove he's fully recoverd from offseason arm surgery. 
"He was struggling in spring training but he's back now where Dick Ruthven should be," said Green.
Richard, 4-2, dropped his second straight decision after winning four in a row last month. 
"I didn't think J.R. had his outstanding stuff but he pitched very well," Houston Manager Bill Virdon said. "It's hard to win without runs." 
It was Houston's fourth consecutive loss, their longest losing streak of the season, and the shutout extended the Astros' scoreless string to 22 straight innings. 
Philadelphia took the lead in the fourth off right-hander J.R. Richard when Unser tripled to the right-center field fence just out of the Cesar Cedeno's reach. Unser trotted home on Schmidt's fly to Cedeno. 
The Phillies added two runs off Richard, 4-2, in the eighth inning on Bake McBride's two-run single. Philadelphia had loaded the bases on an error, a single by Manny Trillo and Pete Rose's walk. 
Ruthven improved his record to 4-2, walking but one batter in his route-going performance.
A second general baseball strike is even closer
NEW YORK (AP) – Major league baseball appeared to move closer to the second general strike in its history yesterday after management rejected a player association offer that might have ended the stalemate. 
"I think they're farther apart now than they have been," said Kenneth Moffett. deputy director of the federal Mediation Service. "Unless we start spending time at the table there is the likelihood of a strike." 
The negotiation atmosphere turned gloomy yesterday morning when management turned down the union proposal that would have isolated the compensation free agent issue for two years while the question is studied by a joint committee. 
Then, in late afternoon, the owners' negotiators asked for another session. At that time they read a statement, offering to maintain until the opening of the 1981 season the terms of the basic agreement that expired Dec. 31, 1979. Baseball is currently being played under terms of that agreement. 
Management offered, to guarantee that it would not declare an impasse in negotiations, an action that might permit the owners to suspend terms of the agreement.
"The clubs pledge to maintain a status quo while bargaining goes on," said Ray Grebey, chief negotiator for the owners. We believe this action will allay player fears that management might move to strip them of their rights." 
Marvin Miller, executive director of the players association, did not view the move that way. 
"We made no progress," said Miller after the second meeting of the day with the management representatives. "They had nothing to talk about and didn't want to negotiate." 
Miller called the impasse statement that the owners' committee read "meaningless." 
"This letter doesn't advance the ball to agreement one inch. We are trying to negotiate an agreement effective Jan. 1, 1980. All this paper says is 'you work through 1980 under conditions of an agreement signed in 1976 and we assure you we won't cut back any further until April 1981 at the earliest.'"
Miller did amend the player association offer he had made Thursday. He said instead of a two-year study committee that if the players' recommendation is adopted, the owners could demand reopening negotiations to deal with compensation after one year. There was no immediate response to the change, although earlier, management rejected the players' original offer.