Philadelphia Daily News - May 22, 1980
Bottom of the 9th
Phils Beat Reds
By Bill Conlin
Michael Jack Schmidt makes a lot of money – about $540,000 a year. That's more than Jimmy Carter makes, but what the hell, Schmidt has had a much better four years.
Ramon Aviles makes about $25,000 a year, fe. And that's a figure that puts the handsome little utility infielder into the inflation pit with the rest of us.
Schmidt owns a home in South Jersey and a handsome condo in Florida near Tarpon Springs. He has sizable investments, including part-ownership in an American Motors dealership in Clearwater. He isn't going to starve if he's out of work the next six months, but Schmidt will eventually find out how it feels to be Chrysler Corporation, with all that money going out and very little coming in.
Ramon Aviles owns a modest home in Ware Shoals, SC., where he met his wife, Betty Jo. He doesn't have enough money saved from a career bouncing around the minors and brief cups of coffee with the Phillies to afford even the luxury of riding out a baseball strike at home. He says he'll go to his native Puerto Rico, where he can live with his mother and have the opportunity to work out with baseball friends in the San Juan area.
IT WILL NOT BE Ramon Aviles' strike. As a non-roster player who began the season on the Oklahoma City roster, he was not allowed to vote for a work stoppage when Marvin Miller visited Clearwater. He is three years away from a big-league pension, with no guarantee that he will ever serve enough time under the 1976 ground rules in effect to collect it. He knows that if the strike drags on and several of the Phillies' current injured players come back in good health, that he could be on a plane back to Oklahoma City.
Ramon Aviles says he supports Mike Schmidt's strike, the strike the game's high-rollers say they are willing to endure so the game's less-established players will prosper.
"If I could vote tonight I would vote for the strike." Aviles said after the Phillies and Reds regaled an Auld Lang Syne crowd of 26,099 with a wild and wonderful game of baseball, Major League baseball. It was a game which crackled like a broken high-tension wire in a high wind, flawed but galvanic.
Schmidt triggered a two-run ninth-inning rally with a burst of go-to-hell baserunning. Aviles, filling in for the injured Larry Bowa, signed the bittersweet graduation photograph with a professional game of shortstop and his first big-league homer.
The Phillies beat the Reds, 9-8, coming back from 3-0 down to Tom Seaver to a 7-3 lead they held like a wet bar of soap, only to come back again after trailing, 8-7. The first base area was a combat zone of sprawling defensive plays by Pete Rose and Dan Driessen. Everybody got it on with World Series intensity. Nobody can say these Knights of Labor spent the evening contemplating the coming ordeal of being nailed to a cross of gold.
SCHMIDT LED OFF the ninth with a searing bouncer off the cutout seam at third which skipped crazily over the glove of Ray Knight. With Greg Luzinski, a Bull in heat, the next hitter, common sense dictated that Schmidt would be content with a single. George Foster is not noted for strength or accuracy of arm in left, but the ball got to him in a hurry. If Knight got any of the ball at all it served only to put more overspin on it. Schmidt went into second head-first, tucking a hand around Junior Kennedy's tag.
"It's what we've been talking about all spring," a depressed Dallas Green said on a night he should have been gushing about the momentum his team is starting to build. "When you play aggressively like that, 90 percent of the time what happened tonight will happen. Do I want a guy standing on first base and feeling very satisfied with that, or a guy who puts himself on second with the tying run?"
The manager isnt sure whether he'll stay at home in Delaware today planting tomatoes or come to the ballpark to huddle with Ruly Carpenter and Paul Owens about what will happen when a strike becomes reality. There will be no workout today, an open date. The players will be scattered, playing golf, cooking out, worrying. Even National League player rep Bob Boone will spend the morning on the golf course, waiting to hear from Miller by phone later in the day.
"I'm thinking second all the way when I saw the bad hop over the third baseman," Schmidt said. "I thought if he got any glove on it at all to slow it I should be able to make second. A good throw might have had me. Maybe I should have stayed on first with Greg coming up the way he's smoking the ball. But my gut reaction when the ball got over him was to get to second."
LUZINSKI TORCHED a badly off-form Seaver for a two-run homer in the Phils' three-run second. That gave Bull the major league home-run lead at 11 and was his fourth homer in a span of six at-bats. He immediately made Schmidt's gambol pay dividends with a line single to left. Schmidt scored to tie it at eight-all, and Lonnie Smith went into run for Luzinski.
Nothing went right for struggling reliever Tom Hume or the Reds after that. Hume walked pinch-hitter Del Unser on four pitches and could not even prosper on a baserunning blunder by Smith, whose nickname should be Eight-Day Clock. That's about how often Green winds him up.
Garry Maddox flied out for the first out. Manny Trillo smoked a line drive to right. Smith was racing for third at the crack of the bat on a ball stung directly at Dave Collins. All Collins had to do was catch the ball and he could have rolled the ball in to double Lonnie off second.
But Collins was reaching into his glove to throw the ball before he had it. It clattered away for an error. Smith scored and the Reds slowly walked off the field.
"That bleeping bad hop started it all off," said Reds Manager John McNamara.
"Oh," Green shrugged. "I guess we didnt get any bad hops."
Green gave slumping catcher Bob Boone, who has patiently stood for hours of interviews the past week, the first six innings off. Keith Moreland replaced, him in the starting lineup and followed Luzinski's homer with a line drive into the bullpen in left, his first big-league homer.
I'M IN FAVOR of the strike even though I'm caught in the middle," Aviles said. "What the players are trying to get is good for young guys coming up, guys like Moreland, Dickie Noles, Kevin Saucier. I hope it can help me too by cutting down the time it takes to get a pension. To tell you the truth, all I was thinking about out there tonight was the ballgame, making the plays at short, hitting the baseball. The strike didn't hit me until we scored the winning run and I realized this could be it for a while. What is happening now is very depressing after I've worked so hard for so many years. I'm 28. If I stay here it will be as a utility infielder. Utility infielders don't last that long."
The All-Star third baseman who makes $540,000 a year and the utility infielder who makes $25,000, if he's lucky, played up a storm last night. The Philadelphia and Cincinnati Locals of baseball's rank and file gave the customers a game to remember.
Make glove, not war.
PHILUPS: Ray Knight's bases-loaded triple put Larry Christenson in a 3-0 first-inning hole. Tom Seaver gave the three runs back with an incredible, four-walk first. Garry Maddox drove in a pair of runs with a bases-loaded single and Ramon Aviles walked to force in a run. The Phils chased Seaver with a one-out Mike Schmidt double and back-to-back homers by Greg Luzinski and Keith Moreland... The Reds closed the gap to 7-6 with three runs in the fourth off Christenson, who failed to get an out in the inning. Kevin Saucier allowed a run in the sixth and Ron Reed won his second game, even though he allowed a go-ahead run in the seventh and had his scoreless-inning string snapped at 9 innings... Dave Collins, whose error let the winning run score in the ninth, had his 15-game hitting streak stopped... If the strike begins after midnight tonight, Phils will hold a 10:30 a.m. press conference at the Vet to go over the management game plan, ticket refund policies, etc.... Clubs have advised the players that any injuries sustained while working out on their own will not be covered by the 1976 Basic Agreement and players too hurt or out of condition to play when and if the season resumes will not be paid until they are deemed fit.
Bottom of the 9th
Strike Dumb Idea
By Stan Hochman
NEW YORK – The vote was 967-1 to authorize a strike.
The players voted in the spring, sprawled around the clubhouse, eyeballing one another, wide-eyed rookies and squinty-eyed veterans.
And now, at D-Day minus one, on what might be the final day of major league baseball for this season, Marvin Miller thinks the vote would still be the same.
"Nobody, likes to strike," Miller said yesterday, when last-ditch negotiations yielded nothing but frayed tempers and frayed trousers.
"Nobody ever gets up in the morning and says, 'This is a great day for a strike.' The players don't like to strike.
"But that doesn't change the fact that the players expected this, that the owners have provoked it. And I feel the vote would be the same."
That's unrealistic, illogical and silly.
SO WHAT ELSE IS new? Isn't the idea of Nolan Ryan voting to strike, to give up $5,500 a day in salary so that Joe Sambito, a guy he hardly knows, can turn free agent sometime down the road, without Houston getting anything more than a first-round draft pick in return, unrealistic, illogical and downright dumb?
"The business about the strike vote," Miller said. "I hear those snide references... 'If only there'd been a secret ballot.' I had read in the media that the leaders of the clubs, the players wth the highest salaries were not likely to support a strike.
"And then, after the vote, the media wondered, did the younger players follow the older players?
"That means the established players shot up their hands first in support of a strike. Well, you can't have it both ways.
"There has only been one other strike vote in the history of the Players Association. Half the teams had secret ballots in 1972, half had open voting.
"The vote was 663-10. And eight of the votes against the strike came from two clubs that had a show of hands. In all the clubs holding secret ballots, only two other votes were cast against a strike."
The history is fascinating, but the rhetoric is wearing thin. Ray Grebey, the owner's negotiator, had the chutzpah to say he was "optimisitc" after four hours of wrangling that climaxed six months of stalling.
MILLER SUMMED UP yesterday's charade by saying that no progress had been made, even though the players had slashed their demands in several areas.
Apparently, the players cut their bid for a $35,000 minimum salary to $30,000. And they sliced their demand for pension fund contributions from management from $16½ million to $15½ million.
But they did not budge on the key issue of compensation. "Very early in the game," Miller explained, "we gave them a proposal that involved setting up a fund the owners would administer. The fund would provide pay to clubs losing a free agent, in cash. Based on how much a player was worth.
"They want a system to end free agency."
And Miller is unable, or unwilling, to come up with any satisfactory compromise offer on compensation that would allow free agency to continue under a modified system?
"The players have proposals in that area," Miller said. "They have needs. We offered to removed all proposals relating to compensation.
"We reiterated our proposal of last Thursday... let us get agreement in areas where the heat is not that great. Once we do that, we can put the compensation issue to a study committee.
"It can be a two-year study or a one-year study. They can have a neutral chairman. He can be a voting member or a non-voting member. The committee can issue a formal report or an informal one.
"WE ARE COMPLETELY flexible in our whole approach."
And completely rigid to the idea of giving the owners something other than a first-round draft pick in this point in time.
When you see Miller and Grebey in action, you can understand Ruly Carpenter's anguished suggestion that a handful of owners and players could work out the mess.
Miller and Grebey do act like hired guns, determine to plug a hole in the other guy's vest, and if a whole lot of people get wounded in the crossfire, so be it.
Grebey dismissed Miller's concessions yesterday as "nothing new or different." He noted with scorn the absence of any counter offer on the compenstion issue.
Grebey said he saw no reason why the players couldn't keep playing as long as the negotiators kept talking. He said all benefits arrived at would be retroactive.
Miller riddled that saying, "I was taught long ago that if someone offered you zero retroactively, it is still zero."
The owners are dealing in flat sums rather than percentages. They offered to add $6.1 million and invest it in an escrow account with the players getting the interest.
Grebey keeps pointing out that the NBA went an entire season without a new contract. He says the fans know and the players know that salaries average $150,000, and the owners are not asking them to play for 1976 wages.
Miller gags and replies that the owners are asking the players to play under 1976 conditions, while they reap 1980 revenues, including a television package that has doubled in value.
MILLER AND GREBEY are old hands at this sort of labor-management mudslinging. A deadline usually softens even the steeliest stands.
"Removing a deadline," Miller pointed out, "creates no pressure on the club owners to do anything. A strike creates pressure.
"Mr. Grebey is a very persistent man. When he sells himself on an idea... to give the players nothing and have them work the rest of the year under 1976 conditions... he convinces himself it's a good idea."
The man in the middle, mediator Ken Moffett, is a David Hartman look-alike, except for the mammoth pimple on his right cheek and scratches on his nose.
He looks like he's been in the middle of a catfight, and perhaps he has.
"I think it's safe to say, " Moffett sighed at 6:30 last night, "that there was no progress made today. We will meet again Thursday morning.
"It seems as though sitting at the end of the table, that we were maybe a month away from the deadline, rather than 24 hours. And I think that is unfortunate."
The whole thing is unfortunate. Unrealistic, illogical, dumb and unfortunate.
Home Runs Around Players' Strike
We realize that it can do little to solace the overtly forlorn, but the Daily News today offers a survival kit for the baseball players' strike scheduled for midnight tonight.
By Robert Strauss
There are always other things to do – other ways of rescuing your psyche from a downer. Remember when your last lover left your lair? When your pet orangutan died? When you found out that Robert Redford was incredibly short?
You survived. You sublimated – found a new lover, a new pet and switched allegiance to John Travolta.
But, for Babe-and-Ty-and-Stan-the-Man's sake, baseball's striking! Living without love is one thing, but living without Major League ball is like sex in a parka.
We realize that it can do little to solace the overtly forlorn, but the Daily News today offers a survival kit for the baseball players' strike scheduled for midnight tonight.
1. There will still be a little bit of live baseball around with the Public, Catholic and Inter-Ac League playoffs. Check with the schools themselves for times and fields, which are often undetermined until the day before the game.
2. In the grand tradition of "the show must go on (especially when the sponsors have already paid us a mint)," NBC Sports will continue to do something with its Saturday "Baseball Game of the Week." If the strike is in effect Saturday, according to spokesman Mike Cohen, the network (Channel 3 here) will have an extended segment on the strike at 2 p.m., followed by a replay of what some consider our generation's most exciting baseball game – the sixth game of the 1975 World Series between Cincinnati and Boston. The game will be retelecast from the 3d inning on. The following week, NBC has bought the rights to the College World Series and the week after that, the network intends to show either Japanese or minor league games.
3. The closest minor league games (which should be unaffected by major-league contract disputes) will be in Reading (where the Phillies have an Eastern League farm club). For those out for a little more adventure, there are clubs in Honolulu; Albuquerque; Wausau, Wise,; and Midland, Tex.
4. You can celebrate the 40th birthday of the greatest active ballplayer – who will not be on strike. Sadaharu Oh is 40 this week – and on Monday he hit his 10th home run of the Japanese baseball season, the 848th of his career. That's 93 more than American champ Hank Aaron. By the way, if you want to follow the careers of the two dozen or so Americans in the Japanese major leagues, you can subscribe to the Japanese Baseball Newsletter, written by Marty Kuehnert and Pancho Ito. Write them at 170 Dogashiba-Cho, Tennoji-Ku, Osaka, Japan, or call at (06) 779-1141.
5. Think about the poor players who are giving up more money than most of us will ever earn in a lifetime for this strike. For instance, Pete Rose is out $5,000 for each game he misses. Even the lowliest player at about $30,000 stands to lose about $200 a game. And think of the taxes the government loses – about enough to build an MX missle or new stadium or something else as useful.
6. Take an old Philadelphia baseball pilgrimage tour. Baker Bowl, the Phillies' home in the early part of the century, is now a gas station at Broad and Lehigh. Connie Mack Stadium, which housed the A's and the Phillies until the former's departure in 1955 and the latter's move to Vet Stadium, is now a vacant lot at 21st and Lehigh. Think of balls being bashed off Baker Bowl's short rightfield fence. Think of Richie Ashburn high-tailing it out to the 447-foot sign in Connie Mack to haul down another monumental fly ball.
7. Try this baseball quiz of standard aficionados' trivia questions: a) Who was the third baseman in the Tinker-to-Evers-to-Chance infield? b) Besides Gaylord and Jim Perry, which baseball brothers had the most major-league pitching wins? c) What was the name of the midget who batted for the St. Louis Browns and who pinch-ran for him after he walked? d) Why do people care about baseball? Answers at your local taproom.
8. Watch another sport. Play another sport. Be a sport.
9. Read up about the first major-league baseball players' strike. Harold Seymour's "Baseball, the Early Years" (New York: Oxford University Press, 1960) gives an excellent learned account of how the 1889-90 formation of the Players League almost destroyed professional baseball and by inference, professional sports in general.
10. Phone the local TV stations and implore them to show baseball movies – most of which would show up on any decent critic's "10 Worst" lists. Last Sunday night, "The Babe Ruth Story," starring William Bendix as the Babe, was on Channel 10. Bendix is as wooden as Ruth's bat. Some other baddies, despite the stars: "Pride of the Yankees," with Gary Cooper playing Lou Gehrig; "Spirit of St. Louis," with Dan Dailey and Richard Crenna as Dizzy and Daffy Dean; "Damn Yankees," with Ray Walston as the Devil, and "The Monte Stratton Story," with Jimmy Stewart as the White Sox pitcher who shoots himself in the leg on a hunting trip and tries a one-legged comeback. The movies will help you forget you ever liked baseball.
Larry Bowa Gets Away From It All
By Tom Cushman
With the injury to his lower back still a nag. Larry Bowa was forced to scratch from the season finale last night at the Vet, a decision that could only have been reached after much agonizing. For even though the Pirates had clinched the division title on Tuesday, one thing that will be remembered about the 1980 Phillies is that they did not lay down during the dog day of this season.
Conversely, while rallying to defeat the Redlegs. 9-8. they offered 26,099 customers a farewell glimpse of the elements which have allowed baseball to thread its way into the fabric of a nation. Grace, speed, power, suspense, resilience, delivered at a pace that can be sipped.
Another nice thing about baseball is that those who prefer to gulp rather than sip have time to run to the beer stands between innings.
Anyhow, you had to figure that last night's was the kind of game Larry Bowa would miss only at gunpoint, which apparently is the only way that major league baseball will be played from now on.
SHOWERED, DRESSED, pulling his gear together later, Bowa greeted the media charge with the following announcement:
"In about three hours, I'm going down to Florida," he said.
"In about three hours, I'm going down to Florida," he said.
Baseball journalists who have for months been standing aside, awaiting the head-on collision between labor and management in the fast lane, seemed stricken by the news. Larry Bowa, after all, is the Phillies' player representative, privy to information coming down from strike central, owner of a condominium on Florida's west coast. If he was flying out hours before the strike deadline, then the verdict obviously was in.
"I'm disgusted, tired, up to here with everything," Larry said, pointing toward an area usually concealed by his baseball cap. "Tomorrow's an open date, so I'm going to Florida."
Media guys spun away, news bulletins clouding their vision. This is the stuff from which headlines are written.
The fact is, Larry Bowa was flying down to Florida to tape a commercial for a contest sponsored by "Burger King." It is a previous commitment, one he would have honored even had baseball not been dedicated to driving itself off a mountainside. Larry forgot to mention this fact before he departed the Phillies' locker room last night.
Therein would seem to be a lesson for management. Do not underestimate labor just because he's hitting.232.
•
There are those among the employees who still refuse to believe that major league baseball will disappear tomorrow. Pete Rose is one of the two or three who think this way. but Pete prefers to see his sport in a symmetry defined by the foul lines.
"ALL IT TAKES is for somebody to say "yes,' and we'll be right back here Friday night against Houston," he said last evening.
"I don't really know what I would do with myself if there was no game the rest of the year. I've been playing every summer since 19S9. I get frustrated when I have to watch the World Series on television. But I'm only one of 700 guys.
"I will say this... I'm glad I don't take as much time to do my job as the guys who are negotiating this thing. I'd have about 800 hits instead of 3,000."
Pete Rose was asked if the night had been tainted by thoughts that it could be the last game.
"The way I was swinging, I can see how you might have gotten this idea," he replied, smiling.
"But, no, all I talked about during the game was the game. The idea of a strike hasn't really sunk in yet.
"If we're not out here Friday, it will be the first game I've missed in a Philly uniform. I played in 163 last year."
•
Dallas Green, who in his first year as manager boosted the Phillies from a fourth-place team to second, does not seem satisfied. He would rather have seen the season continue.
"I'm down right now when I should feel up," he said, after the Redlegs were dispatched for the second time in three tries. I'm sitting here knowing there has to be a solution in 2 hours, and also knowing that it's gonna take a helluva piece of good news to get everything back at kilter again."
WHAT WILL HE do when the bad news comes down officially, at midnight?
Dallas Green shrugged. "I've got some tomato plants to get in," he said.
Bob Boone, who is player representative for the National League and therefore a popular interview these days, offered a studied and exhaustive discussion of the issues for the audience in front of his locker. Boonie insists that these persistent demands on his time have in no way contributed to his .214 batting average. Nor does he seem to be appalled by the prospects of this final day.
"I plan to play golf," he said, "then go over to Mike Schmidt's in the evening to wait for the bad news. After that I'll probably take off for three or four days. I don't see things changing at this point. The one issue (free-agent compensation) is so strong, that coming from a different angle now is almost impossible.
"WE HAVE SAID, "take this away avert the strike situation, continue to negotiate it,' which in my eyes is such a simple solution, it's scary. But it obviously is not going to happen. What we have are idealogical differences, and until they're worked out we have a problem."
•
Before leaving for his taping session in Ft. Lauderdale, Larry Bowa pointed out that a long strike – which is what both labor and management predict – will have side effects not heretofore publicized. The assumption was that athletes just now settling into a groove would work diligently in their backyards and private gymnasiums to preserve the edge.
"We've been told by Marvin Miller that it is in our best interest not to work out," Bowa said. "His understanding is that once we go on strike, if we're hurt while we're working out and are not able to play at the time a settlement is reached, then we don't get paid. I've passed this information along to our players. I can't speak for all of them, but I don't intend to take the chance."
This, and other tidbits from the clubhouse of last night's winners was not encouraging to those of us who grew up thinking that major league baseball was a public utility. But, then, you know how it is with the utilities these days. Complain about an overcharge and they laugh, tell you to pay up, and shut up, or the service will be discontinued.
"I don't care how bad it looks right now," Pete Rose said last night, "I have a feeling we'll be here Friday, facing Nolan Ryan."
Which, when you really think about it, might be the most logical reason yet for calling a strike.
Paige Says Strike Is Ridiculous
HATTIESBURG, Miss. (UPI) – Leroy (Satchel) Paige – who pitched for nearly half a century for about as much money as current star Nolan Ryan makes in a season – said yesterday he thinks a threatened strike by major league baseball players would be "ridiculous."
The legendary hall of famer, who didn't make the major leagues until he was in his 40s, made the comment while in Hattiesburg to watch the filming of the television movie story of his life, "Don't Look Back."
"THEY'RE STARTING something now in the athletic world that I don't understand," said Paige, who admitted he is unsure about the issues involved in the current dispute between players and owners.
"One man is making more now than a whole club was when I played," Paige continued. "It's a disgrace for them to be striking like this. I think it's ridiculous."
Paige, who broke into the major leagues with Cleveland in 1948, is now a pitching coach for the Springfield, Ill., Redbirds, an AAA minor league team. Although his age is estimated at 74, the lanky 6-2 Paige said he could still pitch.
"I CAN THROW strikes now but the legs are gone – gone bad. If I started to pitch now, I'd bring bunting back in style," he said, shaking his head and noting he no longer can move off the mound to field the ball.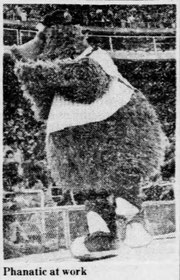 Phanatic To Show
Phillie Phanatic fans needn't worry that their favorite wild and crazy guy will be moping in the unemployment line if baseball goes on strike.
Dave Raymond, 24, a source who's as close to the Phanatic as you can get, said the fuzzy one will continue his promotional appearances around the Delaware Valley. His contract commits him to 200-250 appearances a year, in addition to 80 home games, so he'll be paid just the same. (He declined to disclose his salary.)
But Madcap mascot admits he'd miss the roar of the crowd if a strike stretched from days into weeks.
Phils' Fans Plot New Ways to Pass Nights
By Maria Gallagher
"Scorebooks here, get your yearbooks," hollered Bob Zullinger, and snared himself a yearbook customer.
"They should call it a month-book," he commented as he made change. And that was about the only clue that last night's Phillies game might have been the season's last.
The first strike deadline is 2:30 p.m. tomorrow when the Cubs are scheduled to play the Dodgers at Wrigley Field. Deadlines for the other teams will come tomorrow night when they're scheduled to play.
Meanwhile it was business as usual at the Vet last night.
"Sweatshirts for all 14 and under" this Sunday, the scoreboard announced. The Hot Pants Patrol distributed All-Star Game ballots. But a few hours before Zullinger, 18, went to work, he got an ominous-sounding letter from the ballclub that thanked him for working for the Phillies this year.
MOST FANS at the game didn't know much about the major strike issues, compensation and player benefits. There was sympathy for both owners and players. The fans were certain of one thing, though: they're going to lose their baseball, and they don't like that.
It's hard on guys like Frank Colubriale, Tom Mallon and Dominick Baldino, who have attended nearly every home game for six years.
"I don't think it's fair. This is my pastime," said Colubriale, 63, of Hartranft St. near 18th. If there's a strike, he vowed, "I'm going to go to the casino and play blackjack."
"I'LL WATCH the Little Leaguers across the street and watch the Fury," said Mallon, 59, of Johnson St. near 18th. "Aw, they should arbitrate or something. Both sides lose out in a strike. I really don't have any side. The owners got an investment. The players are working for a living."
Baldino, 65, of 16th St. near Oregon Ave., said he'd cope without baseball by spending more time at the movies. He sided with the owners.
"If they're going to lose something, they're going to want something in return. It's only fair," he said.
SALDINO'S BROTHER, John, 64, of 9th St. near Pierce, agreed. "The players are making a good dollar. They should compromise with the owners. They're not getting cheated." A season ticketholder, John Baldino pointed to the Phillie Phanatic pin on his lapel and said he'd stay a Phillies fan no matter what.
"I don't think they want to play as much as they did in the old days," observed Arch Currie, 64, of Center City. "I think the owners can take no more because half the teams lost money last year."
"I THINK THEY should go on and play, just for the fans' sake," declared Effie Traver, 10, who came from Ithaca, N.Y., on a class trip with 31 other fifth-graders.
"I can't feel sorry for the owners," said John Stone, 38, who accompanied 11-year-old son Brian: "They're asking the players to stop something the owners created themselves."
"I don't think it's good for baseball. I think they should work it out during the off-season," said New York Islander Bob Lorimer, as autograph seekers besieged him.
THE AUTOGRAPH SEEKERS were remarkably friendly, since the Islanders face the Flyers tonight in a do-or-die game for the Stanley Cup.
Month-book hawker Zullinger thinks the owners should call up their AAA farm clubs to take over the big clubs' schedules and charge 50 cents admission. If that doesn't happen, he'll be content to spend his summer at the shore.
"I'm a basketball fan anyway."
Radio & TV's Strike Lineup
Flicks, Specials to Bat for the Ball Games
By Stuart D. Bykofsky
What will broadcasters do to cover the time allotted to the Phillies and other scheduled baseball in the event of a strike?
Channel 17 will fill Phillies time with movies, entertainment specials and specials of a sports nature, according to station spokesman Jeff Sohinki. If the strike is short, games will be made up as if they were rain-outs.
In the event of a longer strike, the baseball revenue will be lost, but Channel 17 does not expect to lose money, Sohinki said, because it will sell the time anyway.
ITS A DIFFERENT situation at KYW Radio, which has a three-year contract with the Phillies, according to station spokeswoman Michelle Kimmelman. The Phillies organization itself buys the airtime and sells commercials. If there's a strike, the Phillies will not pay KYW for the missed games. The radio station will broadcast news and sell commercial time as usual.
"We dont foresee any great gains or losses – we're just going to come out even," Kimmelman said.
At the network level, NBC owns the rights to Saturday afternoon baseball. Having already lost the Olympics this year, NBC is dreading another kick in the teeth.
Should there be a strike, the pre-game show would go on at 2 p.m. Saturday as scheduled, but it would be an "expanded version to cover the strike from every angle," according to NBC Sports spokesman Mike Cohen. "Major League Baseball – An Inside Look" host Brian Gumble will talk to representatives of both sides in the dispute.
INSTEAD OF THE "Baseball Game of the Week," NBC will rebroadcast what many sportswriters believe to be the finest World Series game ever played – Game 6 of the 1975 World Series between the Cincinnati Reds and the Boston Red Sox.
Since that game went 12 innings (we won't tell you who won if you don't remember), NBC will start the tape in the third inning.
Weird enough for you? No? OK, NBC also plans to have Joe Garagiola, Tony Kubek, Ron Luciano and Merle Harmon do a live voiceover, rather than use the original audio.
If the strike continues. NBC will offer what might be a network first – the broadcast of a Collegiate World Series game, live from Omaha, Neb. Who might be playing? NBC doesn't know – the league is in playoffs now.
AS IF THE BARREL had no bottom, the third week of the strike could bring Triple A baseball live, or a taped Japanese baseball game.
Beyond that, "Who knows," said Cohen. "We don't know what sponsor reaction will be and that governs everything."
Strike Deadline Varies
The strike deadline for major league baseball is not – repeat not – midnight tonight. Actually the deadlines vary.
The deadlines depend on the time each team is scheduled to start play tomorrow. Therefore, the first teams to go on strike – if there is one – will be the Cubs and Dodgers, who have a 2:30 p.m. starting time in Chicago.
The Phillies strike deadline is 8:05 p.m., when they're to face the Houston Astros at the Vet.