Corpus Christi Caller - May 26, 1980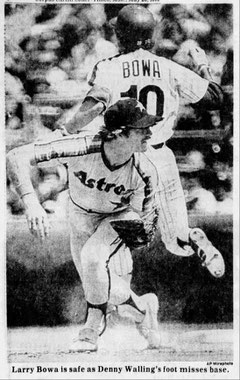 Luzinski finds the groove, Houston feels the effect
By The Associated Press
Greg Luzinski says he's seeing the ball better and that he's in a pretty good groove. He also may be a master of understatement.
The Philadelphia Phillies' left fielder, whose dieting during the winter allowed him to lose 20 pounds, continued his hot streak Sunday afternoon, pounding out a home run and a double as the Phillies won their fourth straight, defeating the Houston Astros, 6-2, in Philadelphia and sweeping the three-game series.
Luzinski has now hit in six straight games during which he has connected for 12 hits in 22 trips. Among the hits are five home runs and three doubles, and he also has driven in eight runs.
"It's just one of those things," said Luzinski. "I'm seeing the ball good and hitting it hard. It's that simple. Everything I hit is finding a hole. I've always said that home run-hitters always get in grooves and I guess I'm in one."
His fifth inning home run, with the Phillies leading 5-2, followed a round-tripper by third baseman Mike Schmidt and was the fourth time this season that the two sluggers have hit back-to-back homers. Both now have 12 home runs, tops in the major leagues.
The Phillies, who announced before the game that right-hander Larry Christenson would be disabled for 60 days due to a bone spur operation Wednesday, got eight strong innings from Dick Ruthven.
Ruthven, 5-3, scattered eight hits in gaining his fifth victory in eight decisions.
Ruthven struck out two and walked one in his stint. He gave up a run in the first on a triple by Terry Puhl and a sacrifice fly by Joe Morgan. In the second, Cesar Cedeno tripled with two outs and scored as Ruthven dropped Pete Rose's throw on Alan Ashby's grounder.