Pittsburgh Press - May 27, 1980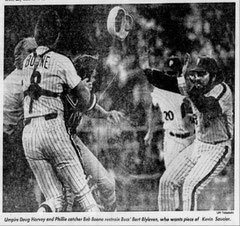 Battling Bucs Go Down Swinging
By Dan Donovan, Press Sports Writer
PHILADELPHIA – The Pirates may have won the fistfight, but they lost the battle.
And like any good fighter who loses the decision, the Pirates thought they were robbed by the officials.
The Pirates probably landed more punches than they took in a two-round, sixth-inning brawl with the Philadelphia Phillies last night, but the Phillies scored more runs, 7-6, vaulting into first place in the National League East.
"It wasn't a fair game tonight," Pirate Manager Chuck Tanner said.
At first he wouldn't elaborate, but as he talked he pointed out several calls made by the umpires.
Crew chief Doug Harvey worked home plate, assisted by first base umpire Andy Olsen, second base umpire Nick Colosi and third base umpire Fred Brocklander.
Gerry Crawford is part of the crew too, but it was his night off. Crawford is the umpire Pirate third baseman Bill Madlock poked with his glove May 1. Members of the crew twice testified about the incident before National League President Chub Feeney.
"I can't fault the way Bert Blyleven pitched," Tanner said. "He pitched a helluva game. And there were about 15 pitches be didn't get that he should have. (Dave) Parker was never touched (when he was called out trying to steal second base in the seventh) and (Greg) Luzinski was out at first base."
The Luzinski play especially bothered the Pirates, because it accounted for the winning run. The Pirates led, 6-5, going into the ninth when reliever Kent Tekulve gave up a broken-bat double to Mike Schmidt.
Tekulve "induced" Luzinski to top the ball, only it bounced high over his head. When it came down, shortstop Tim Foli made a quick throw, apparently getting Luzinski.
"Everybody thought Luzinski was out," Tekulve said, "except the one man that counted."
"There is no excuse for missing that play," Foli said. "Every time we have this umpiring crew, they stick it to us."
Another chopper bounced over third baseman Madlock for a double, and, with the bases full, Larry Bowa squirted a single past a drawn-in Pirate infield for the winning hit.
"The pitch to Schmidt was up a bit, but the other hits were ground balls, Tekulve said. "You're going to have those days, just like you're going to have days when they hit the ball hard right at somebody."
The Pirates were also upset with Harvey's handling of the brawl.
"How could only one player be thrown out?" Madlock said. "And he was from our team."
Harvey threw out Pirate outfielder Lee Lacy and a Philadelphia coach, Herm Starrette. They were ejected for talking, not punching.
"Lee Lacy started cursing," Harvey said. "I told him to stop or he was gone. He did it again, so I ran him. The same with Starrette – he kept talking, too."
"Harvey had already thrown Lacy out," Starrette said, "so he was looking for someone. Sure I was talking, but I wasn't about to fight Jim Bibby."
Curiously, Harvey is positive Philadelphia pitcher Kevin Saucier intentionally hit Blyleven.
"There's no doubt Saucier threw at Blyleven," Harvey said. "But I cannot eject a pitcher if he hits a guy. I can only warn him and both managers. Then if any other pitcher throws at somebody, he is ejected."
Harvey didn't warn anybody after the incident that started it all, an inside pitch to Schmidt by Blyleven in the third. Schmidt shook his finger at Blyleven and was restrained by Harvey when he started to walk toward the mound.
"After 19 years in the major leagues," Harvey said, "I can tell a knockdown pitch from a brushback pitch. To me, a pitcher has a right to move the hitter off the plate. That's what Blyleven did.
"That pitch was what I call 'right on the buttons,' in front of the body where the guy can move out of the way."
Saucier, who was fined last year for heeding former Philadelphia Manager Danny Ozark's order to hit Chicago's Mike Krukow, would not comment after the game. Neither would Blyleven.
Even Saucier's teammate, Bowa, said throwing that pitch "is something Saucier will have to live with."
Especially against the Pirates.
"Some day," Tanner said, "Saucier will have to bat against us."
¶     ¶     ¶
PIRATE NOTES – Saucier slipped when he accidentally hit Willie Stargell with a slow curve in the fifth inning.
The Pirates still did not hit well, getting their six runs on only five hits.
Rookie Bob Walk lived up to his name, giving up five runs on only two hits, basically because of the five walks he surrendered.
Garry Maddox had three hits for the Phillies, who have won five straight.
The win moved the Phillies .004 ahead of the Pirates, who have lost seven of their last 10.
Has Bert Fought Back Into Teammates' Hearts?
Press Box By Dan Donovan
PHILADELPHIA – Can A fight draw Bert Blyleven back into the mainstream of the Pirate team?
The rest of the team backed Blyleven during a two-round bench-clearing brawl with the Philadelphia Phillies last night.
Blyleven has pretty much been an island by himself, uneasy after his nine-day defection earlier this month.
The team still didn't win when he pitched, losing, 7-6, but when the rough stuff began in the sixth inning, somehow the Pirate infield beat the Phillies' infield to the mound, even though the Phillies' infield was on the field.
Phillies' pitcher Kevin Saucier hit Blyleven squarely in the side with a pitch.
Blyleven was the first player to the mound, entangled with home plate umpire Doug Harvey, who held back Blyleven's arm, then knocked the ball out so Blyleven couldn't throw it back at Saucier.
The third person to the mound was Philadelphia catcher Bob Boone, followed closely by Pirates Tim Foli, Phil Garner and Bill Robinson.
Coach Bob Skinner and catcher Steve Nicosia eventually grabbed Blyleven and pulled him out of the fight, while Dave Parker stood guard, waving his arms and looking like King Kong protecting Fay Wray.
"I thought we had a good relationship with the Phillies until today," Parker said. "Throwing at Bitten, that's something I don't tolerate."
The Phillies, an unemotional, laid-back team, did a lot of milling around, perhaps remembering a 1977 brawl in which Mike Schmidt broke his thumb and Willie Stargell hurt his arm.
"Most of the big guys were pulling guys off," Philadelphia shortstop Larry Bowa said. "Guys like Luzinski, Schmidt, Boone, Parker, Stargell and Bibby are big guys. They could have killed somebody."
Yet the Pirates were upset when the Philadelphia coaches apparently tried to stir their team into a bigger fight. Bill Madlock was standing around joking when pitching coach Herm Starrette and bullpen coach Mike Ryan apparently tried to stir up trouble.
"It was over until their bullpen got there," Madlock said.
"Mostly, it was the coaches," Bowa said. Things calmed down, but then the coaches said some things and it started all over again."
The Pirates thought Ryan did more than say things.
"He went into a huddle and started stomping around," Pirate Lee Lacy said. "He was like a madman. He didn't know if it was his own guys or somebody else he was stomping on."
With a mischievous look on his face, Ryan pleaded innocent to stomping, but admitted he helped start the second round of fighting.
"They must have mistaken something someone else did for me," said Ryan, who has a tough-guy reputation. Three players were pointing at me, so I said, 'Okay, come on. Let's go.' They obliged me. I wound up with one of them, I think their third baseman."
The third baseman, Madlock, pretty much cleaned Ryan's clock.
"I seriously doubt he would want to do it again," Madlock said. "Yon saw his face, didn't you?"
Bowa's face didn't look good either, since he was hit in the mouth. Foli suffered a cut above his eye that bled a lot, but he stayed in the game.
"I thought Foli was hurt bad," Bowa said. "There was a lot of blood."
"I had ahold of somebody and I was bumped," Foli said. "That shoved my glasses into my face and cut me."
Garner, who had Ryan around the waist early in his battle with Madlock, had brushburns over the left side of his face. And he also had the biggest smile in the clubhouse.
"Don't ask me what happened or who hit who," Garner said. "All I know is I was out there in the middle, getting it and giving it."
The Philadelphia players, for the most part, let their coaches do the fighting. A Pirate player, Lacy, was thrown out of the game, along with Starrette.
After the game, most of the Phillies bolted from the clubhouse, ostensibly to beat the traffic that would be delayed because of a fireworks show.
"This showed we will stand up to anybody," Philadelphia Manager Dallas Green said.
Few of the players were around to ask if the coaches were intentionally trying to light a fire under them.
The Pirates didn't know how to answer the obvious question – Will there be more beanball battles in the next 17 Pirate-Phillie games?
"Ask them," Madlock said. "We didn't start it today, why should we start it tomorrow?"
With that, about 10 Pirates banded together for a trek across the parking lot to their hotel. Tbey looked a little silly, arming themselves with bent hangers, but the Philadelphia fans are a rough lot.
"I hope none of the kids outside start something," Pirate Coach Joe Lonnett said. "They might start swinging."
Now the question is: Will Blyleven start swinging with them?
Or will be stay on his private little island?