Philadelphia Daily News - May 9, 1980
Baseball Talks Move Slowly
NEW YORK (UPI) – With Reggie Jackson and Jerry Koosman sitting in on the negotiations, baseball strike talks took a mild downward turn yesterday as both sides agreed to disagree on two issues – compensation and the pension plan.
This week's sessions have ended and will resume Tuesday, continuing until the May 22 deadline.
"Things are moving like molasses in Alaska," said Jackson.
"I don't think much headway is being made," a subdued Koosman said. "We are willing to take the same percentage we got in the old contract but the owners want to take things away from us.
"The public seemingly wants baseball but we may have no recourse but to stop playing May 23 and everyone – the players and public – will suffer."
"What Reggie and Jerry said is not tough talk," said Marvin Miller, executive director of the Major League Players Association. "It's a realistic attitude while it must be understood that management wants us to work with a contract that's four years old."
Management, represented by Ray Grebey, agreed that there were differences in the pension plan and compensation issue, but reiterated, "We think we can continue to negotiate the various issues while playing baseball as we did in 1976. Since April 1, we have been negotiating about the players' proposals and no one considers them unimportant."
Dave Vaughn, general counsel with federal mediator Kenneth Moffitt, indicated that the intensity of the talks would increase next week.
"The negotiations have moved in a traditional pattern," he said. "There is a ritual to this which has been followed. I believe both parties have emotional differences over a couple of issues but they will negotiate more intensely next week. I stil believe the issues can be settled through collective bargaining."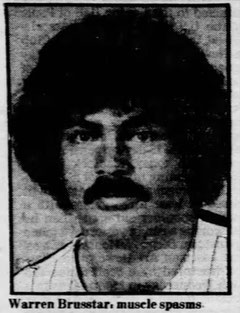 Brusstar Strays from Fold
By Bill Conlin
CINCINNATI – Warren Brusstar is on the missing pitchers list.
The disabled righthander, suffering with a career-threatening shoulder problem for more than a year, is not exactly AWOL. It would be more accurate to say Brusstar is AWOOB – away without official blessings.
The sinker-slider reliever who played such a big role in the Phillies 1978 division title has apparently abandoned the program of therapy recommended last month by an orthopedic specialist in Oklahoma City. Brusstar sought a second opinion there after the Phillies medical staff could offer no firm diagnosis of what is causing repeated muscle spasms behind his shoulder whenever he tries to throw a baseball.
Nothing was found in Okie City to shed additional light on the problem. Brusstar was given a series of exercises aimed at loosening and strengthening the area that has been knotting up on him.
"It's starting to feel a lot better." Brusstar said before the Phillies went to New York 10 days ago. "I'm. starting to feel a little encouraged."
BUT PAIN WAS still there. With his career in limbo, the tough, quiet guy with the ice-blue eyes of a gunfighter apparently reached out on his own.
Brusstar wasnt in the clubhouse daring the recent home stand immediately before or after games, but people figured he was visiting trainer Don Seger early to avoid the crush of walking wounded. He didn't accompany the Phillies here yesterday. Disabled-list players in therapy usually make the road trips so they can be monitored by Seger and his assistant, Jeff Cooper.
"Warren is in St Louis on his own," Dallas Green said when asked about his missing reliever. "I understand h e's seeing a chiropractor about his problem. I have no real feelings about it one way or the other. I'm of the opinion that the medical people have done the best they can for him and the rest is up to him. He's been to four top medical men in that field and none of them have been able to find a physical problem. Sometimes a pitcher has to resign himself that he's got to pitch with a certain amount of pain. About 90 percent of the guys who ever pitched in the big leagues have done it.
"Ruly Carpenter gave him the go-ahead to do whatever he felt he has to do to turn this thing around. I personally don't feel what he's doing is the answer. I'm from the old school. Sometimes you've got to do what you have to do to stay in this game."
BALLCLUBS WINCE when injured players undergo unauthorized medical treatment They feel they have the best in their fields available in the Bob Kerlans, Stan Jobes and Phil Marones. Dr. Jobe, the Los Angeles wizard, built Tommy John a new left arm and it's proved to be a lot more effective than his old one. But the John miracle was not performed without no-guarantees surgery, rest and long, gruelling therapy. Rotator cuff surgery is rarely successful for pitchers, as Jim Busby is discovering.
Dick Selma outraged the Mets one year by having off-season shoulder surgery in California. The incision was so big the doctor had to use piano wire for sutures and when Selma reported to spring training his shoulder looked like it had been through the Texas Chain Saw Massacre. But he could pitch and the flaky righthander insisted that was the important thing.
Selma did a similar number with the Phillies. He had a vasectomy one week before spring training opened. There was major hemorrhaging and Dick spent half the exhibition season pushing a wheelbarrow.
PHILUPS: It'll be Randy Lerch vs. Charlie Leibrandt tonight at Riverfront Stadium. "I faced Charlie a lot in the minors," said reserve catcher Keith Moreland. "He threw hard but he couldn't get his breaking ball over"... Would you believe the thorough Reds dispatched two scouts to the Cuban refugee camp in Ft. Walton Beach, Fla.. looking for any baseball prospects who fled the Castro regime? "Some of them appeared to have played a lot of baseball and appeared to have a certain amount of talent," said George Zurow, area scouting supervisor for the Reds after working out 30 refugees, some of them barefooted. "I'd love to see them in ideal conditions." At least eight of the refugees claimed to be members of the Cuban national baseball team, thought by some to be a baseball equivalent of the Soviet hockey team. Meanwhile, Commissioner Bowie Kuhn released from his handcuffs long enough to put an embargo on signing any of the Cubans. Kuhn said no refugees may be signed until major league baseball establishes guidelines... David Concepcion is in a dreadful slump, but Larry Bowa says he'll forego his usual needling routine when he sees the man who stole his Gold Glove last year. The last time I got on him about a slump he picked me clean on three balls up the middle," Bowa said. This time I'm gonna commiserate with him."