Philadelphia Daily News - November 1980
Philadelphia Daily News - November 3, 1980
Phils Still Teed Off
By Bill Conlin
HILTON HEAD ISLAND, SC. – It seemed totally incongruous to see the custom van owned by David Raymond, the Phillie Phanatic, parked at the Robert Trent Jones Golf Center.
It seemed even more incongruous to see Phillies pennants adorning the walls of the golf and tennis outbuildings at the swank Palmetto Dunes resort.
This is where the World Series parade finally ended, rimmed by the lush greenery of the George Fazio and Robert Trent Jones courses, 36 holes of almost-Heaven for those of the golf persuasion.
The Phillies are very big in this significant corner of the sporting and leisure world, an old, established firm.
SEVEN YEARS ago, Mike Schmidt figured it would be fun to sponsor a weekend golf tournament here at the end of October, to invite players from other baseball organizations and athletic walks of life to join the Phillies for a long weekend of golf and partying. No professional golfers, just celebrities and enough average duffers to make it a fun weekend.
The concept took off like a Schmidt home run. The event is now considered a staple of the island's fall economy, the last big influx of high-rollers before the winds and chilly rains of winter. This was the seventh annual Mike Schmidt Golf Classic and this year 145 athletes and weekend golfers showed up to compete in the three-day team event which combines best-ball and handicap formats to insure that the most abject 125 scorer has as much of a chance to win some prize money as a guy with a three or four handicap. Another 100 or so assorted wives, kids and friends showed up to watch, play tennis and relax. It was a nice weekend for the folks at Palmetto Dunes. Y'all come back next year, Mike, heah?
Thanks to a kitty swollen to $30,000 by the traditional pre-tournament betting, Atlanta slugger Bob Horner's winning five-man team left the island with about $1,500 each. Phillies broadcaster Rich Ashburn saw his team fall one stroke short of victory – no less than three birdie putts rimmed the cup on the 18th hole but won enough to more than cover the price of the tournament package.
"Now I know why I didn't play golf for two years," righthander Dick Ruthven said, scowling through the beard he's growing. "I hate this game."
RON REED LOVED it Saturday. The endangered veteran reliever rang up a hole-in-one on the 160-yard sixth hole at Fazio, a gorgeous layout rated as one of the nation's top 100 courses.
When Reed's seven-iron dribbled into the cup, the 6-7 righthander let out a whoop heard from Fripp's Island to Calibogue Sound.
It should also be noted that Palmetto Dunes survived the presence of a dozen members of the world champions. And it was not necessary for this security-conscious island which has 15 golf courses and 500 tennis courts for a population that never exceeds 25,000 to double the police patrols. Women and children were safe at all times.
In case you missed the latest issue of Newsweek magazine, you can appreciate the terror potential of having "The Malevolent Phillies'," in town for the weekend.
"The Malevolent Phillies." That's the headline on a one-page ax-murder by Newsweek columnist Pete Axthelm. It is perhaps the most savage piece of journalism ever aimed at a championship professional sports team.
When combined with some of the post-parade stories published in Philadelphia last week, the Axthelm piece guarantees that there will be no 1981 thaw in the clubhouse. The Phillies were particularly upset by Bake McBride's critique of Schmidt's selection as the World Series MVP.
"SOME GUYS just couldn't wait to bleep on our parade," Greg Luzinski rumbled the other day. "I guess there are some writers in town . who just couldn't stand the thought of us finally winning the whole thing."
The athletes, many of whom have not had a chance to read Axthelm's vitriole, were also upset by a vintage bleeding hearts column which seemed to suggest that winning should have been secondary to salving the feelings of dumped lefthander Randy Lerch.
"The bottom line," Ruthven said at breakfast yesterday, "is who was the better pitcher. Randy or Marty Bystrom? I think the answer to that is so academic it's not worth discussing. They had to make a decision that affected the entire Phillies ballclub."
Some samples of the Axthelm piece: "... The Phillies celebrated as they had played against Kansas City, in bullying and abrasive style. Shortstop Larry Bowa sneered that the boos of the fans had inspired him. Outfielder Lonnie Smith led a few teammates in obscene chants directed at the press. Ace pitcher Steve Carlton withdrew in sullen splendor to the off-limits trainer's room, while sycophants hurled beer at the reporters who maintained their demeaning vigil outside the door of the sanctuary. When (Tug) McGraw belatedly joined in the mood, there seemed to be only one flaw in the script. The police attack dogs who snarled at the fans during the final inning were aimed in the wrong direction..."
I WONDER WHERE Axthelm was in 1973, when Jerry Grote of the not-so-lovable Mets drenched columnist Dick Young with a pail of ice water during a pennant-clinching celebration that bordered on riot? Where was he the same year when a morose, washed-up reliever named Eddie Watt splattered a half-dozen writers with a gallon of hot barbecue sauce after the Orioles beat the Mets?
Was Axthelm on the scene in 1975, when the usually stately Reds clubhouse was turned into a combat zone by a drunken, destructive Pedro Borbon? Did he happen to catch any of the bitter little scenarios involving the press, Ron Cey, Davey Lopes and Bill Russell when the Dodgers were losing the 1978 Series to the Yankees? Was Pete around the batting cage in Oakland the 1974 afternoon that Reggie Jackson challenged a syndicated columnist named Murray Olderman?
"It is," Axthelm wrote, "that the most memorable image of this World Series is a nasty one – that of reliever Dickie Noles firing a fastball toward the jaw of Royals superstar George Brett..."
You'd think that was the first time Brett, a totally fearless hitter who was not the least bit gun-shy after the Noles knockdown, had never been flipped before. Is Axthelm aware that the American League has been a paradise for head hunters since the DH rule guaranteed that pitcher would never have to say he's sorry. Did he take the trouble to find out that sometimes Noles has trouble hitting any part catcher Bob Boone, let alone a guy's chin?
"I THINK A lot of people in the national press were very upset that the Phillies became world champions," said Schmidt-Steve Carlton agent Dave Landfield, here to help Schmidt run the tournament. "I think they wanted to see the Phillies lose so they could rip the team and city. I think they were hoping there would be violence after the sixth game, bad crowd behavior at the parade. Superb police work prevented violence and the parade crowd was the happiest I've ever seen, but that's not the way the script was supposed to end. They can take all the cheap shots they want at this team now that it's over, but they can't change the fact that the Phillies won the baseball championship of the world."
There are some festering wounds, though. Luzinski still is simmering over the way Dallas Green shrugged him out of the lineup in Gsme 3 without asking The Bull if he was well enough to play. "He didn't say a word to me the rest of the Series," Greg says. "I think I've been a part of this team long enough to deserve better than that. I'm glad we won this thing for Paul Owens, Ruly Carpenter and his father Bob Carpenter."
Luzinski knows he's already being shopped around. He told Orioles Manager Earl Weaver he'd like to play for him next season. Weaver reportedly said he'd like to have Luzinski in his lineup, but that Owens is asking for of his starting pitchers.
HOW CAN A team that won it with pitching be looking for another starter? Hey, Lerch is as good as gone, Larry Christenson is poised to play out his option and Nino Espinosa's shoulder is still ailing.
So they had some fun this weekend, far from the madding media's ignoble strife. The rumors will be cooking on the hot stove soon enough. The re-entry draft is right around the corner, the winter meetings are just a month away, and trade rumors will be flying like snowflakes again.
Nobody ever said the off-season was gonna be easy for the world champions...
November 4, 1980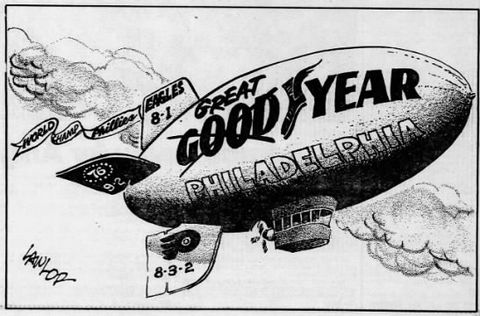 Schmidt, Carlton: Dream Ticket
By Rich Hofmann
This is a critical American election season, and that includes the races in the baseball precincts for league MVPs, All-Stars and best pitchers. No ordinary ballotings, these elections will, when completed, give the baseball public its kings of 1980. Also, they will give the kings a head start on a unique set of perquisites – shaving cream, underwear, frozen pizza and motor oil endorsements.
Obviously, much is on the line as the different constituencies mark their ballots. Later today, the results of the writers' voting on the Cy Young Award will be announced, but yesterday, under the auspices of The Sporting News Board of Elections, the players did the voting. The polls have closed in the West, the tombstones in Cook County, Ill., have been dutifully tallied, and the results are very encouraging for the Philadelphia dream ticket of third baseman Mike Schmidt and pitcher Steve Carlton.
With 99.99 percent of the players counted. The Sporting News has named Schmidt the National League's Most Valuable Player and Carlton its best pitcher. Neither race was close.
FOR SCHMIDT, the World Series MVP, the award comes after his best season as a professional – his 48 home runs and 121 RBI were both tops in the National League. Schmidt received 81 votes in The Sporting News poll, more than twice the number given to runnerup George Hendrick of the St. Louis Cardinals. Many consider Schmidt to be the odds-on favorite to win the writers MVP award, too.


If Schmidt is considered an odds-on favorite for MVP, then Carlton has to be a lock for today's Cy Young announcement. The Sporting News editors said the NL Pitcher of the Year voting was "no contest," with Carlton the runaway winner. His 24 wins and 286'strikeouts in 304 innings blew away the competition like one of his nastiest sliders. Carlton won the same award in 1972 and 1977.
The newspaper also announced its American League awards. For MVP, the winner was Kansas City Royals third baseman George Brett, who merely hit .390 with 24 homers and 118 RBI. The AL Pitcher of the Year was Baltimore Oriole Steve Stone, whose 25 wins led the league.
All-Star teams for both leagues were also chosen. Besides third baseman Schmidt and left-handed pitcher Carlton, second baseman Manny Tril-lo was also represented.
The rest of the NL All-Stars are St. Louis first baseman Keith Hernandez, Cardinals shortstop Garry Templeton, Los Angeles leftfelder Dusty Baker, Houston centerfielder Cesar Cedeno, Cardinals rightfielder George Hendrick, Montreal catcher Gary Carter and right-handed pitcher Jim Bibby of Pittsburgh.


BESIDES third baseman Brett and righthander Stone, the American League team includes Milwaukee first baseman Cecil Cooper, New York second baseman Willie Randolph, Brewers shortstop Robin Yount, Brewers leftfielder Ben Ogilvie, Orioles centerfielder Al Bumbry, Yankees rightfielder Reggie Jackson, Yankees catcher Rick Cerone and Yankees left-handed pitcher Tommy John.
Jackson, who has received All-Star recognition three previous times, also was chosen top designated hitter for the American League.
Meanwhile, pitcher Matt Keough, victim of a 14-game losing streak one season ago, has been named the UPI Comeback Player of the Year in the American League for 1980.
Keough, a 25-year-old righthander for the Oakland A's, received 17 of 50 votes for rebounding from a disastrous 2-17 record to post a 16-13 season with a 2.92 ERA.
A City of Winners
Lost in the euphoria of the Phillies' World Series victory and the Eagles' march to a Super Bowl is the fact that Philadelphia hasn't seen a loss in an awful long time. All the way back to Oct. 18, as a matter of fact.
That was the day the Phillies lost to the Kansas City Royals, 4-2, in Game 4 of the World Series and the Flyers were beaten by the Vancouver Canucks, 5-2.
Since then Philadelphia has literally been "A City of Winners."
The Phillies started a roll that hasn't stopped by winning the World Series.
The Eagles, leading the NFC East, possess the NFL's best record (8-1). The 76ers are 9-2 and the NBA's Atlantic Division leaders. The Flyers are in first place in the NHL's Patrick Division with an 8-3-2 record.
The last time the Eagles lost was Sept. 28, a 24-14 upset by the St. Louis Cardinals. The Birds are riding a five-game winning streak. The 76ers were 1-2 on Oct. 14, but have won their last eight games. The Flyers are unbeaten in their last eight games (6-0-2) since losing to the Canucks.
November 6, 1980
Free (Agent) at Last
By Bill Conlin
Tug McGraw set Ruly Carpenter to dancing when he fired that John Jameson fastball past Willie Wilson on the night of the Millenium.
If the Phillies owner wants to keep dancing he will have to pay the fiddler.
McGraw wants $2 million for a four-year guaranteed contract. His financial adviser, Phil McLaughlin, laid that package on the table for Carpenter and Paul Owens Monday. They ran it up the flagpole and nobody saluted.
Everything is inflated in your own mind," Manager-apparent Dallas Green said Tuesday night. "Tug's got his idea of what he might be worth on the open market. We've got our idea of what he's worth to the Phillies. There is no contesting that Tug had a super year for us. But the feeling is that we'll let him go through the thing and establish his value. My gut feeling is that a 36-year-old relief pitcher is not worth the numbers he's asking. And that's not to belittle Tug in any way. The system has been created for a successful player to make some very big money."
The "thing" is the re-entry draft which will unfold for the fifth time next Thursday in New York's Plaza Hotel. McGraw will be in it.
ON A DAY when the Phillies signed Larry Christenson to a one-year contract, McGraw and pinch-hitting hero Del Unser informed the club that they will take part in the free-agent draft. Owens can continue negotiating with the players until midnight Monday, after which nobody can discuss money with them until after the draft. Following their selection by up to a maximum of 13 teams, the Phillies retain negotiating rights, which is how they got Greg Gross back last winter.
McGraw issued a statement yesterday through his wife, Phyllis, that as a prime contributor to the Phillies' first world championship in 98 years he expects to be paid at a level equivalent to that of the club's established stars. A $500.000-a-year salary would leave him trailing only Pete Rose, Mike Schmidt, Garry Maddox and. possibly, Steve Carlton on the salary totem pole. He would be on a par with Bake McBride and ahead of Greg Luzinski.
McGraw certainly will not sign for less than the $375.000 the Phillies are contracted to pay 36-year-old Sparky Lyle in each of the next two seasons. Nor should he.
Tug earned $175,000 last season, a peon's wage for a player at his level of achievement. And $75,000 of that will come in the form of deferred payments, money that will be eroded by inflation's rocky road.
"That's Tug's own fault." a prominent agent said over the weekend. "He does his own negotiating. He's too nice a guy to get into the push, shove and hard feelings that a third-party negotiator can absorb. He should have had a ' much better contract than the one he signed."
McGRAW ISN'T going to let the negotiations ruin the enjoyment he's had out of life since his epic World Series-ending strikeout. In fact, the only thing that came close to bringing him back to the planet Earth was a torrent of icy water.
"With the parade and everything it seemed like everything was just unreal." McGraw said at the Mike Schmidt Golf Classic Sunday morning. "I finally began to get my feet on the ground and come back to reality about four days afterwards and my wife and I got up to take a shower at home. The hot-water heater didn't work. It was a chilling awakening to the real world."
He has a charisma second to none in baseball and representatives of the marketplace are lining up to pay him homage and other valuable considerations.
He began his autumn hegira in Las Vegas, where he appeared on a week's worth of "Hollywood Squares" shows. The McGraw segments of the popular celebrity TV game show will air at the end of this month. Consult local listings.
It was an experience, since the five shows were taped in one whirlwind session. The celebs wear the same pants and keep changing jackets, shirts and ties.
"I'm tasting the fruits of victory and I've been enjoying myself," Tug said. " 'Hollywood Squares' was fun. I met a lot of neat people. Wink Martindale, Foster Brooks, who I felt like I knew really well. George Gobel, Joan Rivers, Paul Lynde, who was hilarious. It's amazing how much those guys all follow sports. Gabe Kaplan was on the panel and Dr. Joyce Brothers. Did I say Jane Russell? It'll be shown around Thanksgiving time.
"There were no re-takes and no bleepers. Nothing was rehearsed. It's al! cold turkey. All that stuff Lynds and Gobel say is right off the tops of their heads. Lynde was in pain, too, but you'd never know it. He broke a rib falling in the bathtub. or something. Those guys are gamers just like we are. You get 15 minutes between shows and you just change tops."
HE TOOK Phyllis to see Neil Sedaka at the Riviera Hotel. The pops superstar introduced McGraw from the stage.
"It was a full house – 2,600 people – and they gave us a standing ovation. Susan Anton was there, too. I gave her a standing ovation."
He's got some lucrative endorsements pending, none of them, he says, for Tylenol, the pain reliever he has graced with a fortune in free advertising.
"Why should they pay me when I'm giving it to them for nothing." Tylenol Tug said. "There are some things in the negotiating stage, so I'd rather not name names until they're firmed up."
Back to baseball biz. McGraw feels he has excellent leverage in the free-agent market despite his age.
"The big problem that I think I'm going to have is that the Phillies have never been in favor of investing a lot of money in a pitcher," he said. "They've always invested the money in the guys who play every day. They've never had a pitcher come along who's had them with their backs to the wall. Lefty (Carlton) signed before inflation hit and as inflation has developed they've adjusted his contract to some degree. But he's never been in a position to sit down and demand anything.
"Christenson had physical problems, Ruthven had physical problems, so nobody has been in position to really test them and see what they're willing to pay. In my opinion, the pitching is the only reason that we won. The offense has been a little bit off. There have been times when the offense was not a consistent factor. And they wouldn't have done bleep this year without the bullpen."
THAT COULD BE interpreted as a bitter statement by a pitcher trying to drive a hard bargain.
But McGraw tossed back his head and laughed when he said it. "I'm really a tough talker, aren't I?"
He junked a lot of his off-season business activities last winter to spend more time with his family and more time taking care of his body. His family life thrived and he did enough for his body to throw as hard as he did when he was a 25-year-old power pitcher with the Mets.
He won't leave his fastball in the VIP bar at an awards banquet the way Carlton did after he won his first Cy Young Award in 1972.
"I'm going to be on that program the rest of my career in the off-season," Tug said. "As of the 18th of November this year anything I have to do in the way of any outside commitments will have to fit around my workout schedule and the things we have planned as a family."
He wants to stay in the Phillies family. But his name will go up on the big board at the Plaza Hotel next Thursday morning. And whether he pitches here again will depend on the capricious whims of the owners and how much they are willing to spend in an inflated market for what a Tug McGraw can do for a deflated bullpen.
Green Manages to Make It Official
Dallas Green, to the surprise of no one and to the delight of his accountant, is going to manage the world's champion Phillies again in 1981.
The official announcement was made this morning at a press conference in the Vet, but the agreement was reached last night when Ruly Carpenter, after day-long talks, agreed to pay Green's $150,000 asking price.
Green, who has said frequently that he prefers front office work to toiling in the dugout, said it had been decided yesterday that "the best thing is for (general manager) Paul ( Owens) up there and me down here."
He said he thought the Phillies had a chance to repeat as world champions and that he'd made that his goal. "It would be kind of fun to go through this again."
BEFORE SETTLING on his own contract. Green spoke of Larry Christenson and his chances of striking it rich as a free agent
"He's asking for the kind of money and the kind of years that a premier, healthy pitcher would ask for." Green said Tuesday night. "It's well known that he has a history of blowing out. What is it, five times on the disabled list the past three years? I'll take my chances on him in the short run because when he's healthy he's a helluva pitcher. Sometimes he's not too shabby when he's not so healthy, like some of the starts he gave us toward the end of the year when all he could do was throw the ball.
"BUT HE BLOWS out swinging at pitches, he blows out running and he blows out pitching. It's in his history and I doubt if he'll ever be able to put another full season together without blowing out. And sooner or later it'll get to his arm. You can't continue to pitch on one leg and not have it screw up the arm.
"At the end of the World Series, Larry Christensen was a sore-armed pitcher. The elbow that was cut-on during the season was going south on him again. When he got lit up in the first inning of the fourth game, he was out there with a sore elbow. The next afternoon when we were fighting to come back, I wanted to use him for an inning if I needed him the way I did in the Houston playoff. He said, 'I don't think I can get it up.'"
It was hardly a vote of confidence. Which is why it came as a surprise when'the Phillies pried Christenson out of potential free-agency yesterday by signing him to a new contract. That the contract is only for the 1981 season comes as no surprise, however.
It probably reflects a compromise on the part of Paul Owens, an opportunity for Christenson to prove he can hold together for a full season, while still having the fruits of free agency available to him after the '81 season.
Though terms were not announced, of course, it is reasonable to assume that the Phillies will give Christenson a shot at the big money – the chance to make $400,000 next year is a guess – via a contract loaded with performance clauses. Innings pitched over 200 will probably put Christenson in tall cotton. He's proved that when he can string his starts together without medical interruption he's a winning pitcher.
IF CHRISTENSON can win the 15-18 games he's capable of winning when in good health, he'd be worth a big, one-shot payoff to the Phillies. From his end, Christenson would have the bargaining leverage he currently lacks due to his reputation as damaged goods.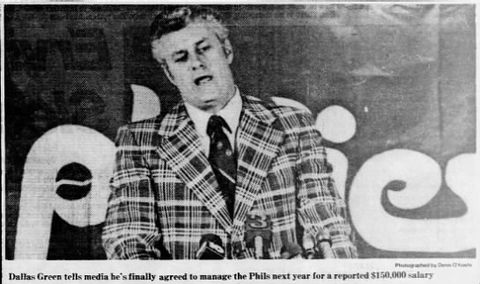 November 7, 1980
Green's Ideas Prove Ripe
By Stan Hochman
Dallas Green knew that his key guys had all the food, clothing, shelter and sex they needed.
That took care of the basic drives, the ones he learned about in "Psychology 104' back at Delaware. If he was going to stir the competitive juices of sated veterans, he'd have to find some other way of motivating them.
So he preached about character, screeched about grinding-it-out. The ones who had been grinding-it-out got mad. And so did the ones who hadn't been grinding-it-out.
Green delivered his message via the media, playing the press like a zither, four times slicker than Gene Mauch ever was.
He called the players lazy and he called them quitters and he even questioned thresholds of pain in some guys. And the subsequent howling rolled off his back like water off a duck's tail-feathers.
HE WANTED a championship and he didn't care whose nerves he jangled, whose feelings he battered. It worked.
And now he must be tickled when some of his guys suggest that they always had character, it's just that now they'll get credit for it because they came from behind so often down the stretch.
Green wanted them intense. He didn't say they had to be intelligent.
He wanted them ready to play. He wanted them physically sharp and mentally alert. Then, if they fell three runs behind in the eighth inning, they would still be able to hit a hittable pitch, catch a catchable ball.
Some guys have faint hearts. Some guys can't handle stress. Some guys react poorly to adversity. Some guys don't give a damn.
Have enough of those guys on your roster and they will poison the entire scene. So Green stressed character and grinding-it-out. And if everybody got mad enough to want to prove him wrong... hey, champagne has a way of healing old wounds.
Green laughed all the way to the parade. Now, reluctantly, he will try to win it again, without that much screeching, that much preaching.
Yesterday, signing on for another hitch with the HMS Bounty, he warned against "laissez-faire" which is French for failure to hit the cutoff man. He said he might have to unload some people if the message continued to slither in one ear and out the other.
IT IS PART of a healthy trend in this city's sports franchises. A trend the Phillies were last to recognize, last to adopt. So what else is new?
The Flyers did it first. Plucked a pale, skinny diabetic named Bobby Clarke out of the second round of the draft.
Wound up with the kind of player-person general managers dream about. Surrounded him with hod carriers who thrived on thumping people.
Hired a mystic named Fred Shero to coach them. Shero gave them a formula for getting the puck up ice, and a style that raised welts and complaints throughout the league.
Terrific. That was exactly what Shero wanted. Let the purists howl. And if they wanted to point to the penalty box, Shero's bruisers could point to the scoreboard. In unison.
Oh, sure, it didn't hurt to have Bernie Parent tending goal. That's an essential part of this whole success story. To paraphrase Mike Schmidt, you can have all the belligerence of a rattlesnake inside you, but you'd better be able to skate, check and shoot the puck.
The Eagles were next, snatching Dick Vermeil out of a lovely campus setup to breathe life into a choking football team.
VERMEIL GRABBED the team by the throat, which is a fascinating way to handle chokers. Got rid of some talented players who could not meet his harsh standards when it came to intangibles.
Kept others, less talented, and somehow got them to play over their heads. Stressed character, stressed caring, stressed winning.
It has jelled quicker than even he thought it would. If it had taken longer, that would have been all right too, because he had the owner's backing.
He has outstanding people at the skill positions. To paraphrase Schmidt once more, you can have all the sleepless nights you want, but you better have some talent out there on Sundays if you hope to win.
The Sixers were next. Got rid of some gaudy talents and grumpy dispositions. Realized that gate attractions are fine, but not if the gate closes early every season.
George McGinnis conned Fitz Dixon, but he couldn't con Gene Shue. Dixon got rid of Shue, whispering something about glass houses.
And then Billy Cunningham got through to Dixon, sending McGinnis to other pastures, pastures more suitable to George's quarter-horses and half-hearted practice habits.
Got Julius Erving with his magical skills and his prosaic readiness to play each night. Surrounded him with willing role players and a colorful but coachable flake or two.
There is still some work to be done here, because life in the NBA is still the furthest thing from Sunday school on this planet's sports landscape.
They are all winning now. They are winning because they have splendid talent, and because they are well coached.
BUT TALENT isn't enough in these inflationary, tasteless times, where craftsmanship has given way to imported and domestic shlock.
Athletes are seldom hungry, thirsty, cold or companionless. If you're going to motivate them to do their best you must either stroke those massive egos or prod them with a sharp stick.
Yesterday, Green began whittling at a thick branch. He doesn't use a knife. He's got the kind of voice and vocabulary to scorch the bark off a tree or the hide off a soft-nosed malingerer. He is an idea whose time has come.
Phillies Choose Baumer As 'Minor' Replacement
After making no changes in either the manager's or the general manager's office, the Phillies have decided to shake up the minor league department.
Out is minor league system head Howie Bedell, who used to be joined with director of scouting Jack Pastore in heading up the Phils' two-headed system. In is former Milwaukee Brewers' GM Jim Baumer, who will be responsible for both the minor league and scouting departments. Pastore will be his assistant.
"Basically, I firmly believe in a one-man operation as head of that department," said GM Paul Owens. "I learned that a long time ago from (former Phils' minor league director) Gene Martin.
"We followed that format while I was that department head and the same when Dallas Green replaced me. We tried to go to the two-head department for the last year and I'm just not satisfied."
Baumer, 49, had a unique major league career, playing for the Chicago White Sox in 1949 and the Cincinnati Reds 12 years later. After that, he played in Japan from 1963-67 before becoming a scout for the Houston Astros in 1968.
HE JOINED THE Brewers in 1972 and stayed there until 1977 as scout, director of player development and general manager. Owens hired Baumer in 1978 as a special assignment scout with emphasis on the American League. This fall, he was assigned to scout the Kansas City Royals prior to the World Series.
"Baumer has a lot of experience in player development and scouting," Owens said. "I feel that experience will do the job for us.
"I'm very appreciative of the job Bedell has done for the Phillies but I just felt a change was needed."
•
TOKYO (UPI) – Two Japanese baseball clubs today denied a report they were attempting to sign Phillies first baseman Pete Rose.
"There is no truth in the report," said a spokesman for the Yomiuri Giants of the Central League.
"It's totally groundless," said the Seibu Lions of the Pacific League.
The denials from the two clubs came in response to a front-page story in yesterday's Sports Nippon newspaper.
The newspaper quoted an executive officer of the Nippon Ham Fighters, another Pacific League club, as saying, "I was told during my recent trip to America a certain Japanese baseball club had approached the Phillies to buy Rose's contracts."
The daily reported that only the Giants and the Lions had the financial resources to launch such a venture which could cost as much as $2.4 million.
The Giants are in extreme need of a first baseman to replace Sadaharu Oh, baseball's home-run king who announced his retirement as an active player Tuesday.
November 10, 1980
City of Winners
City of Winners update.
Yeah, we're still updating, because everybody refuses to lose. Dating back to Oct. 18, when the Phils lost Game 4 of the World Series and the Flyers lost to Toronto, the professional sports streak goes as follows:
The Flyers, with last night's 3-1 win over Quebec, have not lost in 11 games.
The Sixers, with last night's 136-121 win over Milwaukee, have now won 11 in a row, nine of them after Oct. 18.
The Eagles, with yesterday's 34-21 win over New Orleans, have now won six in a row, four since Oct. 18.
The Fever, with an 8-2 win Saturday over San Francisco, is now 1-0 in the regular season.
The Phils won Games 5 and 6 of the Series, and those two make for a total of 27.
November 11, 1980
Phils Not Starstruck
By Bill Conlin
There used to be certain dividends available in the re-entry draft even for teams with no intention of making a sincere offer to a big-name free agent.
What a team could get plenty of was publicity.
It was also a way for a ballclub to make the fans think it was trying. When Pete Rose went into the re-entry auction three Novembers ago, it guaranteed a media circus in Pittsburgh, Atlanta, Kansas City, St. Louis and this town.
It became Gussie Busch's breweries vs. Ted Turner's Superstation, the money anted up by Channel 17's owners vs. John Galbreath's racing silks. Ewing M. Kauffman was there with good, old-fashioned money, a lot of it. Sports talk show hosts fielded a thousand calls on the Rose free agency. Pete's visits to the owners of the five clubs he named finalists were chronicled like the whistle-stop campaign of a presidential candidate.
IT WAS the Hot Stove League at its all-time best.
Paul Owens, Dallas Green and newly-minted farm director Jim Baumer met in Clearwater yesterday to draw up their game plan for Thursday's fifth annual re-entry draft in New York City. There will not be much bread and no circus.
They came out of it with an addition to the list of World's Slimmest Volumes. Title it: "Free Agents the Phillies Feel Can Help Them in '80."
Sure, Dallas thinks Dave Winfield would look splendid in pinstripes. Of course, he'd like to see Dusty Baker batting cleanup behind Mike Schmidt. Who wouldn't like Don Sutton starting every fifth day behind Steve Carlton?
"We went through the list today and we're not going to get involved with any player we feel would erode our salary structure," Green said. "We're much more interested in signing a couple of free agents named Tug McGraw and Del Unser than anybody on that list. There were about 50 names on the list and quite frankly, a lot of 'em I wouldn't have on my ball-club."
So the key word which describes the Phillies' participation in an auction which gained them Richie Hebner, Rose, Greg Gross, (they retained negotiating rights to their outfielder when he went the free-agent route last season) and Lerrin LaGrow is "reality."
THAT'S WHY the Phillies will draft the negotiating rights to guys like Jim Dwyer, Geoff Zahn, Stan Bahnsen and Dave Roberts.
"We'll look for two things," Green said, "signability and serviceability. There are some guys on there we feel might add to the depth of our pitching staff and our bench strength."
Green couldn't publicly name names due to the stringent tampering rules laid down by Commissioner Bowie Kuhn.
But it's obvious that a guy like Dwyer would be in the Phillies' picture as a hedge against the loss of Unser. The former Cardinal prospect played an Unser-type role for the Red Sox last season, utility outfield, first base and left-handed pinch-hitter.
Zahn could be the left-handed pitcher to replace Randy Lerch in a five-man rotation. Zahn is a going-on-34-year-old lefthander who knows how to pitch. Zahn, once a Dodger phenom, was released by the Cubs in 1976 and went on to have a decent career with the Twins. He was 13-7 in 1979, walking just 41 hitters in 169 innings.
BAHNSEN, the Expos' much-traveled right-handed reliever, could be the man to fill Ron Reed's up-for-grabs spot in the bullpen. He's a very effective pitcher when properly used. But Dick Williams was forced to overwork Bahnsen last season, particularly in the final month.
David Wayne Roberts, utility player, is not to be confused with David Arthur Roberts, the left-handed pitcher. This Dave Roberts was the first player selected in the June 1972 draft. He was a hot-shot third baseman out of the University of Oregon and the talent-starved Padres tossed him right into National League combat. He appeared in 100 games as a third baseman, shortstop and catcher. Roberts hit .244. He was tearing up the Pacific Coast League when the Padres recalled him from Hawaii in 1973. Dave had his best big-league season, hitting a solid .286 with 21 homers and 64 RBI.
But he bounced back and forth between Hawaii so much the next three seasons the Padres must have had a deal with United Airlines. Roberts never achieved the stardom predicted for him and San Diego.
In a span of four months in 1976 he was sold to the Blue Jays, who traded him right back to the Padres for former Phillies righthander Jerry Johnson. Finally, the Padres sent Oscar Gamble and Roberts to the Rangers in 1978 for a rabble of players which included Kurt Bevacqua, Mike Hargrove and Bill Fahey. You'd have to say the Padres got the best of the deal because they also received $300,000 to help defray their enormous investment in Gamble.
ANYWAY, Dave Roberts is an experienced player who can catch and play at least two infield positions.
"One of our goals for next season is to improve the right-handed side of our bench," Green said.
The Phillies have cautiously entered into preliminary trade talks with several clubs. And Green hinted broadly that Greg Luzinski's future here depends largely on Greg Luzinski.
"Most clubs are taking the stance that they'll wait to see what develops in the re-entry thing before they start serious trade conversations," the manager said. "That seems to be the trend since the free-agent thing started. My first priority would be to add to the offense, although I don't know how easily it could be done. Premier home run hitters and RBI men just aren't available anymore. They're either tied up for the long term or have proved to be problems to the clubs getting rid of them. We're not into picking up other people's problem players.
"Bull's name always pops up when trades are mentioned and that's unfair, because we're not peddling him around.
"I WANT TO sit down with Greg after the draft and determine if he's hyper about his future here, see if we can't get him in the proper frame of mind. I want to get a feel as to how he's thinking and what his approach is going to be about, one, his weight, two, the batting problems he had last year and, three, the condition of his knee. Greg Luzinski is by no means a lock to be traded by the Phillies this winter, but if he feels he's not going to be happy here we might have to take a look at it."
Green says his most pressing worry is that the Phillies will be unable to come to terms with McGraw, who declared his free agency last week and is reportedly seeking a four-year, $2 million contract.
"We would have to give the bullpen some serious consideration then," Dallas said. "Even if we sign Tug we feel we can always use another quality pitcher. But losing Tug would probably mean coming up with an established hammer and they don't come cheap."
Smith Top NL Rookie
ST. LOUIS (UPI) – Lonnie Smith of the World Champion Phillies and Joe Charboneau of the Cleveland Indians today were named rookie players of the year by The Sporting News.
Bill Gullickson of the Montreal Expos won the rookie pitcher of the year award in the National League. Joining Charboneau in the American League selections was Britt Burns of the Chicago White Sox, who was named AL rookie pitcher of the year.
Mart Keough of the Oakland A's and Jerry Reuss of the Los Angeles Dodgers were named the 1980 comeback players of the year.
The sports weekly said the selections were made in a poll of 168 National League players and 244 American league players.
Charboneau, a colorful outfielder-designated hitter, batted .289 in 131 games with 23 home runs and 87 runs batted in.
Burns had a 15-13 record while recording 11 complete games. He struck out 133 batters in 238 innings.
Smith, a speedy outfielder, stole 33 bases in 100 games and batted .339.
Gullickson was called up from Montreal's Denver farm club on May 28 and won 10 games, lost five and struck out 120 batters in 141 innings. Two of his victories were shut outs and the highlight of his season came on Sept. 10 when he struck out 18 Chicago Cubs.
Keough, who posted a 2-17 record with a 5.03 earned-run average in 1979, was 16-13 with 20 complete games this season. His ERA was 2.92, fourth lowest in the American League.
Reuss had a 3-2 mark in 1978 and was 7-14 the next year. But in 1980, the veteran southpaw won 18 games and lost only six. He led the National League with six shutouts and his 2.52 ERA was third lowest.
The highlight of Reuss's comeback season was a no-hitter pitched against the San Francisco Giants on June 27.
November 12, 1980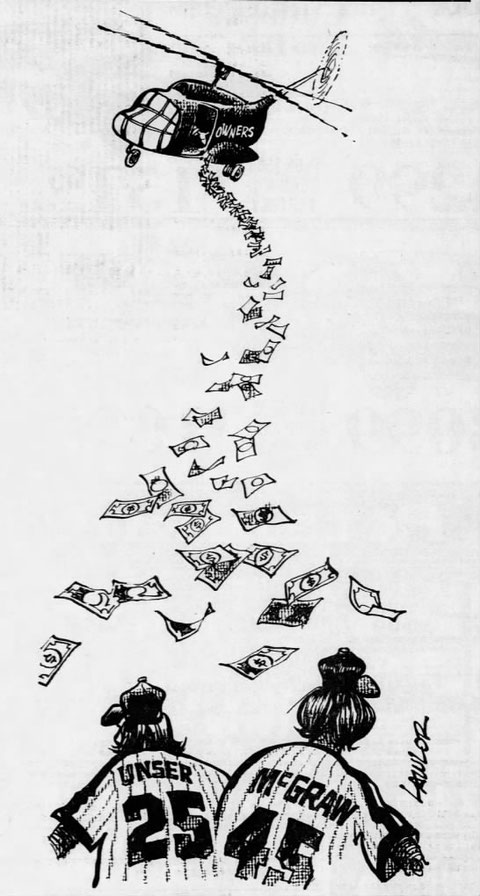 Why Would Yanks Want Winfield?
By Bill Conlin
George Steinbrenner, the village idiot who runs the New York Yankees, can't wait to make Dave Winfield baseball's highest paid performer.
Rumor has it that the Lite Beer people are setting up a dunce cap for Jugular George to wear for his next commercial.
Winfield was asking the San Diego Padres, his current employer, to pay him $13 million for the next 10 seasons. That's only $1 J million a year. Such a deal.
What would the Yankees get for their money?
Well, Winfield and Mike Schmidt both played their first full season in 1973. Since then. Schmidt has hit 45 or more homers twice, 35 or more homers four times. He's driven in more than 100 runs four times and scored more than 100 runs five times.
Winfield? Big Dave has hit more than 30 homers once. He's driven in more than 100 runs once. He's scored more than 100 runs once. He's hit over .300 twice – matching 308 marks in 1978 and 79.
THIS IS A $1.3 million player? Is he good? Yes. A he the best player in the game? No way. The line starts with Schmidt and George Brett. If you include pitchers. Dave doesn't make the Top 10.
But the name of the game is when your contract is up and when you're eligible for the reentry draft.
Schmidt's $580,000-a-year contract runs through 1982. He'll be 33 years old when the golden ring comes his way again and it figures to be studded with diamonds.
Although Winfield is by no means the game's outstanding talent, he heads the list of players who will be up for grabs tomorrow morning when representatives of the 26 major league clubs gather to perform their version of Samurai Delicatessen – the fifth annual re-entry draft of free agents.
It would be appropriate if Commissioner Bowie Kuhn asked the lodge members to observe a moment of silence in memory of the $3 million the Giants squandered on second baseman Rennie Stennett last November.
And someone should lay a memorial wreath on the table occupied by Ray Kroc's San Diego delegation. Having retired the trophy for worst free-agent signings, lifetime, the Pads are now about to lose their only certified star via the same route. The equivalent would be the guy who throws the switch at the Death House accidentally sticking a wet finger in a light socket.
WINFIELD HEADS A grab-bag which lost some of what little luster it had when the Dodgers signed Dusty Baker to a five-year contract just before the Monday night deadline.
The best of the rest are Dodgers righthander Don Sutton, Phillies relief hero Tug McGraw, Royals catcher Darrell Porter, Pirates outfielder-first baseman John Milner, Expos rag-armed base thief Ron LeFlore and Cubs reliever Dick Tidrow.
Antique collectors can choose from elderly Yankee righthanders Luis Tiant and Gaylord Perry, Orioles DH Lee May, Rangers DH Rusty Staub and Rangers infielder Buddy Harrelson.
Players worth a roll of the dice if the price is right include Red Sox utility man Jim Dwyer, Indians lefthander Dan Spillner, Royals reliever Marty Pattin. Expos reliever Stan Bahnsen, Phillies post-season pinch-hitting hero Del Unser, Twins lefthander Geoff Zahn and Cubs utility man Larry Biittner.
Most of the rest will straggle into somebody's spring training camp with hats in hand.
The Phillies have pledged to go light in the auction once more, selecting players they feel will not be overpriced, have signability, could help bolster the club's depth and serve as a hedge against the loss of McGraw or Unser or a failure to make a favorable trade.
"WE'RE NOT ABOUT to go up there and play games," says Manager Dallas Green, who will stay in Florida while Paul Owens and new farm director Jim Baumer handle the draft. "There might be years when you drafted some guys you knew you had no chance to sign, but would perk up interest in the ballclub, get you some ink, but this is not one of those years. And we're not into subterfuge. We won't draft a guy to try and screw somebody else who has a legitimate interest in him."
For those of you tired of the question, "Who shot J.R. Ewing?" the focus tomorrow will be on a potential scenario titled, "Who Shot Down George Steinbrenner?"
There could be a Blue Collar Backlash brewing in the wake of Winfield's attempt to discourage certain teams from seeking to bid for his services. Dave advised 14 teams by mail to forget it. No way, baby.
Some of the have-nots, including lame-duck White Sox owner Bill Veeck and Indians President Gabe Paul, did not take to Winfield's advice in a kindly way.
Once a guy is selected by 12 teams plus the team losing him, he's frozen. In the first four years of the draft, no team has been frozen out of a player it wanted. In fact, no player has ever been frozen before the end of the first round.
There were no particular axes for anybody to grind when Pete Rose was a free agent three years ago. But Rose did his weeding in a more diplomatic fashion, announcing the teams he would prefer to play for, not those teams he wouldn't touch with a 10-foot bat.
A MORE COMPELLING factor than Winfield's preference could be that Steinbrenner has walked around for two months wearing Dave's heart on his sleeve. The brethren know that the Yankee owner is prepared to outbid everybody – including several small nations – for Winfield, and a few of George's colleagues might be prepared to stick it to a guy who has spent the autumn with his foot in somebody's mouth – usually his own.
As many as 23 clubs could select Winfield before the Yankees' turn comes up. The Royals and Phillies will pick 25th and 26th.
There's a rumor circulating that if Winfield feels he's been blocked from pursuing the pot of gold under the rainbow of his choosing the. outfielder will sue everybody in sight, charging anti-trust violations, conspiracy, etc. Ironically, he could wind up taking action against a system propagated by Marvin Miller and the Players Association.
Maybe there will be one or two spite selections, but the owners are trying manfully to keep as much of their business as possible out of the courts on grounds that some judge someday is going to order a club to show its books to Miller.
And that's one Pandora's box the Lords of Baseball want to keep padlocked.
The Beat Goes On…
The unbeaten streak continues.
The Sixers mauled the Chicago Bulls, 121-80, last night for their 12th win in a row, their 10th since Oct. 18.
Oct. 18, if you can remember that far back, was the last time a Philadelphia professional sports team lost a game. The Phillies lost Game 4 of the World Series and the Flyers lost to Toronto.
The Flyers, working on an 11-game unbeaten streak, play Edmonton at the Spectrum tomorrow. The Eagles are working on a six-game winning streak. The Fever is 1-0. And with the Phillies' wins in Game 5 and Game 6, that's 32 games without a loss, 28 since Oct. 18.
The streak goes on.
November 13, 1980
Phillies Draft Dwyer
Compiled by the Daily News
NEW YORK – The World Champion Phillies today made outfielder Jim Dwyer of Boston their first choice in major league baseball's reentry draft of free agents.
The Phils' second-round choice was David W. Roberts, catcher for the Texas Rangers, and third, Montreal's right-handed pitcher, Stan Bahnsen.
One of the Phils series heroes, Del Unser, was Boston's second-round choice.
THE CHICAGO CUBS opened the day's draft by selecting negotiating rights to Roberts.
The Mariners then went for catcher Jim Essian of Oakland and the New York Mets, as expected, selected slugging outfielder Dave Winfield. California chose pitcher Don Sutton and San Diego, which has been a big spender in the re-entry draft in past years, passed.
Toronto selected negotiating rights to catcher Darrell Porter of Kansas City and St. Louis also went for Winfield. The Chicago White Sox chose Porter and the San Francisco Giants took outfielder Claudell Washington of the New York Mets.
THE DRAFT took less than an hour to complete and consisted of 17 rounds, but no player was selected the maximum number of 13 times.
Winfield, who had made it clear through his agent Dick Moss that he was not interested in joining certain teams, was chosen 10 times, but the player chosen the most was Roberts, who was selected 12 times.
Oddly, outfielder Ron LeFlore, who played out his option with Montreal, was taken only once – by the White Sox – after stealing 97 bases and scoring 95 runs last season.
Because he was taken only once, LeFlore is eligible to sell his services to the highest bidder. But the fact that he was not selected by more than one team indicates LeFlore is close to signing a contract with the Expos.
Twenty of the 48 players eligible for the draft were not selected, freeing them to make their own deals.
The Thrill Is Gone
The Streak came to an end with the jolt of an airplane landing without the benefit of wheels.
Last night, the Sixers lost to the New York Knicks, 125-113, ending a giddy ride of 29 games without a loss by Philadelphia's professional sports teams. The last time a team lost was Oct. 18, when the Phillies dropped Game 4 of the World Series and the Flyers lost to Tpronto.
The Sixers' defeat snapped a 12-game winning streak. However, the Flyers have gone 12 games without a loss, the Eagles have won six games in a row and the Fever is 1-0.
November 14, 1980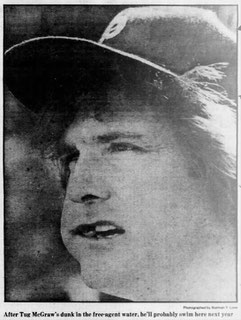 Tug Gets That Left-Out Feeling
By Bill Conlin
NEW YORK The outlook wasn't brilliant for the Tugville Nine this day. The score stood 416-0 with but an inning left to play.
"Actually, when he wasn't selected by the middle of the third round I had a feeling we were watching the start of a trend," Paul Owens said, still in a state of relieved shock after no team selected the negotiating rights to the Phillies relief star in the 17 rounds of yesterday's re-entry draft. "I looked at (new director of minor league operations) Jim Baumer, he looked at me. We couldn't believe it. When Tug didn't get any action in the first two rounds we both figured they'd jump on him heavy in the middle rounds. But it never happened."
The conservative tidal wave which swept Ronald Reagan into the Presidency thundered through the Plaza Hotel ballroom. It left 20 of 48 players who were eager to test the waters of free agency high and dry. A lot of guys learned that in the Year of the Moral Majority, the waters had tested them instead.
IT WAS THE Day of the Journeyman.
Oh, Dave Winfield will emerge from a knockdown, drag-out bidding war between the Yankees, Mets, Braves and Astros with enough money to buy Bangladesh. Don Sutton, the aging but still gifted right-handed starter, a man with a shot to reach the 300 victory plateau, was selected by 10 potential high rollers. including the relentless Yankees and hungry Braves. If Ted Turner, who stalked out of the ballroom with a gleam in his eye after selecting Claudell Washington and elderly but still capable Gaylord Perry in the third and fourth rounds, can sign Winfield and Sutton, the Braves will be favored to win the Western Division next season.
Darrell Porter, one of baseball's four or five best catchers, will reap a lush harvest, no pun intended.
But that is about as deep in the draft as the big bucks will go. The fifth annual auction of the lame, halt and disgruntled homed on a collection of honest guys with grease under their fingernails. The winners here were Boston utility man Jim Dwyer, selected by 11 teams, including the Phillies, and Texas handyman Dave Roberts, who played seven positions last season and had his number called a draft-high 12 times.
While McGraw was spurned totally and National League stolen base king Ron LeFlore was drafted only by the lame-duck White Sox on the 11th round, guys named Jim Essian, Bill Travers, John D'Acquisto, Del Unser and Bill Castro were getting the play.
BUT EVEN A majority of the utility types who dominated the auction were selected by less than five teams. The whole procedure was over in a swift 58 minutes and lasted only 17 rounds.
"I felt like I was sitting at two different drafts," Owens said. "One group was there going after the Winfields and Suttons and the rest were like us, going for utility-type players who can help fill out your squad without breaking your treasury."
The message to the free agents began to sound loud and clear when the oft-stung Padres said on their first-round turn, "San Diego passes – twice." Two consecutive passes put a team out of the bidding. By the 10th round, all but 11 teams had dropped out. The Phillies folded up their scouting portfolios after selecting the Expos' wild, much-traveled righthander John D'Acquisto on the fifth round.
The message? Big guns will continue to command big money. But the suspects, the Rennie Stennetts and John Curtises, have had their day in the bank vault.
Unfortunately, Tug McGraw, whose great 1980 stats leaped off the page at you in the shabby company he was on the list with, was caught in the Big Buck Backlash. The assembled Lords of Baseball informed him that there is no market for a 36-year-old reliever seeking a four-year, $2 million contract.
McGraw and his business adviser, Boston's Phil McGlaughlin, made a grave, amateur mistake in negotiating last week with Ruly Carpenter and Owens. They put numbers on the table.
THE PHILLIES promptly leaked those numbers and they had no trouble circulating along baseball's sophisticated grapevine. McGraw should have told Carpenter that he preferred to wait until after the draft before discussing contract weight and length.
He compounded his mistake by confirming the figures which showed up in the newspapers, telling the media that he took the top salary in the starting lineup, the bottom salary in the starting lineup and put himself in the middle. It didn't take an IBM computer to come up with a $500,000 figure.
McGraw is officially an orphaned free agent, entitled to make a deal with any team of his choice. That liberty puts him in the same company as Jose Cardenal, Pete LaCock, Bud Harrelson, Julio Morales, Dave Rader and Luis Tiant. Hey, you can get that whole carload for what George Steinbrenner will spend courting Winfield.
The 26 teams already have answered the question Tug wanted answered with a deafening silence, a resounding series of abstentions.
Now it is incumbent on the Phillies to do the honorable thing, pay the man a salary in the same range they will pay Sparky Lyle through the 1982 season. Let them make amends for the $175,000 a year pre-inflation contract McGraw lived with like a gentleman even when it became obvious that he was grossly underpaid.
A two-year, $800,000 contract would be a nice gesture.
McGRAW IS NOT a crybaby. You won't hear any wailing or gnashing of teeth. Sure, he'll hurt inside. But the message sent to Tug and the majority of the long-term seekers contained nothing personal. It marked the beginning of what, hopefully, will be a retreat from the kind of rampant spending that netted $3 million contracts for washed-up players.
"We've felt all along that we'll take him back. Now we'll just keep negotiating," Owens said. "That's all we can do now. But I just can't believe nobody took a shot at him. I'd certainly like to have both Tug and Lyle. People have to remember that Sparky made it possible for us to use Tug the way he was used down the stretch. We feel the investment we made for Lyle was very realistic in that we didn't feel we would have won the division without what he gave us down the last couple of weeks."
Tug McGraw has class. The Phillies know this. And if they're the same quality organization that finally chased away the ghosts of failure, they will swiftly reward the reliever who propelled them to the stars with a contract all parties can live with.
Phils Will Have to Fight to Get Dwyer
By Bill Conlin
NEW YORK – The Red Sox, Giants, Brewers and Pirates drafted Del Unser yesterday.
And if the Phillies' pinch-hitting hero doesn't wind up with big money, he's at least got a shot at a geographical wish.
When Unser filed for free agency last week he said he wouldn't mind playing for Oakland or the Giants if he fails to reach terms with the Phillies.
Unser lives in Moraga, a town a gap triple away from the Bay Area ballclubs. He operates a successful off-season real estate office there.
As a hedge against losing Unser, Paul Owens made Boston utility man Jim Dwyer the first of five Phillies choices in yesterday's reactionary-ruled re-entry draft.
"And everybody jumped right on my bandwagon," Owens said.
THE POPE WILL have to bid against nine teams plus the Red Sox to land the 30-year-old left-handed first baseman-outfielder. It's a lock he'll go harder after Unser than after a heavily drafted outsider.
As advertised, the Phils went heavily for utility types. They also picked catcher-infielder Dave Roberts (selected by 12 teams plus, the Rangers), Twins left-handed pitcher Geoff Zahn (selected by five teams), Expos reliever Stan Bahnsen (three teams plus Montreal) and the same team's John D'Acquisto (seven teams plus the Expos), an unfulfilled hard-thrower.
"Two years ago, Rollie Fingers got all the bullpen credit in San Diego," Owens said, "but my people thought D'Acquisto did a helluva job for them. If he could ever throw strikes consistently he could be a good short or middle reliever. He has the arm."
Of the five selections, the Phillies will probably pay the most attention to Roberts and Bahnsen. They see Roberts as a guy who could pick up the right-handed side of their bench. And they would like to project Bahnsen into the role almost sure to be vacated by Ron Reed, the club's only World Series parade no-show.
Zahn? "We figure he's the kind of lefthander who has a chance to win in our division," Qwens said. "You always like to have an experienced lefthander to back up Steve Carlton."
Zahn was 14-18 for the Twins. Dallas Green won't bust down any doors to add him to the staff now that Tug McGraw is all dressed up with only one place to go.
THE INTEREST in Dwyer could push his asking price past what the Phillies might be willing to pay for an Unser type.
Chances of the Phils signing more than one of their selections would seem to be minimal.
The Pope is gearing up to deal.
PHILUPS: Five minutes after Dodger Vice President Al Campanis told me the Fred Lynn deal with Boston is probably off now that Dusty Baker is under contract. Red Sox President Haywood Sullivan collared him and the two headed for a private conference... Other trade rumors swirling through the Plaza Hotel: Pirates dealing Bert Blyleven, Tim Foli and Bill Madlock to the Angels for hitter Don Baylor and relief pitcher Mark Clear; Cubs slugger Dave Kingman back to the Mets for reliever Jeff Riordan and a throw in (Joe Torre is confiding to intimates he thinks he can handle the moody outfielder); batting champion Bill Buckner to the Giants for Mike Ivie. A batting champ for a guy who retired twice last season suffering from combat fatigue? Give Spec Richardson GM of the Year if he pulls off that heist; Yankees are said to be negotiating a deal which would send left-handed ace Ron Guidry to the A's for two young pitchers; Cardinals' Keith Hernandez to the Padres for relief ace Rollie Fingers... Mets could have had Hernandez for reliever Neil Allen, minor league pitching phenom Tim Leary and a throw-in, but called it off because they think former UCLA All-American Leary has Tom Seaver potential... Cubs apparently are prepared to get rid of Kingman, Buckner, Bruce Sutter and Jerry Martin. If they finished sixth with that quartet they can certainly finish sixth without it... There was much more trade talk yesterday than at the re-entry draft a year ago. The winter meetings at Dallas the second week in December might be worthwhile after all.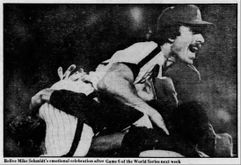 TV Weekend
It's Series Business at Channel 17
By Gene Quinn
During the World Series, WPHL-TV and KYW radio were deluged with calls from Phillies fans. Their complaint was, "Where are Harry, Rich and Andy? NBC television and CBS radio had exclusive rights to the World Series broadcasts, and the local point of view on the Phils' victory over the Kansas City Royals was conspicuous by its absence.
Cheer up, disappointed viewers. Cheer up and break out the home video recorders because Channel 17 will relive the October madness all next week. From Monday through Saturday, Channel 17 will present the two victories in Montreal that clinched the Eastern Division, Games 4 and 5 of the National League playoffs at the Astrodome, the sixth and final game of the Series and the Phillies parade down Broad Street. What's more, Harry Kalas, Rich Ashburn and Andy Musser will do the play-by-play of the Series-clinching victory while watching an NBC tape.
"There are two reasons for doing this," said Joel Levitt, Channel IT'S production manager. "One is the tremendous viewer interest in seeing the games again. And the other is, a lot of people didn't see them the first time.
"I DON'T KNOW if my management would be delighted with my saying this, but I think a lot of people want to tape them for historical reference."
And then there's the most important reason of all – money. Local advertisers probably will jump at the chance to align their products with a World Series. "I don't know if it's sold out," said Levitt. "But I would think that by Monday, if it's not sold out, it'll be close.
"A lot of people are just dying to hear our announcers do play-by-play of the World Series games," added Levitt. "During the Series we were bombarded with calls by people who mistakenly thought WPHL was responsible for not allowing our announcers to do the games. But it was because of the network contracts.
"Our announcers had a box at the Series. We were going to tape the games – on audio tape – but we decided not to do it. The reason is because it takes a lot of preparation to do a ball-game. It was unfair for us to ask the guys do that kind of preparation and do the play-by-play when we weren't even sure that play-by-play would ever air again."
For studio director Fred Woskoff, it was life as usual during the Series as he and Channel 17 technicians worked the pre-game and post-game shows before the NBC telecasts. This time, they can watch just for the fun of it.
"AS A FAN, ITS going to be fun for me to do it and listen to our announcers," said Woskoff. "After all, we sat and watched over 100 games during the season. Then to hear someone else doing the Series... it was a big disappointment. Even if it's not live it'll be a lot of fun.
"There were people at the stadium who didn't get to see some of the games," added Woskoff. "Also, I've talked to people who said it was so exciting, so tense, they couldn't sit and watch it; they had to go into another room. Now they can watch it and enjoy it."
Woskoff challenges viewers to see what they missed the first time. "I've had the opportunity to see all the games a couple of times as we were getting them ready, editing them. I just got done watching the clinching game in Houston and it was more exciting the third time I saw it. I had to work during the first one and there were so many things going on that I didn't remember everything. I'm sure there's going to be things like that where people think they remember, but they don't really remember what happened."
Fans of Channel 17's coverage weren't the only frustrated Phillies watchers. The team's announcers were annoyed they couldn't participate in the World Series. The re-creation next Friday of Game 6 is some consolation, but, according to Harry Kalas, it's a far cry from the real thing.
"WE DID THE shootout in Chicago last year (22-21 victory over the Cubs) with a re-creation," said Kalas. "It's very difficult. It's hard to recapture the moment – especially several weeks later.
"One of the problems we had during the Chicago game was working with mikes on a stand, not headset mikes, and looking at a picture with no sound, no crowd noise. But the thing that's going to help the World Series game is that they have the actual sound from the crowd. That way, when we have the headsets on, when we're looking at the monitor, when we hear the crowd, hear their reaction, it'll be a whole lot easier."
It's an awkward situation for an adept baseball announcer like Kalas, who is an expert at relaying events as they happen. During the re-creation, he and his colleagues must fake the immediacy. Still, it's a worthwhile attempt to treat a subject of such local importance.
"We're going to have to treat it like it's happening right now," said Kalas. "There was some talk about the possibility of just treating it in retrospect. But if we did that, it would be such a downer after showing the four taped games (Monday through Thursday) that were live. Hopefully we can project the same type of enthusiasm."
I don't think too many will notice if they don't.
November 17, 1980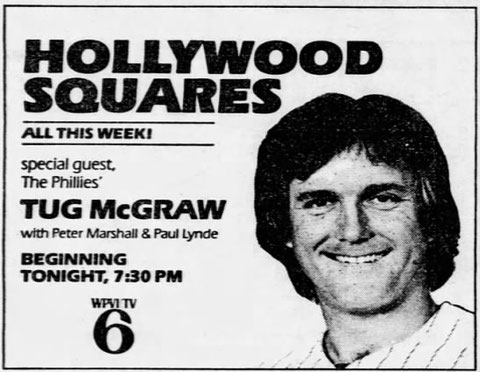 Post Time (excerpt)
By Larry McMullen
Dear Mr. McMullen
I write this letter praying you read it and pass along the thoughts while not thinking I'm crazy for taking up your time. But, as a loyal Philadelphia Phillies fan, I was exuberant when Tug McGraw threw the last pitch of the World Series and the Phillies had won. I nearly died of heart failure during the ninth inning while trying to communicate thought waves to Tugger. His head was probably pounding as hard as his heart was from the concentration I was sending him trying to give him the strength to reach back and throw a perfect pitch, which I believe he received.
I want to say if Tug doesn't return to the Phillies next season, it would be a shame and the team will never be the same. He is a very dynamic man, but to me he is a cuddly little teddy bear, at least that's what I've called him for years. One just wants to hug him ever so close.
For two years I have tried without success to learn his address so I could write to him and ask for an autographed picture. If at all possible you can let him know of the extremely warm feelings I have for him, I would appreciate it.
I am enclosing a stamped envelope. If possibly you could send me his address I would be even more grateful.
Clanssie Hess,
Stephenson, W.Va.
A smart guy would wonder why you didn't ask for Tug's address when you had him on thought waves.
But that's not me, Clarissie. I've sent out thought waves to cuddly people myself.
I don't know McGraw's address.
Maybe he'll read this. I do know that in the past, at least, the warm feelings of females were among his principal concerns.
He once mentioned what happened to the $90,000 bonus he got for signing with his first major league team.
"I spent $80,000 of it on booze and broads," he said. "The rest I wasted."
November 18, 1980
Phils, Royals Share Record Series Purse
NEW YORK (UPI) – The winning Phillies and losing Kansas City Royals shared the richest World Series pot in history and both teams came away with record purses.
Each of the 33 members of the Phillies who were voted full shares will receive $34,693.18, according to the official figures released yesterday by the Baseball Commissioner's office. This eclipses the previous high of $31,236.99 which went to members of the New York Yankees in 1978.
The Royals voted only 26 full shares, and they come away with $32,211.95 each, far surpassing the previous record for a losing share of $25,483.21 awarded the Los Angeles Dodgers, also in 1978.
The Houston Astros, who lost a five-game playoff to the Phillies in the National League playoffs, voted 28 full shares, amounting to $13.465.29 apiece. Until 1969, not even the World Series champion received as much.
The Yankees, losers to Kansas City in the American League playoffs, divided 30 full shares amounting to $12,570.59.
World Series Shares
NEW YORK (UPI) – A club-by-club breakdown of World Series money and individual uniformed shares:
PHILLIES ($1,409,713.50) – Thirty-three full shares of $34,693.18 plus three ½ shares, one ¼ share, one ⅛ share and eight cash grants. (In addition, there were 11 cash grants to non-uniformed personnel).
UNIFORMED PERSONNEL: Dallas Green (manager); Ruben Amaro, Billy DeMars, Lee Elia, Mike Ryan, Herm Starrette, Bobby Wine (coaches); Ramon Aviles, Bob Boone, Larry Bowa, Warren Brusstar, Steve Calrton, Larry Christenson, Nino Espinosa, Greg Gross, Randy Lerch, Greg Luzinski, Garry Maddox, Bake McBride, Tug McGraw, Keith Moreland, Dickie Noles, Ron Reed, Pete Rose, Dick Ruthven, Kevin Saucier, Mike Schmidt, Lonnie Smith, Manny Trilio, Del Unser, George Vukovich, John Vukovich, Bob Walk (players), each $34,693.18. Luis Aguayo, Lerrin LaGrow, Dan Larson (players), each $17,346.59. Marty Bystrom (player), $8,673.29. Sparky Lyle (player), $4,336.65. Scott Munninghoff (player), $250.00. Mark Davis, Bob Dernier, Orlando Isales, Jay Loviglio, Tim McCarver, Don McCormack, Ozzie Virgil (players), each $200.
NON-UNIFORMED PERSONNEL: Don Seger (trainer), Jeff Cooper (assistant trainer), Kenny Bush Sr. (clubhouse and equipment manager), Pete Cera (assistant clubhouse manager and equipment manager), Gus Hoefling (stretch and flexibility instructor), each $34,693.17. Hank King (batting practice pitcher) $8,673.29. Pete Murphy (bat boy). Gary Watts (bat boy), Mark Andersen (bat boy), each $4,000. Kenny Bush Jr. (bat boy) and Kevin Kaufman (clubhouse assistant) each $2,000.
KANSAS CITY ROYALS ($1,057,285.12) – Twenty-six full shares of $32,211.95 plus one ¾ share, four ½ shares, one ⅓ share, one ⅙ share and 10 cash grants, (in addition, there were 11 cash grants to non-uniformed personnel).
UNIFORMED PERSONNEL: Jim Frey (manager); Billy Conners, Gordon MacKenzie, Jose Martinez, Jim Schaffer (coaches); Willie Aikens, George Brett, Dave Chalk, Rich Gale, Larry Gura, Clint Hurdle, Pete LaCock, Dennis Leonard, Renie Martin, Hal McRae, Ranee Mulliniks, Amos Otis, Marty Pattin, Darrell Porter, Jamie Quirk, Dan Quisenberry, Paul Splittorff, U.L, Washington, John Wathan, Frank White, Willie Wilson (players), each $32,211.95. Jerry Terrell (player), $24,158.96. Steve Busby, Gary Christenson, Rusty Torres, Jeff Twitty (players) each $16,105.97. Steve Braun (player), $10,373.31. Jose Cardenal (player),$5,368.66. Rawly Eastwick (player). $5,000.00. Bobby Detherage (player), $1,500.00. Ken Brett, Onix Concepcion (players), each $1,000. Manny Castillo, Craig Chamberlina, Mike Jones, Ken Phelps (players), each $300.00. German Barranca, Jim Baudet (players), each $100.00.
November 19, 1980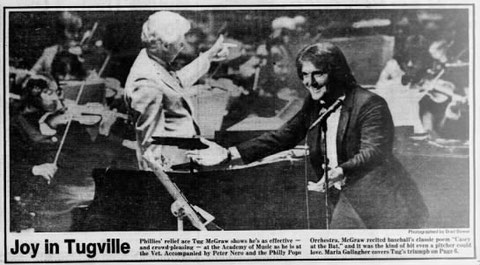 The Bard of the Bullpen Makes Poetic Pitch
By Maria Gallagher
By MARIA GALLAGHER Doug preceded Tugger, and likewise so did Pete, but it was the Phillie who spells relief who held a packed-to-the-rafters audience at the Academy of Music in the palms of his priceless hands last night.
There, between musical innings of Gershwin, Prokofiev and Kurt Weill, and Douglas Fairbanks Jr. narrating "The Rubaiyat of Omar Khayyam," was that old heart-stopper. Tug McGraw, joining Peter Nero's Philly Pops for a dramatic rendition of "Casey at the Bat." 
Dramatic it was, as he shamelessly upstaged the suave Fairbanks. 71. who does this sort of thing for a living.
THERE WAS EASE IN Tugger's manner as he stepped into his place; there was pride in Tugger's bearing and a smile on Tugger's face as he strode to center stage, elegant in a black tuxedo, white ruffled shirt and bow tie. His World Series ring sparkled in the spotlight. He waved to his kids, who sat in a box to his left. yelling "Daddy!" and clapping. 
A couple of Phillies pennants poked up from the adoring audience. Some of the Pops musicians sported red caps and Phillies buttons; the conductor donned a red satin Phillies warm up jacket. 
"Yeah, I was nervous. I'd never done anything like this before, so I felt a little like a fish out of water," McGraw would say afterward, as his 7-year-old daughter, Cari Lynn, hugged one leg. 
A LITTLE COACHING, a week of rehearsals and an echo-chamber effect on his voice were all it took to turn the theatrical hurler into a first-rate versifier. McGraw admitted he'd never been inside the Academy of Music before the first rehearsal.
"I'm kind of new to the cultural scene," he explained. "I was born in the bullpen." He conquered his queasiness by deciding to "just go out and have fun, like I was reading the poem to my kids." 
With Nero flashing the signs (sometimes 3/4, sometimes 6/8), McGraw fixed his lustrous brown eyes on the concert crowd and wowed 'em with mugging and body English. He shed his jacket to ooze savoir-faire as the fictional idol Casey, strutting to the batter's box. He wiggled his hips to a bump-and-grind beat in a hilarious parody of the strikeout king's stance. 
"I WAS JUST TRYING to do something to keep busy while the orchestra was playing," he alibied.
He faltered just once, briefly confusing the mighty Casey with the much-despised Blakey. 
"I tried to do a lot of the things I do in baseball to keep the adrenalin flowing, like looking into the audience," he said. But the darkened auditorium made it impossible to see beyond the first few rows. 
"When you see somebody smiling at the right time, it makes the next line a lot easier," McGraw admitted. 
The Tylenol Kid drew peals of laughter when his fingers flashed a fluttery heartbeat as he assured them that "somewhere hearts are light." He roared, he whimpered, he quivered from head to toe; he raised one impish eyebrow at a time, "got all psyched up" in the epic's gathering rally, and smoked a strikeout for the finale, bringing the house to its feet.
TWO MUSICAL INTERLUDES later, an apparently unwound Tugger popped out for his curtain call clutching a can of Michelob. 
He's due in a recording studio with the Pops today to record his performance for posterity, and naturally it will be in department stores near you in time for Christmas giving. 
"Thank you very much. You made me very happy," he called repeatedly as he made his exit. 
"Then stay in Philadelphia, you bum, if you're so happy," snorted a fan in the fourth row, but he was applauding lustily even as he said it.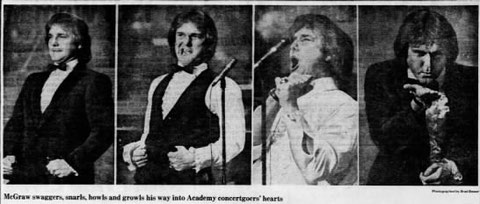 November 20, 1980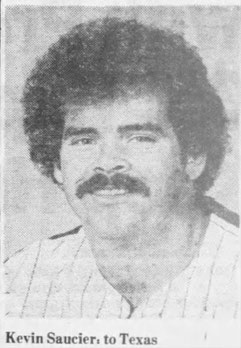 Saucier Shipped To Texas
The champagne bottles had been popped, the uniforms were soaked and the clubhouse was a shambles. The Phillies had just beaten the Montreal Expos to win the National League East title.
The television lights were on, and Harry Kalas and Rich Ashburn did the obligatory player interviews. Up stepped Kevin Saucier, the southpaw reliever who approaches a question like he would George Brett. "I just want to tell the fans out there we aren't 'chokers,'" Saucier said, staring into the television camera. "We're gonna win this thing."
THE PHILLIES won everything; the National League pennant, the World Series, and the hearts of an entire city. But Kevin Saucier has come up a loser. In the Phillies' quest for the division title, they acquired Sparky Lyle, the former Cy Young winner and a left-handed reliever, from the Texas Rangers for a player to be named later. Everyone assumed it would be Randy Lerch. But yesterday it turned out to be Saucier.
"We hated to lose Kevin," said Paul Owens, the Phillies director of player personnel. "But, Texas said they needed a lefthander to replace Lyle. Sparky was a big help for us down the stretch and will be an integral part of the bullpen for us for a couple of years."
Eddie Robinson, the Rangers executive vice president, said he acquired Saucier because "he challenges the hitters. He's a good competitor, very aggressive, and should be a valuable addition to our bullpen."
LAST YEAR, Saucier, in his first full season with the Phillies, was 7-3 with a 3.42 ERA in 40 relief appearances.
The Phillies also announced that pitcher Jim Wright has been assigned to Oklahoma City's roster and 21-year-old outfielder Alejandro Sanchez, who batted .289 with Spartanburg last season, was added to the Phillies 40-man roster.
November 21, 1980
Phils Doc Charged in Drug Case
By Joe Clark
The State Justice Department today announced it has filed criminal charges against a doctor in the Philadelphia Phillies minor league organization for illegally prescribing drugs in the names of five Phillie ballplayers, a former player and two players' wives.
In addition, charges were filed against two other men for fraudulently having the prescriptions filled and receiving the controlled substances.
Attorney General Harvey Bartle 3d said Dr. Patrick Mazza, 56, a respected Reading, Pa., physician who for the past 12 years has been team physician for the Reading Phillies, Philadelphia's AA farm team, was charged with 23 counts of prescribing amphetamines – also known as "uppers" and "greenies" – beyond the scope of doctor-patient relationship.
Also, Robert L. Masley, 54, and his son, Robert M., 24, both of Reading, were charged with fraudently having the prescriptions filled and receiving the amphetamines.
RICHARD WEATHERBEE, director of the Justice Department's Drug Law Enforcement unit, said Mazza illegally wrote 23 prescriptions, representing 2,630 doses, by using the names of Phillies Steve Carlton, Greg Luzinski, Randy Lerch, Larry Christenson and Pete Rose and former catcher-turned-broadcaster Tim McCarver.
Additionally, the names of Sheena Bowa, wife of Larry Bowa, and Jean Luzinski, wife of the Phillies slugger, were also used.
According to the complaint, Mazza, who has practiced medicine since 1957, wrote the prescriptions using the names of the individuals without ever having treated them. One source said Mazza wrote the bogus prescriptions over a period of a year and a half, beginning in April, 1979.
Bartle said the players and their wives told state investigators they never had a doctor-patient relationship with Mazza regarding the prescriptions, and that they never received the prescriptions in question or authorized anyone to receive the prescriptions.
TODAY'S ACTION comes four months after it was reported in July that the Justice Department planned to question at least eight Phillies – including Rose, Luzinski, Bowa and Mike Schmidt – about obtaining amphetamines illegally. All but Rose played at one time in Reading.
Asked if the players have been cleared, a Justice Department spokesman said "it remains an open case," ' adding there is "no evidence indicating participation on the part of any ballplayer in the conduct charged."
"Their names were fraudently used for obtaining drugs," said the spokesman.
Bill Giles, the Phillies executive vice president, said the club has received no "official information from the authorities and won't comment any further, except to say that a thorough investigation was held last summer and all Phillies players were not involved whatsoever in the matter."
Bartle said the addresses Mazza wrote on the prescriptions were "defective in many ways": either they were not current or did not exist. In nine instances, the addresses were those of either Masley or his son's.
THE MASLEYS were charged with taking the prescriptions the prescriptions to four pharmacies in Reading and having them filled.
The Justice Department spokesman would not say what the Masleys did with the amphetamines once they received them.
If convicted Massa could receive a maximum penalty of five years in prison and a 55,000 fine on each of the 23 counts. The Masleys could receive a maximum penalty of one year in prison and a $5,000 fine on each of the Counts. Robert Masley was charged with 11 counts of fraudently obtaining drugs, and his son was charged with 16 counts.
THE INVESTIGATION began after a routine check of pharmacy files in Reading disclosed a number of prescriptions written in the names of Phillie players and their wives.
The investigation initially came to light July 8 in a copyrighted story in the Trenton Times. Quoting unidentified sources, the newspaper said investigators suspected a Reading doctor supplied amphetamines through a "runner," a contact who turned the drugs over to the players without having them go through a medical examination, as required by law.
Amphetamines are stimulants used to combat depression, control appetite and overcome fatigue. The effects are similar fo those obtained from cocaine, but milder. Although they are not physically addictive, users can become mentally dependent on them.
ON JULY 9, a story in the Reading Times alleged the prescriptions were written by Mazza. The medial community in Reading reacted with disbelief, noting he had a recognized family practice and a sound reputation in the community.
Mark Helminiak, general manager of the Reading Phillies, discounted the allegations, saying Mazza "is beloved here in the area. He's a low-key guy."
SportsPeople (excerpt)
Philly File
Players from the Phillies, Sixers and athletes from around the country will participate The Garry Maddox Celebrity Bowling Classic, Jan. 12, at the Brunswick-Camden Lanes. Immediately following, The Larry Bowa Celebrity Party will be held at Emerald City in Cherry Hill. Both events will benefit the Philadelphia Child Guidance Clinic. For further information about tickets for participating or spectating call 243-2828... Phillies shortstop Larry Bowa, honorary chairman of the Fight for Sight campaign, will be presented a proclamation in Mayor Green's office, noon today, designating November as "Fight for Sight" month.
Fan Mail (excerpts)
Free? Why?
I cannot understand the reason for McGraw and Unser going free agents.
Sure they played a big part in the Phils becoming world champions, but what about last year when the "Tugger" was a "Grand-Slam Dream"? What would have happened had his contract ran out last year? He would likely have taken a cut to stay with the Phils.
As for Unser, sure, he was a good pinch-hitter. But the Phils did give him a job, something he didn't have. Out of all the teams in baseball, he asked the Phillies if he could report for spring training.
I wish them both a lot of luck and hope they get the dough they are asking, with maybe the Mets, San Diego or the Blue Jays. Sure, they are the worst teams in baseball, but 90 percent is playing for a club that's in contention so give them the big bucks and when their team is 15-20 games out by the All-Star break then they can look at the Phillies standing. So long, traitors. – Joe McGuire
Stick It, Tug
First, I am and always will be, a New York Yankees fan. I have been one for over 40 years.
I would like to have this letter sent to Tug McGraw – that's if he can read. He stated in your paper to tell New York to stick it – the Phillies are No. 1.
Let me refresh his memory if he has one. The Yankees have won more World Series than any other team. They have the best players on any team or league. They should take a few lessons from Ron Guidry or "Goose" Gossage – they are the greatest pitchers ever.
He should take a bath and wash his hair as he is very greasy looking. I can understand now why the Mets got rid of him. I hope next year the Phillies play the Yankees – boy, will they get straightened. – Grace Hennessey, East Meadow, N.Y.
A Conlin Classic
Bill Conlin: Congratulations on the opening paragraph of your article following the final series victory. In my estimation, it ranks with the famous "Four Horsemen" opening paragraph by Grantland Rice. It expressed the emotion of many, many long-time Phillies' fans at the moment.
Not only did you produce a superb piece of writing, you also frustrated the expectation of many of your readers who have followed you over the years. More than a few of us believe that neither you nor Stan Hochman would be able to handle a World Series victory by the Phillies. Reporting that kind of success was widely believed to be outside the field of your expertise. Dissecting defeat seemed to suit your inclinations more closely. You proved us wrong as did Stan Hochman who also had a fine article on that day. – William D. Bailey, Jr., Wilmington, Del.
Charges Wrong
To say that not one black player was given a chance to speak at JFK Stadium was false. Players were definitely asked in advance if they wished to say anything when called upon by the Phillies' announcer. If you are a real "Phillies" fan you would already know that Garry Lee is shy and the "Baker" is moody concerning public relations.
People of all races should realize the Phillies' fabulous accomplishment and stop alluding to racial overtones which only serve to mar this great achievement by these great athletes. – Freddy Dee
Tug Greedy
Tug McGraw could go from the penthouse (the Phillies) to the outhouse (out of baseball)., All because of the word "greed." Tug is not alone. It happens to all ballplayers who get greedy. Mr. Winfield and Mr. Sutton you could be next. – Sal Ravitsky
November 22, 1980
Accused Pill Doc Not Close to Team
By Mark Manoff
READING – Dr. Patrick Mazza, charged yesterday with illegally prescribing amphetamines in the names of five Philadelphia Phillies' players, is the Reading Phillies team doctor, but his contact with the Phils' farm team has been extremely limited in recent years, team owner Joseph J. Buzas said last night.
"I've only seen Dr. Mazza three times in four years," Buzas said in a telephone interview after the Reading physician was accused of writing prescriptions in the names of Greg Luzinski, Pete Rose, Steve Carlton, Randy Lerch and Larry Christenson, former player Tim McCarver, Luzinski's wife, Jean, and Sheena Bowa, wife of Phils' shortstop Larry Bowa.
IN BRINGING CHARGES against Mazza, 56, Robert L. Masley, 54, and his son Robert M., 24, state Justice Department officials emphasized there was no evidence that any of the eight knew their names were on prescriptions used to obtain the drugs – or that they received any of the potent stimulants.
The two Masleys, charged with fraudulently having the prescriptions filled at Reading pharmacies and receiving the drugs, were described by Buzas as having taken part in various Reading team activities in the 1970s.
Bill Giles, Phillies' executive vice president, said the Masleys were never connected with the Reading farm team. "They were boosters and sold group tickets," he said.
According to Buzas, Mazza enjoyed good relations with the players who passed through the Phils' Reading team in the 1970s. "He was good to the ballplayers. They liked him," said Buzas, who bought the team in 1977.
BUT HE SAID Mazza had been used sparingly in recent years, primarily as a consultant when a player was ill before a game.
Justice Department spokesman Stephan Rosenfeld said all eight people whose names were used on the prescriptions would testify for the prosecution. A preliminary hearing is scheduled for December 18.
The state charged that Mazza wrote 23 prescriptions from February 1978, through the spring of 1980 for a total of 2,630 pills "beyond the scope of the doctor-patient relationship." The Masleys had the prescriptions filled at pharmacies, usually indicating they represented the Phillies, according to the charges.
Neither the defendants nor their attorney, Emmanuel H. Dimitriou, could be reached for comment.
THE INVESTIGATION was first publicly revealed in a July story by the Trenton Times that said a Reading doctor was writing prescriptions for a number of Phillies players without performing medical examinations and a runner was distributing the pills to the players.
Several of the players complained bitterly that the press inaccurately linked them to a drug probe. Yesterday's charges indicated there was no evidence the players knew their names were used nor that they received any drugs from the Masleys.
November 25, 1980
Gold Glove To 2 Phils
Baseball's award givers have not forgotten that the 1980 Phillies played defense to get to the World Series, too.
Yesterday, in a poll by The Sporting News, baseball's managers and coaches voted Phils centerfielder Garry Maddox and third baseman Mike Schmidt Gold Gloves for their play in the field in 1980.
Both Maddox and Schmidt are repeat winners. Maddox was selected for the sixth straight year to lead all players in both the American and National Leagues. Schmidt's 1980 Gold Glove gave him five in a row, tying him with Ken Boyer, Ron Santo and Doug Rader for most awards by an NL third baseman.
One other Phillies player, second baseman Manny Trillo, came close to winning a Gold Glove, losing by one vote to the New York Mets' Doug Flynn.
The rest of the NL squad: St. Louis' Keith Hernandez (first base); San Diego's Ozzie Smith (shortstop) and Dave Winfield (outfield); Montreal's Gary Carter (catcher) and Andre Dawson (outfield), and Atlanta's Phil Niekro (pitcher).
The Kansas City Royals put two players on the American League team – second baseman Frank White and outfielder Willie Wilson. The rest of the AL team: Milwaukee's Cecil Cooper (first base); Texas' Buddy Bell (third base) and Jim Sundberg (catcher); Detroit's Alan Trammell (shortstop); Boston's Fred Lynn (outfield), and Oakland's Dwayne Murphy (outfield) and Mike Norris (pitcher).
November 26, 1980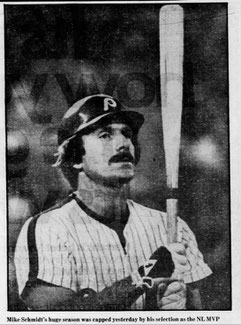 MVP Schmidt:  Silent Victory
By Bill Conlin
Headline: Italian Quake Toll Nears 3,000.
Headline: So. California Brush Fires Still Raging.
Headline: More Code Violations Found in "MGM Blaze.
Headline: National League MVP Award to Phils' Schmidt.
Ten years from now the only story people around this area will remember from the newspapers of Nov. 26 will be that Michael Jack Schmidt became only the third player in Phillies history to win the game's most prestigious honor, the Most Valuable Player award voted by the Baseball Writers Association of America. It was a unanimous decision. Schmidt received the first place votes of all 24 electors on the MVP committee. The only previous unanimous National League MVP was Orlando Cepeda, the 1967 winner. The Phillies are the fourth team in the history of the BBWAA awards to have the Cy Young Award winner and MVP in the same season. And if Lonnie Smith wins Rookie of the Year next week, the World Champions will be the first team in history to sweep the three major awards.
THERE WILL BE other catastrophic earthquakes, more costly brushfires roaring through the canyons of Southern California, more towering high-rise infernos.
There will also be more MVP winners and, perhaps, some of them will be Phillies. But this is the first one for the club since a pitcher, Jim Konstanty, won the honor in 1950. And since fans will fold memories of this season of deliverance into the pages of their memories like rose petals in a favorite book, every honor falling to the World Champions becomes something more to be savored.
Certainly, nobody will remember 10 years from now that Schmidt used the occasion to stick it to the area's five newspapers which publish afternoon editions – this newspaper, The Bulletin, the Courier-Post, the Wilmington News-Journal and The Trentonian.
It is the policy of the BBWAA to announce its major awards – Cy Young, MVP and Rookie of the Year in both leagues – so that morning and afternoon newspapers divide what little advantage remains to them on a breaking story in the electronic age. Actually, the only significant advantage lies in the newspaper being able to assemble a timely and comprehensive report for its readers, an in-depth piece that is well-written and contains some input from the athlete.
WHEN STEVE CARLTON won his third Cy Young Award earlier in the month, it was released first to the morning papers. They had the first opportunty to report on deadline that Carlton was not available to have no comment.
The National League MVP was embargoed for p.m. release this year. The afternoon papers would get first shot at Schmidt's reaction to winning the prestigious award.
It takes two to make an interview, though, and Schmidt elected to slam the door in the faces of newspapers which expended considerable time, money and energy chronicling his splendid season.
When Orioles lefthander Steve Stone won the American League Cy Young Award last week, also a p.m. release, the lefthander made himself available for telephone interviews with the key Baltimore-Washington afternoon outlets, plus the PM cycles of the two national wire services. That was the Phillies' game plan but the publicity department found itself wedged between a rock and a hard place.
Schmidt refused a request by club public relations director Larry Shenk to be available for phone calls from four or five key p.m. writers after midnight last night.
"I tried to explain to Schmitty how the Baseball Writers Association worked the timing of the thing," Shenk said yesterday, "but 1 didn't make much of an impression."
AT A VET STADIUM press conference this morning, Schmidt called the award "great," but said he wasn't surprised that he won.
"I'm not going to stand here and be super-humble. I knew I had a really good shot to win this award. The fact that every writer voted for me for MVP is icing on the cake. It's flattering, humbling, but it wraps up a great year."
He thanked God, his wife, his parents and his teammates for their support
"I said a heck of a lot of prayers the whole season, not only the last three weeks. The Lord blessed me pretty much with an injury-free season. I only missed 12 games."
Schmidt came out of a tight pack of candidates to win the MVP breezing. The balloting by two electors in each National League city takes only regular-season performance into account. Schmidt's blazing finish dragged most writers on the MVP Committee out of the undecided column. He crowned his finest season with seven game-winning RBI in September and October and he drove in the winning run in four of the Phillies' tension-packed final five games, including the two-run homer that clinched the division title in the 161st game of the season in Montreal.
SCHMIDT, WHO MONDAY won his fifth straight Gold Glove, posted the best numbers of his career. His .284 batting average was a personal high. The homer which clinched the East was his 48th and broke Eddie Mathews' single-season record for home runs by a third baseman. In addition to his fourth big-league home run title, Schmidt won the National League RBI crown with 121 and led the league in slugging percentage (.624) and total bases (342). He was also among the league leaders with 104 runs scored.
Schmidt extended his streak of post-season games without a home run to 16 while batting only .208 in the playoff war with the Astros. But he rebounded in the Phillies' six-game World Series tour d'force, batting .381 against the Royals with two homers, seven RBI and the game-winning single in Game 6.
The day after the parade, Bake McBride said into a radio sports reporter's tape recorder that he didn't think Schmidt deserved the series MVP award, that Bob Boone and Larry Bowa contributed at least as much to the Phillies' epochal triumph. McBride repeated the opinion to Stan Hochman and the story appeared in this paper on the day Schmidt received his Series MVP award from Sport Magazine.
Schmidt was bitter. He felt the newspapers were trying to scrawl a moustache on his Mona Lisa. It never seemed to occur to Schmidt that McBride was accurately quoted, that none of his words were twisted or forced out of him, or presented out of their intended context. And he seemed just as unaware that Hochman was not seeking a sensational story aimed at discrediting Schmidt, but reacting like a good newsman to Bake's outspoken remarks to a radio reporter.
THE SPORT MAGAZINE award for the Series MVP consisted of a $7,500 scholarship to the college of Schmidt's choice and a watch valued at $15,000.
The BBWAA's MVP Award consists of a handsome plaque valued at perhaps $200.
But Bucky Dent won the Series MVP Award one year. The guys who have won the National League MVP include Stan Musial, Jackie Robinson, Roy Campanella, Willie Mays, Hank Aaron, Ernie Banks, Frank Robinson, Sandy Koufax, Roberto Clemente, Willie McCovey, Johnny Bench, Pete Rose, Joe Morgan and Willie Stargell.
That's Hall of Fame company, not a bad group to have your name mentioned with in the same breath. And even if Schmidt has no consideration or respect for the organization which chose him to receive their award, he will be forced to admit we've had pretty good taste over the years. We didn't throw his name up there with a bunch of dogs.
It would probably be bad taste to borrow the immortal words of Tug McGraw and suggest that Michael Jack Schmidt can take this MVP Award and stick it. So they'll remain unsaid.