Philadelphia Daily News - January 1980
January 2, 1980
Here's a Contest to Bowl You Over
Does Tug McGraw throw a screwball when he's bowling?
Can Greg Luzinski knock over a 4-7-10 split just by stomping his foot?
Does Pete Rose slide head first into the ball rack after a 10th frame strike?
How would you like to find out for yourself? The Philadelphia Daily News is going to give some lucky reader the chance to bowl with McGraw, Luzinski, Rose and four dozen other athletes and sports celebrities on the night of Jan. 17.
It's all part of the one-night extravaganza designed to raise funds for the Philadelphia Child Guidance Clinic.
The bowling tournament will be staged at the Brunswick-Camden Lanes in Camden. Ordinarily, the chance to bowl with a celebrity would cost $100, but the Daily News will pick up the tab for the fortunate reader whose coupon is drawn.
Garry Maddox, Larry Bowa and Mike Schmidt spearhead the fund-raising campaign for the nationally known facility that treats troubled and emotionally disturbed kids.
Bob Boone, Warren Brusstar, Larry Christenson, Rawly Eastwick, Greg Gross. Randy Lerch, Bake McBride, Tim McCarver and Dick Ruthven are other Phillies who will be on hand that night
Henry Bibby, Julius Erving and a fistful of Sixers will be there, too. Plus athletes from other teams, including Dusty Baker, Doug Flynn, Jim Kaat, Pete Mackanin and Gary Matthews.
Spectator tickets will be sold at the door for $10.
Following the bowling, which starts at 6:30 p.m., Bowa will host a disco dance at the nearby Emerald City. Disco tickets are $10 each and available at the door.
The efforts of Maddox, Bowa and Schmidt will be bolstered this year by the support of the Boardwalk Regency Casino in Atlantic City. The casino will supply its nightclub facilities for two special celebrity roasts on Wednesday, Jan. 16. Tickets will sell for $25.
The entertainment plus portions of the bowling event and the disco dance, will be videotaped for replay at a later date on a Philadelphia television station.
If you want the chance to compete against some outstanding big league ballplayers, or do the hustle with them, or laugh with them, all for a worthwhile cause, you can call (215) 243-2709 for reservations to any of the events.
And if you want to take a shot at being the Daily News' entry in the bowling tournament, fill out the accompanying coupon and send it alone.
January 9, 1980
Luzinski's Proud of Brother
By Bill Fleischman
By now Phillies fans know Greg Luzinski as well as any Philadelphia athlete. Greg Luzinski – the linebacker-sized outfielder who hits towering home runs and rarely displays any temper.
Now meet Luzinski's brother, Billy. At least the Chicago White Sox hope baseball fans will meet Billy Luzinski soon.
The White Sox chose Billy, a third baseman-outfielder from Miami-Dade Junior College, on the first round of yesterday's January free-agent draft. The 6-1, 185-pound Luzinski was the seventh player selected in the draft.
"The last time I saw him play was spring training last year," said Greg yesterday. "Larry (Bowa), Pete (Rose) and myself went over to see him play. They had him playing third base. It was funny the next day he took a guy out at second base, got 10 stitches and they moved him to the outfield."
The last time the brothers spoke was last month.
"HE CALLED ME," recalled Greg, "and said a lot of scouts were talking to him, trying to get a line on how much money it would take to sign him. I told him, 'Play it cool, don't say anything, let them draft you and then do your negotiating.'
"The last time I talked to him was Christmas. He didn't have any idea who would draft him, but he felt it would be pretty high. I'm happy for the kid. He worked hard for it."
Rollie Hemond, the White Sox vice president, said the club has been watching Billy, 20, since his high school days in Prospect Heights, Ill.
"He's got some filling out to do, but of course we would be very mucn pleased if he turns out like his brother," said Hemond.
Demie Maineri, in his 20th year as Miami-Dade coach, knows Billy isn't ready for the major leagues now. But Maineri, who coached Steve Carlton at the Florida school, likes Billy's determination.
"He came to usat mid-year last year and really struggled " Maineri said last night. "He had missed our fall program and just wasn't ready toi play. But he had a real good fall for us. He's doesn't have overpowering power like Greg, but he does have power. And it's to all fields. He lined one over the 400-foot fence here one day.
"He runs a little better than Greg. And defensively, he's an average major league prospect."
ALTHOUGH GREG has only seen his brother play three times at Miami-Dade, which includes Carlton, Bucky Dent, Mickey Rivers and Kurt Bevacqua among its many major leaguers, the Phillies slugger offered this scouting report:
"He surprised me with his power. He hit a couple of home runs in one of the games and appears to make good contact. Defensively, he plays a good third base, really handles himself well. But he has average-to-above average running speed and I think the White Sox are probably thinking of him as an outfielder."
Last fall, Luzinski hit .305 as a Miami-Dade outfielder. As a fresh-. man, he was a part-time third base man, bitting .210.
Greg thinks his brother will nan die the inevitable pressure that will accompany him trying to crack the major leagues.
"He's matured as a ballplayer and a person," Greg said. "He wanted to be drafted and worked hard at it. He's a funny kid – more emotional and outgoing than I am."
Billy is also mature enough to hire Greg's agent, Jack Sands, to negotiate a White Sox contract.
"He's a great kid," said Maineri. "It was tough for him when he first came, the way he was bombarded by the press, but he handled it pretty good. A lot of people here are pulling for him to make it."
The Phillies selected four pitchers in the draft. In order: Righthander Tony Chelfi, 18, LaCrosse, Wis.; Ron Richardson, a 6-5 righthander from Albany, Ore., who's also 18; lefthander Jim Harris, 64, a Brooklyn native who attends Ranger (Tex.) Junior College, and lefty Steve True, from Marlow, Okla.
January 10, 1980
Paying Homage to Duke
By Bill Conlin
The marathon ended for The Duke of Flatbush and Falbrook yesterday. Edwin Donald Snider chased Mickey Mantle and Willie Mays for the better part of 30 years. He finally ran them down in the outfielders wing of Baseball's Hall of Fame.
There was a time when all major league baseball was played east of the Mississippi and north of St. Louis. And in the !50s, the three best center-fielders on the planet were grouped in New York City, a five-cent subway ride apart.
Mantle came to Yankee Stadium in 1951 with the body and speed of an Oklahoma tailback and that lopsided Louvre of a ballyard was as suited to his style as the stage of the Old Vic was to Barrymore's "Hamlet." In the same landmark season, Mays burst on the Polo Grounds like a skyrocket, the first great black athlete to reach the major leagues while in the full bloom of his youth.
Mantle hit.267 with 13 home runs. Mays hit.274 with 20 home runs.
IN THE BOROUGH of Brooklyn, Duke Snider had an off year. He hit.277 with 29 homers and 101 RBI. Maybe if Snider had come close to his 1950 season his image would have withstood the media blitz which accompanied the debuts of Mantle and Mays. In 50, Snider hit.321 with 31 homers and 107 RBI. But the Dodgers, who would blow that 13½-game lead to Mays and the Giants the next year, lost the pennant to the Phillies on the final day. The natives were restless.
Duke Snider never caught on. If he had a good year, Roy Campanella would have a great one and win the MVP award. Jackie Robinson galvanized the Ebbetts Field mobs even in his declining years. Gil Hodges was a prodigious right-handed slugger and Pee Wee Reese was a tremendous crowd favorite. Snider was merely the most consistent player on a great Dodger team now immortalized as the Boys of Summer. He is the third of their number to reach the Hall of Fame. Robinson and Campanella preceded him but it took Snider 11 elections to finally swing the required 75 percent of the votes.
Snider came up in 1947 and he struggled to establish himself as a hitter. He always played center with an elegance reminiscent of DiMaggio, but his great range and silky speed were wasted in the small outfield of the bandbox on Bedford Ave.
I WAS A SOPHOMORE at Brooklyn Prep in '49, the year Snider won the regular center-field job. Ebbetts Field was just a 10-minute walk through Flatbush, and if you showed your student ID card on weekday afternoons you could sit in the bleachers for a quarter and catch the last six innings or so. Duke was having a terrible spring and Cowbell Hilda Chester's bleacher mob booed his ears off.  Only 23 that year, Snider's hair was already streaking into a premature gray which later in his career earned him the nickname, "The Silver Fox."
"He was a very unpopular player for a few years," recalls Rich Ashburn, the fourth best centerfielder of that fading-in-time decade.  "He never enjoyed the popularity of a Pee Wee Reese or a Gil Hodges. Talk on the Phillies was that he didn't get along with some of the players. But I've talked to him about it since then and he says he always got along with everybody. That was quite a group they had there, I can see where there could have been some frictions, but that was the best team I have ever seen in baseball for a stretch of a few years. It's a shame his career hasn't been remembered for what it was, although he probably should have paid to hit for that club. He was the only left-handed hitting regular and I'll bet he didn't see five lefthanders a year in that ballpark.
"But he could hit lefthanders pretty well. I remember him hitting two homers off Curt Simmons when Curt was one of the great young pitchers. He used to wear Robin Roberts out. Robby would keep challenging him and Duke loved to hit that fastball."
THE PAGES OF THE scrapbook begin crumbling around the dogeared edges. Distant images fade to blurs, like the background in an early daguerreotype.
But some moments remain frozen in time, as perfectly preserved as a meadow flower enshrined in a glacier.
Ashburn is fuzzy about the year, the date and the inning, but the play is in crystal focus.
"I think it was '52 and it was a game in Philly they really needed late in the season," Rich said yesterday. "Anyway, Willie Jones stung a long drive to left-center. It was going to hit pretty high up on the fence. Duke leaped at the fence and his right spikes caught in the wood and he just kind of propelled himself upward another step, literally, running up the fence. And he caught the ball. But we've always felt over the years that he trapped it. We couldn't see any way he could have caught that ball with his glove turned into the fence without trapping it.
"It comes up every time we get together, but after all these years Duke swears he caught it cleanly. Anyway, that's the kind of player he was. He'd give you that big play and usually make it look easy. He was very smooth and he had excellent speed. The Dodgers didn't run much in those days with all those home run hitters, but he would have stolen a lot of bases."
Al Kaline, who amassed 3,007 hits during a 22-year career in Detroit, joins Snider, making the Hall of Fame in his first year of eligibility.
It turns out the Phillies almost signed Kaline out of high school in 1953. Ashburn was there when the 18-year-old kid worked out for Bob Carpenter after his high school graduation.
"I really think Al wanted to sign with the Phillies," Ashburn said. "But under the bonus rule then, if you gave a kid more than a certain amount of money to sign you had to keep him on the big league roster. He was just a skinny kid then and the Phillies didn't think he'd hit that much, I guess. He had excellent actions in the field and looked like he'd be a fine defensive player. Al threw the ball low and on the line. The Phillies signed a pitcher named Tommy Qualters instead."
TOMMY QUALTERS... Never won a big-league game in a career which lasted three seasons and 52 innings.
Kaline never played an inning of minor-league ball, and in 1955, at age 20, he hit.340 and became the youngest player to ever win a big-league batting title.
Kaline's swift election was expected 3,000 hits is a sure ticket lo Cooperstown.
The Dodgers' move to Los Angeles in 1958 tarnished the image that Snider was a ferocious home run hitter and probably kept him from early election to the Hall. In 1957, the avocado farmer from the valley northeast of San Diego hit 40 homers in Brooklyn. In '58, swinging at the smoggy vastness of right field in the Coliseum, Snider fell to 15. Despite a.312 average, the West Coast critics viewed his skills with the same suspicion Mays engendered in his early San Francisco seasons.
Snider finished his career with the Mets and Giants, a white-haired gentleman who never achieved a higher station in his game than third-best centerfielder in New York City. And who made the Hall of Fame the hard way.
Snider, Kaline Fame-ous
NEW YORK (UPI) – Al Kaline, Detroit's rightfielder for 22 years, and Duke Snider, New York's "other centerfielder" in the heyday of Willie Mays and Mickey Mantle, were voted into baseball's Hall of Fame yesterday on a tidal wave of votes.
Kaline, who hit.297 and had 3,007 hits with the Tigers, was the 10th player elected in his first year of eligibility when he got 340 of 385 votes from 10-year veterans of the Baseball Writers Association of America.
Snider, who batted.295 and hit 407 homers in 18 seasons spent mostly with the Brooklyn and Los Angeles Dodgers, was elected on his 11th try with 333 votes.
Kaline and Snider easily topped the 75 percent of votes needed for election.
"I don't think my vocabulary can express what I feel," said Kaline. The first thing I would like to do is thank all the writers for the greatest honor I've ever had."
"I felt after missing last year by 11 votes, my chances were pretty good," said Snider. "I feel I am a Hall of Famer... The news was like hitting my first World Series home run off Allie Reynolds."
Don Drysdale, who won 209 games in 14 years with, the Dodgers, finished third with 238 votes, followed by the late Gil Hoges former Dodger first baseman, and Hoyt Wilhelm, knuckleballing reliever who appeared as a pitcher in the most games (1,070) in baseball history and had 14 seasons with an ERA under 3.00.
Kaline's.340 average in 1955 at the age of 20 gave him his only batting title. He hit over.300 nine seasons; hit more than 20 homers but never more than 29 in nine seasons for a total of 399 and drove in more than 100 runs three times.
Kaline was rated the AL's top defensive rightfielder nine times. He had a.987 lifetime fielding percentage. Kaline played in one World Series, batting .379 in 1968 as the Tigers beat the Cardinals in seven games.
A powerful left-handed hitter, Snider was a superb defensive outfielder who might have been rated as the No. 1 centerfielder in the game. However, he played for the Dodgers at the same time Mays was playing for the New York Giant? and Mantle for the Yankees.
Snider's top season homer total was 43 and he never won an MVP. But he also led the NL in homers, RBI and hits once each, runs scored and total bases three times each and slugging percentage twice. He played on six pennant winners and two world championship teams and his 11 homers and 26 RBI are the most bv a National Leaguer in World Series competition.
January 11, 1980
Book has Nostalgic Appeal
By Bill Conlin
At first glance it looks like one of those reference sports books you warm up for by reading the New York Times legal notices. Dull, tabular matter, a jumble of names and numbers which figures to be as entertaining as the Cleveland telephone directory.
It is called "This Date in Philadelphia Phillies- History"" (Stein and Day, $8.95) and its co-authors are retired Inquirer baseball writer Allen Lewis and Phillies public relations director Larry Shenk.
It's been in my library for months, daring me to bulldoze through it. "It looks like a good reference work," I kept telling myself. "I'll wait until I need it." But, caught with nothing fresh in the house to read, I got around to it this week and discovered in its lists, tables, rundowns, firsts and lasts, and the day-by-day highlights advertised by the 273 page soft-cover volume's title a gold mine of trivia and sub-trivia.
FOR EXAMPLE, on this date in Phillies history, Jan. 11, five players were born: Bill Magee (1868), Elmer Flick (1876). Lefty Taber (1900), Schoolboy Rowe (1910) and Roy Hughes (1911). And on January 11, 1960 – "Outfielder Richie Ashburn traded to Chicago Cubs for infielders Alvin Dark and Jim Woods and pitcher John Buzhardt"
Hmmmmm. Ashburn was a "former Whiz Kid" by then. The deal was an artistic flop but financial success for the veteran outfielder. He hit .291 and a career-low .257 for the Cubs. And Phil Wrigley gave him the two best contracts of his career.
Gene Mauch called Dark, far over the hill when he finished his playing career here, "The kind of man we'd all like to be if we had the tune." Turns out even the Bible-quoting future manager didn't have time to get his race relations in order. San Francisco blacks and Latins charged him with bigotry, his marriage broke up and he's drifted in and out of managing jobs, including a successful but demeaning term under Charley Finley in Oakland. ("Forgive them, Father, they know not what they do.")
Jim Woods was a journeyman infielder, but John Buzhardt achieved lasting immortality as the pitcher who halted the Phillies classic, record 23-game losing streak in 1961. Buzhardt beat the Braves, 7-4, in the second game of a doubleheader on Aug. 20. More than 10,000 fans turned out to greet the Phillies at the airport, prompting free-spirited pitcher Frank Sullivan to remark, "When we get off the plane, spread out so they, cant get us all with one burst."
THE TERSE notations are a springboard to nostalgia. One mid-winter trade brought back a flood of remembrance. That is the charm of a book which gives the bottom line and most of the agate lines in between on a franchise with a rich history of failure. Samples I chose by opening to a random page:
On Aug. 23, Lew Richie (1883), Roy Leslie (1894), Ed Murphy (1919) and John Morris (1941) were born. In 1883, Phillies charged with 27 errors in game with Providence (walks, wild pitches and passed balls were charged as errors prior to 1888). And in 1967, third baseman Dick Allen suffers serious cuts on right hand when headlights of old automobile he was pushing breaks. He is sidelined for remainder of season."
One listing knocked me out. Guys who played with the Phillies and had their careers interrupted by World War L They were Gerald Claycomb, Pickles Dillhoefer, Dixie Davis, Patsy McGaffigan, Eppa Rixey, Ben Tlncup, Possum Whined and Frank Woodward. How'd a guy with a weird name like Frank Woodward ever get into the Army?
No less than five pages are devoted to nicknames. Who was Brewery Jack? Beans? Candy? Coonskin? Donkey? The Earl of Snohomish? Gink? Palm Trees? Squack? Three Star? Wagon Tongue? Wild Elk? Who were the 15 Phillies nicknamed Lefty and the 11 nicknamed Red?
ON PAGE 200, it is the bottom of the ninth in Ebbets Field, Oct. 1. 1950, and the voice from the past belongs to the late Gene Kelly. Let s listen. " ... Here cornea Sawyer to the mound. The batter due is Duke Snider ... Runner at first, Reese; runner at second, Abrams . . . Snider, who is hit-less in the game, is the next batter due. It was he of course who hit the homer off Konstanty yesterday . . . However, Sawyer is leaving him in, Roberts stays... Two men on, nobody out ... Last half of the ninth, score tied, 1-1, what represents the winning run is at second in Abrams . . . Infield moves in to look for the bunt . . . Roberts stretches, throws, Snider takes a full cut, line drive to center field . . . Ashburn races in with the ball and here comes the throw from center field... He is... OUT!"
Roberts pitches out of the inning, Dick Sisler homers in the 10th and the Phillies win their second pennant of the century. But the italic excerpts from the tape of Kelly's broadcast throughout a detailed account of the 1950 final-day clinching make it nostalgically appealing. Snider made the Hall of Fame Wednesday, Ashburn is still trying and running out of years. Kelly battled physical infirmity for more than a decade before dying of a stroke last summer.
Poring through the Phillies year-by-year leaders, Chuck Klein's 1930 season stands out like a beacon. The man hit .386 with 40 homers and 170 RBI. He is not in the Hall of Fame because the electors of that time held his lifestyle and the friendly geography of Baker Bowl against him. Chuck must have also played a few games on the road.
HERE'S ONE FOR the book. On Sept. 28, 1919 – getaway day, I trust – the Phillies and Giants played nine innings in 51 minutes, a record which still stands. Was it 1-0, a low-hit, low-walk game? Nope. The Giants won, 6-1, and had 16 base runners. The teams stranded 13 runners.
And here's a table to settle some bar-room arguments. Lewis and Shenk list the starting player at ve position in every Phillies season from 1876 through 1978.
The volume also contains large-type box scores of historic games involving the Phillies: The Cubs' 26-23 victory in 1922; the record 10-homer game with the Cardinals in 1923; the first major league night game in Cincinnati, May 24, 1935 (Reds 2, Phils 1); the four-homer games by Klein and Mike Schmidt; Jim Bunning's perfect game, and other games of landmark or unique significance, including the box scores from the club's lonely total of nine World Series games.
The book is a testament to the pain Phillies fans have suffered over the years. Fans too young to remember 1950 are not alone in their spiritual desolation. A short list is Phillies teams to win 90 or more games, eight. A long one is Phillies teams to lose 90 or more games, 31.
I thought I'd catch Lewis and Shenk with a blank in the calendar, a day on which no Phillies were born, traded or involved in a baseball act of heroism or frailty. I thought I'd find them with nothing to report on Feb. 29, which comes around only once every four years.
But nooooooooo. On Feb. 29, 1896, an infielder named Ralph Miller who played for the Phillies in 1920-'21 was born.
January 14, 1980
SportsPeople (excerpt)
Lonborg's Learning
When the Phillies released him last summer. Jim Lonborg was just waiting for the inevitable. And it wasn't long before he learned that he was no longer a Cy Young winner, but just another worn-out arm.
"I knew I would get released during the summer," Lonborg recalled. "I knew I didn't fit into their plans. I couldn't really go to another ballclub because I wasn't pitching and I wasn't in shape."
It was then that the articulate 35-year-old Lonborg realized the end of one career and the beginning of another. So he has gone back to school to become a dentist.
"It was difficult the first four weeks," said Lonborg, said the Stanford graduate who has enrolled at the University of Massachusetts-Boston. "I had to relearn my study habits, how to take notes, how to take tests. But I'm so strongly motivated it's really a joy."
January 29, 1980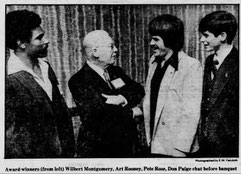 Banquet Tales for the Boss
By Bill Conlin
It is an unrequited wish. Just once before moving on to the big press box in the sky, I want to attend a Sports Writers Association banquet unencumbered by notebook, tape recorder and writing assignment.
Just once I want to wake up in a strange hospitality suite at 5 a.m, wearing somebody else's socks, experiencing the jackhammer throb of a well-earned hangover. Five years ago, I blew my best shot.
The schedule was posted. "Conlin, Off," it said for the last Monday in January, which is when the Sports Writers Association bestows a festoon of awards at its gala event. For 16 consecutive years I had drawn a writing assignment – Pro Athlete of the Year, Amateur Athlete of the Year, Most Courageous, Jogger of the Year, you name it.
Two days before the 1976 banquet, Mike Rathet, the sports editor of this newspaper, called with an apology and an order.
"I'M SORRY," he said, "but I'm in a schedule bind. I've got a guy sick and you'll have to write the banquet wrap-up."
I showed him. I wrote a spoof of the proceedings so outrageous there was no way in hell Rathet would ever want me to cover it again. He loved it.
"Just what I was looking for," he said, "something light and different. You can regard it as a permanent assignment."
Mike Rathet, the best boss I have ever worked for – it would take a full page in this newspaper to tell you all the reasons why – didn't make it to the Cherry Hill Hyatt last night. After work Sunday night, Rathet had an event in his chest serious enough to put him in the cardiac care unit of Chester County Hospital. It was one of the few events of his career Mike didn't have scheduled for staff coverage two weeks in advance.
Here are some of the things Mike Rathet missed last night in Cherry Hill on another night, thanks to him, when I showed up with a notebook, a tape recorder and a suppressed thirst:
There was the ultimate in double-digit inflation, awards version.
In the span of two meals, Pete Rose was named Baseball Player of the Decade in one state and Athlete of the Decade in another. Over lunch at Gallagher's Pub in New York yesterday, the Phillies' first baseman received one plaque. Over dinner at the Cherry Hill Hyatt he received another.
That's three Decade awards since December. Two more and he's an Ace.
PETE SAID his prize possession is his 1975 Cincinnati World Series ring. "I know it'll be a bigger thrill if I can help the Phillies bring a world championship to the Philadelphia area because of the way you people support the ballclub," Rose said.
Dallas Green, Paul Owens and Bill Giles were seen hoisting a toast to that."
Rathet's old NFL friend Art Rooney stopped by to accept the Team of the Year Award on behalf of the Pittsburgh Steelers, the collection of battered bodies he bought four decades ago with the winnings from a long-shot horse that came in. Rooney is a fascinating old-schooler who has been rewarded in the December of his years with a Super Bowl dynasty. Rooney is no orator but he turned one memorable sentence.
"It took me a long, long time laboring in the vineyard and walking up and down alleys instead of the main street," Rooney said."
Harry Kalas was the emcee and the Phillies' voice kept the banquet moving at a four-gin-and-tonic-an-hour pace, including this classic take-a-bow introduction:
"Dick Vermeil says the Eagles have a tight end who completes a play better than any player in the NFL Keith Krepfle! Keith?"
The tight end was not seated at the dais or in the room. "Well," Kalas said. "That's the ONLY play he didn't complete all year"
ERIC GREGG, the National League umpire whose controversial home run call on a Keith Moreland foul ball at the Vet last September was overruled, eventually resulting in Dallas Green's first big-league ejection, was a banquet speaker. He had a hilarious and truthful version of what really happened.
"…Bingo, I'm right there," Gregg said. "The ball's over my head, I'm following the ball all the way. I'm in the game, believe it, I'm in the game... Now as the ball goes over my head, I look up in the lights and I lose the ball. Next thing I see is beautiful Mary Sue Stiles (the Phillies' left field ballgirl) and, believe me, when she jumped up and down and screamed, 'Home run!' I said, 'Eric, that's good enough for me.'"
Ralph Bernstein, Chairman of the Sports Writers Association Board of Governors, won the Dirty Joke Award for the evening. It was about a guy visiting Japan who... well, never mind. "Ralph," Pete Rose twitted, "you were up there so long I thought you were the main speaker."
Green, Vermeil and Flyers Coach Pat Quinn promised renewed efforts to bring a World Series title, Super Bowl title and Stanley Cup to the town's fans. The Sixers are on the road but Billy Cunningham's promise was there in spirit.
I'll leave Mike Rathet with some vignettes.
Rooney on Leonard Tose's speaking style at NFL meetings: "He wouldn't receive any honor from the Holy Name Society."
GREGG ON controversial calls by umpires: "Ninety-nine percent of them prove right and the other one percent you were probably getting a beer anyway."
Rose, looking at an artist's likeness of himself on his Athlete of the Decade plaque: "This is a helluva lot better than the one I got in New York today at lunch."
Rose on losing money as part owner of a pro soccer franchise in Cin cinnati last year. "They could legalize prostitution in Cincinnati and they wouldn't support it – unless I was the proprietor."
Perhaps there was a grain of truth in the joke Ron Jaworski, who received the Good Guy Award, told in good-natured celebration of our wacky profession:
"Somebody came up to a friend of mine and said, i can give you the brains of an NFL quarterback for $5,000 a pound.' My friend said he knew that quarterbacks were smart, but $5,000 a pound is a little high. He said, 'What else do you have?' Th guy says, 'For $10,000 a pound you can have the brains of a doctor. My friend said. That's pretty expensive. What else do you have?' The guy said, 'Well, for $30,000 a pound you can have the brains of a sportswriter.' My friend said, '$30,000 a pound for the brains of a sportswriter. That's unbelievable! Why is that so high?'
"The guy said, 'Well, do you know how many sportswriters it takes to get a pound of brains?'"