Philadelphia Daily News - March 12, 1980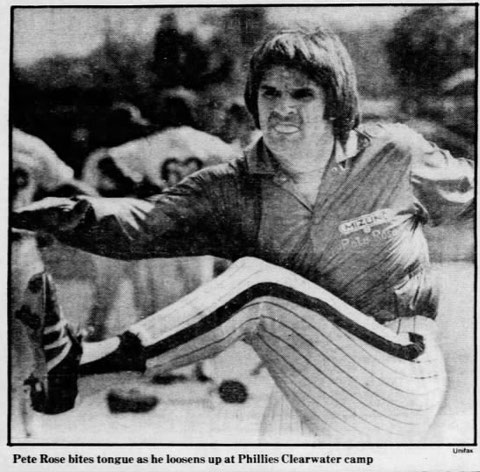 Has Lonnie's Time Finally Come?
By Bill Conlin
CLEARWATER – The Phillies dressed Lonnie Smith in sheep's clothing and sent him out to face the Cardinals in front of 40,526 opening-night wolves.
Sent him oat to play right field, a position the swift kid from the L.A. suburb of Compton had played maybe twice in his life in a bus or instructional league. Danny Ozark sneered when the club's prize outfield prospect misplayed two catchable balls into triples. It was a tough way to prove a point.
Farm Director Dallas Green figured Smith learned all he was going to learn during three Triple-A seasons, that it was time for the Phillies to start realizing a return on their investment, even if it meant using Smith as a pinch-runner, the way the Pirates used Matt Alexander last season.
BUT NOOOOOOOOOO. Ozark was the guy with his head in a noose. If he was going to go down he wanted a say in who stayed and who played. After the opening night disaster the manager helped orchestrate. Smith was gone before the boos had a chance to stop echoing off the Vet ramparts. He spent a fourth year in Triple-A, tacking a.330 average on the.308,.277 and.315 seasons he had at Okie City, stole 52 more bases, which meshed nicely with previous totals of 73, 63 and 79.
He also began to acquire a reputation as a guy who had accepted his role as a career Triple-A man, that he had no particularly consuming hunger to crack the bigs. With Green consistently outvoted. Smith seemed to have little choice in the matter. A leg hitter, Lonnie's the kind of athlete who needs a string of games to find a groove and his average after 30 big league at bats is.167, hardly a measure of either potential or lack of ability.
"They didn't tell me I was gonna play the opener until I got to the park," Smith said yesterday, reliving the nightmare. "If I had known I was gonna go out there and play I think I could have been more relaxed... I had suspicions Ozark didn't like using younger ballplayers. Except maybe a pitcher or something. With Danny I never felt comfortable. I never felt he had enough faith in me. When they sent me out Ozark called me in and told me some things that were straight, outright lies. He told me I would learn to play right field. From day one when I got back down there I was playing center. He told me I'd be back up in a month. I came back up in September. After that I just didn't have any more faith in him."
SMITH IS HAPPY that Green vetoed a proposed trade that would have sent him to Baltimore for utility infielder Billy Smith. "I didn't hear about that until recently," Smith said of a rumor that has been in the mill since the winter meetings. "I'm happy Dallas vetoed it. I talked to some guys about Baltimore and I'm happy I'm not going there. I'd rather stay right here with this organization and take my chances."
His chances seemed to take a sharp upturn Monday when Garry Maddox announced that he will become a free agent after the season. Paul Owens countered by saying the Phillies will explore the possibility of trading Maddox before the season starts. And if he doesn't come up with a centerfielder in any deal he's lucky enough to make for a man asking for a $3.6 million contract, Lonnie Smith could wind up at least platooning in center. Bake McBride is the only other Phillies outfielder with extensive experience in center and he hasn't spent much time there since 1976 in St. Louis. Greg Gross didn't appear comfortable at filling in for Maddox at the position last season.
Garry Lee reiterated yesterday that he will test the free-agent waters. Once more, he bent over backward stressing his attachment to the Phillies.
"My roots are in Philadelphia; I've spent the best years of my career there," Maddox said before the workout. "If I play for them this season I hope to have the best season I can so maybe my value will be a little higher in their eyes. There is no animosity involved here at all. It's strictly a matter of what I think I'm worth as opposed to what they think I'm worth."
SMITH WAS UNAWARE of the Maddox development. He sounded like a man who will believe his situation will change the day Garry packs his bags. Confidence and enthusiasm do not appear to be his long suits. Spending four years in Triple-A waiting for somebody to get old or traded from a team rooted in the cement of long-term contracts is not the best way to develop a gung-ho attitude.
"I've never believed what they said when I signed, that I was a can't-miss player," Smith said. "To me a can't-miss big league ballplayer is a guy who can hit maybe 20-25 homers a year, drive in 90-100 runs. I'm not that kind of ballplayer. I'm a player who plays, gets a decent average every year and can steal a few bases. If that's a can't-miss player then there's a helluva lot of ballplayers who can do the same thing."
See, the kid's confidence is overwhelming.
PHILUPS: Garry Maddox was in uniform yesterday after missing two days with a bad back. He also clarified his contract status. "I do not have a no-trade this year," Maddox said. "I had it until the final year of the contract, which is this year, so they can trade me anyplace they want." That would seem to give Paul Owens a few more options, but it still will not be easy to get equal value for him. A report that Maddox is seeking a $5 million package is exaggerated. His asking price in actual guaranteed salary is less than $1 million a year... Phils were scheduled to play an intra-squad game after this morning's workout…. Look for Paul Owens to dispatch a scout to Tampa who will carefully monitor the Reds' unsigned outfielder Ken Griffey, who is recovering from knee surgery. Griffey and the Reds are reportedly far apart, which could make a Maddox-for-Griffey deal at least feasible. The Reds may be willing to get another division title out of Maddox, who would solve their apparent center-field problem. Griffey is probably asking for considerably less than Maddox' swollen demand.
Klein, Yawkey in Hall of Fame
TAMPA, Fla. (UPI) – Chuck Klein, a slugging outfielder with the Phillies in the 1930s, and former Boston Red Sox owner Tom Yawkey today were named to the Baseball Hall of Fame by the Veterans Committee.
Klein and Yawkey, both deceased, will be inducted into the Hall of Fame Aug. 3 in Cooperstown, N.Y., along with outfielders Al Kaline and Duke Snider, selected in January by the Baseball Writers' Association of America.
Klein and Yawkey were selected from a list of eight candidates by the 17-member Veteran's Committee. Others under consideration were first baseman Charlie Grimm, four-time National League home run king Johnny Mize, third baseman Jimmy Dykes, pitcher Vic Willis, shortstop Glenn Wright and former Dodger manager Walter Alston.
THE VETERAN'S COMMITTEE considers players who have been retired at least 25 years – provided they played at least 10 seasons and received at least 100 votes in any regular Hall of Fame election.
The Veteran's Committee is authorized to elect no more than two candidates, including no more than one in a non-playing category.
An affirmative vote of 75 percent of the members present is necessary to elect a candidate. There are 18 members on the committee, but one member, 92-year-old ex-sportswriter Fred Lieb, was unable to attend the meeting.
KLEIN, who died in 1958 at the age of 54, played for the Phillies, Chicago Cubs and again the Phillies from 1928 through 1944 but is best remembered for his first 5½ seasons with the Phillies.
Playing in Philadelphia's famous Baker Bowl, which had a 230-foot right field foul line, Klein strung together slugging performances which rivaled any in the history of the game.
From 1929 through 1933, Klein compiled batting averages between .337 and .386, drove in between 121 and 170 runs and hit between 28 and 43 homers pe season. His total bases during the five big years were 403, 445, 347, 420 and 365.
He was traded to the Chicago Cubs in 1934 and never again approached those figures. He finished his career with a .320 lifetime average and 300 homers.
Klein was denied admittance to the Hall of Fame prior to this year because of the disparity between his first five seasons and the rest of his career. In those 5½ seasons – 30 percent of his 17-year career – Klein hit 191 homers (63 percent of his career total) and drove in 727 runs (62 percent of his career total ).
Klein hit .333 for the Cubs in the 1935 World Series – the only one in which he played – after making a .293-21-73 offensive contribution to them that year.
YAWKEY, who was born in Detroit, Feb. 21, 1903, and died July 8, 1976, bought the Red Sox in 1933. He spent lavishly to rebuild the weak franchise he had purchased, getting such stars as Jimmy Foxx and Lefty Grove from the Philadelphia A's, and won American League pennants in 1946, 1967 and 1975.