Philadelphia Inquirer - March 16, 1980
A svelte Bull charges back
By Frank Dolson, Inquirer Sports Editor
CLEARWATER, Fla. – Sparky Anderson got his first look at Greg Luzinski the other day – the new Greg Luzinski, that is. Then Sparky got his second look. And his third look. You could excuse him for staring.
"Oh my God," the manager of the Detroit Tigers said as the slenderized, bespectacled leftfielder of the Philadelphia Phillies trotted past him. The Bull had the silhouette of a race horse.
"That's unbelievable," Anderson gushed. "That's unreal."
That's enough to make Anderson happy he's in the other league now, where the only bull is what some of the managers, general managers and owners hand out.
"He looks like a young chicken, which is great," the former Cincinnati manager said about the slugger who was one of the two righthanded hitters – Steve Garvey was the other – he least liked to see batting against his club in clutch situations. "Maybe last year was the greatest thing that ever happened to him...."
A restoration
Great because it made Greg Luzinski do something that was very difficult, something that may restore him to all-star status and prolong his career. Great because it made him make up his mind that he never wanted to go through another season, another experience like that.
"One thing about Bull that I've always respected," Anderson said, "is him as a person. I think when you've got a guy who's a good person, when he has an off year, he's got enough sense not to blame somebody else for it, but to blame himself and shape up.... When those people (in Philadelphia) see him in condition like this, they're going to be on his bandwagon real quick."
They better hop aboard in a hurry. The Luzinski bandwagon is getting crowded already.
Larry Bowa took a look at what was left of the Bull and said, "It showed me a lot about Greg Luzinski. I think what happened was, hitting, everything has come easy to Greg. He's always been the best – in the minor leagues, in the big leagues – and I think it (the slump of 79) sorta caught him off guard.
Eating away at him
"Everybody thinks Greg doesn't care because he's very low key, but he does care. It's been eating away at him."
The bad year... the.187 average at home... the criticism... the boos... ate away at him so much that he decided to stop eating away. So here he is, a Bull turned Gazelle.
"We went to the dog track the other night," Bowa said, "and Don Robinson and Rick Rhoden (of the Pirates) were there and they couldn't believe it. They could not believe it. They went, 'Geez, who's the skinny guy?'"
He's a man with a lot of pride, a man who had a terrible time getting through the summer of 79. The boos ate him up. The critics tore him up. It was awful.
"I'm just tired of going into a slump and (people saying and writing) something's wrong with me," Luzinski said. "'It's his legs. It's his eyes. He weighs too much. It's never just a slump."
That's the price a man pays for setting the standards Luzinski set, for hitting.300 or better three consecutive years, for hitting 39 homers in 77, 35 in 78, for driving in 95 or more runs five times in a six-year span, including a high of 130 in 77.
High-level criticism
It reached the point that even Paul Owens publicly criticized Luzinski for not taking care of himself.
"I think his motive was he was trying to shake me up a little bit," Luzinski said.
And the general manager succeeded.
"It meant more me getting on him," Owens said, "because I had never gotten on him too much before. I was doing it for his own good. Somebody had to shake him up. To see that man with that kind of ability having that kind of year....
"I think he was more hurt than mad (at what Owens said). We talked about it later. He said, 'You got on me in the paper.' I said, 'Bull, I've tried everything in the world, and nothing's worked. You've been our most consistent hitter for five, six years, but you're going the other way fast, and I'm not going to sit here and let you do it.' If it worked, then it was worth it. Sometimes you have to spank your own child."
There was a fear last year that Luzinski had been punished too much, that he had been booed and criticized to the point of no return. That very real possibility prompted Phillies owner Ruly Carpenter to visit Greg shortly before the start of baseball's winter meetings.
"He called me up and said he was coming over, Luzinski said. The next day he came to my house, which is probably the first time he ever did anything like that as far as a ballplayer is concerned.
"He said, 'I know you're frustrated. I know the fans have been on you. If you feel you don't want to stay or that it's going to happen again and affect your ability to play baseball, then I'll trade you. But I don't want you to go.'
"He said, 'I know you've had some trouble with your contacts (contact lenses). Would you mind trying glasses? And I know you've been successful hitting at 235, and I can't tell you what to do, but for your own good maybe you should try to do something about it.'"
So he did something. He took off more than 20 pounds. "I feel super," Luzinski said. "I feel quick. The flexibility is there. Right now, I'd have to say Ruly was right. It's a whole new feeling."
That's good because the old feeling was awful, the final months of the'79 season sheer torture.
"My situation was bad because of the way I was handled," Luzinski claimed. "I could have said a lot of things...."
He could have made a big thing out of the leg injury that, in all probability, was a big thing.
"They said in magazine and newspaper articles that I was benched the last month because of my performance," Luzinski said. "That wasn't the case. It was just that I finally decided, 'Hey, I can't go out there. I'm sorry. I'm not going.' I don't think I realized or they realized that my injury was as great as it was. I believe if we had to do it all over again they would put me on the disabled list."
Perhaps the hardest part of all was his relationship with the man who managed the Phillies until the final month of 79. Luzinski genuinely liked Danny Ozark; he liked him so much that he felt obliged to keep his dissatisfaction with the way Ozark was handling him to himself.
"I took a lot from Danny as a player," Luzinski said, "especially those weeks before he got fired. I got pinch-hit for in situations when we were winning, with a man on third, that type of thing. I bit my tongue. I didn't say anything, because I was a personal friend of the man. I was in a position where if I would've come out and blasted him I think that would have been his job right then and there."
So Luzinski kept quiet. That wasn't easy, either. But he did it... and now he's done this. He's knocked off the beer and the late-evening snacks and the huge portions, and he's come to spring training with the look of an athlete who's ready for a big year, an athlete who's earned the right to hear cheers again at Veterans Stadium.
If you seek sun and baseball, head for Florida
Spring training is the fan's way of getting in shape for 162 real games. It's ideal for ogling such heroes as Phillies pitcher Nino Espinosa trotting onto the field at Clearwater, Fla.
By Cheryl Gordon, Special to The Inquirer
FORT LAUDERDALE, Fla. – They call it the Grapefruit League, but it doesn't leave a sour taste in your mouth.
It's the first taste of baseball. And it's indescribably delicious – warm and familiar, like the smell of fresh paint on bleachers and neat's-foot oil on a worked-in glove. It leaves an impression like a cleat on fresh sod. It's spring training.
You're not supposed to take it seriously, since the games don't count and there's interleague play in the citrus Sunbelt. (That's why it's the Grapefruit League.) But these are the things that spring training fans find so appealing. You can sit back and catch the Florida rays while Garry Maddox attempts to catch pop flies and Rick Reuschel sweats off his winter weight. Spring training is the baseball fan's way of getting in shape for 162 real games.
Eighteen of the 26 major league teams train in Florida until the camps break up April 9, and more than a few Philadelphia enthusiasts have already flown down here to be with the 1980 Phillies – or the 17 other teams. It's an ideal time to ogle your heros and figure out the season's starting lineup before the scats at Veterans Stadium are dusted off for the Phillies' regular season.
Although there are always a few holdouts who get stuck in snowstorms or taping sessions for TV commercials, by March 1 everyone from Golden-Glove winners to rookie league benchwarmers is supposed to be in camp.
The fans always seem to make it on time. License plates are key giveaways. In Lakeland, home of the Detroit Tigers, there are more Michigan plates than Florida plates. Pull into a shopping center and you'll do a double take. If it weren't so warm, you'd think you were in Detroit.
Joker Marchant Stadium, a giant yellow stucco structure, is flanked by empty World War II airplane hangars. The landing strips are now convenient parking spaces. The sign out front welcomes the fans to Tiger-town, the winter home of the Detroit Tigers.
Joker Marchant is a classic Florida baseball stadium – rocks on the field, patches of grass missing. The Florida colleges generally have better fields than the minor-league parks the major league teams occupy while they are here.
Seven teams report to the Cactus League in Arizona and only the California Angels stay in California for spring training. The Los Angeles Dodgers travel the farthest – to Dodgertown (Vero Beach), the Pittsburgh Pirates are in Pirate City (Bradenton) and the Houston Astros are in Astrotown (Cocoa).
The Gulf of Mexico has the largest concentration of teams (eight), four in the immediate Tampa Bay vicinity (Cincinnati Reds, Tampa; New York Mets and St, Louis Cardinals, St. Petersburg, and the Phillies, Clearwater). Of those on the Gulf Coast, the Toronto Blue Jays are the farthest north, in Dunedin, and the Kansas City Royals are located farthest south, in Fort Myers. The Pittsburgh Pirates (Bradenton) and the Chicago White Sox (Sarasota) are next-door neighbors, about halfway down the Gulf coast.
Central Florida is home of the Tigers (Lakeland), Boston Red Sox (Winter Haven) and Minnesota Twins (Orlando). Whereas the Tiger fans sometimes find themselves in standing-room-only situations, the Twins are dwarfed by Walt Disney World and get few crowds. Central Florida is the orange-lovers haven. You can drive for miles surrounded by groves.
The Atlantic Coast's big draws in Florida are the Los Angeles Dodgers in Vero Beach, the New York Yankees in Fort Lauderdale and the Miami-based Baltimore Orioles. In Daytona, the International Speedway steals the thunder from the Montreal Expos. NASA and the John F. Kennedy Space Center overshadow the Houston Astros at Cocoa. The Atlanta Braves are a pretty good draw in West Palm Beach but the Texas Rangers (Pompano) get lost in the cross traffic between Fort Lauderdale and Vero Beach.
The spring migration to Fort Lauderdale by 40,000 to 50,000 college students each year doesn't really have an effect on the baseball crowd. In Fort Lauderdale, it only serves to cause traffic jams and hotel pranks. The Yankees are already sold out for four of their home exhibition games, including the March 31 duel against the Phillies.
If you can't get to a game, Yankee practice is worth a look. You'll find former Phillies pitcher Jim Kaat, 41, throwing more and running more than the rest of the pack. You'll see Whitey Ford shagging grounders at first base. You'll see an advertising sign in the outfield that still refers to the Yanks as a "World Champion club."
On the other coast you won't find the same rowdy college crowds. The Phillies will be working out at Carpenter Complex and playing at Jack Russell Stadiumdn Clearwater. Some of the favorite Clearwater eating places of the Phillies are the Beachcomber, the Pelican and La Cave.
If this is your first trip to spring training, here are a few tips on getting along with the players. Don't walk up to them while they are eating or in the middle of a windup. Don't call their rooms at 5 a.m. and expect them to talk to you. If you want an autograph, have your own pen and paper, and ask politely. The best place to get autographs is when they are en route from the clubhouse to the dorms or the team bus.
•
Book your hotel and motel rooms in advance. Space is limited and rooms are at a premium. The Clearwater area has only 3,000 spots and hundreds of these are filled by the teams and their families. The average room in the Clearwater area goes for from $44-50 double occupancy. If your prime target is baseball, your best bet is to rent a car ($69-$189, depending on the daily and weekly rates available) and stay farther inland, near Lakeland, where rooms can be rented from $22-$46 double occupancy.
If you are planning on flying down, the new $99 one-way airline fare is great. You need no far-advance booking and can adapt your trip to get the most mileage for your airfare. Example: It will cost you $198 from Philadelphia to Tampa round-trip, and the same price for Philadelphia-to-Tampa (drive to Miami) with a Miami-to-Philadelphia return. You can extend your spring training itinerary by renting a car with unlimited mileage and going up and down the coasts.
Approximate driving time from Fort Lauderdale to Orlando is four hours. Orlando to Lakeland is two hours, Lakeland to Tampa is one hour, Tampa to Clearwater is an hour, and a half, and Tampa to Ft. Lauderdale is six hours. Gas is available in the morning throughout Florida and on the highways 24 hours a day.
Air Florida offers one-way tickets to Florida for $76 – with no advance reservation required, though it's advisable – but flies only to Miami and Jacksonville.
If you are planning on driving from Philadelphia to Florida, figure the trip is 900 miles (one way), and with an older car may cost you up to as much as $200 in gas (round trip), not to mention room and board if you don't drive straight through.
No trip to Sarasota is complete without a visit to the keys St. Armand's, Longboat, Lido and Siesta.
In the 1920s, Ringling purchased St. Armand's Key, just across the Ringling Causeway, and laid out the shopping circle that since has become famous, with some 100 shops, boutiques, galleries and restaurants.
Just west of St. Armand's is Lido Key, with a string of resort hotels and motels and a half-mile-long white sandy beach. In the other direction is Longboat Key, with more resorts along with condominiums, private homes, marinas and restaurants.
Siesta Key, with two connections to the mainland, has its share of motels and condominiums, but also has' scores of private homes hidden in groves of pepper trees, mangroves, palms and pines.
Round-trip bus fare from Philadelphia to Tampa is about $136; to Miami $148. The train round trip from Philadelphia to Tampa is about $133. All of these rates arc subject to increase.
Travel agents offer packages with transportation, room and extras, including game tickets, post-game sessions with the team and shuttle service.
Fans who don't make arrangements before they go may find themselves living the life of a minor-league walk-on. They'll be camping out in sleeping bags, one hopes someplace where the alligators can't get them.
Padres tell Winfield they won't put entire payroll in one pocket
By Allen Lewis, On Baseball
If you wonder why the owners are becoming extremely worried about their rapidly inflating costs, consider the testimony of Ballard Smith, who runs the Padres for owner Ray Kroc.
According to Smith, the Padres' payroll in 1980 will be $3.7 million. That's a cool $1 million more than in 1979, and it doesn't include outfielder Dave Winfield's demands for a huge new contract.
The Padres are offering Winfield a long-term contract at $500,000 a year, plus incentive bonuses that could bring Winfield's annual salary up to $1.2 million. Winfield's agent is asking for $1.3 million a year at the start of a 10-year contract that could cost the club $20 million because of demands for cost-of-living raises.
Smith says he won't pay Winfield that much. "We finished 2½ games out of last place with him," he said. "I told him, 'Dave, if you're serious about these figures, have the best year (in 1980) you can to get as high a market value as you can because we're not going to pay it.'
"They're talking about putting all our money in one place. It doesn't make sense."
According to Smith, 47 percent of club's outlay is budgeted for the the players, including $500,000 for incentive bonuses and an estimated $500,000 for the players' pension fund (the latter figure based on the owners' original offer in current negotiations with the players' union).
Some of the other items in the San Diego budget are $550,000 to operate the club's 727 airplane; $50,000 for chartered buses; $125,000 for meal money and incidental money paid to players in spring training; $70,000 for hotel rooms; $20,000 for balls; $10,000 for bats; $20,000 for laundry; $13,000 for printing a media guide; $75,000 for liability insurance; $330,000 for ushers, security and ticket takers, and $200,000 for broadcasting line charges and the salary and expenses of the club's radio and television announcers.
The Padres' biggest revenue increases are to come from its share of baseball's national TV package (up from $1.2 to $1.8 million) and from an increase in its local TV contract (up from $294,000 to $700,000 for 42 games, compared to 30 games in 1979). that $700,000 figure seems fair, but Smith says, the Yankees get $5 million for their local rights.
NOTES: Billy Martin seems to think a lot of big league managers are on thin ice. He recently said he didn't take the job of managing the A's because he thought it might be the only one he'd get. "If I had waited two more months," he said, "then maybe six other jobs would have opened up."... Hank Aaron thinks Dale Murphy, who played first base most of last year and is moving to leftfield this season, ultimately will hit more home runs than third-baseman Bob Horner. If he's right, Murphy and Horner may combine for more homers in a season than the 115 Roger Maris and Mickey Mantle hit for the Yankees in 1961. Murphy was originally a catcher, but not a very good one. In 27 games last year, he had five errors and 11 passed balls. The passed-ball total was second only to Cardinal Ted Simmons, who had 14 in 122 games.... Incidentally, Aaron's denial that he said he – and not Pete Rose – deserved to be player of the decade, sounds hollow. In Florida recently, Aaron said, "I never did question or say anything about Pete Rose." A moment or two later, he said, "The press took my comments out of context and said what they wanted to say."
•
The answer, to last week's Trivia Question: Al Simmons batted in or more runs in each of his first 11 seasons, the longest such streak tq begin in a player's rookie season. Joe Hayes Jr. of Norristown was first with the correct answer.
This week's question: Who holds the major league record for the most balks in one season?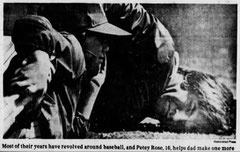 The last of attention won't distract Pete Rose
By Jayson Stark, Inquirer Staff Writer
CLEARWATER, Fla. – This spring training, somebody else is The Story.
It's old Wilver D. Stargell, tuning up his stereo down in Bradenton. Or maybe Keith Hernandez, figuring out how the heck a guy can remain anonymous in the wake of hitting.344. Or at least Don Stanhouse, denying reports that he is actually Jerry Colonna.
It has to be some other baseball player out there who is The Story these days because there's one thing for certain: It sure isn't Pete Rose.
Rose hasn't signed a $3.2 million contract in IS months now. He hasn't hit in 44 straight games for a year and a half. He hasn't gotten sued, been in a World Series, lined his 8,000th hit, been on "60 Minutes" or even said any rotten things about Dick Wagner lately.
And so that pack of 57 reporters that lollowed him everywhere from the dog track to the men's room last spring has simply gone away. Poof. Pete Rose is just a normal, everyday guy again.
Yeah, well, almost. Pete Kose is actually about as much of a normal, everyday guy as, oh, Leonid Brezhnev. But when you're Pete Rose, normal is all relative.
He can take it
"I'll tell you the truth," Rose said the other day to the only writer around. "All the attention last spring didn't bother me that much. I was sorta used to that. That's the way it was during the hitting streak.
"It didn't bother me. I understood you writers had a job to do, and I know you had enough brains to realize I had a job to do. I guess some guys have different reasons why they don't talk to reporters. But I never could quite understand that. All reporters ever done for me is helped me make more money."
Last spring, Phillies owner Ruly Carpenter wasn't so sure of that. Carpenter got slightly panic-stricken over the sight of his $3.2 million first baseman taking seven exhibition games to get his first hit. So he suggested maybe the media circus was distracting Rose from getting his work done.
But now, Carpenter and everybody else knows better. Rose was so distracted by the attention last year he was able to hit only.331, spray 208 hits, smoke 40 doubles and steal a career-high 20 bases. Rudy Meoli should get so distracted.
"I just know what my job is," Rose said. "And my job is to play baseball. No matter what goes on before the game, when game time comes, you go play.
"And sometimes," said Pete Rose, "playing the game is the easiest part of the whole bleeping thing."
Shrugs off turmoil
He is a guy whose personal life has had its share of turmoil, and Rose seems to be able to shrug that off on the field, too. In September, while his wife was filing for divorce, he was drilling 51 hits and batting.421.
But a bunch of line drives don't make those problems fade away. What bothers Rose most is that the world won't let him deal with them privately.
Everybody got very captivated with the whole "Pete And Karolyn Do Commercials, Take The Subway And Charm Your Socks Off Extravaganza" last year. And now everybody is not content to just let the show leave Broadway. This is the one time when Pete Rose would just as soon have the media cram the attention.
"I don't understand it," he said touchily. "I read a statistic in the paper the other day that 60 percent of the marriages in this country wind up in divorce. But it seems like the only one you ever read about is mine.
"People are into gossip, I guess. So let 'em gossip. People are gonna believe what they want to believe, anyway. Why should I say anything about it? But what bugs me is, I got no private life. I can't do that any more. I got no private life at all no more. And what can I do about it ?"
Down to business
Well, he can get down in that crouch, wag that bat around and whack those line drives. And that's just what Pete Rose intends to do about it.
"When I'm in that batter's box, I think about that ball, not any problems I might have," he said. "Why punish my teammates or the fans 'cause of the problems I have? I'll tell you what. You can overcome a helluva lot of problems if you hit.330. Hit.230 and see what kind of problems you have then."
The whole idea of Pete Rose hitting.230 seems about as preposterous as Dallas Green suddenly reactivating himself and going 28-3. It certainly seems preposterous to Pete Rose, anyway.
But he turns 39 on April 14, and guys don't hit.330 until they're 77. Every spring now, Rose will face the question, "Suppose you wake up opening day, and you can't do it any more, Pete? Suppose this is the year?"
"What's the difference," Rose demanded, "between 39 and 38? I want to know. I didn't do anything this past winter to hurt my body.
"Thirty-nine don't scare me. I'm, smart enough to know the end of the trail is gonna come sooner or later. Why worry about it? Sparky (Anderson) told me, 'When it comes, there ain't a damn thing you can do about it. It don't matter how big you are, what color you are, there's nothing you can do.'
"No one can tell me at what certain age you're on your way down. I might have had my best offensive year ever last year. And I really didn't do anything last year that I didn't do in other years."
He admits there are subtle differences now. He still gives you that hair-flying, dirt-stirring, arm-pumping hustle. But he knows when to turn it on and when not to now.
"I don't sprint to my position like I used to 10 years ago," Rose said. "I try to reserve some strength, some energy. I may be a little older, but the important thing is, I still have fun playing.... I might be more enthusiastic now than I was 10 years ago."
He sat at a table in the middle of the clubhouse, smiling and relaxed. He talked frankly, easily, the way he never could with the 57-man carnival around him.
One may think he is no longer The Story. But he is always The Story. When Pete Rose's tree falls in the forest, somebody always hears it.
Unser powers Phillies over Jays, 11-5
By the Associated Press
DUNEDIN, Fla. – Del Unser's five runs batted in powered the Phillies to an 11-5 win over the Toronto Blue Jays in exhibition baseball yesterday.
The Phillies pounded five Toronto pitchers for 14 hits, including six doubles, and home runs from Mike Schmidt, George Vukovich and Unser. Unser's shot, a three-run homer, was in the eighth inning.
Paul Thormodsgaard, who came on in the fourth and pitched one-hit ball for three innings, picked up the win. The loss went to Balor Moore, tagged for seven hits and four runs in 2͔⅓ innings as the Blue Jays' exhibition record fell to 1-1.
The Phillies are also 1-1, having lost to Detroit, 2-1, on Saturday in their Grapefruit League opener.
Roy Howell cracked a double and three RBIs, while former Phillie Rick Bosetti hammered a double and accounted for he other two Toronto runs.
The Phillies failed in their efforts to acquire infielder Billy Smith from the Baltimore Orioles before the interleague trading deadline ended at midnight last night.
Where to find the ball clubs – and other attractions
By Cheryl Gordon, Special to The Inquirer
In Florida, the major league baseball season is already under way. Once you get to the right town for spring training, you won't need specific street addresses – everyone knows where the local teams work out, play and stay.
If you can't find a local expert, and if you don't take this list with you, look the team up in the local phone book, check out the best hotel in the area or just drive around looking for high-post stadium lights.
With a pending player strike April 1, spring training may be your only chance to see the major league players in action. Most teams practice in the morning, and game times vary. Check local newspapers for Grapefruit League game times and schedules.
Here is a list of the Florida teams' training and playing sites. In addition, even though it's hard to believe that you might get oversaturated with baseball and want to do something else, a few side attractions:
GULF COAST
Chicago White Sox – Payne Park, the winter home of the White Sox. Washington Boulevard and Ringling Street, Sarasota, 813-953-3388. Practice field: Allyn Field, 12th Street and Tuttle Avenue. Game time: 1:30 p.m. Tickets: $1-3.25. Team residence: Days Inn, Sarasota. Side shows: Ringling Museums, Circus Hall of Fame and Bellm's Cars and Music of Yesterday.
Cincinnati Reds – What's left of the "Big Red Machine" can be seen at Al Lopez Field, Dale Mabry Highway and Tampa Bay Boulevard, Tampa, 813-877-9350. Game time: 1:30 p.m. Tickets: $3-4. Team residence: International Inn, Tampa. Side show: Busch Gardens.
Kansas City Royals – The American League West contenders hide out at Terry Park, Fort Myers, 813-334-1984. Game time: 1:30 p.m. Tickets 50 cents-$3. Team residence: Ramada Inn, Fort Myers. Side shows: Thomas Edison's winter home and Ross Allen's Wildlife Park.
New York Mets – Not much can be said for a team that has finished last in the National League East for three straight years. The Lee Mazzilli fan club will be meeting at Al Lang Stadium, where the Mets play their games, Second Street and Second Avenue, S., St. Petersburg, 813-896-4641. Practice field: Huggins-Stengel Field, Fifth Street and 15th Avenue. Game times: 1:30 and 7:30 p.m. Tickets: $1-4. Team residence: Bay Front Concourse Hotel. Side shows: Sunken Gardens, London Wax Museum and the beaches.
Philadelphia Phillies – Jack Russell Stadium, Seminole and Greenwood Avenues, Clearwater, 813-443-0602. Practice complex: Carpenter Field, Drew and Coachman Roads, Clearwater. Game times: 10 a.m., noon, 1:30 and 8 p.m. Tickets: $3-4. Team Residence: Holiday Inn, Clearwater. Side shows: Tarpon Springs, sport-fishing fleet and the beaches.
Pittsburgh Pirates – Willie Stargell will be handing out stars at Bill McKechnie Field, 17th Avenue and Ninth Street, W., Bradenton, 813-747-3031. Game times: 1:30 and 7:30 p.m. Tickets $1-3. Team residence: Pirate City, Bradenton. Side show: Tropicana Orange Juice plant.
St. Louis Cardinals – A good place to wait for a Garry Templeton or Keith Hernandez autograph is Al Lang Stadium, where the Mets also play their games. First Street and Second Avenue, S., St. Petersburg, 813-8964641. Game times: 1:30 and 7:30 p.m. Ticket prices: $1-4. Team residence: Bay Front Concourse Hotel, St. Petersburg.. Side shows: Shuffleboard tournaments and Busch Gardens.
Toronto Blue Jays – Last year these birds were 50Vi games behind the first-place Baltimore Orioles in the American League East. If you have a hankering for seeing an underdog you'll find the Blue Jays at Grant Field, 311 Douglas Ave., Dunedin, 813-733-9387. Practice field: Englebert Field, 1700 Solom Ave., Dunedin. Game time: 1:30 p.m. Tickets: $2-3.25. Team residence; Ramada Inn Countryside, Dunedin. Side show: Busch Gardens.
CENTRAL FLORIDA
Boston Red Sox – The familiar red and white uniforms and Carl Yas-trzemski can be seen at Chain O' Lakes Park, Winter Haven, 813-293-3900. Game time: 1:30 p.m. Tickets: $1.50-3.50. Team residence: Holiday Inn, Winter Haven. Side shows: Barnum and Bailey Circus World, Citrus Showcase, Cypress Gardens, and Museum of Old Dolls and Toys.
Detroit Tigers – You can catch Mark Fidrych and Sparky Anderson hanging out at Joker Marchant Stadium, 2305 Lakeland Hills Blvd., Lakeland, 813-682-1401. Game times: 1:30 and 8 p.m. Tickets: $1.50-3.50. Team residence: Holiday Inn Central, Lakeland.
Minnesota Twins – If you didn't get enough of Gene Mauch when he worked for the Phillies, you'll find him in Tinker Field, Tampa and West Church Streets (next to Tangerine Bowl), Orlando, 305-849-6346. Game time: 1:30 p.m. Tickets: $1.50-3.50. Team residence: Harley Hotel, Orlando. Side shows: Walt Disney World, Beal Maltbie Shell Museum, Sea World and Stars Hall of Fame.
ATLANTIC COAST
Atlanta Braves – You may have missed former Phillie Gene Garber's autograph at the Vet, but you can find him in the Braves bullpen in Palm Beach Municipal Stadium, 715 Hank Aaron Dr., West Palm Beach, 305-683-6100. Game times: 1:30 and 7:30 p.m. Tickets: $3-4 Team residence: Sheraton Motor Inn, West Palm Beach. Side shows: Lion Country Safari and Henry M. Flagler Museum.
Baltimore Orioles – Earl Weaver and the birds will be in old Miami Stadium, 2301 NW 10th Ave., Miami, 305-633-9857. Game times: 1:30 and 7:30 p.m. Tickets: $1.50-5. Team residence: DuPont Plaza, Miami. Side shows: Biscayne Boulevard, Collins Avenue, Miami Seaquarium, Miami Wax Museum, Hialeah Park, Parrot Jungle and the beaches.
Houston Astros – Where else can you find a pitching staff like Joe Niekro, Nolan Ryan and J.R. Richard running in the, Florida sunshine? The Astros work out at Cocoa Stadium, Orlando Highway 520 and Friday Road, Cocoa, 305-632-5200. Game time: 1:30 p.m. Tickets: $1-4. Team residence: Astrotown, Cocoa. Side shows: Kennedy Space Center, Patrick Air Force Base and some of the more unusual beaches.
Los Angeles Dodgers – This entire area bleeds Dodger Blue. You can say hello to former Phillies personnel Danny Ozark and Jay Johnstone while you're there. Holman Stadium, Dodgertown, 4000 Walker Ave., Vero Beach, 305-5694900. Game time: 1:30 p.m. Tickets: $3-4. Team residence: Dodgertown, Vero Beach. Side show: McKee Jungle Gardens.
Montreal Expos – If you're lucky, Bill Lee will be holding court on the mound, sharing his words of wisdom. You can catch the Expos at home at City Island Park, Orange Avenue and Expo Crest, Daytona Beach, 904-258-3035. Game time: 1:30 p.m. Tickets: $2-4. Team residence: Inn at Indigo, Daytona Beach. Side shows: Daytona International Speedway and the drive-on beaches.
New York Yankees – Yankee practice goes on whether Reggie Jackson is there or not. Ft. Lauderdale Stadium (Yankee Stadium South), 5301 12th Ave., NW, Ft. Lauderdale, 305-776-1921. Game times: 1:30 and 8 p.m. Tickets: $2.50-5. Team residence: Gait Ocean Mile, Ft. Lauderdale. Side shows: Nightlife, beaches, International Swimming Hall of Fame and boat tours.
Texas Rangers – It doesn't look as if Sparky Lyle is going to join the Phillies pitching staff. You'll have to go to Municipal Stadium, 18th Avenue and Eighth Street, NE, Pompano Beach, 305-946-6125. Game times: 1 and 1:30 p.m. Tickets: $1-4. Team residence: Surf Rider Club, Pompano Beach.