Philadelphia Inquirer - March 17, 1980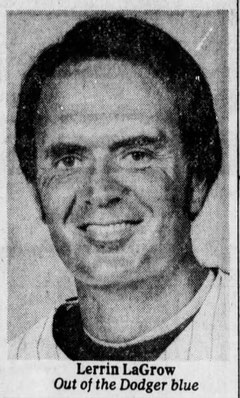 Is LaGrow the hammer the Phillies must have to nail down pennant?
By Jayson Stark, Inquirer Staff Writer
CLEARWATER, Fla. – They couldn't trade for Sparky Lyle. They couldn't gather up enough dollar bills for Don Stanhouse. They did pick up a guy whose name sounded something like Sutter, except he turned out to be Burke, not Bruce.
Dallas Green kept saying how the Phillies needed a "hammer" for their bullpen. But as January rolled around, it looked as if the only place they were going to find one was a in hardware store.
So just for the heck of it, Paul Owens put in a call to the Home for Wayward Relief Pitchers. Seemed to be kind of a futile gesture, because normally, there are no wayward relief pitchers, except for an assorted Mac Scarce or Diego Segui, attempting to embark on their 35th comeback.
But imagine Owens' surprise when he found there was a guy out there who had averaged 15 saves and six victories a year for the last three seasons.
Well, the Pope gobbled him right up, signed him to a one-year deal for a measly hundred grand or so. But it makes you wonder. What was Lerrin LaGrow doing so available anyhow?
"I think a lot of clubs got scared by the fact he had that operation (to remove a bone spur from his heel) in the off-season," Owens said. "But it wasn't even an arm operation. There was never anything wrong with his arm."
Quite an array
LaGrow, 31, is a 6-foot, 5-inch, right-handed bullet-thrower, complete with sinking fastball and a plummeting split-fingered pitch. He began 1979 as the No. 1 relief pitcher for the Chicago White Sox, having saved 25 games in 1977 and 16 games in 1978.
But be was also a year away from free agency. And the White Sox are not only notoriously anti-disco, they aren't real high on potential free agents, either. So they sold LaGrow to the Dodgers last May.
That bone spur on his heel limited him to only 31 appearances. But after he came off the disabled list in September, he was 3-0, 0.75, with two saves, and bad nine strikeouts in 12 innings.
You'd think that would have convinced somebody – especially the Dodgers, who needed relief pitchers last year like Buffalo needed snow plows.
But you have to understand the Dodgers. They put together rosters the way MGM casts movies. Lerrin LaGrow's name didn't have the old Hollywood pizazz. Don Stanhouse's did. So Stanhouse transferred his money-market certificates to First National of L. A. And LaGrow headed for the Free Agent Freeway.
Blasts Dodgers
"I've never really blasted the Dodgers before, but I'm going to say it now," said LaGrow. "I'm glad I didn't sign there. I was the top guy they had there, except when I was hurt. In fact, I still remember (manager Tom) Lasorda asking me, 'You're gonna sign here, aren't you?' He really wanted me.
"But (general manager Al) Campanis turned the negotiations into a belittling experience. My agent and I went in, and Campanis said, 'Lerrin's not that caliber of pitcher. We can't pay him that kind of money.'
"It wasn't like I was looking for four or five years, either. I just don't understand it. The Dodgers' track record is, they'll spend any amount of money if they need a particular commodity.... They just went for Stanhouse. He was a big name, he had a good year, he was in the World Series."
That left LaGrow to dicker elsewhere. Four clubs offered him more than the Phillies did. But Philadelphia looked like the place least likely to turn into Son of Anti-Disco Night or to go show-biz on him.
"Today's the first time I'd really seen him," said Green yesterday after LaGrow had worked two perfect in the Phillies' 44 victory over Toronto. "He looks like he can help."
NOTES: Although the Phillies were not able to make the Billy Smith deal before Saturday's interleague trade deadline, it may still take place. The Orioles have waivers on Smith, so he can be traded any time. But rookie infielder Luis Aguayo, 21, has looked more than capable so far, so Smith might be looking less desirable.... Larry Christenson worked three strong innings (two singles, two strikeouts) and looked, Green said, "like he could win a few games for me."... After Christenson left, Carlos Arroyo, Dan Larson, Jose Martinez and LaGrow no-hit Toronto the rest of the way.... Greg Luzinski knocked in all the runs with a pair of two-run homers off Jim Clancy. Luzinski double-pumped a slow curve past a light tower in left-center in the first, then smoked an inside fastball by the foul pole in left in the third.
Owners created baseball mess
By Frank Dolson, Inquirer Sports Editor
CLEARWATER. Fla. - Ten-thirty on a Sunday morning, and the people were gathering outside Jack Russell Stadium waiting for the gates to open. Three hours before the first pitch in a Phillies-Toronto Blue Jays exhibition game, and already the line for tickets had formed.
That's the crazy thing about this spring training. The game appears to be so healthy. Attendance is so high. Salaries are so high. And yet, with each passing day, the possibility of a player strike seems to grow.
Under the circumstances, it's hardly surprising that the public doesn't understand that possibility... and doesn't really want to understand.
"I don't think you're going to see too many fans on the players' side," Phillies' player rep Larry Bowa said. "The fans see that bottom line, what you're making. They don't want to hear about that other crap, maybe because they worked so hard for their own money."
The fan attitude was driven home to Bowa recently by hiS father, once an aspiring baseball player himself who never made it to the big leagues.
'My dad worked hard'
"Talk about a guy that worked," Bowa said. "My dad worked hard. I mean, he got up at six in the morning, got home five at night. Worked in a printing plant. Well, my dad called me up and he said, 'What are you guys doing?' I tried to say, 'Dad, will you listen to me?' 'Aw, bull,' he said. 'You play baseball, you slide into second, you get your uniform dirty, that's what the game's all about.'
"He's uptight because he lives and dies for baseball. If there's a strike, he's going to go crazy. 'Geez,' he said, 'you guys want the moon?' And that's my father. That's a guy whose son plays baseball. Even he won't listen. If my dad feels like that, I can't imagine how an everyday worker feels."
He feels betrayed. He feels angry. He can't understand how men making hundreds of thousands of dollars a year can seriously talk about striking."
'Saber-rattling'
Fact is, even some of the management people can't understand. Two days ago, National League president Chub Feeney stood in the press box at Al Lang Field in St. Petersburg and acted as if a player strike weren't that strong a possibility. He suggested that the players were "saber-rattling," that prospects weren't nearly as grim as some of them would lead you to believe.
"If they really believe that," Phillies catcher Bob Boone said yesterday, "then there is going to be a strike."
Boone is the National League player rep. He doesn't want to strike. There isn't a big league player who wants to strike. But he believes strongly in the Players Association's position, and he is prepared to strike – no matter what somif the owners may think.
"That's what concerns me most," Boone said. "There's a feeling the players are kidding. I've seen it at the negotiating table.
"This is no publicity stunt. It's the way the players feel, and once the other side understands that, hopefully there'll be some good faith bargaining. Right now there is none because they don't think we're going to strike. They think, 'Well, we'll play....' But we're not going to. That's the way it is. What scares me is their attitude. They're not listening. They're not hearing us. That's what has me concerned."
Fans don 't want to hear it
Let Bob Boone stand up and deliver that speech to a group of fans, and he'd probably get booed off the rostrum. The people don't want to hear it. They don't want to hear that Garry Maddox, who is making a bundle of money for playing center field in Philadelphia, hasn't signed a new contract because he wants to make an even bigger bundle. They don't want to hear that athletes who are already getting huge sums of money may be carrying picket signs outside big league ballparks next month.
And they certainly don't want to pick up a newspaper and have somebody tell them that the players – not the owners – are in the right.
But I still believe, as strongly as I ever did, that the players are in the right, that it's ridiculous for the owners to demand compensation for free agents – in effect, eliminating free agency – and utterly absurd for them to try to set up maximum salaries for big league players in their first six years.
And above all, I believe the responsibility for the current mess belongs to the owners. If salaries have skyrocketed beyond reason – and they have – the owners did it. And they are continuing to do it. Even as they argue for maximum salary levels, they persist in handing out whopping contracts that ignore their own guidelines.
"They just continue to give out money," Mets player rep John Stearns said. "How do you moan (about inability to pay) for four years and continue to give the money out?... I think the owners have done a good job of misinforming the public. Doesn't it have to be a bluff when the Cardinals just gave Keith Hernandez and Garry Templeton $8 million?"
Even some baseball people who might be expected to take management's side are beginning to question it.
"Some of these players have got a lot of money," Tigers manager Sparky Anderson said, "But why did they get it? Owners went out and outbid each other to get them. So how can you blame the players? I know I'll be in trouble for this, but in total fairness, how can you blame them?
"Look what's happening now. After this pay scale thing had been presented (by the owners), clubs went $200,000-$300,000 over that scale. What are we doing? Are we talking put of one side of our mouths or two sides? I don't believe the players would've ever gotten in this syndrome had it not been for some of the owners."
`"The owners created a monster by having a draft of mediocre ball players (free agents) and going crazy," Phillies outfielder Greg Luzinski said.
"Crazy" is the word. The real problem is that the owners have been unable to control themselves, so now they are trying to set up artificial controls on the players.
"I don't think you can ever explain it to the average guy," Bob Boone said. "He's not going to understand."
The average guy wants to read about baseball, not labor negotiations. The average guy must wonder sometimes if the men who run baseball, and the men who play it, care as much about the future of the game as the fans do.
"I've been playing the game since I was 4 years old," Boone said. "There's definitely a feeling. You wouldn't want to hurt the game after all it's given us. It's given me everything I have, and I am concerned about its future. My kids want to play. I want to watch it. I might want to work in it. So, as a player, you are concerned...."
But as a player you see those whopping salaries still being handed out, you see the New York Mets, the worst team in the National League East, a team that drew only 788,905 fans last season, get sold for $21 million, and you know that, the money is there, and you fight to protect all the things you achieved over the last decade.
And you know. that the public doesn't want to hear it, that the popularity of the game may be seriously affected.
"A guy reads where players are getting $600,000-$700,000 and then he reads that they want to strike," Sparky Anderson said, "and I think pretty soon he says, 'The hell with it.' He doesn't really understand the thing. I don't really understand...."
The fans don't understand. Sparky doesn't understand. Larry Bowa's father doesn't understand....
And it's beginning to look as if some of the owners don't understand.
They, at least, had better see the light soon. Their game has never been more popular. The lines at the ticket windows have never been longer. But baseball is in an awful mess.