Philadelphia Inquirer - March 2, 1980
Baylor slide strikes fear at second
By Allen Lewis, On Baseball
Two of baseball's best shortstops, Rick Burleson of the Red Sox and Larry Bowa of the Phillies, are in agreement on one thing – they aren't especially happy when the American League's Most Valuable Player last year, Don Baylor of the Angels, is sliding into second base.
"The five toughest base-runners in the American League, because they get down (to second) so fast and slide so hard," Burleson said, "are George Brett, Hal McRae, Al Bumbry, Ron LeFlore and Baylor. But Baylor's the toughest."
"In our league," Bowa said. "I'd say Ted Simmons, but only on a slow-hit ball because he doesn't run well, Dave Parker, Bill Madlock, Enos Cabell and Dave Winfield. Madlock is very aggressive, and Cabell is tough because he gets down there really good. But I'd have to say Baylor might be the hardest of all. I played against him in the minors and he is very aggressive.
"You'll notice," Bowa added, "most of them are outfielders, so you can't get back at them. But none of those 1 mentioned are dirty. They just play hard."
NOTES: The Red Sox may get the most out of two of their oldsters, newcomer Tony Perez and Carl Yastrzemski, by playing one at first base for a week and then the other for a week, with one serving as the designated hitter.... They say the Dodgers ended up bidding against themselves when they signed free-agent pitcher Dave Goltz and that their final bid ($3 million for six years) was $600,000 more than the next highest bid.... Manager Dick Williams of the Expos, who said he'd be happy to win 95 games again this year "and take my chances," surprised everyone when. he said, "Andre Dawson is my centerfielder." It was expected that Ron LeFlore, obtained in a trade with Detroit, would continue in center, but Williams said of Dawson, "He had the job last season and he's going to get even better. He's going to be an outstanding ball player." Aside from that, Williams may have been influenced by the fact that Montreal has been able to sign LeFlore for just one year so far and that he had arm trouble last season.... Bill Robinson turned down a trade to the Astros because Houston said he'd have to play under his current contract for its final year, and the team would then evaluate his worth. The Astros, who could use Robinson as their regular first baseman, may regret not giving him what he wanted. They desperately need the home run power he would provide as an every-day regular.... The Rangers have already sold all 41,000 seats for each of the four games in their season-opening series against the Yankees. If there's a strike by the players, it could cost Texas $750,000. The Rangers have already sold a club record 5,000 season tickets, and the figure should hit 6,000 by opening day.... Pirates manager Chuck Tanner confesses: "I wrongly used Willie Stargell last year when he was tired. If he plays 100 games this season, I'll be happy."... The 1980 All-Star ballot lists five Yankee outfielders and also has former White Sox second baseman Jorge Orta among the outfielders, although the new Indian has played 903 of his 990 major league games as an infielder.... Funniest line of the young year to date: "There have been a lot of newspaper reports that came out that said there's a lot of bitterness between myself and the Dodgers or Tommy. All I can say is that a lot of it has been blown completely out of proportion." The speaker was current Giant coach Jim Lefebvre on a TV interview minutes after he had finished decking Dodger manager Tom Lasorda in a vacant studio.
•
Answer to last week's Trivia Ques tion: Ron Reed, now with the Phillies, was the winning pitcher and Al Downing the losing pitcher when Hank Aaron hit his 715th home run to break the career record of Babe Ruth as Aaron and the Braves defeated the Dodgers, 74, on April 8, 1974, at Atlanta. First with the correct answer was Kain Smith of Medford, N.J.
Trivia Question of the Week: Name the only major league team in this century to win a pennant without at least one pitcher winning at least 15 games.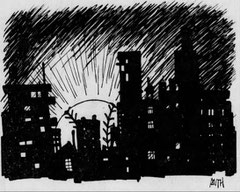 If the luminaries cavor, can spring be far behind?
By Edwin Guthman,
Editor of The Inquirer
Unless you fervently hope President Carter should be re-elected or believe he should be replaced by Ronald Reagan, the results from New Hampshire were dismal. So was the news from Iran, Afghanistan, Colombia and the inflation front at home.
But hold it, just a minute. The first reports from the Grapefruit Circuit were getting into the paper. Lefty was running laps. The Bull had shed 20 pounds and was eyeing the ball through glasses. Bru's arm was said to be coming around.
Sure, we'll probably never see anything like the incredible U.S. Olympic hockey team again. Sure, the 76ers won three close encounters on the West Coast, the Flyers played a tremendous game in Buffalo and the Big Five teams are battling for tournament berths. But will the Phillies' pitching staff straighten up? Can Rose duplicate last year's performance? What about a dependable right-handed pinch hitter?
Ah, don't mind me. I get this way every year. The first twinges occur invariably on Dec. 22 when the days start getting longer but I don't really start feeling it until now – when spring training camps are about to open in Florida, Arizona and California.
It means spring is on the way, but better yet, there's a whole season of baseball to look forward to.
When I was a boy it also meant that it wouldn't be long before there'd be enough daylight to play outside after dinner; that the ball game that started in the vacant lot shortly after school would continue; that some of our dads would join in. Our sisters and other girls were included only if we were short a few players, which wasn't often.
In those days the first warming signs that baseball season was approaching came in the newspapers, too. For several weeks there'd be articles about Babe Ruth's contract hassles with Col. Jake Ruppert, owner of the Yankees. Then, in the first or second week of February, we could count on going to the Neptune, the neighborhood theater, and seeing newsreel photos of the Babe working out on a bicycle in a gym.
"Yes, sir, the Babe is' rounding into shape," the commentator would sav and when we went home we'd get our mitts out and rub them with oil regardless of how cold or rainy it was outside.
Boyhood in a minor league city in the West had its drawbacks. We talked a lot about seeing a big league game. It was an ambition we all shared but was not to be realized until we went into the service in World War II.
Nevertheless, we did see the Babe play. He came through Seattle one fall with a major league all-star team enroute to Japan. Before boarding the boat, the all-stars played a team of Pacific Coast Leaguers at the old Civic Field which was all dirt, no grass in the outfield or infield.
The Seattle Indians had been playing some games at night for several years, but the major leagues were still playing all games in daylight. I don't remember anything about the game except that it was the Babe's first experience playing under lights.
The first time he came to bat he struck out with mighty swings on three pitches. Then next time he struck out again. Exasperated, he turned to the crowd and bellowed, "You can't hit what you can't see!"
The various athletic seasons didn't overlap like they do now. They were sharply defined then and we followed them religiously. Nothing was organized for kids the way it is today. That's just the way it was.
Nobody questioned that we didn't play baseball until the Indians started spring training. We began playing football on the day the University of Washington Huskies played their first game. Basketball in Ray Drebin's driveway and roller hockey in the street followed the local teams' schedules precisely – from mid-November to mid-March.
Sportswriting was different, too. Common English was to be avoided whenever possible. Baseball players were invariably referred to as "luminaries." Football players were "gridders" and they didn't wear uniforms. They "donned moleskins." Runners were "thinclads" and a basketball was a "casaba."
Forty-five or 50 years ago Pete Rose wouldn't have been playing first base. He'd have been "holding down the initial hassock." Manny Trillo would have been at the "keystone sack" and Mike Schmidt would have been at the "hot corner."
Bob Boone wouldn't have been catching. He'd have been "donning the tools of ignorance." As for Garry Maddox, he'd have been "toiling in the outer gardens." Even the sportswriters weren't writers. They were "scribes."
Yes, a lot has changed, but one thing hasn't. So the weather is bitterly cold and the news is generally bad. For me, right now, it's enough to know that spring training starts this week and it won't be long before the luminaries are cavorting at the orchard. Okay, make that the Vet.

Phila. Phil, Phyllis are put on waivers
There's spring training, and then there's spring cleaning. The Phillies are doing both, the former in warmer climes, the latter yesterday and today at Veterans Stadium in the form of a clearance sale. Among the. items to be sold are Philadelphia Phil, Phyllis and the Liberty Bell, all of which will be sold to the highest bidder, according to Phillies executive vice president Bill Giles. Giles plans to replace the figures, which used to spring into action at every Phillies home run, with a new center field extravaganza. So far, $3.50 has been offered for Phil and Phyllis each and $1,000 for the bell.