Philadelphia Daily News - March 25, 1980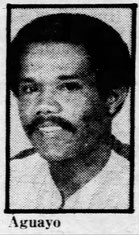 Phils' Latin Connection Paying Off
By Bill Conlin
CLEARWATER – Quick now. name the last Latin American player signed by the Phillies who worked his way through the minors and became a significant performer in he red pinstripes.
If you said Adolfo Phillips you are... wrong. Phillips, a swift, nervous kid from Panama, went to the Cubs long with Ferguson Jenkins before the 1967 season.
To find a Latin signed by the Phillies who played as a regular you have to go all the way ack to 1960. Pancho Herrera was a big amiable long-baller who played first base and achieved lasting fame when Gene Mauch tried to make him baseball's first 235-pound second baseman.
Every significant Latin to play for the Phillies in the modern era – Tony Taylor, Ruben Amaro, Tony Gonzalez, Cookie Rojas, Manny Trillo, Nino Espinosa – came to them through trades with other organizations. That is not to say the Phillies haven't tried to establish a Latin Connection. When Dallas Green became farm director in 1972 he appointed Amaro as director of Caribbean scouting and the Phils set out to grab their share of talent in the lush free agent market comprised of Puerto Rico, the Dominican Republic, Venezuela and Panama. Since then, the Phils have signed an average of two dozen Latin free agents a year, most of them teenagers, one the celebrated Jorge Lebron, who was signed at 14 and released when he turned out to be built more like a sumo wrestler than a shortstop.
BUT PLAYERS LIKE Roberto Clemente, Juan Marichal and the Alou brothers have been hard to come by. The Phillies have yet to come up with a Luis Aparicio, Orlando Cepeda, Tony Perez, Tony Oliva, Rico Carty or Cesar Cedeno.
The problem is, the Pirates, Reds and Giants have had a fruitful Latin conduit for decades. Success has bred success and they grab off the blue-chippers. A kid from a Latin baseball-playing nation tends to favor clubs where local legends go on to stardom.
The Phillies managed to serve cups of coffee (Columbian, one would suspect) to guys like Ricardo Joseph, a big amiable Dominican, who when seen two years ago was gravely ill with diabetes. There was right-handed reliever Luis Peraza, a shaven-headed spitballer, who once called time, went to the bench in Candlestick Park and coated his head with a fresh supply of Vaseline. And Jesus Hernaiz, short on stuff but smart enough to currently be a minor league pitching instructor.
Green's Sugar Cane Railroad may be on the verge of paying its first modest dividend in the person of a 5-9 infielder named Luis Aguayo (ah-GWA-yo). Luis turned 21 on March 13, but he's been around the organization since 1976.
I REMEMBER ASKING Jim Bunning, who was managing Caguas in the winter of 197575-76, if the Phillies had signed any prospects worth mentioning. "Luis Peraza and I just signed a 17-year-old shortstop named Aguayo they tell me is the best infield prospect down here in 10 years," Jim said.
Aguayo is a stubby little guy with much better range at short and second than conversational English in the clubhouse. If there is any justice, or any sincerity in Green's stated desire to give deserving minor leaguers the benefit of the doubt over hanging-on veterans, Luis will make the varsity as a utility infielder this season.
"He's been impressive," Green says. "He's in the picture."
Aguayo's solid play here – he has doubled in each of his last three at-bats and handled everything at second, short and third – probably caused the manager to veto the deal for Baltimore's Billy Smith.
"They have to start throwing the minor leaguers some crumbs," says Ozzie Virgil, a native-born Puerto Rican, who played with Aguayo at Caguas this winter. "We can't stay down there forever waiting for all the long-term contracts to run out. Luis is a good little ballplayer. I'd like to see him make the club. It would be an incentive to the rest of us in the minors, show us we've got a chance."
STANDING SQUARELY, if not securely, in Aguayo's path to a seat on the bench this season is 36-yearold Bud Harrelson, who left a weekend Softball league last summer to sign a two-year contract when Larry Bowa and Manny Trillo were injured. Buddy makes a lot more money than Luis Aguayo and his contract is guaranteed.
Thus it would be a matter of easy political expediency for the Phillies to ship Luis back to Oklahoma City tor another year, falling back on a crutch that has less and less validity in free-agent era baseball. "We think a young kid like l.uis should be out playing everyday," that line goes, as if Bowa and Trillo won't be around next year.
What they should be saying is. "We feel a player like Aguayo can be of more help to the organization in the majors, even if it means a limited role on the bench... We don't necessarily feel a player with big league skills can learn that much in the minors."
"He makes good contact," says Taylor, stationed at the minor league complex as an infield instructor. "He's got good actions and he's aggressive, so he might make a good pinch-hitter. Luis is very, very solid in the field. He can play short, but second is his best position. He can make the pivot."
That would seem to describe the utility infielder Green has been looking for, a guy who can fill in at three positions, crack a line drive once in a while and run the bases with speed that is just above average.
And think what Luis would do for business on Green's Sugar Cane Railroad.
PHILUPS: Nino Espinosa will expose his long-idle arm for an inning or two in a "B" game this morning... Warren Brusstar is a safe bet to open the season on the disabled list. The knot which appears behind his right shoulder after the troubled reliever throws sounds suspiciously like chronic bursitis.