Philadelphia Daily News - March 27, 1980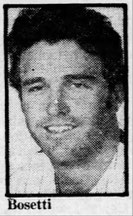 Bosetti Yearns to Be with Phils
Spring Fever By Stan Hochman
DUNEDIN, Fla. – Rick Reuschel picked Rick Bosetti off first base. Had him nailed from here to Manayunk. Even before the first baseman applied the tag, Bosetti could feel the earth tremble.
"They were booing me before I hit the ground," Bosetti said. "Before the first baseman even tagged me. It was Rick Monday. Rick-Rick-Rick, how's that for a piece of trivia?"
It happened in September of 1976, in the cauldron of a pennant race. The Phillies summoned Bosetti from their Oklahoma City club, where he had stolen 42 bases.
"First time I got in, it was as a pinch-runner for Dick Allen. Wow? That's what I thought. Wow!
"On base, one pitch, ground bail, I break up the double play.
"The next time, it's against the Cubs, Reuschel pitching. Hit-and-run, I had the base stolen. It was a bad pitch and all J.J. (Jay Johnstone) had to do was swing through it, or take it.
"He fouls it off. Now, I'm going back to first base and I'm cocky as hell. I'm thinking, 'This old bleep ain't gonna pick me off.'
"He'd thrown over there twice, two different moves. I figure, one's the good move, one's the bad.
"But this time, he gives me that bent-leg thing, and I'm dead. They booed, oh, did they boo.
"Next chance I get is against the Pirates. Tommy Hutton is the hitter. Hit-and-run.
"He chops one between third and short. I go hard, round second base. Mendoza goes over, gets it, plants, jumps, fires to second base in midair.
"How could he know I'm running that hard? I'm only at the edge of the dirt, but I'm dead.
"There's no way in the world he makes that play. I played against him all last year and he never once did it.
"Ah, I figured it can't be this tough. I thought I'd been through my two roughest points, that if I ever got the chance to play again, it would be all downhill."
Wrong again. The Phillies won the division that year, returned Bosetti to Triple-A and swapped him to the Cardinals the next year.
VERNON RAPP WAS managing the Cardinals then, so how come Bosetti wasn't grinning?
"I had had a run-in with Rapp when he was managing Denver," Bosetti said. "I was at Okie City, leading the league in stolen bases, runs scored, at-bats, games played. And he passes me up for the All-Star team.
"He chooses Tony Scott, his center-fielder, who had started the season platooning.
"He told me it was a numbers thing, that Okie City had too many representatives. I had a 'perm' then, a full beard. His players had short sideburns.
"My hair, the beard, blinded him. I buste my butt on the field, that's what counts. I confronted him. I told him I felt he was a bigot.
"And then, I get traded, to him. I knew it was history. I knew I ain't gonna do anything but pack golf bags."
Pack golf bags? Whatever. Bosetti shaved the beard, straightened his hair and played seldom. Jim Bunning, his agent, engineered the trade to Toronto.
Last year, his second season with the Blue Jays, he played in all 162 games. Just barely.
"I got thrown out the very first game, second inning, my first at-bat," Bosetti recalled, grinning boyishly.
"We had those jerk umpires filling in. We've got men on second and third, no outs. The infield's back.
I'M TRYING TO drive in the run. I hit the ball toward first, two steps to Warthen's right. He boxes it. He gets five feet from the bag and he realizes he's not gonna get me.
"He makes this little turn in, two feet from the bag, to check the runners. The ump calls me out. I snapped.
"I throw my helmet, but he doesn't throw me out because he knows he blew it. I get back to the dugout, and Whitey Herzog runs out and tells another ump that it's an automatic ejection for throwing equipment. So, I'm gone."
He played them all after that, led the league in assists with 18 and put-outs with 466. Most of the putouts were one-handed catches. It is his mustardy style.
"I play the same way I always played," he said. "Suddenly, I get here and I'm a hot dog.
"The fans, they're still a little green. The writers, too. We've got writers who were covering Junior A (hockey).
"Ah, if I played in Philly, they'd be saying I had flair, or I was chancy, aggressive. I'd love to play in Philly.
"I guess I can't go back. The stigma of those pickoffs. The thing is, they traded for Bake McBride, looking for a left-handed hitter, defense.
"I'd have given them just as much defense. I guarantee you I'd have thrown more guys out."
HE HIT 1.000 last year,.260 with his bat,.740 with his mouth. Even led a mutiny against Roy Hartsfield, the manager.
"I guess someone had to," he said, snatching his uniform out of the only clubhouse locker without a name plate. "Last year was a bad experience.
"There was no respect on the field for the manager. Or for the front office.
"Tom Buskey said what we needed was a new manager and the bleep began to fly. People were saying, how can expansion ballplayers say who should be where?
"You can't treat us like expansion players. Last year, they wanted everybody running on and off the field like robots, no personality.
"I like to have fun... and bust my butt every day."
The Blue Jays replaced Hartsfield with the ever-popular Bobby Mattick. On the theory that a manager today must overlook half of what he sees in the clubhouse, they hired a one-eyed man.
"I didn't realize that," Bosetti insisted. "He's OK. I live in Toronto all year round. I've had lunch with him.
"I can talk to him. Last year, I couldn't say bleep to the manager."
Bosetti ran his right hand over five days' worth of stubble that makes him look older than 26. He is growing a beard under the new, relaxed rules.
"I don't know if it's appeasement for last year or what," Bosetti said. "But Mattick just wants us neat. No Rip Van Winkle thing.
"Last year the guy's attitude was completely zero, negative. Too many guys from the old school, they see things as threats to their power.
"PEOPLE CHANGE, personalities change, motivational factors change. You can't reach guys with the same old college rah-rah crap. And you can't use the military way either, 'If I say do it, you do it.'
"I'd like to get out of here. They waited 'til the day before arbitration to sign me. Gave me what I wanted, but they waited four months.
"How many years do I have? How long does a white centerfielder start? Three, four years? It's a stigma, a reverse racial thing. I think that's why they traded me out of the National League.
"Nothing would tickle me more than to get back to Philly. I d love to play on a club like that. Be no pressure on me for offense.
"I'd hit seventh and love it. Ahhhh, when's the last time they got an every-day player out of their system? Mike Schmidt, 1973, that's when."
He talks that way all the time, unconcerned about backlash. He gives the bigots a field day, insisting he is part Italian, part French-Canadian, part Indian, part German.
That is known as touching all bases. Rick Bosetti has learned a lot since September 1976.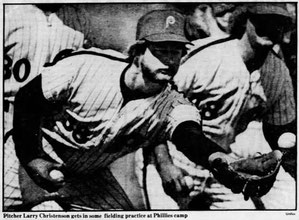 Christenson Says He Will Be Set to Go
By Bill Conlin
CLEARWATER – Larry Christenson threw off a mound for the first time since Jason Thompson knocked him off one in Lakeland a week ago. The righthander just lobbed the ball because the bruise on the inside of his left knee still won't accommodate a full stride.
But it was progress for a hard-luck pitcher who has spent more of his career on ice than Eric Heiden. Christenson loosened up the arm that was coming along so nicely and then turned himself over to assistant trainer Jeff Cooper, who fitted the super-cooling sleeve to the pitcher's left leg. If there is such a thing as reincarnation, he will come back as a penguin.
You figure a guy born minus a vertebra in his lower back isn't destined to be nicknamed "Lucky Larry." And in a career filled with false dawns, he has been cut twice (right elbow and right collarbone) and disabled at various times with back injuries and severe groin pulls. His patron saint is definitely not St. Jude.
While the super-cooled water anointed Christenson's knee, lefthander Jim Kaat pumped away on the stationary bicycle.
JIM KAAT? YEAH, it was that Jim Kaat. Kitty, trying to make the Yankees staff at age 40, visited Jack Russell Stadium yesterday morning. It was business, not pleasure. "We're playing three games on this coast and none of the parks but this one has a stationary bike," he said. "So here I am."
Kaat's eyes grew wide in mock horror when Christenson told him the pitch Jason Thompson turned into a heat-seeking missile was a fastball down and away.
"I'm blaming it all on (rookie catcher) Keith Moreland," Christenson said. "Kitty told me, You didn't pitch him down and away, did you?" I said yes and he said. 'You can't do that.' I was shaking my head to Moreland. I shook it twice and said, no, no. no. The first time up he hit the ball to right-center. The seer end time I got behind 2-0 and jerked him off with a nasty changeup and Moreland wanted to throw a fastball low and away.
"He wanted to throw a fastball low and away and I said, 'You've got to be crazy.' He called it again and I shook my head, no, no. Finally, I figured he hit it last time so maybe he won't be looking for it. I threw it again and, whacko!"
For the second time in 13 months, Christenson's career flashed before his eyes. He remembers the railroad crossing coming up at him on the rural California highway like a slow-motion apparition.
"On the bike I was up in the air, hit, bounced a couple of times, turned up and landed in the gravel," Larry remembered, shuddering. "I was in pain but I was just shaking my head.
"WHEN THOMPSON hit me in the knee I went flying up in the air and all through the air I could feel a pulse start to throb where the ball hit and by the time I hit the ground I was sure something was broken. I felt a mushy sensation in there. It must have really bruised the bone in there because it's taking some time to heal. When Dave Kingman hit me (in the hip) that time I was out the next day running. Not this time."
Larry doesn't remember seeing Thompson's liner rising through the heat waves of a 93 degree afternoon. But the videotape shows he definitely reacted to the ball – late but instinctively.
"I must have seen it." he said. "On the films my glove went down, but I didn't have a chance. My conscious self didn't see it. There was a ground ball before that hit up the middle and I didn't see that. There was nothing but white shirts up there. I wondered how Fidrych felt on that ball Rose hit at him in the first inning. He just reflexed that one. But that was up around his head, a matter of self-defense. I'm just glad it hit where it did. If it had hit the kneecap I'm sure I would have been out two years. I've always said I should have been an architect."
An architect. Can you see the headlines? "Building falls on architect" Or, "Falling beam flattens designer."
"I always wanted to be an architect," Larry said. "I took four years of mechanical drawing in high school, was doing college-level work. Then we got into higher calculus and I found out to be an architect you really had to use your brain. I got lost in the higher math, I guess, and kind of lost interest."
HE CALCULATES he'll be ready to resume his exhibition season in about five days, wjiich will bring him up against the ominous and onrushing April 1 strike deadline. It is a perverse thought, but Christenson, Dick Ruthven and Nino Espinosa would probably profit from a strike which dragged on for three weeks or so.
"The last thing in the world I want right now is a strike," Christenson said. "Hell, I've been down here working since Feb. 1. I was the first guy down here. Me and Billy DeMars. Until this thing happened I was in the best shape of my life, really feeling strong. I want the season to start. It means a lot to me, going into a season healthy. This time last year I was walking around with my arm in a sling. I was looking at May before I could even throw. I don't want to go through another season like that. I'll be ready to start by April 11, when we open. My arm's in pretty good shape. I didn't have good stuff over in Lakeland because I was so damned tired from the heat. It was so hot and muggy that it drained me before I went out there."
One of the raps against him is that he runs out of gas too early in the dog days of July and August. Christenson is the first to admit he is used to the wine-like coolness of summers in the Pacific Northwest. "I just die when I pitch in towns like Atlanta and St. Louis. It's even hard for me to breathe. Six years pitching in Philly and I still can't get used to the heat and humidity."
Maddox, Phillies Getting Closer
By Bill Conlin
CLEARWATER – Garry Maddox. Baseball's best centerfielder, is off the trading block. For the time being at least.
Maddox has come down a little in his salary demands, Ruly Carpenter has gone up a little in his offer and the Phillies owner is back in negotiations with agent Jerry Kapstein.
"As long as there's talk, there's reason for optimism," Maddox said yesterday. "Ruly's tied up in owners meetings right now. but he's scheduled to get together with Jerry when he gets back from them. I don't think it's any secret I want to play for this ballclub. I just hope things can be worked out to the satisfaction of both parties."
PHILUPS: Mike Schmidt drove in six runs with a pair of homers and sacrifice fly and the Phillies outlasted the Mets. 9-8. in St. Pete. Rookie catcher Keith Moreland continued his impressive power hitting with a pair of doubles and Lonnie Smith added to a fine spring with three singles, a walk and sacrifice... On the minus side, Dick Ruthven had another unimpressive outing, allowing five runs and eight hits in four innings. Ron Reed and Tug McGraw followed Ruthven, allowing one and two runs, respectively. McCraw's scoreless-inning streak was halted at six... Schmidt has four spring homers and 1 1 RBI... Steve Carlton will go against the White Sox at Jack Russell Stadium today and will probably try to go at least six innings... Bill Giles says. "As optimistic as I try to be. a baseball strike appears to almost be a certainty."