Philadelphia Daily News - March 3, 1980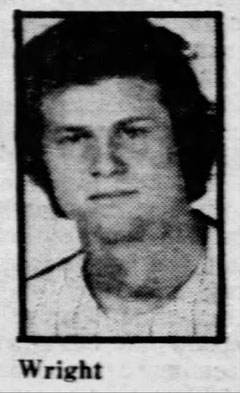 Phils' Wright Hopes for Better Breaks
By Bill Conlin
CLEARWATER – Tim McCarver wondered what the kid pitcher was doing throwing a changeup when he had clearly signaled for a fastball.
OK, attention spans tend to be short in spring training "B" games, but this was ridiculous. The veteran catcher began the mandatory jog to the mound to remind rookie righthander Jim Wright that March 21 was not an appropriate date to play head games.
By the time Timmy had flipped his mask off, Wright was halfway to the dugout "That's it, I'm through." the kid was saying, and McCarver noticed Wright's pitching arm was dangling limply.
March 21. 1979... It was the saddest day of the Phillies sad spring, a spring when a day rarely passed without an incident of grim foreshadowing. What happened to Wright, who threw a fastball which looked like a changeup because his right ulna bone broke in mid-delivery, did not doom the Phillies to fourth place. But it ended the season for their brightest minor league pitching prospect and cast a long shadow on his career.
So on March 2, 1980, a day more fit - A day more fit for Ice Station Zebra than what the Chamber of Commerce likes to call the "Golden Suncoast," Wright's presence in the Carpenter Complex clubhouse helped cancel out the 50-MPH wind gusts and plummeting, temperatures.
This is the fourth consecutive season in which arm problems or convalescing have put an embargo on skills which were impressive enough to produce a 42-19 record for Wright in three-plus minor league seasons. Jim was hurting at the end of 1977, when he was 14-6 at Oklahoma City. The medical men felt his sore arm was caused by an ulnar nerve problem. Then they discovered a tumor on the bone just below his elbow that was pressing against the nerve and causing intense pain when he pitched a baseball.
The growth was surgically removed from the bone early in the 1978 season and Wright spent most of the summer at the Vet. Wright didn't throw again until last spring, when he reported as a member of the 40-man roster. Despite Danny Ozark's optimistic – or wishful – thinking, nobody counted on Wright making the club. What everybody wanted was a healthy Jim Wright who could make up for the lost time in the minors.
THAT MODEST hope was shattered. though, when his arm snapped like a twig in a high wind. It turned out the area of bone where the tumor was located didn't calcify properly. Or something. It was as structurally vulnerable as a car windshield with a spider-web crack.
"I've been in and out of Philly," Jim said yesterday after Manager Dallas Green called off a workout for the volunteers who showed up on a day which rated a one on a Florida scale of 10.  "My last time in there was December and I had a bunch of tests run on me. It really looked good. It really healed good. As far as rehabilitation, I didn't do a whole lot. mainly hand exercises to strengthen the muscle around the bone."
Wright is 6-6, 220 with the kind of loose, supple physique you like to see in a pitcher, a Jim Bunning build if you need a comparison. But since August of 77. Wright has pitched exactly 20 innings, all of them in 78 before his initial condition was correctly diagnosed.
He's gone two full seasons without snapping off his best curve or throwing his best fastball – forget last spring's brief, hollow outings when he wanted to shriek every time he threw hard.
So you can cross off 1980 as far as Jim Wright and the Phillies are concerned. Hell, they'd have to retrain him before they could pitch him.
"I JUST STARTED throwing the second week of January," Wright said. "I've kind of been taking it easy up until this point I've thrown off the mound a couple of times and it feels really good..."
One remembers Ozark's communiques last spring and winces. "He's got a little stiffness, which is to be expected," Danny would say. "but he's throwing free and easy."
Wright is a friendly 24-year-old who is quick to smile and has spent more time lighting little candles than cursing the darkness. If everything had broken right for him – no pun intended – he probably would be a Phillies starter by now. At the first sign of success, his agent would have negotiated a big contract for him. It would have been Fat City for Jim Wright.
He says he doesn't miss the money he doesn't have and that any greed he harbors is focused on a fervent wish for good health. "Mother Nature has built some extra calcium in the area of the break," Wright says. "If anything, the time without throwing has left my elbow looser than it was before. I did a lot of swimming and that's built up my shoulder strength.
"The problem was, I was stronger than my bone. There was a deficit in there that hadn't built back up and I just put too much stress on it. Right now it feels a lot stronger than it did before I broke it."
What next for Jim Wright? Will writers at a spring training 10 years from now strain to remember who he was? "Remember that big righthander who broke his arm throwing a pitch – '79 1 think. Helluva prospect Kicked around the minors a few years and that was it. Damned shame."
"Mentally, the first month-and-a-half was the hardest last year," Wright said. "I was in Philly, going to all the games. I just took the family home and dropped a line in the water, so to speak, took some time off and gathered my thoughts. The biggest thing I have to do now is prove to the club and to my own mind that I'm healthy. That would be a big lift off my shoulders."