Camden Courier-Post - March 30, 1980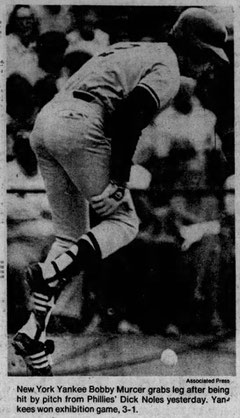 Green disappointed as Phils fall to N.Y.
By Ray W. Kelly of the Courier-Post
CLEARWATER, Fla. – In a meeting that stirred the competitive juices of both sides vigorously, thereby bringing out the best and the worst, the Phillies dropped a 3-1 decision to the New York Yankees at Jack Russell Stadium yesterday.
"A preview of the 1980 World Series?" mused Phils' Manager Dallas Green. "Well, that's why I'm not really very happy right now.
"Too many things happened today that shouldn't happen to us... if we're going to win the National League East."
There were, indeed, some moments in which the lack of mid-season sharpness loomed in this, the Phils' second consecutive defeat.
The three-run rally that the Yankees used to break the shutout spell of righthander Dickie Noles in the sixth inning was instigated by a pair of walks by the tiring youngster, a rare throwing error by shortstop Larry Bowa (one of two on the day) and culminated with Noles balking and wild pitching in a run.
Yet, even these unfortunate blemishes on an otherwise-dandy day of spirited action had to take a back seat to the communications breakdown that short-circuited what might have been a game-winning rally by the Phillies in the ninth.
It began when Bake McBride lashed a one-out double into center field, moved to third on a balk by Yankee righthander Ron Davis and scored on Mike Schmidt's single to left field. With the score standing at 3-1 and Greg Luzinski slated to bat, Green passed down the word that he wanted speedy Lonnie Smith readied for pinch-running duty. Only, he meant that Smith should run for Luzinski should the big guy reach base and thereby represent the tying run.
But, when he looked up, Smith was already onto the field. "The umpire called time and made the switch before I could say anything," recalled the bewildered Schmidt, perhaps the Phils' finest overall baserunner.
"I screwed it up," said Green. "I didn't tell the coach what I wanted. That's what sitting on your butt as farm director will do to you. It was my fault."
The miscue exploded in the Phillies' face moments later when Smith was picked off base. He was back in the dugout when Luzinski doubled down the right field line.
Instead of a 3-2 game with Smith on second, the Phils were still down two runs when Greg Gross grounded out to end the affair.
"He (Smith) learned a valuable lesson today. And, so did I," said Green, who was delighted with the five scoreless innings registered by Noles as well as the defensive play of center fielder Gross, who charged Willie Randolph's single in the fifth inning and fired a strike to the plate to nail Bucky Dent trying to score from second.
As for the New Yorkers' pitching, Green said, "Luis Tiant (five innings) is always tough. And, Rich Gossage (two innings) ain't no picnic."
The Yankees' winning rally consisted of walks to Ruppert Jones and Bobby Murcer, a throwing error by Bowa on Reggie Jackson's double play grounder and a pair of bloop singles by Jim Spencer and Brad Gulden. Dent was at the plate when Noles moved baserunner Spencer to third on a walk and then threw a run-scoring wild pitch.
NOTES: There will be a rematch Monday night in Fort Lauderdale as Steve Carlton faces Yankee ace Ron Guidry.... The Phils trimmed the squad to 32 players. Don McCormack, John Poff and Paul Thormodsgard were sent to the minor league complex. Pitcher Burke Suter was offered back to the Red Sox. If they don't reclaim him, bell go to the complex... Today, the Phils travel to Bradenton to play Pittsburgh. The televised (Channel 17, 1:30) game will feature Dick Ruthven and John Candelaria.
Noles drops 'nice-guy' image in bid to help Phillies
By Ray W. Kelly of the Courier-Post
CLEARWATER, Fla. – Now, this thing called the major leagues has gone and done it. Dickie Noles is gettin' mad.
"I ain't goin' on no more assumptions," said the Phillies righthander yesterday after working six innings against the New York Yankees.
"All I'm going to do from now on is go after batters and get 'em out. Let the rest take care of itself."
A lean and mean native of Charlotte, N.C., Noles tried to play his 79 days in the big leagues like he thought people wanted him to do it.
All he got for his efforts was a detour to Reading and a kick in the butt from former manager Danny Ozark, who told everybody that the kid didn't have a very good breaking ball.
"I've always had a good breaking ball," said the hard-eyed 23-year-old in a manner that left no room for argument.
Noles is not the kind of guy to take a v backward step. In anything. Ever. And, pity those who fail to look beyond the almost-boyish look on his face when he smiles.
Five troublemakers in a Dixie poolhall, so the story is whispered among baseball scouts, made that very mistake one evening and were still bouncing off walls when the police arrived.
"Dickie Noles has heart," says Phils Manager Dallas Green. "He's a battler. And, I want him to stay that way."
A pretty up-front guy himself, Green is hoping that his direct approach with the 6-2, 190-pound hurler will bring out the best in him.
It's obvious that the way Ozark handled the youngster didn't work. Noles came up from the Oklahoma City farm team in 1979 after winning five straight. And, he had his confidence cooking.
A few waltzes around Veterans Stadium somehow gave hint the notion that he was the one who would have to adjust. Ozark's telling him what he "couldn't" do right, just made matters worse.
The clincher came when he was sent to Reading for 10 days. He had tried to please everyone but himself. And, it was the one thing he shouldn't have done.
When he showed up at camp this spring, Green laid in on the line. He wanted the "old Dickie Noles" to get back on the mound. He would settle for nothing less.
Two outings revealed that the righthander wasn't even throwing the ball with the same motion. Green bristled. Noles rose to the challenge.
"I don't have my rhythm," said Noles.
"Look at last year's films of yourself," said Green. Yesterday, the kid went out to face the New York Yankees and his adrenalin started pumping. During the first four innings he yielded just one hit.
"He was throwing hard. And, his breaking ball was like I remember it," said the manager, who figured the kid was tiring when he walked the first two batters in the sixth inning.
It was to be expected. Noles had thrown between 70 and 80 pitches, quite enough for this point in time. So Green got up from his seat in the dugout and began walking toward pitching coach Herm Starrette to ask him if he thought it was time to call in the bullpen.
"I should have gone and got him, said Green. "But, he seemed to regain his strength, so I let him go."
What he really wanted to do was to push Noles to the limit, because he could see the transformation taking place, even though the walks, two bloop hits and a throwing error by shortstop Larry Bowa on a double play ball opened the gates to a pair of Yankee runs.
Angry and frustrated, Noles balked and then fired a wild pitch that gave the Yankees a 3-0 lead. He was steaming, but Green knew better.
"Today, he looked like the Dickie Noles I know," said the manager. "That's all I care about."
With the Phils' pitching picture so cloudy, Noles could be called upon to bolster either the starting rotation or the bullpen. It's imperative that he be ready when the bell rings.
"Starter, reliever... I don't care," said Noles, his jaw set in concrete. "I'm just gonna do whatever it takes to help this club win and to stay in the majors."
Look out big leagues. As far as Dickie Noles is concerned, it's no more Mr. Nice Guy.
Mediator attends baseball session
PALM SPRINGS, Calif. (AP) – A federal mediator will be on hand today when negotiations between representatives of major league baseball owners and player continue amid the growing possibility of a player strike.
The presence of a Federal Mediation and Conciliation Service representative was requested by the owners.
The Players Association's executive board plans to meet Tuesday in Dallas to determine if and when a strike will be called.
The owners and players cut short a scheduled three-day meeting in Scottsdale, Ariz., last Thursday. The latest talks, aimed at formulating a new four-year basic agreement, broke off on the second day and Friday's session was canceled.
Marvin Miller, executive director of the Players Association, called the Arizona meetings a waste of time.
"There was no bargaining Wednesday or today," said Miller on Thursday. Miller met for about two hours with Ray Grebey, chief negotiator for the owners, on Wednesday.
Grebey said that along with requesting the mediator to participate in the negotiations, the owners reiterated their contention that the 1980 regular season should open April 9 as scheduled whether or not an agreement has been reached.
Miller said he had no objection to the mediation service's participation, but questioned the timing of the owners' request.
"I think this may well be a kind of stalling mechanism on the part of the owners," he said.
Miller reasoned that the owners may have asked for the mediator shortly before the players' strike decision is due so that players might delay any action until they can take another look at the situation.
With nearly all Players' Association members polled, only one player had voted against authorizing a strike on or after Tuesday. That player, Kansas City's Jerry Terrell, said his vote was based on religious convictions.
The major issue to be resolved is an owners' proposal to adjust the amount of compensation a team receives after losing a free agent.
The owners propose that a team signing a highly sought free agent be required to give up a player, rather than an amateur draft choice, in return. The free agent's new team could protect only 15 of its players from that selection process.
Other major issues still unresolved include whether players should continue to be entitled to a piece of baseball's television revenues, and whether a player's time in service or his performance should be considered more important when an arbitrator rules on a salary dispute.