Philadelphia Daily News - March 5, 1980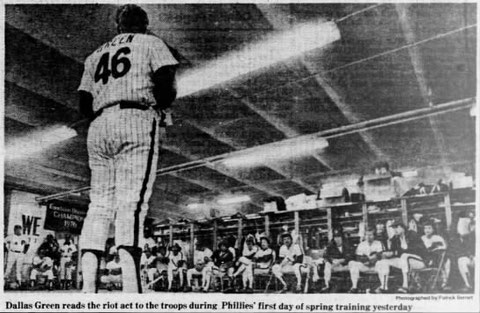 Bowa:  Rebel with a Cause
By Bill Conlin
CLEARWATER – A decade ago, a writer suggested in print that Larry Bowa's batting style would be better suited for the Little League ballpark in Williamsport. His current average for 5,915 at-bats is a respectable.263.
In 1973, Phillies Manager Danny Ozark whispered to selected media members that he was all for trading Bowa and keeping rookie shortstop Craig Robinson. Since then Bowa has shattered almost every major-league fielding rscord at his position. When he retires, Larry's career percentage will be by far the best of all time.
Bowa is the Phillies' designated whipping boy. The front office has him pegged. They know hell rant and rave when they drop him in the batting order, maybe bust up some furniture. Then he'll go out and play hell out of shortstop. The arm in the sleeve he wears his heart on will be gunning out runners from deepshort.
LARRY BOWA IS AN ANGRY veteran, perhaps with good cause. He's started in three All-Star games and played in two others, won two Gold Gloves and should have won at least three others. In the eyes of the managers and coaches who vote for the Gold Glovers, Bowa's.991 fielding percentage was not enough to offset his slump to a.241 average last season.
With all that behind him he ranks as the lowest-paid member of Dallas Green's starting eight. What rankles Bowa even more is that at least six shortstops in the majors command higher salaries..
OK, he thought the $300,000-a-year contract which still has three seasons to run was terrific when he signed it two years -ago. But he's getting windburn from all the shortstops who have passed him financially in the past year.
"I'm sixth right now, maybe lower than that," Bowa seethed quietly yesterday morning in a first-official-day-of-spring training clubhouse festooned with prominent signs large red letters on white backgrounds, all saying, "We Not I."
"There's some guys ahead of me I can't bleeping believe," he said, thinking more of "him" than "them" for the moment "I've got a list. Craig Reynolds. Robin Yount. Bucky Dent. David Concepcion. Garry Templeton. Bill Russell. Frank Taveras. I haven't seen Tim Foli's figure, but I know he's higher. I'm not saying that I should be the top. I'm saying I should be paid comparable. I'll be the first to admit it – I don't think I'm worth $600,000 a year. But I'm worth more than I'm getting. I'm the lowest on the starting eight on our team. I think I should be paid comparable to anybody on this team but Pete Rose. Nobody should be paid like him. To me, if Nolan Ryan gets a million, he should get two million. "
"WHAT I'M SAYING IS, I've been here 10 years. I've been really consistent. Templeton might hit.320, but with 50 errors he better hit.320. I'm not gonna renegotiate, but I think something oughta be done, whether they extend me or give me some more ' money or something. Hey, Iigned a contract. I'll play. I'm not gonna walk out. If I wanted to, I could say, 'Screw it, I won't come to spring training. Who are they gonna play at short. Luis Aguayo? Something's gotta be done.
"I can see maybe three or four guys making more money than I am. But, bleep, you're talking about guys who haven't done nothing. It bugs me as a matter of principle more than anything. My way of living is not so extreme that I need more money. It's just the fact that I've worked so hard at what I've done and now I'm way down on the shortstop list. Statistics don't lie. I know what I've done at my position. I know what I've contributed to this team."
One of Green's first executive decisions was to officially demote Bowa to the No. 8 spot in the 1980 batting order. As an intelligent baseball man, Larry doesn't disagree that much with the logistics of the move. What he doesn't like was the rationale behind it.
"HE'S HITTING ME EIGHTH this year. OK, I'm not gonna make any waves about it," Bowa said. "But they seem to always say. 'Let Bowa move down because he won't say anything; he loves to play the game.' The reason I'm hitting eighth this year is that Dallas feels – and this is no rip at Trillo – that Manny feels more in the game. To me what does that mean? That because hitting eighth that I don't want to play? I don't understand that. They know I'm gonna bitch and scream, but when the gun sounds I'm gonna go out there and bust my ass, dive for balls, regardless of whether I'm hitting.110 or.310 and they know that. That's had a reverse effect on me; they know how bad I want to play so they say, 'If he does bitch, he's just blowing off steam.
"It's amazing that after 10 years I should feel I have to prove something to these people. I still feel in my mind I have to prove to them I can play. I shouldn't have to do that."
He will, of course, go out and prove it once again. Bowa drove himself all winter, banging at the Nautilus, hitting in the cage. "He's a mini-brute," Gus Hoefling says.
"I'm physically ready to go," he said. "I'll hit eighth. I've made up my mind to do good down there. I won't say bleep to Green, if he doesn't bug me about little things I'll be all right. They know I love to play. My dad's told me that all along, that I shouldn't let them know how much I love to play and that's a mistake I've made. If I had anything to do over again I would have adopted a more firm attitude like, 'If you don't want to play me, bleep you.' But they know my mental makeup isn't like that.
Miller Polling Phils 1st
CLEARWATER (UPI) – Marvin Miller, executive director of the Major League Baseball Players Association, will begin taking a strike vote today during his meeting with the Phillies at their spring training complex.
Miller was directed to take a strike vote by the association executive committee after a closed-door, 4½-hour session in Tampa yesterday.
Miller said the action by the player representatives of the 26 clubs and the two leagues was unanimous in authorizing strike action if no contract agreement is reached.
The board set the strike action for "on or after April 1," leaving open the possibility the players might open the season and then call the strike later, possibly June 1.
MILLER SAID HE will take the strike votes of each team while he tours the spring training camps.
He will report the results of the vote to the board at its meeting in Dallas April 1.
"The board has left the way open for it to consider all the facts April 1," Miller said.
There has been speculation that if the players strike, club owners would start the season with minor league players, plus any major leaguers who decided not to go along with the strike, and Miller was asked if he thought that might happen.
"I think it would be a dumb move, but it wouldn't surprise me," he said.
Miller said negotiations have been going on for 16 weeks with little progress.
The players, in a long resolution read by Miller, accused the club owners of failing to negotiate in good faith.
Miller declined to be specific as to player views voiced during the long meeting, but said they do not take the salary structure proposed by the owners seriously, and said there is a strong position that free agent compensation as proposed by the clubs is not merited "in any shape or form."
Phillies' Carlton Does Not Choose to Run
By Bill Conlin
CLEARWATER Steve Carlton ran a lap yesterday, finishing last in a field of 44. And if that's a big deal, then maybe you didn't hear that the Players Association plans to take a strike vote.
Major league baseball's Lefthander of the 70s was the lone spectator while pitching coach Herm Starrette ran the staff through what on the end of the day's formal schedule was labeled, "supervised running for pitchers." And if that's a big deal, maybe you didn't hear that Steve Carlton won 18 games for the fourth-place Phillies last season, towering over an injured, shabby staff.
It's a big deal because Dallas Green painted himself into a corner when he said that he's a running manager and that everybody will run, including the Left-handed Pitcher of the Decade. When Green was a journeyman pitcher he got an A for effort and a D for results and stuff. He could have run himself into Boston Marathon shape and it wouldn't have put any more menace on his fastball or malice on his breaking ball.
Green said afterward that he and Lefty understand each other, that he admires the slave labor his ace does with Gus Hoefling, a program that would put most major leaguers into cardiac arrest. "I've tried his program and I can't do it," Dallas said. "I was hoping Steve would come back into our program."
There will be a lot of flak. Everybody was watching Carlton to see how Lefty would react to Green's "We Not I" campaign. Hey, Hitler didn't win the Reichtag overnight.
Green will blame the press for blowing Carlton's non-running yesterday out of proportion. But who established the proportions? Not the press.
Score round one for Carlton. And if there's a round two, the manager should excuse all pitchers on his staff who have won two Cy Young Awards from "Supervised Pitchers Running."
And by the way, Dallas, welcome to the Steve Carlton Fan Club. There are no dues, banquets or membership meetings.