Philadelphia Inquirer - March 6, 1980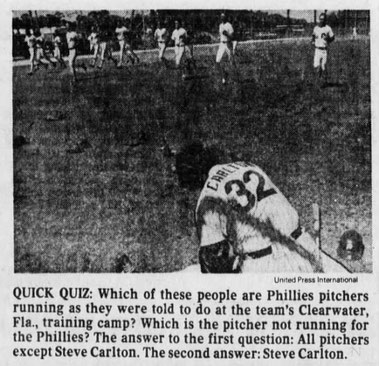 Phils vote, 40-0, to support strike resolution
By Jayson Stark, Inquirer Staff Writer
CLEARWATER, Fla. - It used to be that a strike in baseball was something that happened when J. R. Richard cranked one of his 147 m.p.h. fast-balls in the direction of, say, Brian Asselstine, and Asselstine swung and made contact with nothing but atmosphere.
But yesterday at the Phillies' spring training camp it began to look as though in 1980, a strike would be something else entirely.
Teamsters do it. Schoolteachers do it. And now it appears that even big-league ballplayers might stay out of work if they don't like the way their bosses bargain with them.
And it's pretty clear at the moment that they don't. On Tuesday, the executive board of the Major League Players Association unanimously approved a resolution calling for a players' strike, on or after April 1.
And yesterday, the Phillies became the first club in the game to back that resolution, which they did by the not exactly wishy-washy margin of 40-0.
Since the Phillies had the second-highest payroll in baseball in 1979, they are people who would have a lot to lose by striking. So it was suggested to Marvin Miller, executive director of the players association, that maybe the Phillies were one of the best teams he could have picked to start polling.
"Well then," said Miller, "from the point of view of the owners, they might have been the worst, huh?"
Miller told reporters what he had told the Phillies in a closed-door meeting that lasted about two hours – that after 16 weeks of negotiating with the owners, the two sides are no closer than they were the first week.
"In a lot of negotiations, you don't get real movement until you get to the deadline," Miller said. "But even in those cases, you get signs of progress as you go along.
"But in these negotiations, after 16 weeks, to not know what their position is on some of our proposals is absolutely astounding to me."
How far apart are these sides? Well, the players are looking ahead, offering proposals centered around making it easier for guys to become free agents. That, however, isn't exactly what the owners had in mind.
What the owners did have in mind was a tougher free-agent compensation system involving players, not the present draft choices. That's similar to the arrangement used in pro football, where 295 players have become free agents and four have moved to other teams.
The owners also have suggested a pay-scale system in which nobody would make more than $325,000. The players, naturally, interpret both those proposals as steps backward. The owners haven't budged a single centimeter. So voila – it's impasse time.
After leaving the Phillies, Miller headed off to a Clearwater hotel for Negotiating Session No. 24 with Ray Grebey, the man representing the owners. If he wasn't heading there optimistically, he was at least moving in with new ammunition.
But when Miller got to his session, he found nothing much had changed. He, Grebey, seven players and attorneys for each league talked for nearly three hours, but reached agreement only on a couple of minor items. The big issues remained unresolved.
As Miller negotiated, there was something incongruous about the way the scene at the Phillies' Carpenter Complex immediately shifted back to good, old-fashioned baseball.
Mike Schmidt played pepper. Del Unser fielded fungoes. Doug Bird threw batting practice. Palm leaves flapped in the breeze.
It could have been spring training 1980 or spring training 1950. Except that none of baseball's familiar trappings could make the problem go away. The fact remained that now these players were preparing themselves for a season that might never happen.
"Right now it doesn't appear it has a chance to get worked out," said Pete Rose, who, as a high-paid veteran, is the type of player the owners had hoped would abandon a strike aimed at helping the game's young players reap the same kind of big bucks.
"I hope it does get worked out," Rose said. "Hell, I don't want to come down here and work six weeks and not be able to play baseball.... It's not something I want, but then again I'll back the players association.
"Now you take a player like me. There's no question that what they're negotiating for is going to help the younger player. But I'm smart enough to realize that because we stuck together in 1976 is one of the reasons I was able to come up with the contract I came up with."
Around the Phillies' clubhouse, the support for the strike resolution was just as firm.
"Unless the negotiations turn around, there's no other way," said Greg Luzinski. "Why should we go backwards? If any union representative came and listened to our negotiations and knew where we stand right now, they'd just laugh."
"We can't afford to give in," said Phillies player representative Larry Bowa. "Take the last time (there was a strike, in 1972). If we didn't sit out the last time, we wouldn't now have all the things we have. I think the ballplayers realize that. It's just important that we stay united. And we're united as hell."
Miller left open the possibility that the players would start the season while continuing to negotiate – but only if there are indications the sides are making significant progress.
Of course, he and the players still have to decide just what constitutes progress.
"You know it," Miller said, "when you see it."
NOTES: Rookie pitcher Marty Bystrom, who already was hurting with a pulled right hamstring, slipped in the clubhouse yesterday, aggravated the injury and left on crutches. That kills any chance he had to make the team, and the fact is, he had one. "We were going to use him a lot down here," said pitching coach Herm Starrette. "But now it will be three or four weeks before he can do anything. And by then he'll have to start all over."... Lonnie Smith finally arrived, so all 44 players, rostered and non-rostered, are in camp. Only the 40 rostered players had votes yesterday.... No, Steve Carlton didn't run yesterday.