Camden Courier-Post - March 7, 1980
Luzinski weighs his problem
By Rusty Pray of the Courier-Post
CLEARWATER, Fla. – In a moment of inspiration, someone somewhere along the line thought to nickname Gregory Michael Luzinski the "Bull."
It is, of course, no ordinary nickname, not at all in the genre of the shortened familiar like Mike or Bill or Bob or Greg. Indeed, whatever mind conceived the name "Bull" was attempting in some way to describe Luzinski. Simply calling a man of Luzinski's proportions Greg would never have done, not when you got a look at the size of the man.
So, Bull it was; an accurate description if there ever was one of the physique of a man. Luzinski has been known as Bull for so long, two names are no longer required "a identify him. He is, like "Babe" or Snake" or "Goose," just Bull. Someone might even go as far as saying a malt liquor has been named after him.
The Bull has been one of the Phillies' chief offensive weapons since 1972, when he first began to develop into one of the most respected righthanded sluggers in the National League. His defense left something to be desired. But, what did it matter when Bull hit consistently for power and average?
During his first seven seasons with the Phillies, Luzinski hit better than .300 and had more than 100 runs batted in three times, averaged more than 23 home runs and was an All-Star four times. In his eighth season last year, Bull failed to even approach those numbers, hitting a career-low .252 with a calf-like 81 RBIs and 18 home runs.
Until last season, it was easy to overlook Luzinski's defensive defeciencies because he was such a good hitter. And, for the same reason, it was not difficult to overlook another problem: his weight.
He was never, by any scale, obese. But true to his nickname, Luzinski carries a great deal of bulk on his 6-1 frame. The metabolism of the Bull became of subject of considerable controversy last season among Phillies fans. Some people thought, with some justification, that his problems at the plate and in the field could be traced directly to his weight.
Nowhere was that feeling more evident than in Veterans Stadium, where fans ' booed the Bull with gusto. They saw him as playing left field like a man who couldn't run, and hitting like a man who had forgotten how. His plight, instead of raising fans' sympathy, evoked their ire.
Luzinski, who had never before experienced a home crowd's disfavor, seemed to struggle more with each boo. Just how much of an effect all the boos had on him is evident in his home and road hitting statistics. On the road, the Bull hit a comfortable .303 with 11 homers and 51 RBIs. In the Vet, his stats were a dismal .187, seven and 30.
"I don't know if it was the pressure of playing at home," Luzinski said yesterday. "You weigh the same at home as you do on the road. No question it (the booing) had its effect on me somewhat. It's something you're not accustomed to."
After seeing the Phillies win Eastern Division championships the three previous years, fans had every right to show their displeasure as the club slipped into fourth place. It was Luzinski's misfortune that he presented such an imposing target for the fans' frustrations.
What few fans realized was Luzinski played much of last season hurt. He sustained a pulled thigh muscle on May 11, and wasn't the same player again. He should have gone on the disabled list. Instead, he continued playing every day, further aggravating an injury that heals only through rest.
"I learned something from it (the injury)," Luzinski said. "I played hurt. When it got to the point where I didn't get to a baseball (in left field), it wasn't because I was a fat outfielder. It was because I was hurt."
Luzinski has undergone a dramatic transformation since last season. His weight, being a matter of concern even to the front office, his name being mentioned in a trade rumor, served to send Luzinski on a winter fitness regimen that has borne fruit this spring.
The Bull shed 22 pounds and who knows how much frustration over the winter by riding a stationery bicycle in his South Jersey home, hunting and chopping wood. Luzinski who always wore contact lenses, has even taken to wearing glasses occasionally.
Luzinski also – although he doesn't use the word – dieted, checking into camp a week early at a svelte 225 pounds.
"I mainly cut back – all breads, no desserts," he said. "I cut out breakfast, but the big thing is I kept busy. No question about it, I feel a lot better. I had success the other way (heavier). But, what it comes down to basically is everybody harping on me that that was the problem. So let's see if it was.
"The owners are going crazy right now with contracts and it's (salaries) going to get better. My contract is up next year. I have a few good years left and I want to increase my market value."
Indeed, there's no telling what the going price would be in the near future for a healthy Bull.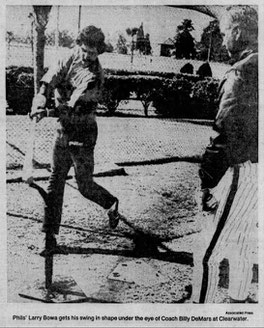 Bowa says he's sorry
By Rusty Pray of the Courier-Post
CLEARWATER, Fla. – The air is a little clearer around the Phils' spring training complex here today.
Shortstop Larry Bowa called a personal press conference today to clarify his stance on his recent request to have his contract adjusted after shortstop Garry Templeton signed a six-year, $4 million pact with the Cardinals.
At the time, Bowa said the contract made Temple-ton appear to be the top paid shortstop in baseball and the Phils' star defenseman thought his contract should be renegotiated.
He still may, but he'll probably keep those thoughts to himself after a two-hour telephone conversation with Phils owner Ruly Carpenter last night.
"I made a statement earlier this week that six or seven shortstops were making more money than I was," said Bowa. "That's not Ruly Carpenter's fault.
"When I signed my contract I was the second highest paid shortstop in baseball. If Ruly readjusted my contract, he'd have to readjust the contract of Greg Luzinski, Mike Schmidt, Pete Rose and so on every-time somebody else around the league signs a contract.
"If I've hurt Ruly or Paul Owens in any way, I'm sorry. They've been more than fair to me over the years."
Meanwhile, the Phillies are busy with the bats. There's a decided offensive flavor to this spring training camp.
On any given morning, you'll find Larry Bowa, Bob Boone, Mike Schmidt, Greg Luzinski, among others, working in one of the six batting cages. The work is done on their own time, but coaches are always present to offer instruction or feed a pitching machine.
The man behind all this hitting is Coach Billy DeMars, whose interest in connecting wood with cowhide is indefatigable. DeMars spends endless hours talking and teaching, using a wide assortment of aides, that include batting tees and video tape. It has become almost routine for DeMars to have a hitter video taped during a session in one of the cages, the better to study any flaws that might have creeped into a stroke during the winter.