Philadelphia Daily News - July 10, 1980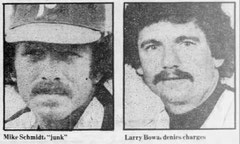 Berks D.A. Says Schmidt, Bowa Clear in Drug Probe
By Philip Weiss
Berks County District Attorney George Yatron said yesterday an investigation of possibly illegal amphetamine sales to Phillies players has been under way for three weeks but does not involve Mike Schmidt or Larry Bowa, whose names have been mentioned in news accounts.
"There is no indication that they (Bowa and Schmidt) were connected even innocently with any occurrences," Yatron said.
He declined to comment on just who is involved, pointing out: "This is not to say that others have had any other than an innocent connection... To date we have no specific indication that any specific individual violated any law."
THE TRENTON Times reported Tuesday that state Justice Department officials want to question Schmidt, Bowa, Greg Luzinski, Pete Rose and four other unidentified Phillies about the connection.
The Reading Times yesterday quoted an unidentified Reading pharmacist as saying he had filled amphetamine prescriptions made out to Steve Carlton, Larry Christenson, Randy Lerch, Luzinski and Bowa. However, the pharmacist said there appeared to be nothing unusual about the prescriptions.
The pharmacist said Dr. Patrick A. Mazza, physician for the Phillies' Reading farm team, signed the prescriptions for desoxyn, a stimulant, over the last two years, the Reading Times reported.
Yatron also said the investigation concerns desoxyn prescriptions over the last two years. A prescription for the drug is illegal if the doctor has not had the patient undergo a medical examination.
CARLTON AND Lerch could not be reached for comment But Christenson, Luzinski, Bowa, Schmidt and Rose have all denied any knowledge of the drug connection.
In published accounts, Mazza has denied that he prescribed the drug without a physical examination.
The Trenton Times quoted law enforcement sources as saying Mazza supplied the drug to players through a "runner" who had the prescriptions filled in for players in their names.
The Reading Times identified go-betweens as Robert Masley Sr. and Robert Masley Jr. and said they filled seven prescriptions. Neither could be reached for comment last night.
THE JUSTICE Department has declined comment on the reports, and Phillies President Ruly Carpenter last night called the news accounts "speculative."
Carpenter indicated he had been in touch with the state's Drug Law Enforcement Agency and Baseball Commissioner Bowie Kuhn but said he would have no further comment.
Joseph Buzas, owner of the Reading Phillies, said last night that Bowa, Luzinski, Mazza and Masley Sr. are all friends since the days Bowa and Luzinski played on the team. Mazza has worked for the team for 12 years.
Luzinski answered reporters after a workout at Veterans Stadium last night: "I haven't anything to say to you guys. You know as much as I do."
BOWA SAID, "I'm being accused of something I haven't done."
Christenson told the Daily News, "I've never played in Reading, I don't know anybody involved."
Meanwhile, Schmidt called the reports "junk." Earlier he said he did not know Mazza.
At the All-Star Game Tuesday night Rose responded to the Trenton Times story by saying: "I don't know a doctor in Reading... I think they got the wrong guy when they mentioned my name."
ACCORDING TO the Reading Times report, the pharmacist said: "They (prescriptions) were written in Dr. Mazza's handwriting. Everything was above board. He (Mazza) never put a false name on these prescriptions. These names were not hidden from the narcotics people. The whole thing has been blown out of proportion."
The Trenton Times reported that lawmen also want to query Reading Phillies players. Reading Manager Ron Clark last night denied that any member of his team used the drug and Buzas said, "I think it's just a hit farce, sensationalism." 
Editorial:  A Natural
It's a natural story. An official agency confirms that it is looking into charges that members of the Phillies have illegally used amphetamines. That gives it two big elements – stars and drugs.
But we have no evidence at this time (nor. say the authorities, do they) that the charges are founded. And that's an important thing to remember.
Because it's true that even the famous have rights.
And an accusation is very simple to make. It may be hard to prove, but it's simple to make.
We're not saying that the current fuss involving the Phillies is a case of deliberate violation of anybody's rights. There is nothing to prove that the story was deliberately leaked, and it is news if major league baseball players are under investigation on drug charges.
In fact, it's not our business to make judgments of guilt or innocence.
But it's hard not to recall the great drug scandal involving a couple of Eagles players. One man was traded; another was cut from the team; the various authorities got a lot of publicity. And, when the case came up, there wasn't enough evidence to take it to trial.
There was a lot of fuss and very little fact.
It's also important to remember that amphetamines aren't something like cocaine that affects mostly the rich and trendy. They're common. All over this country, there are people who claim to be taking the drug for weight control (a dubious medical practice) who are walking around wired out of their minds. There are also physicians who will write a prescription for something as dangerous as amphetamines without even blinking.
The drug is also used by people who might fit more gracefully into the "drug user" cliche, those who don't bother with niceties like doctors and commercially-prepared drugs.
Nearly 20 years ago, there were signs around, put up by people who would ingest virtually any drug known to humanity – except amphetamines, of "speed." The signs said "Speed Kills."
A lot of times, it takes a public fuss involving famous people to bring attention – and enforcement – to important issues. Let's hope the authorities can take the next step and drag in the bootleg laboratories and prescription mill physicians who are a much greater part of the problem than any user – famous or not.
Ruly:  It's Up to Commissioner
By Stan Hochman
Nowhere in the rules of baseball is the penalty for using amphetamines without a proper prescriptions described.
"The basic agreement doesn't spell out the specific penalty," said Phillies President Ruly Carpenter yesterday. "This is handled through the commissioner's office.
"As far as the commissioner fining a player, there have to be specific charges and proof of guilt.
"We saw this with the guy, the lefthander, in Montreal. He fined him $100 1 think."
Bowie Kuhn fined Bill Lee, the Montreal lefthander whose name Carpenter has difficulty saying, $100 for bragging that he had sprinkled marijuana on his buckwheat pancakes.
RULE 21 OF BASEBALL'S blue book specifically prohibits fixing games, gifts to competing clubs, gifts to umpires, betting on games... and "(e) all other acts, transactions, practices or conduct not to be in the best interests of Baseball.
"And shall be subject to such penalties including permanent ineligibility as the facts in the particular case may warrant."
The rule is posted in every clubhouse.
Does Manager Dallas Green (how's that for an ironic name) think any of his players may have violated the rule by accepting amphetamines ("greenies") without a proper medical examination and authorization?
"I can't say yes or no to that," Green said. "I would certainly hope not. We don't condone it. 1 know for a fact our doctor wouldn't prescribe it.
"AND (TRAINERS) DON Seger and Jeff Cooper, I'd trust them with my life. Players won't get it from them."
Green said he wasn't concerned about performances being affected by the uproar.
"I have enough faith in the guys who have been mentioned," he said, "they can handle their end of it.
"It's a test of team character. I've been stressing character all along. I think it's something we'll have to weather as a team. All 25 guys."
PHILUPS: Mike Schmidt returns to the lineup tonight against the Cubs, but Greg Luzinski will be missing. "We drained 100 cc of fluid from his knee." Dallas Green reported... Dick Ruthven against Mike Krukow tonight Bob Walk against Lynn McGlothen tomorrow... The fireworks canceled because of bad weather June 29 will be held after tomorrow night's game.
One light note at yesterday's workout, which drew a tangle of non-sporting media. Pete Rose amended his All-Star Game statement that he didn't even know a Pennsylvania doctor. "I know two," he said. "The Phillies' doctor and the Pirates' doctor."
"Where," asked a female reporter sweetly, "do the Pirates play?"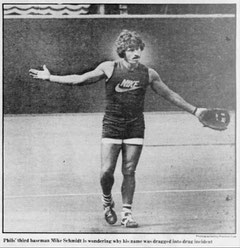 Schmidt:  I Was Wronged
By Stan Hochman
Mike Schmidt has been through this before. He knows how tough it is to nail some guy for libel, how difficult it is to prove defamation of character, how painful it is to wring a retraction out of some guy shooting from the hip.
"What do I do?" Schmidt asked yesterday, on a day littered with unanswered questions.
"Do I call a press conference, do I demand an apology from the Trenton Times, do I demand equal time? Will they run my picture on page one, all across the country, saying I am innocent?"
Schmidt was one of four Phillies named Tuesday in a copyrighted Trenton Times story about a Drug Law Enforcement Agency investigation involving the alleged use of illegal amphetamines. The other three named in the story were Larry Bowa, Pete Rose and Greg Luzinski.
"AND NOW THE District Attorney of Berks County has said that Schmidt and Bowa were innocent," said club owner Ruly Carpenter.
"Two-out-of-four might be a good batting average in baseball, but in newspaper work it might not get the job done.
"No one has been charged with anything. No one has been accused. No one has broken any laws. It's all speculative."
Carpenter issued a formal statement at a mid-afternoon press conference and pleaded with the media mob not to pester his players about the story.
"Ask them about the Chicago Cubs, the Pirates, about high sliders," Carpenter suggested innocently.
No one wanted to ask Schmidt about high sliders. Or low sliders. Or in-between sliders.
"I have no comment about any of the details of any of the junk that's been in the papers," Schmidt said during a lull in the workout.
"All this does is reinforce my feelings about the press. I'm in a sort of limbo situation, trying to decide do I owe anything to the media from this time on, the way the media has taken the liberty to tarnish my name with the sensationalism it used.
"IT BASICALLY floored me. Now, I have to decide whether I'm gonna go the Steve Carlton route and not talk."
Schmidt has always been one of the most approachable of the Phillies, in a clubhouse that has been increasingly silent, increasingly sullen, in recent years.
"This is the second time this has happened to me," he said. "The first time the guy on KYW-TV practically called me a crook.
"He made it sound like I had run off with the money (from a bankrupted minor-league hockey franchise) and that was why his kid was no longer playing junior hockey (at the Centrum).
"You want to sue and suddenly the videotape can't be found. And now this.
"I have nothing personal against any individual writer, but if I refuse to talk, wouldn't that somehow right the wrong that's been done to me?
"Then again, I know that a lot of the fame I have is due to what the writers have written.
"Then, I wonder how much money this may have cost me, that I will never even know about. Suppose some pharmaceutical company had thought about using me as a spokesman? Or a bank?
"AND THEN AGAIN, because of my Christian beliefs, I know I can reach the masses through what I say in the press.
"Maybe the best thing to do is be silent for three or four days, let this thing die down, just buckle down, fight our way through it."
And while Schmidt was deciding to talk or not to talk, while suffering the slings and arrows of outrageous journalism, teammate Larry Bowa already had made up his mind.
"No more interviews, here or anywhere," Bowa snapped.
"I don't have anything to say. it happened to me before, when 1 supposedly hit (Camden writer) Ray Kelly.
"I have been accused of doing something I haven't done. You guys have all written it. It's been in headlines. That's it."
Bowa is coming back from a hamstring pull. Can he handle the added distraction of the pill controversy?
"I can concentrate," Bowa snarled. "I can concentrate on anything. That's because I didn't do anything. My conscience is completely clear."
Greg Luzinski, who will miss tonight's game with the Cubs with a knee injury, spent the afternoon getting therapy.
APPROACHED AS HE left the clubhouse, Luzinski kept moving at a hobbling pace. "I haven't anything to say," he said. "You guys know as much as I do."
A story in the Reading Times yesterday added the names of Randy Lerch, Larry Christenson and Steve Carlton to the list of ballplayers supposedly supplied with amphetamines by a Reading pharmacist.
"I never even played in Reading," said Christenson. "I don't know any of those people.
"I walked into the clubhouse and someone said my name was mentioned. I said, 'What? Me?' It really bugs me."
During and after the workout, trainer Don Seger conducted strength tests on the players, a mid-season checkup instituted by Manager Dallas Green.
"I'm sorry to see any allegations come about," Seger said. "I know what I give. I know I can sleep nights, based on what I do."
Amphetamines, also known as "greenies," have always been part of the folklore of baseball. Players supposedly use them to fight the affects of a hangover or to get them through the dog days of July and August.
Sports-medicine literature scoffs at any possible benefits to a guy trying to hit a Nolan Ryan fastball.
"They won't do anything in athletics," Seger said. "They won't enhance skills."
THE IDEA PERSISTS that some football players still gulp greenies on Sundays, because the guy across the line may have swallowed some.
"We play every day." Seger said softly. "They play once a week.
"Amphetamines have never been left around, not when I was with the Yankees, not by the time I got over here. The commissioner started having meetings.
"And once that happened, it took the pressure off us, the trainers Everyone knows better than to ask me for something like that.
"I don't know a trainer in baseball who would offer them. There's too much hanging over him. It'd be our job. And nowhere in sports medicine is their use condoned. Period."
Rose handled the controversy the way he has handled sticky situations in the past, by stepping into the batter's box and rattling off a fusillade of line drives.
And when writers clustered around him with questions, he had a question of his own.
"Who's pitching for the Cubs?" he warned to know.