Camden Courier-Post - July 16, 1980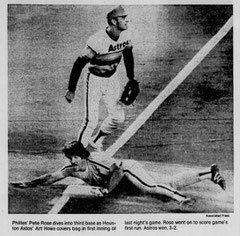 Phils' loss puts Ruthven in doghouse
By Ray Finocchiaro, Gannett News Service
HOUSTON – Dallas Green may not be desperate enough to order a seeing-eye dog for pitcher Dick Ruthven, but he's busy running his fingers through the Yellow Pages looking for a good optometrist after last night's 3-2 loss to the Astros.
At least it's better than wrapping his hands around Ruthven's neck and squeezing.
The reason for the Phillies manager's dismay is Ruthven's apparent inability to see first baseman Pete Rose breaking toward the plate.
FOR LAST night, as Rose was rushing in on the plate with Houston's Craig Reynolds squaring to bunt, Ruthven wheeled and almost uncorked a wild toss to first base, which was embarrassingly devoid of any-one in Phillies' blue at the time.
Instead, Ruthven held the ball for a balk, sending Jeff Leonard to second, from whence he scored as Ruthven fielded Reynolds' subsequent bunt and, off-balance, flung the ball over Rose's head to end the game.
"If you're a pitcher, can't you see a guy breaking (for the plate)?" Green said incredulously, not having to be reminded that Ruthven did exactly the same thing against the Mets two weeks ago.
"THAT MEANS he's not paying attention. That's why half the guys steal on him – he can't see the bleeping runners. He must not be able to see. He's not seeing first base at all. If he is, he has to see the guy break."
Ruthven was not available to discuss his vision problem, throwing a few things around the Astrodome clubhouse and then retiring to the trainer's room to soak his arm.
"They're stealing on him, they're getting great leads and he's just not seeing it," Green said, rambling on to keep himself from joining the clubhouse destruction. "Part of your job as a pitcher is to hold guys on first. Sooner or later somebody's going to get to first on you. We can't have Pete breaking and his balking every five minutes."
GREEN'S ANGER at Ruthven was just part of his overall displeasure with still another breakdown in his grind-it-out "team baseball" concept.
"One of these days people will listen to me about grind-it-out baseball," said Green. "I don't know when, but they'll listen... they will if they want to win. Every single run they got tonight was a mistake on our part."
Well, two of the three, anyway.
THE PHILS had taken a 1-0 lead off gimpy-legged Nolan Ryan in the first on four singles. It might've been worse, but Manny Trillo, the league's top hitter, got caught in a rundown after singling to right.
Houston tied the game in the fourth with an unearned run. Terry Puhl snapped Ruthven's perfect game after 10 batters with an infield single to Trillo.
Puhl stole second, raced to third when catcher Bob Boone's throw skipped into center field and scored on Jose Cruz's sacrifice fly.
AFTER THE Phils had regained the lead with an unearned run of their own in the sixth, the Astros went to work on Ruthven in the last two innings.
They bunched three singles for their legitimate run in the eighth, then watched Ruthven self-destruct in the ninth.
Green simply shook his head when asked about Reynolds' game-winning bunt, which Ruthven fielded and arched over the leaping Rose. The pitcher's ungainly pirouette was reminiscent of the dive Ruthven took that injured his shoulder on June 13.
"WHAT GOOD does it do to make a play like that?" Green wondered. "You've got to shut it down, hold the ball and try to figure a way to win from there. The worst is, with guys on first and third. You've got no chance on the error.
"You can't be a hero in that situation. The one time it works doesn't make up for the 10 times you lose a ball game on it."
Ruthven wasn't alone in Dallas Green's doghouse. Del Unser, starting in left field against Ryan with Greg Luzinski at home with a sore right knee, had a corner to himself.
WHAT ANGERED Green was Unser's failure to advance Bake McBride with a bunt in the ninth. McBride had greeted lefthander Joe Sambito with a single to left and, instead of sending up Lonnie Smith to swing away, Green ordered lefty Unser to bunt.
Normally a good bunter, Del tried twice and failed, then swung away and hit into a double play.
"Unser not getting the bunt down was another example of not playing team baseball," said Green. "If he's gonna hit away, I'll pinchhit with a righthander, for heaven's sake!"
UNSER ALSO struck out with Trillo at third and one out in the sixth after McBride had gotten Rose home with the second run.
"We don't get a run in from third again," mumbled Green. "Team baseball. This game was a perfect example of how not to play team baseball. We play great baseball for seven innings and forget how to play it for two. That's how you get beat in these kind of games."
EXTRA INNINGS – Mike Schmidt was scratched with an aggravation of his pulled hamstring two minutes before the lineup was handed to the umpires... "Mike came in after hitting and it tightened up a little," said Green.