Corpus Christi Times - July 16, 1980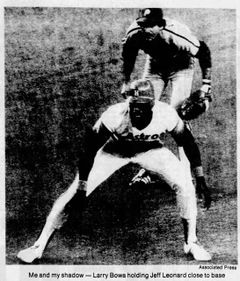 A different Ryan but a typical win
Times wire services
It was a different kind of Nolan Ryan pitching but it turned out to be a normal type of Houston Astros victory.
Last week in Los Angeles against the Dodgers the flame-throwing Ryan lost for only the third time in 114 career decisions when he went into the eighth or ninth innings with a lead. For six innings, he had been well-nigh untouchable, then wilted in the late going.
Tuesday night in the Astrodome, Ryan, pitching despite a swollen foot, was tagged for four first-inning hits, fell behind 1-0, then regrouped and gave up only two more hits before leaving the game after eight innings.
That helped set the stage for an Astros' comeback that produced a 3-2 victory over the Philadelphia Phillies and protected Houston's half game lead over the Dodgers in the National League West.
The way the Astros won, in the bottom of the ninth, was typical of this team with relatively meager power hitting. Shortstop Craig Reynolds, a .183 hitter, helped provide the winning margin when his speed forced Phils pitcher Dick Ruthven to hurry his throw to first on Reynolds' infield grounder. The ball sailed away from first baseman Pete Rose and pinchrunner Jeff Leonard raced home with the game-winner.
Leonard was subbing for Alan Ashby, who had opened the inning with a single. He was balked to second by Ruthven 8-6 before the fatal bad throw on Reynolds' grounder.
The grounder "forced the pitcher to make the high throw into the dugout," said Reynolds. "My No. 1 function was to get the guy to third," he said.
Rose started the Phils' big first inning with an infield hit and advanced to third on a line drive to centerfield by Manny Trillo, who was out trying to go to second. Del Unser's hit drove in Rose.
The Astros tied the game 1-1 in the fourth when Terry Puhl broke up Ruthven's 3⅓ perfect innings with an infield hit that eluded second baseman Trillo. Puhl stole second and went to third on catcher Bob Boone's throwing error, then scored on Jose Cruz's sacrifice fly to deep right field.
Ryan, also plagued by an unearned run, settled down to retire 13 in a row before Rose walked in the sixth inning.
Third baseman Art Howe bobbled Trillo's grounder and eventually threw it away into centerfield, allowing Rose to go to third and Trillo to second. Bake McBride's ground out to second scored Rose with the lead run.
In the bottom of the eighth, the Astros grouped three singles by Rafael Landestoy, Denny Walling and Puhl to tie 2-2.