Corpus Christi Times - July 17, 1980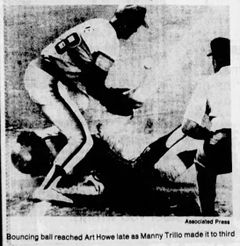 Fast ball tougher than tennis-ball heave
HOUSTON (AP) – Philadelphia pitcher Bob Walk had more luck throwing fast balls at the Houston Astros Wednesday night than he did tossing tennis balls at Houston outfielder Cesar Cedeno as a fun-loving teen-ager.
Walk confessed Wednesday night after defeating the Astros 4-2 that he was ejected from Dodger Stadium when he was a 19-year-old spectator for throwing a tennis ball at Cedeno while Cedeno was in center field against the Dodgers.
"I was just sitting out there in the bleachers with all the other crazies," Walk said. "Why did I do it? I guess because I was drunk. I don't even know if I hit him."
Walk threw a hard ball past Cedeno and the rest of the Houston Astros Wednesday night, allowing only three hits and registering his sixth consecutive victory against no losses in an outstanding rookie season.
Walk has progressed rapidly since he joined the Phils earlier this season. A very intense pitcher, he would become upset if he allowed a hit.
"When he first came up he figured no one was supposed to hit him," Phils Manager Dallas Green said. "He lived up to his name. He'd walk around the mound four or five times shaking his head.
"He wore me out so after a couple of times we talked things over and he has improved ever since."
The Phils staked Walk to a 3-0 lead with two runs in the first off loser Ken Forsch, 8-9, on a run scoring single by Bake McBride and a grounder by Garry Maddox. Another run scored in the fourth on Lonnie Smith's single.
Philadelphia's fourth run came in the sixth inning when Manny Trillo singled, went to third on an error by shortstop Craig Reynolds and scored on John Vukovich's sacrifice fly.
The Astros got their only runs in the fourth when Walk walked Cedeno with two outs and yielded a home run to Art Howe, his fourth of the season.
That is when Walk's maturity started to show.
"Six weeks ago I would have been in trouble if I'd given up a home run like that," Walk said. "Things like that used to upset me. Now I just get the ball and go after the next batter."
That is exactly whut Walk did Wednesday night. Walk allowed only one other hit the rest of the game, Jose Cruz' single off third baseman Vukovich's glove in the ninth.
The loss was a double dose of bad news for the Astros, who announced prior to the game that all-star pitcher J.R. Richard would be placed on the team's 21-day disabled list because of chronic arm fatigue.
"He's the only one who knows how he feels," Astros Manager Bill Vlrdon said after Richard tested his arm Wednesday night. "He says he still has a problem and needs 21 days, so he'll get it."