Atlanta Journal-Constitution - July 19, 1980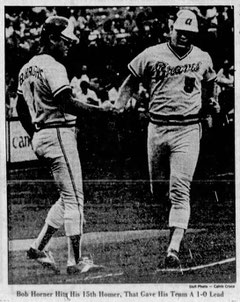 Horner Hits 15th In Defeat
Phils Win 7-2 For Espinosa
By Ken Picking, Constitution Staff Writer
It's as if they have been waiting for him to catch up. And, as the experts predicted, here comes Bob Horner full-throttle.
A month ago, it seemed Horner would be only slightly closer to the National League home-run leaders come September than Glenn Hubbard. The Atlanta Braves' 22-year-old third baseman was sulking, swinging badly and missing games because of an upset stomach. And his grand total of five homers made those who forecast him as the greatest thing since Hank Aaron feel incredibly foolish.
Then one went bye-bye. Then another. And another. The Swing was back, and once again Horner was among the league's most-feared power hitters. Friday night, against Philadelphia's Nino Espinosa, Horner went deep for the 10th time in his last 18 games, but the Braves continued their post-All-Star break collapse, losing 7-2 to the Phillies before 13,908 at the Stadium.
Espinosa, winning for the first time, gave up only two hits over seven innings, but they were for a combined distance of some 800 feet as Horner made it 1-0 in the second and Chris Chambliss hit No. 11, in the seventh. Biff Pocoroba's pinch single concluded Atlanta's "deep-freeze offense" as the Braves lost for the eighth time in 10 games since the All-Star intermission doused their one and only hot streak.
Winning for the third time in four games on this road trip, the Phillies (47-38) continued to put heat on East Division front-runners Montreal and Pittsburgh. Meanwhile, Atlanta (39-48) slipped dreadfully closer to sixth-place San Diego.
"You can't win if you don't hit any better than that," Manager Bob Cox said softly. "But Homer is as hot as I have ever seen him."
Horner's 15 homers in 52 games seem all the more amazing, considering Dale Murphy, once again struggling badly, leads the Braves with 16 in 83. Using every portion of the field, Horner has hit safely in 14 of his last 18 games to raise an almost invisible average to .242. His. 34 runs batted in are surpassed only by Murphy, Gary Matthews and Chambliss, who reclaimed the team lead with his 43rd.
"My confidence is real high right now," admitted Horner, who also made two strong plays in the field. "I'm glad the balls are going out for me right now, but I'm just glad I'm keeping the ball in play most of the time. Espinosa still looks like his arm is bothering him because I've seen him throw much harder and better.
"I am a little surprised I'm so close to the leaders after all the games I've missed and all I have been through this year," he said. "But then most of the big boys have missed games just like I have. I have no idea how many I might be able to hit but I got to feel I have a shot at it (the home-run title) if I'm this close now."
After a sizzling start Philadelphia's Mike Schmidt continues to lead with 23 homers, despite playing only 74 games because of a recurring hamstring pull. Schmidt played Friday for the first time since Monday and hit No. 23, some 400 feet to center off losing pitcher Phil Niekro (7-12), off whom the third baseman has hit seven career homers.
"Is that how many I have off Niekro?" asked Schmidt limping with an ice pack on his tender thigh. "It's just do-or-die against him. He throws me all knuckleballs, and if I hit one, I hit one. I've seen guys pass me in every other department except borne runs since I've been hurting, and it does surprise me I'm still on top in homers.
"If I end up with 35 or 40 I'll be happy, but I'm most concerned with RBIs. There's no doubt Horner will be in the home-run race because he could hit probably 30 in only 100 games. In 162 games, Homer is definitely a 45-50 home run and 120-RBI man."
Schmidt holds an edge over George Hendrick (20), never known as a home-run hitter, while Dusty Laker (19), Steve Garvey (18), Jack Hark (17) and Murphy (16) precede Horner. Dave Kingman, Willie Stargell and Dave Winfield, normally challengers for the title at this point have lagged behind because of injuries.
Schmidt however, did not do the majority of the damage to Niekro – line-drive hitters Pete Rose and Bake McBride carried the load. Rose, getting his 100th and 101st hits, drove in three runs with two singles, and McBride also drove in three.
This Rose Still Blooming
By Ken Picking, Constitution Staff Writer
PETE ROSE WAS not the least bit amused, and it showed in a dark, rugged face nicked and scarred from sliding savagely into second- and third-base bags nose-first for two decades. In fact, "The Sporting News Player of the 1970s" felt a Louisville Slugger had slapped him across his Aqua Velva kisser.
"Look here, will ya?" Rose snapped, spinning a smooth, 35-inch, 34-ounce splinter of white ash wood. "It's my All-Star game bat, but look at the date."
Rose, kneeling, choked up to the Louisville Slugger trademark and pointed to an obvious misprint in the mechanical inscription "1680 All-Star Game."
"Hell, they didn't start playing baseball until 1869," Rose said, beginning to revel in the absurdity of it all. "I asked Pee Wee (Reese, ex-Dodger great and now a Louisville Slugger representative), 'How old do they think I am?' Hell, I'm still climbing the hill; I'm not over it yet."
Strands of silver and gray accent the mop-topped haircut, and his deep, darting eyes are more mellow than maniac. Pete Rose is not old, but he is undeniably older and admits he does not knock himself out running out walks or sprinting to his position anymore. "I take my place firmly," he says, refusing to concede entirely.
On April 14, the scrappy scamp from Cincinnati will reach sports' nefarious numeral – 40. With Willie McCovey's retirement, only Gaylord Perry, Jim Kaat, Phil Niekro, Carl Yastrzemski, Woodie Fryman and Willie Stargell are older than the Philadelphia Phillies' millionaire first baseman, and not even "Yaz" pretends to exude the exuberance or energy of baseball's legendary "Charlie Hustle."
"Does this look like the body of a 39-year-old?" Rose asked, slapping his drum-tight midsection. "Do I play baseball like I am a 39-year-old? Didn't Gordie Howe play till he was 50? Age is just a state of mind, and I feel like I'm still in my mid-20s."
Indeed, this Rose remains a glorious, full bloom. Look it tip. He leads the National League with 30 doubles. Ray Knight, who ironically replaced the 13-time All-Star at third base in Cincinnati last year, is second with 28 but he is 12 years .younger.
After a dismal .203 start – "It still seemed like I got a hit a night, and I swear I was helping my team as much as when I was hitting .330 last year" – Rose finished the first half furiously to reach .285 at the All-Star break, and after winning the player of the week honors with a .550 average and 12 runs batted in the first week back, Mr. Intense assumed .300 status for the first time this summer. At a time when even eagle eyes are beginning to betray, he struck out once his first 90 at-bats, and with 13 after 82 games, Rose has an excellent chance to rewrite his personal all-time low of 30.
"I don't think it is any secret why the last five years or so a lot of the older players have had good years," he said. "Let's face it, the players realize that when they get near the end of their career they can make some big money by playing a couple extra years. (Lou) Brock went out on top. Two years ago Perry was Cy Young. Last year Stargell was MVP. Older players are making a point to keep themselves in shape all year.
"Ten years ago, players did nothing during the winter, and then they would take the extra five or 10 pounds during camp and play themselves into shape in April. Now guys report in shape because there is so much young talent waiting to take our places."
"Make no mistake, Pete Perfect intends to play long after his 40th birthday. His celebrated, four-year, $3.2-million contract signed after a whirlwind, cross-country bidding war in 1978 has two more years to run, and Rose plans to sign another and finish his Hall of Fame career at first for Philadelphia or as a designated hitter in the American League. Twenty-five years in the big leagues? "Only 25?" he said optimistically.
Rose is not the devotee to intense conditioning Kaat is, simply because fitness comes so easily. During the winter his entire program consisted of playing tennis two hours a day, three times a week.
"My strongest asset is my legs, even though I'm not a fast runner," he said. "I've never had a pulled muscle, and I guess it's because from little league all the way up until I was a sophomore in high school I was a catcher. My legs have always been strong, and the guys who usually get tired in September are complaining about their legs."
He is not a health food freak, though he watches his diet – no potatoes, red meat only occasionally and desserts are childhood dreams. Rose deserves his reputation as a hell-raiser – and he admits, "I never said I was an angel" but he has never smoked cigarettes, drank beer or alcohol or chewed tobacco. Wine during dinner is as far as he will indulge.
"I'm sure I could play longer and hit higher than I will the next couple years if I would take days off now," Rose said, his momentum building with each word. "But that's not me. I haven't missed a game since I put on a Phillie uniform, and I played six weeks with a broken toe, and right now my arm is still sore from when I hyperextended my elbow on a play at first. I thought I broke my arm at first, but I held the ball for the out, and that's what's most important. When I sign a contract, I feel it is my obligation to play 162.
"This game is easy when you are 100 percent but it just can't be that way when your team plays 162. It's not fair to your teammates or the fans if you tone your style down or sit a couple games out a month for such a selfish reason as trying to preserve your career. When I give a banquet speech after my days are over, I want to be able to say I played my last game just like my first.
"I don't dislike players who drink or smoke but I learned a long time ago – Sparky (Anderson) was the one who drilled it into me – if you take care of yourself you can play extra years. I just write it all off to being a luckiest guy I know."
••
"Get your glove down. Put the damn thing on the carpet"
"Three hours before the Phillies were to play Houston, Rose hit dozens of groundballs to Mike Sambito, the 9-year-old son of Astro pitcher Joe Sambito, and instructed his young pupil on the game's technical points. It's moments like these when Pete misses "the joy of my life" most – 10-year-old son Pete Rose Jr.
"I haven't seen Pete in about two months," Pete Sr. said, the sadness unmistakable. "We're going back to Cincinnati next week, and since he is out of school I'll probably bring him back to Philadelphia with me. He was fantastic in that (Aqua Velva) commercial with me, wasn't he? The kid's a natural. He's got more natural ability than I ever had, and I know he has taken more batting and fielding practice than any 10-year-old in history.
"I really appreciate him being old enough to do things with. I get the biggest kick watching him take throws from (Larry) Bowa and the other guys. He looks like a midget out there. I just hope he has the same hungriness I had when I came up.
"I don't think it will be tough for him having my name. He can overcome it. People said I couldn't carry my old man's jock. I'm just my old man in the next generation, and Pete's the same with me. It's awful being away from him, but the way she (wife Karolyn) gets back at me is not to let Pete travel with me like he used to. That's the way it is when you are having domestic problems."
Pete and Karolyn Rose, maybe baseball's most familiar couple, have been separated for nearly two years, and it has been anything but top secret. She lives in Cincinnati with Petey and daughter Fawn and drives a Rolls-Royce that Pete gave her. Rose maintains an apartment in Philadelphia and has two Porsches. It has been difficult for the family to pull itself back together because of the constant media interference.
"I don't know how everyone got the Impression Karolyn and I got back together," Rose said. "Some people in the press write about stuff they know nothing about. Instead of worrying how I'm doing at first base, they want to know who you are sleeping with. She came to spring training this year, but she didn't stay with me. I had a good baseball wife. I had a good baseball wife, but I just messed around too much."
Karolyn is Italian, attractive and as animated and personable as Rose. In Cincinnati, she had her own radio show. Last year she composed a revealing, private look at how it is to live with Pete Rose, including such intimate gems as, "Pete sleeps with a pillow between his legs." She gave him both barrels.
"It didn't bother me because she's just like I am – honest" Rose said. "But in today's society, honesty gets you in trouble. People want you to say things, and then when you say them they can't believe it. If you're honest and they know it, they don't like it. They wanted you to lie. I don't know why people are that way.
"I don't know if well ever get back together," he said. "I don't think about it. I'm too busy thinking about what pitcher I'm going to face tonight."
••
For the first time in his 18-year career, Rose was reluctant to attend the All-Star game in Los Angeles, for several reasons. One, he wanted to spend the three days off with Pete Jr. in Cincinnati. Two, he felt the National League was in a bind at first base with so many qualified players. Three, he says he has always been a "lousy" All-Star performer unless he is familiar with the American League pitchers.
Then, when he arrived for the pre-game workout, Rose knew he should have not gone westward. Instead of questions concerning an 11th 200-hit season, or where the Phillies figure in the East race, Rose was besieged by reporters covering a story reported by the Trenton (NJ.) Times. Rose, Mike Schmidt Greg Luzinski and Bowa were implicated in an investigation involving the illegal distribution of amphetamine pills by a Reading, Pa, doctor. Naturally, it made headlines nationwide.
"I still don't know how they got my name, but I did lie the first time I was asked about it," Rose revealed. "I said I did not know any doctors in Pennsylvania. I had to retract that because I do know the Phillie and Pittsburgh Pirate team doctors. As far as I'm concerned it was just a case of negative journalism; a writer using information and names he did not check out. I can't help it if the name 'Pete Rose' appeared on a prescription. The doctor, or whoever did it could have written 'Jimmy Carter' just as easily. If ever in my life I was innocent it's this time.
"I learned long ago that people are going to write and think what they want regardless of the truth," he said. "It just perturbs me. Hell, you can go out and get 200 hits, score 120 runs and hit .330 and all people want to talk about is garbage. People think they can get the rest of the stuff on the back of a bubblegum card. Here we are, the greatest collection of stars in baseball together on one field, and the hottest story of the day is one about drugs. And a false story at that.
"When we got back from the All-Star game, assistants from the District Attorney's office questioned us. This is after three straight days of front-page, TV and all that This agent says, We want you to know one thing, we're not accusing you of any wrongdoing.' I said, Oh, really? After reading the papers the last three days you'd think I was a main-liner. You don't have to tell me that I didn't do anything wrong. I know it.' He said, 'We're more embarrassed than you are that this story leaked out' I laughed and said, 'Oh, sure, people are going to yell at you from the stands.'
"Do you believe that crap about being innocent until proven guilty? Bull. The damage was done the first day, and that's what people remember."
It was not the first time Rose has been linked to drugs. In the September 1979 issue of Playboy, Rose's interview with free-lance writer Samantha Stevenson revealed he took "greenies," an amphetamine reportedly widespread throughout sports, before a game.
Again, Rose claims he was a victim of a venomous pen.
"You could read the introduction and tell she (Stevenson) was going to do a number on me," he said. "She got mad because I wouldn't talk about the paternity suit (filed by a Tampa woman the previous spring). She out-and-out changed my words. I'll tell you exactly what it was like. Her first question was, 'When did you get your first piece?', and then she got mad when I wouldn't answer her.
"Then she asked me if I go to spring training overweight. I told her that if I'm overweight a month before training camp, I take some of my wife's diet pills to curb my appetite to take 5-7 pounds off. She kept talking and about 10 minutes later she asks, 'A diet pill is a greenie, isn't it?' I told her the ones my wife had weren't green, but she comes out in the article and says I take greenies. It goes all over the country, and I have to answer questions and defend myself for the next few months. I did tell her I took a diet pill, but she used it as a trap.
"I'm too honest to knowingly fall for that crap. Do you think if I really took greenies I would tell some chick I don't know who's writing for a national magazine? Come on. Another thing she got (bleeped) off about was that I didn't try to take her to bed. She's the same chick who wrote an article about what basketball players looked like with their clothes off.
"She's in Philly, but she hasn't come around the clubhouse since then. She thought that story was going to make her a star, but it backfired in her face. What she was really after was juicy stuff about the paternity suit. My family had taken enough grief. And, when I wouldn't talk about it she told my lawyer (Reuven Katz) to his face she would do a number on me if I didn't cooperate. She did."
So, once and for all, has Pete Rose ever taken greenies, or any kind of drug stimulant before a game?
"I've taken painkillers before when I had a separated shoulder," he said, "but that's not illegal. But if you say you take painkillers, then they say, 'What's a painkiller?' Without my lawyer sitting here, that's not a fair question to ask me if I've ever taken greenies.
"I don't know why people think I must be on something to play the way I do. I played last night the same way I did when I was in high school, and I didn't know what drugs were then. Yeh, I'm on something when I play baseball. I'm on a whole bunch of enthusiasm. When I run out of enthusiasm that's when I will think about retiring. If this wasn't fun, I couldn't go through all the crap I go through."
Rose paused. "Oh, I forgot" he said, moving closer as if to divulge a deep, dark secret. "Petey took a greenie before we did that commercial – a green M&M."
••
The records continue to fall and he can recite them all. Rose is most proud of his switch-hitting record, most hits from both sides of the plate. But Rose's "ultimate record," the one he remains in the NL for, is Stan Musial's career record of 3,630 hits. After Friday's game in Atlanta, Rose has 3,473.
"Of all the records I own, the ones I like best are the ones nobody ever writes or talks about" said Rose. "The reason I like them is they prove the point I've tried to make my entire career – I'm consistent and durable. I have the highest games per year average in the history of baseball, something like 158 a year for 17. I already have the record for most 600 at-bat seasons, but if I do it again this year, I'll tie Nellie Fox for most consecutive 600 at-bat seasons. Some guys never bat 600 times in a season once.
"People think I'm an ego maniac because I talk about records, but I'm just stating facts," he said. "Most people don't talk about records because they don't have a chance to accomplish them. How many guys do you know that nave a chance to pass Musial's hit record? That's why I can answer the questions.
"But really, individual statistics are only for negotiating a contract Baseball will always be a team game. If I had not played with Morgan, Bench, Perez, Schmidt and offensive players like that I would not have all the at-bats, hits and runs I have. We all need each other.
"A home-run hitter could hit 80 out, but without teammates he'd have only 80 RBI. The real rewards are as a team. I thought just getting to the World Series was the ultimate accomplishment but winning it is what we're in this for. The utmost goal of every player in spring training should be to make the playoffs and win the last game you play, because that means you are world champions."
Returning to Cincinnati has been confusing for Rose, as well as the Reds fans.
"They really do not know what to do," he said. "Last time I was there, I did something that hasn't been done in the National League since 1927 – I stole three bases (second, third, home) in one inning. Reuven told me that people come up to him and say, The game just isn't the same around here without Pete.' I miss them too, but how can I be mad at (Reds president) Dick Wagner when he made me a millionaire.
"I don't know how a guy can walk in and get rid of me, Sparky, Perez and Morgan like he did and get away with it but he did it Whether I sign again with the Phillies depends on how I'm playing at the end of this contract, but I can't imagine (Phillies owner) Ruly Carpenter treating me the same way Wagner did. Ruly's more human than that.
"The happiest moment of my life was when we (Cincinnati) won the World Series in 1975 and being MVP. Winning the World Series for my hometown was a lifelong dream, but I think if we could ever win one for Philadelphia, the way those people have supported the team and been teased with success all these years, it would be the ultimate."
Even if it takes the Phillies another five years or so, Pete Rose plans on being there, too.