Camden Courier-Post - July 19, 1980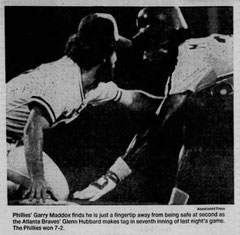 Espiniosa sparkles as Phils top Braves
By Ray Finocchiaro, Gannett News Service
ATLANTA – Nino Espinosa reverted to form here last night. Namely, the Phillies' right-hander finessed the Braves right out of Atlanta Stadium.
Espinosa, who was belted by the Pirates in his last start after pitching a two-hitter against St. Louis in his first game since coming off the disabled list, got back into the two-hit groove last night as the Phils beat Phil Niekro and the Braves 7-2.
Espinosa lasted seven innings and both hits were rather impressive homers, by Bob Horner and Chris Chambliss, but the Braves were kept off-balance by Nino's assortment of pinpoint breaking pitchers.
"Nino pitched a very professional baseball game," said Manager Dallas Green as Espinosa, who isn't talking to the media anyway, dressed early and left.
"He's a guy who has got some guts, some courage. He throws the ball over the plate and he'll win. You don't need super stuff to win in this game, and Nino has proven that."
If that's not damning somebody with faint praise, heaven knows what is. But Green isn't complaining when Espinosa's winning... which he did for the first time this season.
Still, Green yanked Espinosa after he walked Jeff Burroughs to open the eighth. Burroughs was only the third baserunner against Espinosa, counting Horner and Chambliss, who merely touched the bases as they trotted around them.
"Actually, he was out of the game an inning before," said Green. "I thought I saw some different arm action in the seventh, but Bob Boone felt he could go another inning and talked me into leaving him in.
"Nino had em off-stride again, hitting spots and occasionally popping the ball. I was happier with his velocity tonight than his last start (which included three Pirate homers),"
Dickie Noles, pitching with his family in the stands, finished up, squirming out of a bases-loaded jam in the eighth and breezing in the ninth for his sixth save.
Bake McBride and Pete Rose had three RBI apiece, but it was Ramon Aviles, again filling in for Manny Trillo at second base, who led the Phils' hit parade with three singles and was robbed of a fourth.
"There's really no pressure on me," shrugged Aviles, who also scored twice. "When you fill in for Manny Trillo and Larry Bowa, you're filling big shoes. Those guys are superstars. It's an honor to be their backup.
"No matter what I do, I know the other guys will play, so I just do the best I can when I'm out there. They won't bench the other guys because I'm hitting. I just do the best I can when I get in."
"I've been in the minor leagues too long to be complaining," he said. "Sure, I'd like to play every day, but every ballplayer does. I'm just happy to be with this team and help out where I can."
McBride continued his personal "Beat Niekro" campaign. The night before in Houston, Bake beat Joe Niekro with two singles, two stolen bases and two runs scored in a 2-1 victory for Steve Carlton.
Last night McBride doubled home a pair of runs in the third as the Phils took a 3-1 lead. Bake made it 5-2 when he knocked in Aviles in the seventh.
"I like hitting against the Niekros," said McBride, who's a member of a very small club. "I do pretty well against them."
Mike Schmidt's another. He drilled his 23rd homer of the season – and second second since June 24 – in the sixth. It was Schmidt's seventh career homer off Phil Niekro, who tied Jerry Reuss as Schmidt's favorite patsy.
"I'm not worried about home runs," said the low-key Schmidt, back from a three-game absence with a reaggravated hamstring. "Runs batted in – that's what I'm after."
And he has 62 of those.
The Braves actually had a 1-0 lead in the second when Horner hit his 15th homer – and 10th in 18 games – deep to left.
But Rose knocked in one run and McBride two more in the third and the Phils were never headed.
In the eighth, the Braves actually threatened to make a game of it for the 13,908 game fans who came out to see a team that had lost seven of nine games since the all-star break.
After Burroughs walked to knock out Espinosa, pinch-hitter Biff Pocoroba greeted Noles with a bouncing single over Schmidt's head to left.
Noles got Mike Lum, a perennial Phillies' pain, on a fly to left, but Brian Asselstine, the third consecutive pinch-hitter, waited out a walk to load the bases.
The Noles clan, cheering everything brother Dickie did – even when the Braves got a hit or walk off him – went wild as the right-hander got Glenn Hubbard on a pop to Aviles in shallow right and struck out power-hitter Dale Murphy, who had two feeble swings at some wicked sliders.
And the Braves had made it eight losses in 10, with tonight's twi-nighter promising more of the same unless manager Bobby Cox' free-swingers get back in gear.
Green will use Dick Ruthven and Dan Larson tonight against Doyle Alexander and Tommy Boggs. The twi-nighter, which won't be seen on EITHER of the channel 17s (Philadelphia or Atlanta) coming into Delaware, begins at 6:05 p.m.
EXTRA INNINGS Garry Maddox has bit in nine straight... Rose has 101 hits and lifted his batting average to .300... Rookie Bob Walk vs. the Braves' Larry Mc Williams in tomorrow night's 7:05 game.