Atlanta Journal-Constitution - July 21, 1980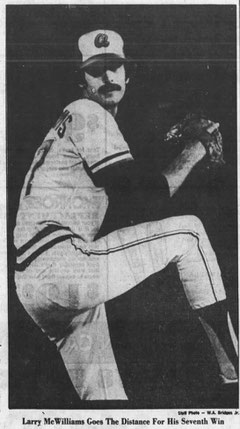 McWilliams Tall In The Saddle Against Phillies
By Ken Picking, Constitution Staff Writer
Watching Larry McWilliams work, it's astonishing Atlanta's long, tall Texan does not strangle himself in a network of arms, elbows, legs and knees. His windup is loose and lazy. He tucks his head before the release and slides into a semi-Gene Garber, swivel-hip dip. With his cap pulled down on top of his ears and eyebrows, the opposition must wonder if the Braves are serious about pitching a guy who looks like Tom Burleson kneeling.
Even McWilliams admits he is not the most pinch-hit-impressive specimen ever to stand upon that small,dirt hill.
"I can understand it if someone says, 'How does this guy get away with this?' " McWilliams said, his face flushed with honesty. "But I've seen a lot of guys who didn't impress me that finished the game."
The Philadelphia Phillies were not exactly hailing McWilliams as the next Steve Carlton, but nonetheless, the Braves' only left-handed starting pitcher dominated one of the league's most potent right-handed attacks, 3-2 Sunday night, for his seventh victory and second straight complete game.
McWilliams' sixth win at home, before 9,335 at the Stadium, gave Atlanta three of four weekend games with the Phillies and boosted the Braves back to within six games of .500. With San Francisco losing, Atlanta (42-48) is 2 games out of fourth and 8½ games behind division-leaders Houston and Los Angeles.
"McWilliams is not the impressive type, but he is the type of pitcher who can really be confusing," Manager Bob Cox said. "I thought about pinch-hit-impressive ting for Larry in the eighth, but the Phils just weren't hitting him at all. He can work over the best bitters in the league."
Pete Rose remembers Atlanta's No. 27 well. It was McWilliams and Garber who combined to stop Rose's 44-game hitting streak in 1978. But Rose is still not convinced the 26-year-old from Hurst, Texas is for real.
"He doesn't beat himself; you have to beat him," said Rose, who took an unusual 0-for-4. "But to be honest, I liked him better when he threw harder. That slow stuff isn't going to fool that many people. A lot of pitchers impress me more than him. If he can put an 0-for-4 on me again Friday (when McWilliams is scheduled to pitch in Philadelphia), then I'll concede he's the better man."
The Phillies wanted to kick themselves, for wasting a rare opportunity to face a left-hander. Before Sunday, Philadelphla was 11-7 against lefties and six of the starters bad .300 or better averages against southpaws. "
"We only get to see about one left hander a month, and it's frustrating to let him get off the hook," said Mike Schmidt, who had one of the Phillies' seven hits. "The balls we bit tonight went right at someone. The next time we could kill him."
McWilliams enjoyed the luxury of a two-run lead after facing three Phillies in the first Against rookie Bob Walk, who lost for the first time in seven decisions. Jerry Royster made the most of a rare start by walking and then hustling home from first when the early-evening sun blinded left-fielder Lonnie Smith on Gary Matthews' single. Jeff Burroughs, who had not been finding any holes in the outfield lately, slapped the first of two singles to center to score Matthews.
The eventual winning run came in the fifth. Dale Murphy, who made a crucial, diving catch on Bake McBride in the sixth, and Chris Chambliss singled back-to-back. Murphy advanced on Matthews' long fly ball and Bob Horner, who did not hit a homer for the first time in four games against the Phillies, brought his J7th run home with a sacrifice fly.
"-I owed them this one," said McWilliams, who allowed only two hits and one unearned run after the third. "They knocked me around pretty good the last time I faced them. They are not as bad with (Greg) Luzinskl out. I was kind of surprised he (Cox) didn't pinch-hit for me fn the eighth, but it's nice when the manager has confidence you still have it for the ninth. I'd like to make these complete games a habit."
Catcher Bill Nahorodny repeatedly called for McWilliams' slow-breaking curve and diving forkball.
"It seemed like they weren't seeing his breaking pitches very well, so I wanted to stick with them until they showed they could do something with them," said Nahorodny, a former Phlllie. "But this is no ordinary left-hander. McWilliams knows his stuff and how to use it I think he was stronger at the end than at the start."
The Phillies (47-41) had a chance to chase McWilliams in the eighth with the benefit of only one hit. With two out Glenn Hubbard failed to make a play on Garry Maddox's easy groundball, putting runners at first and second. Manny Trillo, the league's leading hitter, made it 3-2 with a double, and moved the tying run to third. But McWilliams was determined "not to give him a good pitch to hit" and Burroughs squeezed Larry uowa s uner to end the rally.
Royster, who said "it's just good to play again", played seven innings at second and two at third, and singled twice, walked, scored once and stole his 12th base on a pitch-out. Horner, hitting safely for the sixth straight game, walked, singled and collected his third game-winning RBI.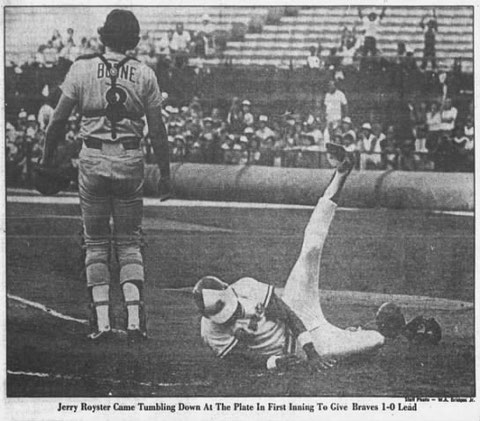 Injury Prospects High
Rose Detests Sliding Headfirst In Atlanta
By Ken Picking, Constitution Staff Writer
Pete Rose says he will never change his reckless style of play, but the Philadelphia Phillies' first baseman admits he hates to slide head-first in Atlanta.
"Atlanta is the only place in the National League I think twice about sliding head-first," Rose said Sunday before the Phillies and Braves concluded a four-game series. "For some reason, every night before a game the grounds crew in Atlanta squirts the field down. They-do it before the game, too, and whenever you slide head-first on wet dirt, you don't slide, you stick and jam your shoulders. I've come close to injuring myself a couple times here."
But when a play is close, Rose says he will continue to go in head-first, even when he turns 40 years old next year.
"I still slide head-first because I do it right," he said. "If I slide the way most people slide, (feet first) I get hurt. I always end up with a strawberry. Besides, why should I think about changing things now?"
NOTES – The  Braves, who have won 13 of their last 21 home games, host Montreal for three games Monday, Tuesday and Wednesday before departing on an 11-day, 10-game road trip to Philadelphia, New York and Montreal. Pitchers for the Expos' series are: Rick Matola (6-7) vs. Scott Sanderson (9-6); Phil Niekro (7-12) vs. Bill Lee (3-4); Doyle Alexander (8-5) vs. Charlie Lea (2-4)... After 90 games in 1979, the Braves were 39-51, 13½ games out... A clever and comical sign in right, field caught everyone's eye: "Save the Whales Keep Bob and Skip." Bob, of course, is Bob Horner and Skip is TV announcer Skip Caray. "Wish we were in the same income bracket" Caray responded... Gary Matthews' three runs-batted-ln Saturday gave him 45, and it marked the first time this season that either Chris Chambliss or Dale Murphy have not led the Braves in RBI... Though not hitting one Sunday, Horner continued his awesome home-run pace Saturday, hitting No. 16 and No. 17. In his last 21 games, Horner has 24 of his 37 RBI and an incredible slugging percentage of.893 (67 total bases, 76 at-bats)... Manny Trillo, the National League's leading hitter (.331), played Sunday for the first time in five games after jamming the middle finger of his left hand... Larry McWilliams stopped Garry Maddox' hitting streak Sunday. Maddox had a 12-gamer, tying him with Bake McBride for the longest streak by a Phillie this year... Despite the Braves' offensive surge since June, opponents still have out-scored Atlanta 386-343 In 90 games... Despite Charlie Spikes'.429 pinch-hitting average, Braves' pinch-hitters have combined for a.230 average... Also, Luis Gomez rested Sunday and Larvell Blanks started at shortstop as Manager Bob Cox continued to shuffle his lineup in the extreme heat.. Chambliss saved another errant throw by Horner Sunday in the third with a marvelous one-hop scoop in the dirt. "The man's the best at that," Manager Bob Cox said... The Braves are: 29-20 at home, 18-22 against the NL East, 24-26 against the NL West 37-31 on natural turf, 5-17 on artificial turf, 19-16 in one-run games, 5-8 since the all-star break... Montreal was 9-1 against Atlanta in 1979 but 3-3 this season... Sunday Matthews stole his fifth base in seven attempts... After 46 home dates, the Braves' attendance stands 58303