Camden Courier-Post - July 21, 1980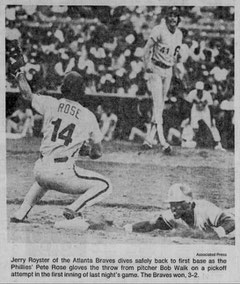 Braves hand Walk first defeat
By Ray Finocchiaro, Gannett News Service
ATLANTA – Bob Walk gave it his "you can't win them all" shrug.
Dallas Green wondered what his outfielders were doing in the first inning.
Lonnie Smith wasn't talking at all.
And the Phillies were losing again, 3-2 this time, to the Atlanta Braves, who have now won three straight after losing eight of 10 since the All-Star break.
WALK WAS a loser for the first time in the big leagues, but he wasn't that surprised.
"I didn't think it was going to be my night, the way things were going early," said Walk, now 6-1. "The Braves hit the ball a lot harder than the other teams did. They hit a lot of line drives. Even the outs were hit hard.
"Well, you got to lose sometime. You can't win them all."
But for some loose play in the first inning, when Smith let Gary Matthews' potential third out fall for a run-scoring single, opening the door for two runs, Walk might have fared better.
BUT THE Phillies were not hitting very much against Larry McWilliams, managing just one base runner with less than two out.
"You can't expect to get a lot of runs EVERY time," said Walk, in a shrugging mood.
Green, however, wondered why centerfielder Garry Maddox took so long getting the ball Smith mis-played back into the infield, allowing Jerry Royster, who danced around third, to race home.
"The outfielder has got to get the ball back to the infield as quickly as possible," said the manager. "Either run it in or throw it to Larry Bowa and let him run it in."
INSTEAD, MADDOX threw to second and Royster scored. That prolonged Walk's dilemma and another run made it worse.
Smith broke back, then started in on Matthews' two-out fly, then turned on the afterburners after realizing he wouldn't reach it. Smith dived for the ball but it fell for a hit.
"Lonnie broke back on the ball or maybe he didn't see it," said Green. "A lot of people were having trouble with fly balls."
Smith's comment?
"No comment."
BOB HORNER, who had homered in the first three games against the Phils and has hit 12 in his last 21, waited out a walk before Jeff Burroughs singled to center, scoring Matthews.
"I pitched around Horner," said Walk. "I wasn't going to let him beat me."
The Phils got a run back in the second when Manny Trillo, Bowa and Bob Boone bunched singles with two out.
Trillo was making his first appearance in five games since jamming the middle finger of his left hand sliding in Houston.
ATLANTA ADDED another run in the fifth and, but for Maddox's blanket coverage of center field, could have added a handful more.
Dave Murphy laced a ball over third that the hustling Smith tracked down in the corner and rifled to second, holding Murphy to a single.
Chris Chambliss laced a single to left and Walk was in trouble again.
Then Maddox went into his greyhound act First he flagged down Matthews' liner to right center, turning an easy double into the first out as Murphy lumbered to third.
Horner promptly tested Maddox' speed to his right, ripping a gapper to left center that Maddox turned into a sacrifice fly for the second out.
BURROUGHS KEPT the inning alive with a single to center that even Maddox couldn't reach, but Walk got out of further trouble when ex-Phil Bill Naharodny flied to right.
The Phils got their second run in the eighth, with two, naturally, as Trillo doubled home Mike Schmidt
"This is not the end of the world," Green told the doomsdayers. "We'll come back. Sure, this is frustrating, miserable, you name it. But we'll come back.
"This is the worst than losing that doubleheader. This is the kind of game we have to grind out and win."
The Phils will try to change their luck tonight in Cincinnati where Green will reluctantly use Randy Lerch against the Reds' Mike LaCross.
"I didn't have much choice," said Green, who had banished Lerch to the bullpen for the second time this season. "I want to give Steve Carlton an extra day's rest and I needed a pitcher."
PHIL UPS – In his last five starts before last night Walk was 4-0 with 19 strikeouts and a 1.58 ERA... Despite a fast start against lefthanders, the Phils are now 11-8 vs. lefties... The Phils are 3-4 on the road trip... Maddox's 12-game hitting streak, which tied Bake McBride's club high earlier this season, was snapped by McWilliams, but McBride has hit in 10 straight... After tonight's Lerch-LaCross matchup at 8:05, the Phils will use Carlton (15-4) against Mario Soto (3-4) tomorrow night and Nino Espinosa vs Frank Pas tore (10-5) Wednesday night.