Camden Courier-Post - July 27, 1980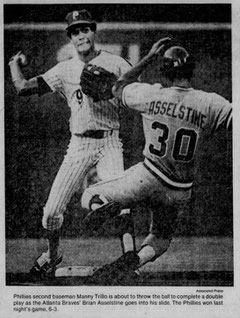 Trillo, Walk star for Phillies
By Rusty Pray of the Courier-Post
PHILADELPHIA – During it all, during the seemingly never-ending series of controversies that have attended this 1980 Phillies season, two players have performed consistently beyond the expectations of even the most optimistic of fans.
One is Manny Trillo, a second baseman with a vacuum glove, a ballistic arm and a bat traditionally hot only when the weather is cool. The other is Bob Walk, a rookie who has brought surprising stability to a pitching staff disrupted by injury and mental fatigue.
Together, they carved out a 6-3 victory over the Atlanta Braves last night before 33,112 fans in Veterans Stadium. Trillo, who went into the game with a Rose-like .321 average, drove in three runs and scored another against knuckleballing Phil Niekro, a storied Phillies nemesis. Walk, in turn, held the Braves at bay into the eighth to stroll away with his seventh win in eight decisions.
It seems Trillo has always been a cool-weather hitter. But no one, including Trillo, seems to know exactly why.
"One of these years," Trillo smiles, "I want to keep it (his average) over .300."
He has made great strides toward reaching that goal this season. Of course, no one – including Trillo – seems to know exactly why. The best he can do is attribute the phenomenon to an off-season weightlifting program and "good food at home."
Trillo's diet last night consisted of Niekro's fluttering knuckleball, a fare that makes most National League hitters turn away in disgust.
"I've never had trouble with him," Trillo shrugs. No one, including Trillo, seems to know why. "All you do is wait for the knuckleball."
He was waiting for precisely that pitch in the second, after Garry Maddox had singled and stolen second with one out. Trillo stroked it to left for an RBI double. An out and a walk to Bob Boone, who homered in the eighth off reliever Rick Camp, followed before Walk scored Trillo by flaring a single to right.
The Phils seemed to have something going in the third when Pete Rose opened with a single and dashed to third on a Bake McBride basehit to right. But whatever they had going nearly came to an abrupt halt when Mike Schmidt struck out and Maddox flied to shallow left.
Trillo obligingly rescued the opportunity, however, with his second double, a shot to right that scored both runners and gave Walk a comfortable 4-0 advantage.
The Phils produced one off those "grind it out" runs that Manager Dallas Green so loves without Trillo's help in the fourth. Lonnie Smith, who may become a fixture in left field if Greg Luzinski has to undergo knee surgery, produced a two-out single to center and used his burning speed to score all the way from first when Rose followed with a hit-and-run single to right.
Walk, meanwhile, breezed through the first three innings before finding himself in a one-out, first and-second jam in the fourth.
Indeed, with Bob Horner, whose 14 home runs this month is one short of the record for July, the hitter. Walk was in serious trouble. But the righthander made his best pitch of the night with a 3-2 fastball that caught Horner flatfooted.
Mike Lum did follow with a single to left, but Smith made an excellent throw to the plate, nailing Chris Chambliss and preserving – at least temporarily – Walk's shutout.
Walk held Atlanta scoreless unit Brian Asselstine ripped a one-out homer to right in the eighth. Walk fanned Chambliss, but permitted singles to Garry Matthews and Horner, and a walk to Lum. When pinch-hitter Dale Murphy deposited a two-run single to left, making it 5-3, Green called on reliever Ron Reed, who got pinch-hitter Biff Pocoroba to ground into a force and worked an uneventful ninth.
"Walk had real good stuff. His location was real good," said Green. "He started to get a little tired and his ball was up.
"You think back and he's kept us in a lot of ballgames. He's been a real stabilizing force on the staff along with Steve (Carlton) and Rufus (Dick Ruthven). He (Walk) has learned his lessons well and quickly."
PHIL UPS – Niekro is 0-2 this season, 23-15 lifetime, against the Phils... Final game against Atlanta this year today has Carlton going against Rick Matula... Phils turned two double plays behind Walk... Trilio is 31-for-87 with eight doubles in July... Boone's homer was his seventh... He is No. 3 on the club behind Schmidt and Luzinski.
Surgery possible for Bull
By Rusty Pray of the Courier-Post
PHILADELPHIA – There is a "75-80 percent" chance that Phillies leftfielder Greg Luzinski will have to undergo major surgery on his injured right knee, team physician Dr. Phillip J. Marone said last night.
Marone will perform an arthroscopy, a minor surgical procedure, on Luzinski tomorrow to determine the extent of the problem and whether or not an operation will be required to correct it. Luzinski, who has been on the disabled list since July 8, would be out "at the most six weeks" if surgery is performed, Marone said.
Luzinski injured the knee sliding into second base during a July 4 game in St. Louis. Marone examined the Bull four days later and withdrew three ounces of fluid from the knee.
"Friday a week ago (July 18) I drained it again, injected some medicine and it calmed down real well," Marone said. "We started rehabilitation and I saw him Thursday and he was doing well."
So well, in fact, the Phillies decided to put Luzinski through a stern workout on Friday. But the knee failed the test, again swelling.
"It was then I decided to do the arthroscopy on Monday and then decide what to do," Marone said. "If I can remove some of the loose pieces and arthritic chips with the arthroscope, then he will only be out a week or so. If I find something, it could be up to six weeks.
"There's not much pain, but there is discomfort and Greg is feeling something slipping in the knee. It may be that something more ominous is going on than I thought."
The loss of a slugger of Luzinski's caliber until September would damage considerably a Phillie offense that has been struggling recently.
"Doctor Marone has been puzzled by this thing all along," Phillies Manager Dallas Green said after his club defeated the Atlanta Braves, 6-3. "He doesn't want to believe just floating chips will cause Bull to feel the way he does and cause the inflammation."
But, if there is a silver lining in this latest of dark clouds, it is that a decision, one way or the other, will come from tomorrow's examination.
"I don't want him (Luzinski) playing with that on his mind or playing with a chance of hurting him," Green said. "This way, we know and he knows what's going to happen.
"If it doesn't need surgery and just a flushing out, that's only a couple of weeks. We can handle that problem. If it does, then we'll have to come with the guys we got. It'll put more pressure on (Mike) Schmidt. They'll (opposing pitchers) work his tail off. But we've got guys who can hit the ball out of the ballpark on a given day or a given pitch.
"I just hope we can surround Schmitty with enough smoking bats that he'll be able to just play."
Luzinski was hitting .245 with 15 home runs and 42 RBIs in 71 games prior to being placed on the disabled list.
Phils better hope Green doesn't start talking
By Rusty Pray of the Courier-Post
PHILADELPHIA – Sometimes, what a man doesn't say is twice as important as what he does say. Hell-oh Dallas Green.
The popularity in the clubhouse of the Phillies' manager probably hit an all-time low this past week when leftfielder Greg Luzinski decided to put into words what many of his teammates were muttering to themselves.
Green, however, could care less if he has ruffled some feathers while conducting his post-game evaluations of his players' performances for the media. He knows that if he really wanted to take off the kid gloves, he could pluck more than several swollen egos as clean as a Christmas turkey.
"That's the part of this that I don't understand," he said. "They know what I've said to the press. But, they also know what I haven't talked about."
At that exact moment, the manager' was biting his lip over half a dozen matters that he continues to sit on night after night, not the least of which was the way Luzinski's marvelous new body seemed to be disappearing just about the same time his knee problems returned.
For now, that subject is taboo with Green. You can bet, however, it will come up as soon as Bull takes advantage of the manager's "open door" policy and pays him the visit he talked about.
"I haven't heard from him yet," said Green Friday night. "No, I didn't talk to him. I'm not supposed to talk to him... he's supposed to talk to me... isn't that the way it was supposed to go?"
Green knows exactly the way the players would like it to go. They would like to make unknown blunders (such as missed signs) and obvious mistakes in execution during the game and then refuse to talk, leaving the manager behind to accept the blame or make excuses.
"I'm not going to fall into the Danny Ozark Syndrome," said Green angrilly. "This is new to me. I'm open to critisism, too. But, I'm not going to change myself to suit others... not even if Bull, Bowa, Maddox or any other player screams his head off."
Don't look now, but owner Ruly Carpenter isn't about to ride to the rescue of the players he likes so much. This time around, he's more interested in getting the most out of the team rather than keeping it smiling.
"I think Dallas has done everything he possibly can to help this team win," he said. "This team isn't always going to score enough runs to overcome the little mistakes. We've got to play good, solid, fundamental baseball in order to win consistently.
"Dallas hasn't pointed out anything that isn't obvious to the fans or the press watching the game. If be wanted to, be could point out a lot more."
Airing the club's dirty linen is the last thing Green wants done. He is well aware that there can be a thin line between honest critisism and the knocking of players.
But, he also knows that by turning their backs on the people asking questions about what took place on the field, the players have left him holding the bag. He can't shut his door to the press. Someone has to speak for the team. And, if the team doesn't like what he says, then it should start speaking for itself.
"Sure, I'm an emotional guy," said Dallas. "I say what I think. But, I don't knock guys. What I talk about is the obvious. I believe it's constructive criticism. I'm not out to hurt somebody. Why should I? This is my team. This is my organization. Why would I want to do something like that?
"I'm never satisfied. I always think we could do better. Maybe that's what Bull meant. Still, don't be knocking me for putting things in the paper by putting things in the paper yourself.
"Bull is entitled to his opinion. But what does he know? He hasn't been with the team for 10 days. I just felt we weren't playing our kind of baseball. Obviously (he was being sarcastic), I was wrong."
Green doesn't like playing the heavy. But he's been with the club long enough to suspect that without some prodding, the Phillies might be content to move effortlessly into a comfortable fourth-place finish.
He's not going to take a chance on that happening just to be popular. And, if the players think they can back him down, they'd better think again.
Dallas Green ain't said nothin' yet. And the Phillies better hope he never does.