Camden Courier-Post - July 5, 1980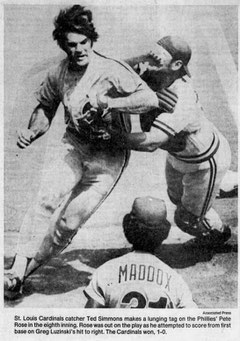 Hendrick's homer beats Phils in 10th
By Hal Bodley, Gannett News Service
ST. LOUIS – For seven innings yesterday, the Phillies and Cardinals played baseball like two teams on a survival march across a desert.
As the temperature during this midland scorcher approached triple digits, runs were non-existent and hits were coming like water out of a cactus.
"Game's going to be won on a great defensive play or a home run," Dallas Green suggested to anybody who would listen while Nino Espinosa and Bob Sykes mowed 'em down in the scoreless duel.
NO SOONER had the Phillies' manager uttered those words of wisdom, than St. Louis catcher Ted Simmons cut Pete Rose down five feet from home plate on a superb defensive play in the eighth inning.
Then, with one out in the 10th, silent George Hendrick cracked a screaming home run off reliever Kevin Saucier and the Cards had a 1-0 victory to the delight of an unruly crowd of 15,481 at Busch Memorial Stadium.
The jarring setback – the Phils out hit St. Louis 8-3 – spoiled the 1980 pitching debut of Espinosa. The righthander, who had not pitched in the majors since last Sept. 23. allowed just three baserunners during eight innings. Leon Durham singled in the first, Dane Iorg walked in the second and Ted Simmons doubled in the seventh.
The Phils', who swept a double-header from St. Louis on Thursday night, had their best chances off lefthander Sykes in the last three innings.
IN THE EIGHTH, with two out, Rose beat out an infield single and tried to score on Greg Luzinski's double down the right field line.
Durham's throw to the plate was up the line, but Simmons short-hopped it and tagged the runner.
In the ninth, Bob Boone doubled with one out, moved to third on Larry Bowa's infield out and was stranded when John Vukovich popped out to second.
Pinch hitter Keith Moreland opened the 10th with a single, was sacrificed to second, went to third on Manny Trillo's infield out and stayed there as Rose flied out center.
"YOU HAVE to give Ted Simmons all the credit in the world for the play," said Green. "A lot of catchers would have dropped the ball. It was a gamble on our part, that Pete could score from first and it was a professional play on Simmons' part."
"Simmons made a good play," said Rose. "If the ball had been by him, I would have had a chance to slide. The way his position was at the plate, my only hope was to knock the ball out of his hands. He caught it with two hands and showed the umpire he held it. He handled it like a first baseman.
"I had just enough time to see Pete rounding third base," said Simmons. "I knew he was going to try to knock the ball out of my glove, so I tagged him in the chest."
Saucier, who held the Cards in the ninth, got a quick jump in the 10th when Simmons grounded out.
THEN, AFTER falling behind 1-0 on Hendrick with a fastball, the young lefthander tried to come back with a breaking pitch away. There was little doubt when it left the outfielder's bat it would be good for his 17th homer.
"I think part of that is my fault," said catcher Moreland. "The pitch selection was not good. We thought Hendrick would be looking for a fastball and obviously he wasn't. With one out, our intent was to make him keep the ball in the park."
"You don't like to get beat on a pitch like that," said Saucier, now 3-3. "You never like to get beat on your third best pitch and that's what happened to me."
Espinosa has been suffering from bursitis in his right shoulder since last September. He was on the disabled list when the season opened and was finally sent to Spartanburg, S.C., three weeks ago to see how well he could pitch in competition.
"NINO TOLD ME all along he could do it and he showed me he could today," said Green. "You doubt what you see sometimes, but you have to give him credit. He pitched like hell. He knows how to pitch and he has never lacked for belly.
"I've seen it happen before," said Green. "I think the pitchers are better able to handle conditions like this because they know they have to go out there and prepare themselves. I think both Nino and Sykes used the ballpark to their advantage. They threw a lot of high pitches and there were a lot of fly balls and pop ups."
For Rose, the day became even more distasteful when a fan slapped him on the head after he caught Hendrick's foul pop near the right field stands.
"The guy hit me on the back of the head with his hand, then threw a paper cup filled with something at me," said Pete. "If there hadn't been a runner on second, I would have thrown the ball as hard as I could at his stomach! I told the umpires to get him out of the park and they did. He was a big guy."
EXTRA POINT – National League President Chub Feeney has chosen Cincinnati third baseman Ray Knight to replace Mike Schmidt on the All-Star team... Schmidt, who is suffering from a hamstring pull and will not play this weekend, will nevertheless make the trip to Los Angeles tomorrow night along with Steve Carlton and Pete Rose for the 14th year... Keith Hernandez was ejected from the game for arguing a ball-strike call by home-plate umpire Paul Prior in the fourth inning.
Trillo extended his hitting streak to 11 games, while Moreland upped his to six... The Phils are now 13-15 in one-run games, 4-6 in shutouts and 3-5 in extra-innings... Jim Kaat (2-5) will go against Randy Lerch (3-0) tonight at 8:05, and Pete Vuckovich (7-5) will face Steve Carlton (13-4) tomorrow afternoon.