St. Louis Post-Dispatch - July 5, 1980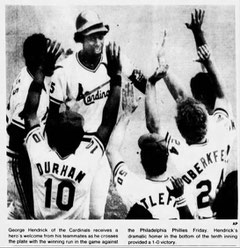 Sykes, Hendrick Gang Up On Phils
By Cal Fussman Of the Post-Dispatch Staff
"If it had been 10 degrees hotter out there." Bob Sykes was saying, "I would have been medium rare."


For five innings at Busch Stadium Friday afternoon, the Cardinals' pitcher had a difficult time battling the Philadelphia Phillies and the heat, which, according to a photographer's thermometer, reached 140 degrees on field level.
Sykes got dizzy on the mound, frequently forgot how many outs there were and lost track of baserunners.
But he didn't allow any runs.
Before the game, 41-year-old pitching guru Jim Kaat had told Sykes that the effects of the heat would begin to subside after the fifth inning.
"Sure enough, the sixth inning rolled around and I got a shot of new life," Sykes said.
He didn't surrender a run over the next five innings.
During the first nine innings, the Cardinals also found scoring a difficult task. In the bottom of the tenth inning, third baseman Ken Reitz and center fielder George Hendrick approached Sykes and each told the pitcher he would win the game for him.
With one out, Hendrick took a ball off reliever Kevin Saucier. He lofted the next pitch over the left-field wall to provide the Cardinals with a 1-0 victory.
Sykes was in the tunnel between the dugout and the clubhouse, seeking refuge from the sun, when Hendrick hit the pitch.
"It's out of here!" someone shouted.
Sykes started running toward home plate. He hadn't even seen the hit. It would have been awfully embarrassing, he later admitted, if the ball had been caught on the warning track.
The days of embarrassment seem to be behind Sykes, 25, who was acquired from the Detroit Tigers prior to last season. There was shoulder surgery and a 4-3 record with a 6.18 earned run average last year. There was a 1-6 start and a pitiful performance in a game against the Cards' Triple A farm team in Springfield, Ill., earlier this season.
"If it was only a two-month season and you get off to a bad start, then you are in trouble," Sykes said. "But it's a six-month season. If you believe in yourself, you can turn things around. It finally happened."
Sykes is now 3-6. He allowed eight hits and one walk on Friday.
"The nicest things about this," Sykes said, "is I have the respect of my teammates. And I have the fans in St. Louis behind me. I got off to a bad start this year. I would have gotten on me if I was a fan."
The fans behind the Cardinals' dugout stood and applauded Sykes after he retired the Phillies in the eighth, ninth and 10th innings.
Hendrick's hit provoked euphoria.
Though Hendrick's rocket was the only offensive firework on the 4th of July game, the 16,156 in attendance had much to cheer and jeer about as tempers exploded and there were several exceptional fielding plays.
Cards' first' baseman Keith Hernandez was ejected from the game in the fourth inning after questioning home plate umpire Paul Pryor's strike call in language not used by high school debate teams.
Cards first base coach Dal Maxvill was ejected from the game in the ninth inning, after questioning an "out" call by second-base umpire Joe West. Pinch hitter Bobby Bonds had smashed a line drive to right field. Lonnie Smith raced toward the wall and caught the ball in his outstretched glove before falling backward to the Astroturf. Maxvill claimed the ball hit the turf as well.
A spectator seated in a box seat down the right-field line was ejected in the seventh inning after interfering with Pete Rose while the Phillies' first baseman was setting up to catch a pop foul ball. The fan dumped a beer on the first baseman and, according to an usher, said: "Hey, Pete, this Bud's for you!"
In the eighth inning. Rose hit an infield single with two out. He attempted to score from first on Greg Luzinski's bloop hit to right field, which was originally misjudged by Leon Durham.
Durham recovered and his throw to catcher Ted Simmons arrived two steps before Rose did.
That was the Phils' finest scoring opportunity. The Cards nearly scored in the second, when Hendrick's fly ball to left field was caught on the warning track.
Nino Espinosa, who, having recovered from bursitis in his right shoulder, made his first start for the Phils this season, surrendered only two hits before leaving the game in the eighth inning. Reliever Saucier was the victim of Hendrick's semi-dramatic hit in the 10th.
"You've gotta talk to the press after this," Jim Toomey, the Cardinals' vice president in charge of public relations, said to Hendrick after the game.
Hendrick, who does not speak with the media, replied: "Let them write what they saw."
Kaat Faces Phils' Lerch
The Cardinals will attempt to even the series with the Philadelphia Phillies tonight at 7:05 at Busch Stadium, when Jim Kaat, 2-5, pitches against Randy Lerch, 3-10.
The Phillies swept a doubleheader Friday behind two exceptional pitching performances. Philadelphia won the first game, 2-1, as they scored two unearned runs off Bob Forsch, 5-6, enabling Dick Ruthven, 7-5, to earn the victory.
In the second game, Philadelphia scored three runs in the first inning off Cards starter Jim Otten, en route to an 8-1 win. Bob Walk, 4-0, pitched his first complete game for the Phils.
The Cards rebounded Friday, 1-0, behind a 10-inning masterpiece by pitcher Bob Sykes and George Hendrick's home run.
The Cardinals' Pete Vuckovich, 7-5, will start against Steve Carlton, 13-4, in Sunday's game, which will start at 1:15 p.m.
REDBIRD NOTES: Pitcher Silvio Martinez was reinstated from the disabled list Friday. Pitcher Roy Thomas was assigned outright to the Cards' Triple A team in Springfield, III., to make room for Martinez on the roster.
How They Scored Thursday
FIRST GAME
CARDS' THIRD Templeton singled, stole second, scored on Durham's ground-rule double to center. ONE RUN. Cards led, 1-0.
PHILS' SEVENTH Trillo singled. Oberkfell booted McBrlde's ground ball, allowing both runners to reach base. Unser hit an Infield single. Hernandez' subsequent error on the plav allowed Trillo to score. Maddox grounded Into a double plav, scoring McBrlde. TWO RUNS. Phils won, 2-1.
SECOND GAME
PHILS' FIRST Smith tripled to right-center, scored on Rose's single. McBrlde singled to center. Oberkfell's error on the plav allowed Rose to score. Luzinski singled to right, moving McBride to third. McBrlde scored when Morelond grounded into a double plav. THREE RUNS. Phils led, 3-0.
PHILS' SECOND Smith singled to left-center, stole second, advanced to third on Rose's ground-out and scored on McBrlde's double. ONE RUN. Phils led, 4-0.
PHILS' SEVENTH With Thomas pitching, Morelond doubled to left and scored on Trillo's ground-rule double to right-center. ONE RUN. Phils led, 5-0.
CARDS' SEVENTH Hendrlck hit a ground-rule double to right-center, moved to third on Kennedy's ground-out ond scored on I org's ground-out. ONE RUN. Phils led, 5-1.
PHILS' EIGHTH With Hood pitching, Walk singled to right, stopped at second on Smith's single to center and scored on Rose's single to center, which advanced Smith to third. Gross walked to load the bases. Urrea relieved Hood. Smith scored on Morelond sacrifice f Iv to right. Rose scored on Urrec's wild pitch to Trillo. THREE RUNS. Phils won, 8-1.