St. Louis Post-Dispatch - July 7, 1980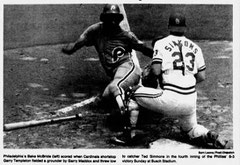 Carlton 'Does His Job' Against Cards
By Cal Fussman Of the Post-Dispatch
Steve Carlton Jr. had watched his father step out of the dugout after the fourth Inning to acknowledge the standing ovation at Busch Stadium.
His father had ended the inning by striking out Cardinals center fielder Tony Scott. It was his father's 2,833rd strikeout, which is more than any other lefthanded pitcher has accumulated In a major league baseball career.
Steve Carlton Jr., 14 years old, was unaffected by the tribute. He has heard his father cheered. He has listened to boos. He has seen his father win many games like the 8-3 victory Sunday over the Cardinals. He has seen several of his father's losses.
"It's a job, that's all," the son told a reporter. "He just goes out there to win as many games as he can. You get used to the cheering. I'm used to it. It's all right being the son of a baseball player. Sometimes people bug you about it. They think that you are famous or something. I just try to act normal like the other kids."
The son was speaking in front of the father's locker In the Phillies' clubhouse. The father walked over, quietly asked the reporter to leave and instructed the son to behave in a like-father, like-son manner.
The father does not talk to the press. When he pitched for the Cardinals from 1986-71, there weren't many confrontations with reporters.
Carlton, who still lives in St. Louis, was traded to Philadelphia for Rick Wise after a 20-9 season in 1971.
"They started digging Into his personal life in Philadelphia," said Phillies Manager Dallas Green. "That's the reason he doesn't talk with the press."
Carlton is not a bad guy. He is far from ignorant. He studies psychology and philosophy. His reading material extends past The Sporting News. He Is well versed. He collects wines. He used to be one of the best interviews on the Phils, reporters say.
In 1972, he had his finest season. He won the National League Cy Young Award with a 27-10 record and a 1.98 earned-run average. The Phillies finished with the worst record in the league that season: 59-97.
He let It be known before the 1973 season that his goal was to win 30 games.
He finished the year at 13-20 and was ripped by the media.
They questioned his training methods. They criticized his off-the-field activities. All of this prompted his decision not to speak with reporters.
"I do not think it is necessary to air my personal wars publicly any longer," he once said. "I would rather keep them to myself and everyone will be happier in the long run."
He now goes about his business quietly and dutifully. Catcher Bob Boone said the relationship between Carlton and his teammates is a professional one.
Like the son said: "It's just a job."
Like the manager said: "Today's game is what I'd call a typical Carlton game – it was a win."
Perhaps portions of the son's remarks explained the father's feelings. The pitcher is not playing to be lauded or vilified. He is just doing his job – and doing it well.
Carlton allowed seven hits and one run – George Hendrick's 18th home run this season – before leaving after eight innings. He struck out seven. His record is 14-4. He has more victories this season than any other pitcher in the major leagues.
Pittsburgh Pirates slugger Willie Stargell once said of Carlton: "Hitting him is like trying to drink coffee with a fork."
"He Is a master," Cardinals Manager Whitey Herzog said.
Cardinals third baseman Ken Reitz once referred to him as "the ace of the National League."
At times Sunday, he was a combination of all three.
Carlton allowed Hendrick's home run with one out in the fourth inning. He responded by striking out the next batter, Reitz, to tie lefthander Mickey Lolich for seventh place on the all-time strikeout list.
Scott then walked to the plate and into the record book. "I didn't know anything about the record," Scott said. "I never really pay any attention to things like that. It could have been the cat before me. I'm not ashamed. When I see him (Carlton), I'll shake his hand. So I'm in the record book."
Carlton finished the game with 2,836 strikeouts. At 35, in the 16th year of his career, he is 672 strikeouts behind all-time leader Walter Johnson.
At 35, he may be on his way to his third Cy Young Award. At 35, his fastball is not what it once was, said Herzog, but his experience makes him a better pitcher than he was 10 years ago. He has won 20 or more games four times in his career. With the support of excellent hitting, he has a chance at winning 30 this season.
He's had a career worth talking about.
REDBIRD NOTES: The loss pushed the Cardinals 10 games behind the National League Eastern Division-leading Montreal Expos at the All-Star break. The Phils are one game behind the Expos.
Cards pitcher Pete Vuckovich, working with only three days' rest, surrendered five runs (three earned) in 5⅔ innings and took the loss. He has a 7-6 record.
Since Herzog took command of the Cards, the team has been 16-12, a .571 percentage. If the Cards had played at that percentage during the first half of the season, they'd be in first place.
Pitcher Silvio Martinez, who was taken off the disabled list Friday, returned to his home in the Dominican Republic Sunday to visit his child, who is ill. He is scheduled to return tomorrow.
Scott, who struck out twice against Carlton, singled in the ninth inning off reliever Ron Reed to ignite a two-run rally. The outfielder was not given a stolen base when he moved from first to second because catcher Boone did not attempt to make a play. Score it: "Defensive indifference."