Camden Courier-Post - June 10, 1980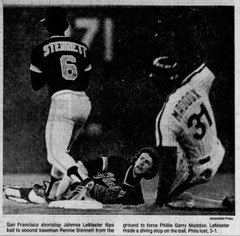 Phillies lose in 7½ hours
By Rusty Pray of the Courier-Post
PHILADELPHIA – In what could go down as "The Night of the Living Rain," the Phillies lost a meteorological nightmare to the San Francisco Giants, 3-1.
In what amounted to a two-part game that required seven hours and 26 minutes to complete, the Phils managed to lose their second straight in Veterans Stadium by leaving 14 mostly damp runners on base against three Giant pitchers.
By the time the two teams had slogged through two rain delays totaling five hours, most of the 28,702 fans who saw the game begin last night in the Vet had left – probably to avoid this morning's rush-hour traffic.
FOR SOME strange reason, the vast majority of fans did not want to hang around until 3:11 a.m. for the game's conclusion. What they missed were such stimulating diversions as listening to organist Paul Richards' complete musical repertoire and watching the stadium cleanup crews begin work sometime after midnight. They also missed an exciting evening of witnessing the stadium's grounds crew pull the tarpaulin on and off the field during sundry pauses in a steady rain.
The two teams managed to play three full, albeit scoreless, innings before rain halted play as the Phils were to bat in the bottom of the fourth. Steve Carlton was his usual self, hurling perfect ball with some help from a brilliant fielding play by shortstop Larry Bowa.
When play resumed 1:28 later, Bob Boone homered on John Montefusco's third pitch, giving the Phillies a 1-0 lead. Garry Maddox followed with a single and, after Bowa forced Maddox at second, Manny Trillo worked a 2-1 count. That's when the umps called the game for the second time, something Phillies Manager Dallas Green thought they should not have done.
"We had no business going off after Boonie hit the home run," said Green. "It wasn't raining hard enough at that time to call a game, especially when he (crew chief Bob Engel) had a bad weather report and knew he might lose the game.
"HE WAS so worried about being fair to both teams, he sent 30,000 people out of here wondering what was going on."
What went on was this: The umpires stopped play at 9:56 p.m., barely seven minutes after it had resumed. At a little after midnight, the Giants took the field – this time with the appropriately named Allen Ripley on the mound.
Carlton began warming up on the sidelines and it appeared the game would continue. Instead, with Ripley taking an inordinate amount of warmup pitches, the rain continued and the umps called the Giants off the field.
There would be one more false start before the game resumed in earnest.
Engel was asked during the delay if his umpiring crew waited to call the game because Carlton had thrown four perfect innings.
"I didn't know that until a few minutes ago," he replied. "I'd like to see it (the rain) stop. I'd like to get the game in, the gate in and be fair to both sides. There are so many things to consider. We're damned if we do , and damned if we don't."
MOSTLY, they were damned that they didn't.
"I thought," said Green, "he used extremely poor judgment in taking us off the second time. Then, I think he was intimidated by the other guy (Giant Manager Dave Bristol) when he had a chance to start the game. It's pretty obvious they (the Giants) were stalling all along.
"I'm not at all too sure the senior man (Bristol) in this deal didn't get the upper hand. I'm the home team and he (Engel) spent more time in his (Bristol's) dugout than mine. The umps were acting like it was their (the Giants') home game. No ump bothered to come over and tell me anything."
CARLTON LASTED two more innings. There was a very real concern that all the warming up and five hours of idleness would hurt Carlton's left arm, which is worth its weight in bullion to the Phillies. After permitting three hits, Carlton wisely told Green he'd had enough, leaving the game with a 10-strikeout shutout.
Dickie Noles protected the tenuous 1-0 advantage only until the seventh, when he walked pinch hitter Terry Whitfield and allowed a two-run homer to Jack Clark, who earlier had taken Carlton foul into the 500-leveI in left field.
Believe it or not, Ripley was there, too
By Ray W. Kelly of the Courier-Post
PHILADELPHIA – Having been held hostage for five hours by a crew of umpires, who didn't know enough to stay out in the rain, last night's baseball marathon between the Phillies and Giants resumed with a fourth inning pitch by – believe it or not – a righthander named Ripley.
Thus, continued an evening at Veterans Stadium that will forever more be ranked right up there alongside such memorable occurrences as the three-headed dog, the midget who walked backwards to Cleveland and the 500-pound potato.
It's hard to believe that four men, who earn their livings by making snap decisions, could have so much difficulty in deciding whether to keep the covers on or off the field of play. You would have thought they were maids at an X-rated motel.
We all know that into each life a little rain must fall. But somebody should have checked for Sanforized brains. If the umps had been in charge of Noah's Ark, Flipper would now rule the world.
With a little luck, Phils' southpaw Steve Carlton might have become the first pitcher in history to have a perfect game called on account of sunrise.
The big guy threw four innings of untouchable pitches through an early game drizzle that wouldn't have bothered the Tin Man, let alone rust the 28,702 fans, who watched with surprise as the umpires waved both clubs off the field.
Remember, this is the town where the league president sat through a prime-time typhoon during the playoffs with Los Angeles, proclaiming that it was a beautiful evening for baseball. Where was he when we needed him?
Carlton was nothing short of distilled brilliance through the first 12 batters, refusing to allow the bleary-eyed team from San Francisco the comfort of at least nudging a ball beyond the Phillies' infield.
Like a visiting fireman staggering through Central Park with a fistful of fifties, the Giants were begging to be taken, a no-hitter waiting to happen. Short on sleep and long on despair, they confronted Carlton in the same manner one might face a kennel of Doberman-Pinschers.
"It's a shame the umpires had to call this rain delay," said Carlton's former catcher, Tim McCarver. "Steve seems to have a tough time coming back after sitting for a long time."
Carlton always works like a man on deadline. When he has to sit and stew, that's exactly what he does. "He doesn't play bridge to kill the time," said Timmy. "Once in awhile he'll read, although I can't tell you what because I can't even understand the titles. But, mostly he stares into his locker."
After almost an hour and a half of eye strain, Carlton received word that the umpires had finished making the grounds crew do the dance of the seven tarpons and were ready to step back into the raindrops.
If their decision was influenced by the promise of a Carlton no-hitter, then bless their soggy little hearts. But why they tossed everybody right back into the locker room after Bob Boone homered, Garry Maddox singled and Manny Trillo saw three pitches is anyone's guess.
What followed was three hours and 32 minutes of confusion, indecision and frustration that bordered more on a rain sabbatical than delay. You would have thought the umpires had Thursday off and were worried that the game might be rescheduled for that off-day. Oh, they do have Thursday off!
Never mind. Surely it was Carlton they were worried about. Or, maybe it was the 500 starving, homeless, baseball fanatics, who waited around searching in vain for a hot dog and a expert, who would tell them if the grounds crew was going into the Guinness Book of Records.
While Phils' weather expert Bill Giles was upstairs wondering how his secret adviser could have a night off on the same evening his favorite radar system blew a fuse, the umpires listened to the grumbling birth of another Attica riot.
"We want the umps!", the night owls screeched. They got 'Frisco pitcher Allen Ripley instead and busied themselves by counting aloud his warmup pitches until it was announced they would be given free tickets to another game for their loyalty.
At 1:28 a.m., the fourth inning resumed. Carlton gave it a try, but the Giants, having caught up on their sleep, came back to win, 3-1.
"Just trying to get the game in," explained the umpires.
I liked the 500-pound potato better.
Luzinski, Schmidt are seeing 'stars'
NEW YORK – Outfielder Greg Luzinski and third baseman Mike Schmidt of the Phillies have moved into commanding positions to win spots on the National League team after the latest vote count.
Schmidt leads in the voting for the third base slot, while Luzinski is is second place in voting for the outfielders, trailing only Pittsburgh's Dave Parker.
Also taking the lead in voting at their positions on the National League team were shortstop Garry Templeton of the St. Louis Cardinals and outfielder Dave Kingman of the Chicago Cubs.
Holdover NL leaders for the July 8 game in Los Angeles are catcher Ted Simmons of the Cardinals, outfielder Parker of Pittsburgh and Los Angeles infield teammates Steve Garvey at first base and Davey Lopes at second.
Lopes moved into the lead among vote-getters, receiving 729,045 to jump in front of California Angels first baseman Rod Carew, who had 538,500 in the last American League accounting. The latest AL figures will be announced Thursday.
Luzinski (377,134), and Kingman (372,262) took over the two-three slots among NL outfielders. Parker's 603,921 lead all outfielders, but only 67,046 votes separate the next five players – Luzinski, Kingman, Reggie Smith of Los Angeles, Cincinnati's George Foster and Dusty Baker of Los Angeles.
TEMPLETON regained the lead at shortstop from Bill Russell of Los Angeles with 474,848 to 351,753 for the Dodger player. Schmidt (511,906) holds a 75,944 lead over Ron Cey of Los Angeles (435,962).
Garvey (551,470) is seeking his seventh consecutive starting assignment at first base. He leads Keith Hernandez of St. Louis (368,057), Willie Stargell of Pittsburgh (286,621).