San Francisco Examiner - June 10, 1980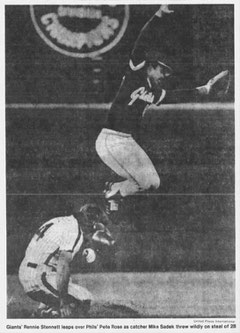 On the whole, Giants prefer Philly
By Glenn Schwarz, Examiner Staff Writer
PHILADELPHIA – All right, so the Giants realize, that into each life a little rain must fall – but this was ridiculous!
It wasn't bad enough that they had to rise yesterday in Houston at 6 a m... then take a two-hour, 50-minute flight here... then try and grab a little shuteye at the hotel... then drag their weary bods and four-game losing streak over to Veterans Stadium last night for a meeting with the Phillies' estimable Steve Carlton...
On top of all that, the Giants were subjected to a travesty of a two-day-long game. Yes, because of the dogged determination of umpire-in-chief Bob Engel to finish what was started, the two clubs had to endure five hours worth of rain delays in what turned into a bizarre late, late show.
At least – and you didn't catch this on the 11 o'clock TV sports report – the Giants somehow avoided a final indignity. Night owl Jack Clark cranked out a two-run homer off Dickie Noles in the eighth inning, Milt May tacked on a sacrifice fly in the ninth, Greg Minton squirmed out of predicaments in the last two innings and, voila, the Giants were 3-1 winners.
When Clark squeezed Garry Maddox' fly for the final out, then jubilantly fired the ball to a lonesome fan in the right-field seats, the clocks at the Vet read 3:11. As in a.m. (EDT). The Giants now are 2-1 in games completed post-midnight.
"Hey, we're tough after 1 o'clock in the morning," coach Jim Lefebvre yelled in the Giant clubhouse. "That's when we start waking up."
"Someone said about 2:30, 'Hey, these are our hours, guys – let's go,' " manager Dave Bristol said. 'There was a feeling on the bench I hadn't seen in a long, long lime. Nobody was bitching or griping about the delays and the long day."
Of course, if Noles had protected the bionic Carlton's 1-0 lead (Bob Boone homered in between the 1:28 and 3:32 fourth-inning postponements), the Giants' protesting howls might have awakened all of South Philly. During the time Engel was monitoring the weather forecasts, through Phillies vice-president Bill Giles, seemingly everyone except the hearty 500 or so remaining fans questioned the umpire's wisdom.
"I was mad they didn't call it," Giant Johnnie LeMaster said. "It was crazy the way they would put the tarp on, then take it off, then put it back on again.
"But now I'm glad they waited. We got a win plus an off day."
"Yeah," Clark said, "we wanted that day in New York."
"It makes it worth it w hen you w in. But I'm going to call Marvin (Miller) and see what the rules are on rain delays," said Gary Lavelle, the Giants player representative. "I think maybe the umpires wanted the day off, too."
Understandably, Engel's persistence came under heavier criticism in the losers' quarters, where five o'clock shadows and red eyes also abounded. Funny, the Phils didn't look as whipped as the Giants, nor did they likely feel the same about continuing while Carlton had a perfect game cooking.
Afterward, Phils manager Dallas Green charged that Engel was influenced by Bristol – who admitted that not for a moment did he hope the three-plus innings would be washed away by the steady shower.
"If you look at it objectively, it wasn't very professional," Green said. "Of course, I'm not in very good humor right now. But I'm sure the senior manager got the better of it.
"The umpires acted like it was their (the Giants') home game. They spent an awful lot of time in their dugout; they didn't come over and consult with me. Engel was intimidated by Bristol several times."
The accused umpire, when asked about midway through the monster delay why he was keeping everyone around past their warm-milk time, said:
"I thought it was in the best interests of both clubs to try and get it in. We're damned if we do and damned if we don't"
Carlton probably was as peeved as his manager. It is reported probably, because the pitcher is a long-standing non-communicator with the press.
Shooting for his 11th victory, the left-hander retired the first 12 Giants batters without a ball leaving the infield. Before the Phils hit In the fourth, there was the shorter delay. And then after Boone and two others hit against John Montefusco, the almost unprecedented longer stoppage.
Up in the press box, Tim McCarver, a former personal catcher of Carlton who now is a Phils broadcaster, speculated on what his old pal was doing and would do.
"He's had enough time to go to the shore (Atlantic City) and roll some dice," McCarver said. "Naw, he's probably off by himself, reading and sleeping. I know he'll go back out there.
"To my recollection, he doesn't throw that well after rain delays. But the way he's throwing this year, that's no gauge. He's throwing like he did when he won 27 in 72."'
And McCarver was right – after Carlton went 5:15 between pitches, from 8:19 p.m. to 1:34 a.m. One out into the fifth, Larry Herndon's double broke up the perfecto. The Giants loaded the bases in the fifth and put two runners on in the sixth.
Recognizing that Carlton's control wasn't what it was way back when, Green pinch hit for him and brought in Noles for the seventh. An inning later, he walked Terry Whitfield and gave up Clark's 10th homer, a shot to left-center. It was the first pump allowed by Noles in his 18 appearances. Tug McGraw yielded Rennie Stennett's double and May's sac fly in the ninth.
Meanwhile, Allen Ripley handed the ball to Minton. When stiffening Montefusco was unable to return after the second delay, Ripley entered to throw 3⅓ shutout innings. The worst part, Ripley said, was having to warm up three times while the umps ordered the grounds crew to peel off and lay down the tarp during as many false starts.
Minton preserved Ripley's first National League win. The tough way. In the eighth, Minton struck out Pete Rose with the bases loaded. And in the ninth, after Greg Luzinski's one-out single, Minton struck out Boone and flied out Maddox.
"I can't even see. I've been wearing these contact lenses for 21 hours," the bleary-eyed Minton said. "But there's no use staying until 2:30 to pitch unless you win.
"I just hope my wakeup call comes at 4:30 tomorrow afternoon."
He was corrected: this afternoon.
NOTES: LeMaster's honesty put his 12th error in the books. But the shortstop now feels that justice was served. After he said that Sunday night's game-deciding error should have been charged to him instead of second-baseman Stennett, the official scorer in Houston changed his decision and yesterday LeMaster was given the miscue... Giants general manager Spec Richardson refused comment on Clark's blistering recent shake-up-the-Giants remarks. But Richardson said he was devoting many hours to trade talks. "I'm not necessarily looking only for hitters," he said. "I'll take anything better than what we have."... Rich Murray singled off Carleton for his first big-league hit.